2. Violet
Violet LMS is a full-service learning business platform that helps develop employees through a sustainable learning experience. It offers dedicated guides depending on the type of training session you're deploying, such as employee training, onboarding, sales training, compliance training, distribution training, and even customer training. This LMS also enables blended learning by assisting in offline training through features, such as an external tool for corporate trainers and a venue management system. Employee knowledge is further strengthened with interactive courses and virtual classroom sessions. With the adaptable training plan provided by this LMS, training consultants have access to a visual calendar of priorities and tasks, as well as track and measure results for each individual through a powerful reporting tool. Through individualized learning plans tailored to the needs of the learners, employees can maximize their potential and improve their performance.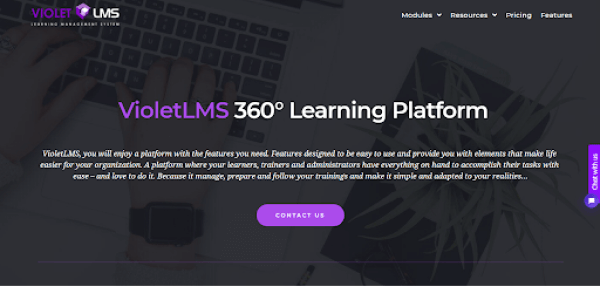 Features:
Mobile learning

Unlimited courses

Virtual classroom

Learning paths
Cost: Paid plans
3. Arlo
Arlo is a cloud-based training platform for businesses that allows you to manage all your training resources in one place online. It includes a course management software, event management software, and integrations to deliver training using different LMS platforms and other business intelligence solutions. It also comes with a dashboard where you can see real-time activity to make sure you're always up to speed with the information you need. Arlo also has a lead management feature allowing people to register their interest in a course or event where live conferences and webinars can be facilitated. Arlo's base price starts at 9 per month for the basic features and the price can go up to 85 to get all their premium features.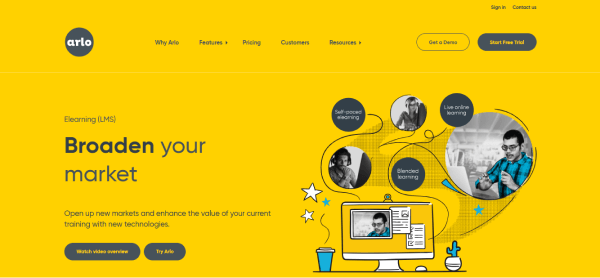 Features:
Cost: 9 USD/month
4. Clear Review
Clear Review was designed to help you set effective goals, provide instant feedback, and have meaningful conversations with your teams. With this training platform for businesses, you'll get a weekly report that shows the status of everyone on your team, saving you a lot of time. Its goal-setting feature allows you to choose from different types, such as performance goals, OKRs, personal development, and more. Clear Review's advanced analytics also enables you to view detailed metrics and insights designed to help you understand your people and share data across the entire organization.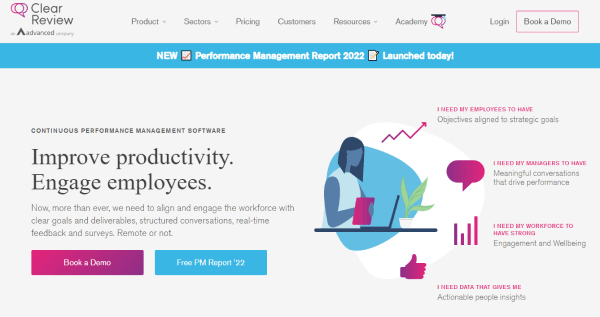 Features:
Automated weekly report

Goal setting

Analytics
Cost: Starts at £4,000
5. Whale
Whale is another training platform for businesses that focuses on process documentation and employee training. It comes with an easy-to-use editor, customization features, and several templates to create your training playbook, which can be automatically sent out to your teams. It makes use of a plug-and-play web extension to deliver training so it can be accessed on the apps they already use. To gain insight into employee performance, they have user skill profiles to determine employees who need additional training to reach their goals or get certain skills. However, to get all these features, you'll need to cough up 19 monthly which allows only 10 users. They have a 14-day trial for those who want to test the waters before fully jumping in.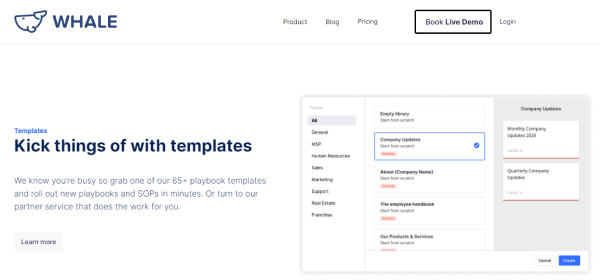 Features:
Browser plugin

Knowledge insights

Custom integrations
Cost: 19 USD/month
6. Innform
Innform is a one-stop shop if you're looking for an online training platform for businesses that can cover all your training needs. You can choose from over 100 ready-made courses or use your existing content and then have them automatically converted to a manual. It also features a built-in repository so you can easily drag and drop your files to the courses or quizzes you create. To boost engagement, you can reward learners with points, badges, and seats on the leaderboard whenever they complete a course. With Innform, you can always keep tabs with your learners as it includes tracking and reporting features.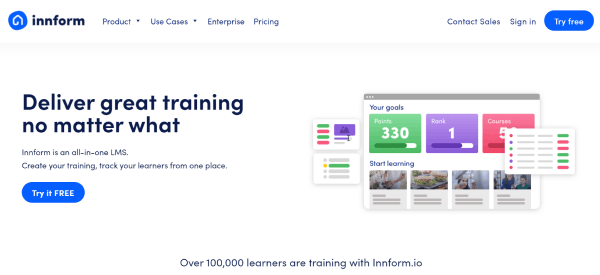 Features:
Cost: Free
7. Gyrus
Gyrus is a cloud-based training platform for businesses that assists training managers in effectively meeting the learning needs of their employees and equally creating a meaningful learning experience for their learners. Its AI-driven features like e-learning and skills management tools are designed for developing personalized learning programs for various groups of employees. In Gyrus, training content can be delivered through file-based courses, videos, webinars, simulations, documents, and virtual classrooms, which give you more flexibility in planning an adaptable training strategy. You're also able to instantly monitor the effectiveness of your training programs with its real-time data visualization and reporting.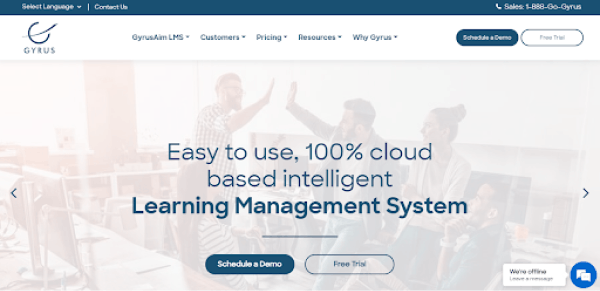 Features:
Various eLearning formats

Real-time analytics & insights

File-based courses
Cost: Starts at 00 USD /month
8. GoToTraining
GoToTraining is a mobile-ready training platform for businesses that helps trainers and other learning and development professionals create content and keep track of learner performance. Before starting your online training, you can gain an understanding of your audience through their custom registration where multiple fields can be added. To keep your learners engaged and drive collaboration, they have content sharing which supports different formats such as videos, Powerpoint slides, and more. To check on knowledge retention, GoToTraining offers an online quiz maker with polls, in-session activities, and breakout sessions. It also includes detailed reporting on session attendance, test results, and evaluations.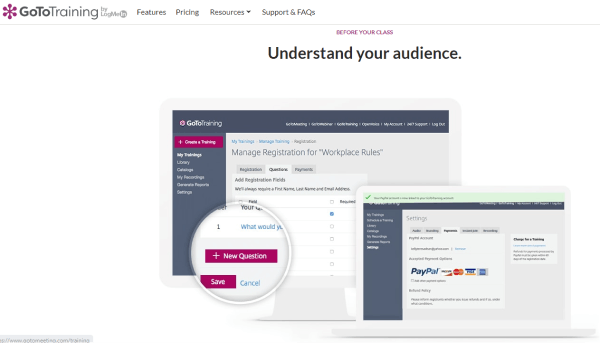 Features:
Custom registration

Reporting

Mobile environment
Cost: 09 USD/month
9. Engagedly
Engagedly is an online training platform for businesses based on decades of employee engagement research. Its goal management feature allows you to align and track performance outcomes across the organization. This e learning platforms for companies also has an informative skills matrix and real-time dashboards to help you track your employees' competency, which even includes a talent dashboard for succession planning and future leader identification. If you want to perform regular check-ins with your teams, this platform also offers an easy-to-complete form that you can roll out to see their progress.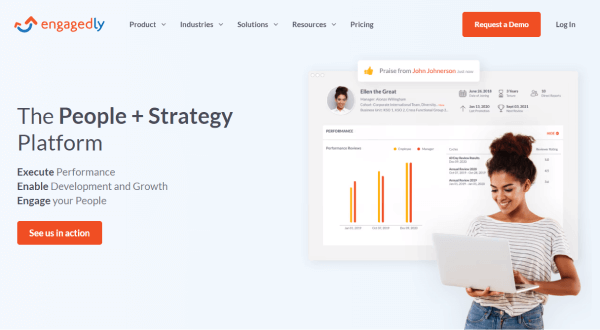 Features:
Goal management

Real-time dashboards

Performance check-ins
Cost: Starts at ,000 USD
10. SharePoint
With SharePoint's training platform for businesses, anyone from training and development can manage employee training programs like a pro. From creating your courses and organizing events to gathering employee feedback, you'll discover a range of helpful templates that can make administrative tasks a breeze. It also serves as a friendly platform where you can customize training events and keep track of the dates, including course deadlines. After completing training courses, the expertise and skill level of the learner will be updated in the database, making it easier for leaders and administrators to find the most qualified person for a specific task.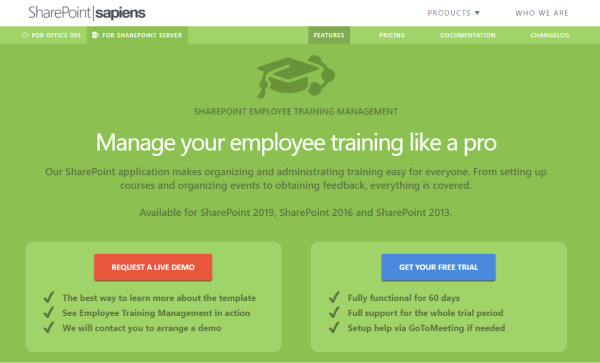 Features:
Training development and monitoring

Feedback collection and analysis

Accessible training history database
Cost: Starts at ,799 USD
Choosing the best training platform for your business
There are many online corporate training platforms to choose from but selecting the best training platform for a business is a critical decision that requires careful consideration. It's important for businesses to evaluate their specific needs and goals, as well as the features and capabilities of different training platforms.
Factors such as user-friendliness, content variety, customization options, reporting and tracking capabilities, integration with existing systems, and cost effectiveness should be considered. Implementing an online learning platform can be a complex process, but with proper planning and execution, the benefits can be substantial.