Easily keep track of your team's learning behavior and progress through training tracking software. Our recommended training tracker software below offers you analytics dashboards and customization options along with other unique features. Now let's explore each of them!
Training Tracking Software #1 – EdApp
EdApp is an all-in-one training platform that perfectly works as training tracking software with its comprehensive analytics suite. 
In this feature, you'll be able to monitor various kinds of data points. That includes all sorts of completion data, performance data, registration and login data, and other useful data. You can even focus on the data that matters most through filtering and sorting options, like by time, user groups, active users, mandatory courses, and so much more.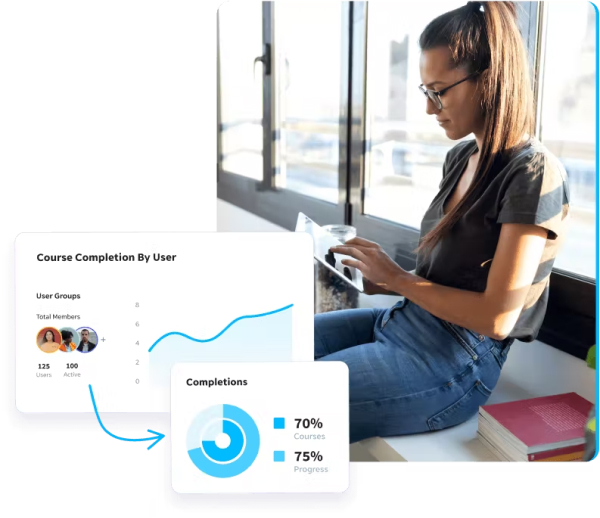 EdApp gives you access to three different kinds of reports: manager dashboard, course completion by use, and rapid refresh quiz reports. On the manager dashboard, you can monitor the learning progress of your learners within a user group or of a user group as a whole. Course completion by user is where you'll find a more detailed learning progress report for each individual. And lastly, rapid refresh quiz reports are where you'll access quiz results data from the assigned user groups.
Not only that, but you also have flexibility in how you want to manage your data. EdApp's reports are actionable—meaning, from the data you see in the dashboard, you can instantly take action and target inactive and disengaged learners. Thanks to the push notifications feature, you'll be able to conveniently communicate with your learners. Building your own custom reports is also possible. Simply choose your own key metrics and export them as CSV or XLSX files.
Overall, these features can help you monitor the learning progress of your team, especially on topics like construction induction training, free IT training courses, compliance training, workplace safety, and more.
Key features:
Manager dashboard

Course completion by user

Rapid refresh quiz reports

Actionable reports

Custom reports

Push notifications
Cost: Free
Stay on top of your team's learning behaviors, progress, completions, and more with EdApp. Join EdApp for free now.
Training Tracking Software #2 – Quickbase
With Quickbase, you'll have a centralized, secure training tracker software where you can store employee information and access training data. It offers a customizable dashboard where you can add new classes, establish course prerequisites, and track each learner's progress. You can set up alerts and reminders to inform your staff of any uncompleted training modules, approaching deadlines, and upcoming training sessions.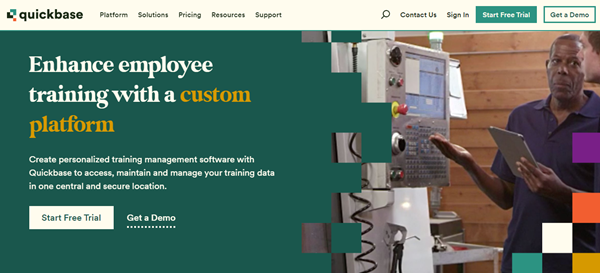 Key features:
Centralized and secure location to store employee and training data

Customizable dashboards
Cost: Available upon request
Training Tracking Software #3 – Easy Training Tracker
With Easy Training Tracker software, you can automate your training tracking so you can spend less time monitoring your training program. No need to spend all day working on a spreadsheet tracking data. This platform allows you to digitally track the attendance of in-person training sessions. Its laser-focused reporting functionality also gives you immediate access to compliance training data. To stay in touch with your team, this platform provides an alert system so you can inform new hires of classes that need to be taken, have already expired, or are about to.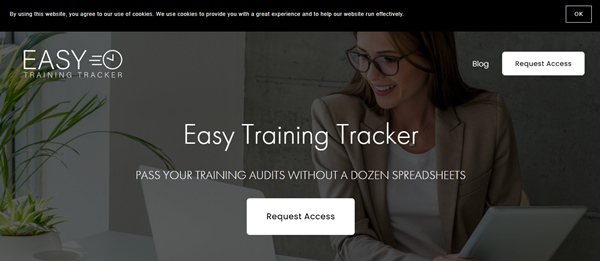 Key features:
Cloud-based training tracking

Laser-focused reporting

Compliance alert system
Cost: Available upon request
Training Tracking Software #4 – Tovuti LMS
Tovuti LMS offers learning analytics and a report builder that allows you to create personalized reports from learner performance to events. Its analytics dashboard even enables you to categorize and customize how you want to view your data. Also, it has a Team Lead dashboard where managers can monitor the performance of their direct reports. With its certification management feature, you can track learners who have earned certifications.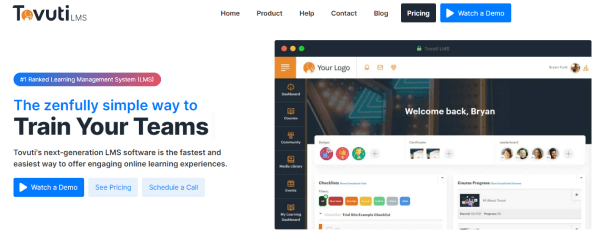 Key features:
Report Builder

Analytics dashboard

Team lead dashboard

Certification management
Cost: Available upon request
Training Tracking Software #5 – Brilliant Assessment
Ultimately simple to use, Brilliant Assessment is a training tracker software that precisely identifies the areas in which employees thrive and keep track of which abilities they still need to work on. All that without much technical experience. Its analytics are engineered with an intelligent scoring algorithm, so you can trust that they are complete and accurate. Additionally, it provides a variety of scoring and graphing tools to spice up your data reports.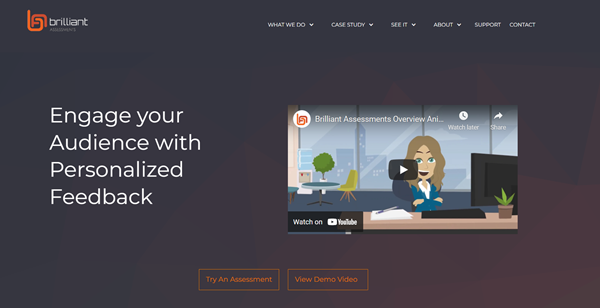 Key features:
Intelligent scoring algorithm

Multiple scoring and charting options
Cost: Available upon request
Training Tracking Software #6 – Gyrus
Gyrus is an adaptive learning platform that's designed to help you track learning competency in several areas. With this training tracking software, you can automatically compare real and potential performance. It also has built-in reporting capabilities so you can track and monitor learning metrics, including learner engagement, program effectiveness, and compliance.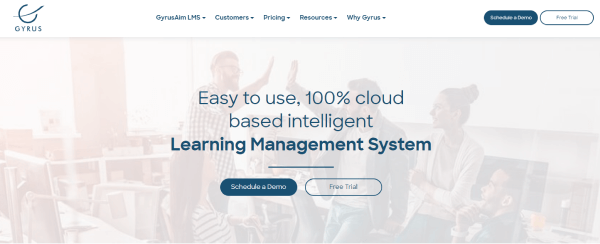 Key features:
Competency tracker

Gap analysis

Automation

Built-in reporting,
Cost: Available upon request
Training Tracking Software #7 – Lattice
Lattice is an employee performance software that offers templates, workflows, and administrative dashboards that make it simple to create, launch, and administer performance evaluations and appraisals. With its analytics tools, you can identify top performers, manage your workforce talent, and make the best judgments possible regarding your employees. It also has an Update function that allows you to send status updates. Employees can even comment on the updates and tell you how they're progressing or if they need support in certain areas. 
Key features:
Templates and workflows

Administrative dashboards

Analytics

Updates
Cost: 11 USD/user (monthly)
Training Tracking Software #8 – Training Tracker
Training Tracker is developed to help you monitor the learning and skill development of your learners from their training programs. This training tracker software organizes all training information, including skill sets, compliance, and qualifications, all on one platform. You can also automatically assign training courses to underperforming learners. Whether you need to track your team's progress on their goal setting training courses, crisis management courses, leadership, or empathy training courses, you can always rely on this software for performance monitoring.

Additionally, real-time reports are made available for skill monitoring. No need for messy spreadsheets!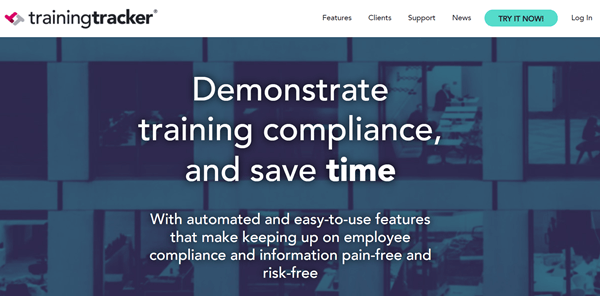 Key features:
Skill and qualification record storage

Automated training assignments

Automated reports
Cost: 34 USD/user (monthly)
Training Tracking Software #9 – Employee Training Manager
Employee Training Manager is another tool for tracking employee training data and storing it in a centralized database. It offers a variety of features to help you effectively assess learner competency and identify priority training efforts. This software also makes sure that your team stays compliant with various regulatory organizations through proper training.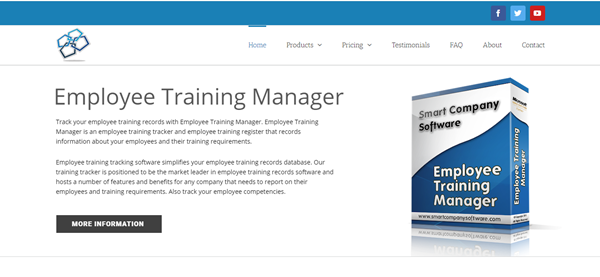 Key features:
Extensive reporting system,

Powerful search engine

Centralized employee data
Cost: 499 – 799 USD
Training Tracking Software #10 – Violet LMS
Last but not least on the list is Violet LMS, which also offers superb analytics features. With its automated performance reports, you'll see an overview of the learning progress in graphical and tabular formats, helping you efficiently gather insights about your training programs. This platform also makes it easier and more convenient to give fast feedback and evaluation. You'll also find here a wide range of reports, including schedule, content, and personal reports.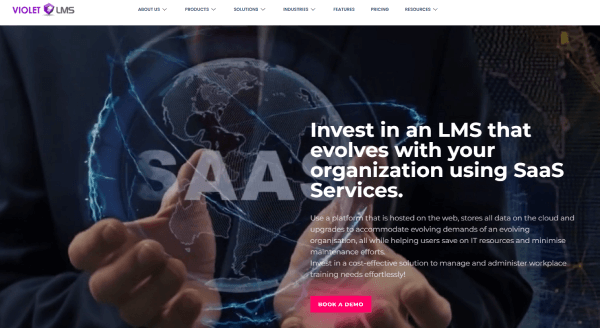 Key features:
Automated performance reports

Data analysis
Cost: Available upon request