Monitoring employee performance is a crucial indicator of team and company growth. Having employee performance software will not only help you track employee performance but also help you identify pain points better and hit organizational goals in the process.
We've listed down the top 10 employee performance software for you to consider:
Employee Performance Software # 1 – EdApp
Performance reviews come every year, but there's often little done about bridging the gaps among employee knowledge, skills, and company goals. Thankfully, EdApp's all-in-one employee performance software solves this problem for you. It's a top-tier training platform, recognized for its amazing features, from content generation and course administration to knowledge gap analysis and tracking.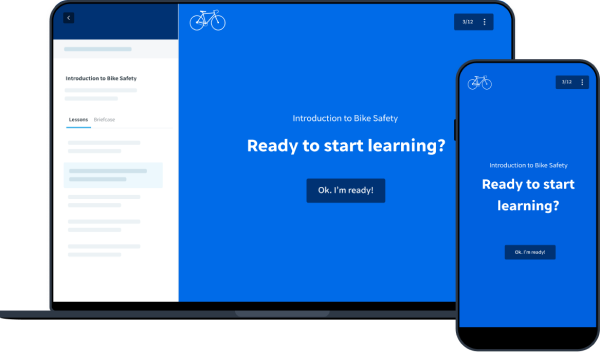 Its training solutions help you identify how and what you can do with your performance data. One of EdApp's best features is the beginner-friendly authoring tool. Some popular LMS in the e-learning space require you to have in-depth coding knowledge in order to integrate the course builder into your organization. EdApp's authoring tool doesn't ask that of you. Its user-friendly interface lets you have the option of choosing from 80+ gorgeous and engaging templates – all developed in microlearning format – or building it from scratch with our easy course builder. The templates in the library have gamification and active learning aspects built into them, so you can expect increased learner engagement, and, in the long run, better employee performance.
You can also request to have your PowerPoint training slides, business process papers, policies, and other HR materials turned into beautiful and informative courses. It's so easy to use that you won't have to bother your developers with customizing the features for you. This provides you with more time to focus on more important HR and admin tasks.
Cost: Free
Features: authoring tool, rapid refresh, gamification, spaced repetition, course library, 80+ template library
Employee Performance Software # 2 – BambooHR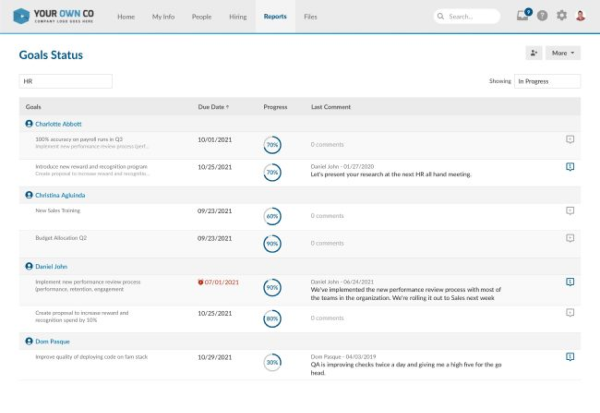 BambooHR is an employee performance software that solves most HR problems in companies today. It caters to mainly small and medium-sized organizations. Some key features include personnel data and analytics management, hiring, onboarding, remuneration, and culture. This employee performance software also gives you room for collaboration with management in the planning and tracking of objectives. It generates corporate performance reports that allow it to compare overall organizational, individual, and team performances across departments. This LMS includes an employee database that saves all information, from healthcare to home addresses, in one place. Bamboo HR is free to test but requires a pricing quote once your trial expires.
Cost: request quote
Features: employee database, activity/news feed, calendar management
Employee Performance Software # 3 – ClearCompany
Measuring your workers' performance is critical to any organization's success. ClearCompany is an employee performance software that can help you achieve that success. It's highly customizable, which means you can create any type of question or section that you want in your performance questions. You can add personalized reminders so your team leads don't forget about doing reviews. The platform also allows you to make connections between current employees' performance data and what to look for in future roles.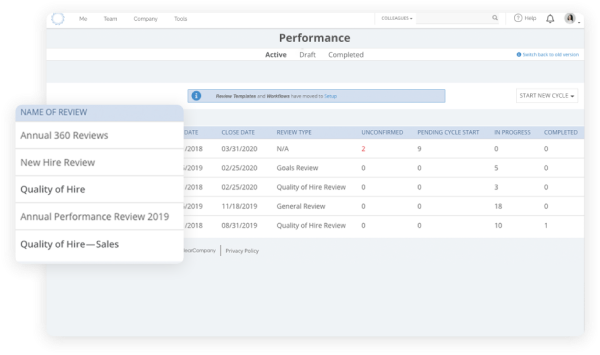 This all-in-one HR platform is designed and built for better hiring experiences, smooth onboarding, company-wide goal alignment, recognition programs and engagement, performance management, strategic workforce planning, and people analytics, all powered by best practices.
Cost: free demo
Features: peer reviews, time-based reviews, customizable questions, pre-built review templates, reporting, analytics
Employee Performance Software # 4 – Trakstar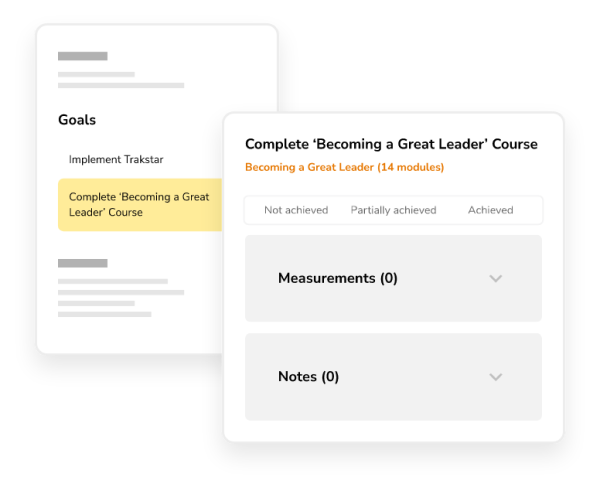 Trakstar's employee performance software assists your company in managing performance evaluations, increasing employee engagement, streamlining goal management, and creating a collaborative feedback culture. Included in Trakstar's list of key features are manager check-ins, self-reviews, and real-time tracking and reporting. Trakstar's team can also tailor-fit their product to include specifications and requirements needed by your organization. 
Cost: request a quote
Features: 360-degree feedback, self-reviews, real-time feedback, flexible and data-rich reports
Employee Performance Software # 5 – Synergita
Another employee performance software you can consider for your team is Synergita. Synergita offers dynamic employee performance management, employee engagement, and OKR solutions to organizations striving for high performance-driven development.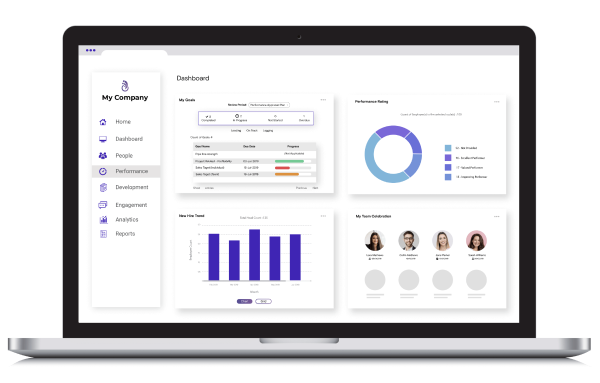 High-level features such as matrix goal management, regular check-ins, 360-degree assessment feedback, 1-1 meetings, and adaptive promotion management provide comprehensive automation of digital performance implementation. Synergita also uses a culture score to examine employee commitment to company culture across the firm.
One thing to take note of with Synergita is that its reporting tool isn't as smart and adaptive as other HR tech software. 
Cost: $7 per user per month
Features: SMART goals, feedback summary, performance reviews, virtual reminders, self-feedback
Employee Performance Software # 6 – Orange HRM
Orange HRM is a user-friendly web-based employee performance management system. 360-degree performance reviews, custom review questions, and employee goal tracking are among its key features for performance monitoring.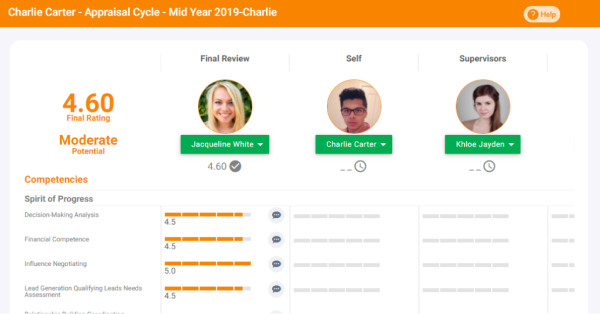 You can use the data you gather here to see what's the best path for their career or to bridge their knowledge and skills gaps. It's also fairly flexible, so you can tailor it to match the specific challenges your organization is now dealing with, and then later add new modules to solve your requirements as they develop. It also includes other HR tools such as analytics reporting, paid time off, attendance, benefits, recruiting, audits, and documentation.
Cost: request quote
Features: 360-degree performance reviews, custom review questions, goal tracking, electronic sign-offs
Employee Performance Software # 7 – Lattice
Lattice is an employee performance software that allows you to define goals, conduct surveys, measure employee performance, and recognize high-performing employees. The platform organizes all of your data so that you can easily discover the information you need in order to address performance issues. Lattice has a large question library and allows you to incorporate custom questions of your own into your surveys.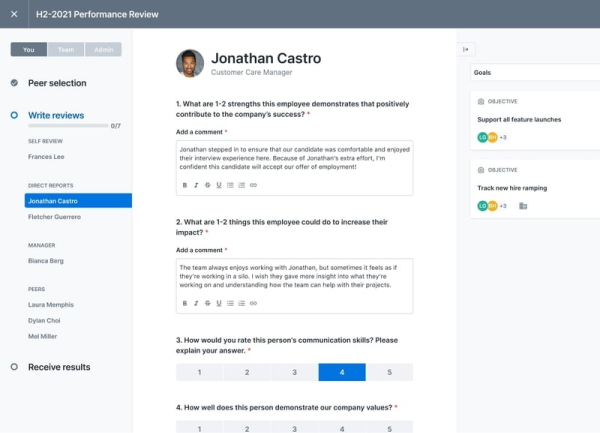 One of the main features of this software is its ease of scheduling and distributing performance surveys and reports. Lattice asks workers to submit feedback, and you can configure it to regularly ask about your team's mood, challenges, accomplishments, and other organizational concerns.
Cost: $8 per person per month
Features: 360-degree feedback, customization, activity dashboard, reporting, analytics
Employee Performance Software # 8 – Small Improvements
Workers often say that feedback is given too frequently, resulting in performance problems that could have been addressed earlier. With Small Improvements, you can be more consistent with delivering regular performance reviews and managing the data and feedback from them.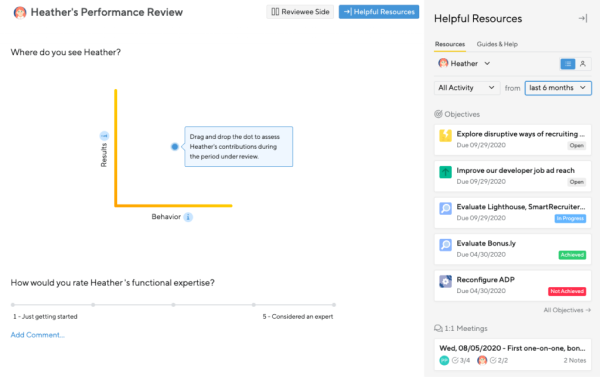 Small Improvements is a performance solution designed for you to regularly check up on your team members and immediately address performance warning signs. Small Improvements makes it simple to plan 1:1 sessions, and its alert system offers useful reminders at set intervals. You can also set targets, perform pulse surveys, seek and provide feedback, and do 360-degree evaluations for particular projects.
Cost: $5 per user per month
Features: 1:1 meetings, goal tracking, praise, pulse surveys, 360-degree feedback
Employee Performance Software # 9 – eloomi
Eloomi is a sophisticated cloud-based platform with several modules, including a thorough performance module. It features a user-friendly UI and a perfectly functional mobile app.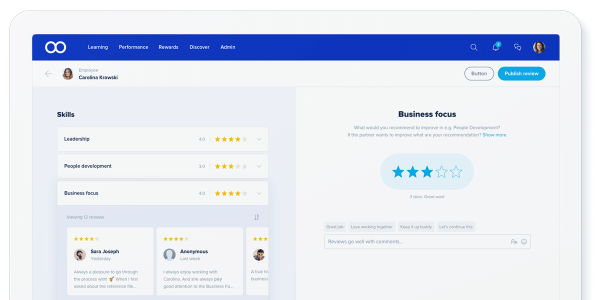 It can also help you in setting objectives for your team, as well as coach people and monitor their success. This tool's main selling point is its evaluation system. Here, you are given a visual depiction of your workers' progress toward goal accomplishment, and use the information to prepare for one-on-one meetings.
Coaching someone using Eloomi is not only simple but also enjoyable. Gamification elements on the platform can inspire employees to reach their goals faster, boost engagement, and provide managers with an overview of individual requirements and statistics.
Cost: request a quote
Features: objectives, check-in, 360-degree feedback, performance appraisals, operational checklists, reporting, analytics
Employee Performance Software # 10 – Quantum Workplace
Teams require capable and trustworthy leaders to lead and coach their initiatives, and managers require tools to meet these expectations. Quantum Workplace's employee performance software assists leaders in developing trust, improving communication, and increasing transparency, resulting in empowered and aligned teams.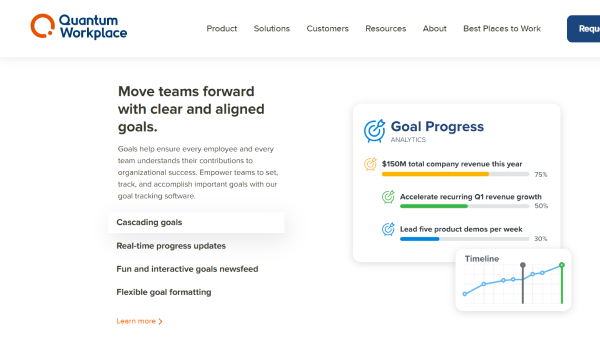 Quantum Workplace's intuitive and user-friendly tools help you connect the dots between engagement and performance. Additional features include automated employee surveys, objective and goal-setting tools, internal team recognition, real-time feedback, regular one-on-one conversations, smart performance reviews, and powerful people and business impact analytics.
Cost: request a quote
Features: API, anonymous feedback, action management, collaboration tools, benchmarking, 360-degree feedback
EdApp is a mobile learning management system designed for today's digital habits, delivering more engaging and effective micro-learning directly to learners anytime and anywhere.
Sign up for this employee performance software today.