2. Lattice
When it comes to managing people's success, Lattice has got your back. This performance management system streamlines all your people-related processes into one unified solution, from employee engagement to career growth. With Lattice, you can easily keep track of your team's progress, set goals, and provide and receive feedback.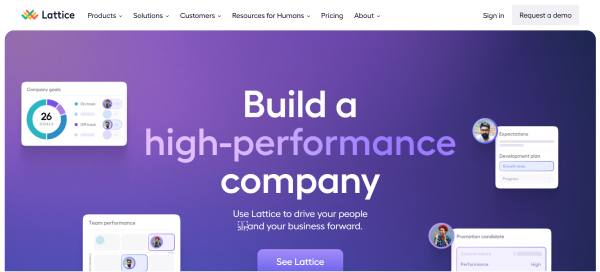 One feature that makes Lattice stand out is its 360-degree customizable performance review tool. This tool allows employees to get continuous feedback from multiple sources, including peers, managers, and direct reports. And if you're looking to help your team progress further, Lattice offers goal-setting tools and a library for best practices and expert advice. 
Cost: Paid plans, starts at 4 USD monthly per user
Key features:
Customizable performance review tool

Goal-setting tools

Educational resources

Advanced people analytics
3. Engagedly
If you're searching for another performance management system to upgrade your workforce, you might want to consider Engagedly. This platform is designed to help companies when it comes to improving employee performance and engagement through user-friendly tools and features.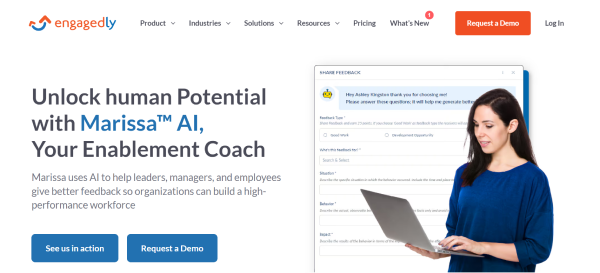 You can explore Engagedly's performance review tool to encourage open communication between managers and employees. With this feature, you can gain insights into what you and your team can do to fix performance issues. Plus, you can use their goal-alignment tool to align your people's goals with the company's objectives, making sure everyone's working towards the same targets.
Engagedly also has a talent analytics and mobility tool that will let you match your team members' roles to their strengths and interests. And with the platform's mobile-enabled design, you can access everything in real time, even on the go. 
Cost: Contact Engagedly
Key features:
4. 15Five
15Five is a performance management system that simplifies and optimizes performance reviews to enhance employee development. It's an effective way to get valuable feedback from your team so everyone works towards the same goals.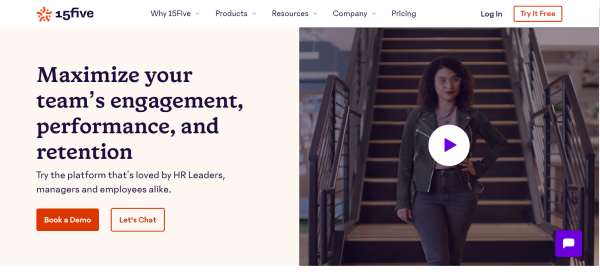 One thing that you can note about 15Five is its employee engagement surveys. These surveys are devised to help you understand what your team loves about their job and what they think could be improved. It's a great way to show that you value your employees' opinions and are dedicated to making your workplace better.
But 15Five isn't limited to just surveys and reviews. You can also align company-wide objectives with individual priorities and customize training and coaching for managers. You can even implement a blended learning approach to upskilling managers at any level.
Cost: Paid plans, starts at 4 USD monthly per user
Key features:
Engagement surveys and feedback tools

Performance reviews and measurements

OKRs and goal management

Blended learning
5. Clear Review
Clear Review is another solid option to ease your performance management process. One of its key features is its performance management software, where you can track your team's progress. You and your team can also set practical goals and give real-time assessments.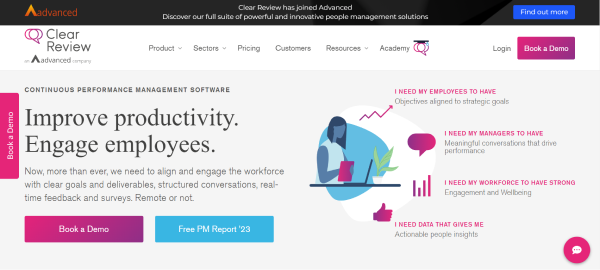 Aside from that, Clear Review has an engagement software that will empower your employees to gather feedback and amplify their voices. This feature will prompt them to self-reflect, making it easier to identify their strengths and weaknesses. Clear Review can help you coordinate all of these and involve your workforce with clear and structured conversations – which you can do conveniently at the place of your choice.
Cost: Contact Clear Review
Key features:
6. Motivosity
Motivosity is a great platform if you're curious about how to motivate your team at work. It's a performance management system that cultivates a positive workplace culture to improve employee engagement and performance.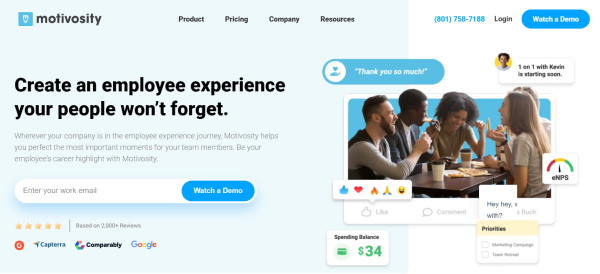 One of the best features of Motivosity is its ability to facilitate recognition and rewards. With this platform, you can easily implement a rewards program that promotes a culture of gratitude and lifts team morale. Plus, it encourages community and connection, so you'll be able to foster a strong team dynamic both inside and outside the office.
By delivering valuable employee insights, Motivosity lets you visualize the key metrics that matter most. And with actionable data, you can make informed decisions about your workforce and drive positive changes within your company.
Cost: Paid plans, starts at 2 USD monthly per user
Key features:
Community and connection

Recognition and rewards

Employee insights
7. HelloTeam
With HelloTeam, you can unify performance management, employee engagement, and social connectivity to build a better workplace culture.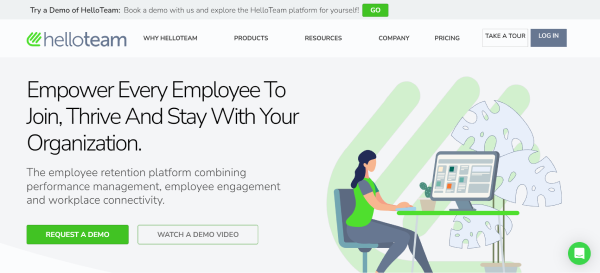 HelloTeam's performance management software lets you easily set up review cycles, provide feedback, and track goals and objectives. The software comes with built-in review features, pre-made templates, and meeting tools, so you can quickly and consistently evaluate your team's performance, no matter where they are.
HelloTeam also features engagement tools like recognition badges, rewards, and peer-to-peer recognition. Plus, they have social tools that allow for transparency and collaboration, as well as real-time employee data and insights, so you can measure and manage employee performance and engagement and identify areas for improvement.
Cost: Paid plans, starts at 7 USD monthly per user
Key features:
Performance management software

Engagement tools

Social tools

Real-time data and analytics
8. WorkTango
WorkTango is an all-in-one performance management system that makes employee feedback, recognition, and goal-setting effortless and effective. Like most performance management tools, it can help you engage and inspire your team for improved workplace productivity.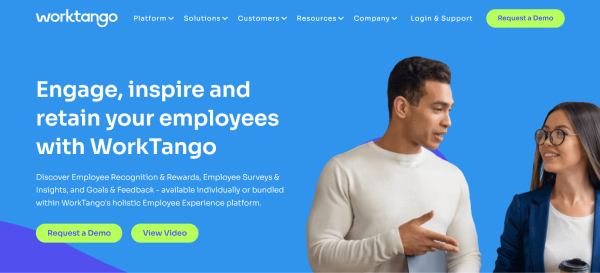 With WorkTango's recognition and rewards feature, you can reinforce key values and behaviors in your company. You'll also be able to build a more robust company culture, improve goal alignment, and make employees feel more valued and inspired.
Also, WorkTango has an employee surveys and insights tool that will let you make data-driven decisions by encouraging authentic conversations and action with your team. They support OKRs, progress-tracking, and structured check-ins.
Cost: Contact WorkTango
Key features:
9. Mirro
You can also take care of existing performance management issues in your company by using Mirro. It's an innovative performance management system developed to engage, motivate, and retain employees for guaranteed business growth.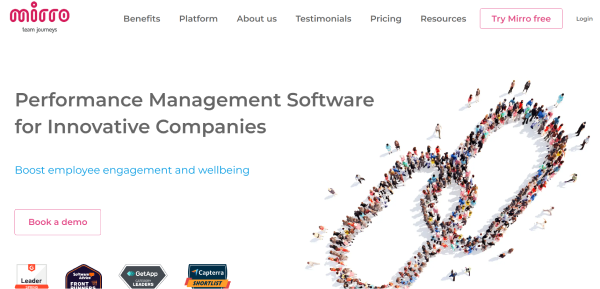 With its people analytics platform, you can have access to advanced data visualization and reporting tools. Plus, you can take advantage of Mirro's feedback features to promote continuous improvement and growth among your employees. And you won't have to worry if you're working with a remote team; Mirro supports flexible work settings.
Mirro can also simplify your job with features like recognition and rewards, performance review tools, and OKR frameworks. With these, you can keep your team engaged, help them understand the company's goals, and ultimately foster a strong company culture.
Cost: Paid plans, starts at 5 USD monthly per user
Key features:
10. Leadr
Leadr is a people platform designed to make managers better leaders. Like other performance management platforms, it's meant to increase employee engagement and retain top performers.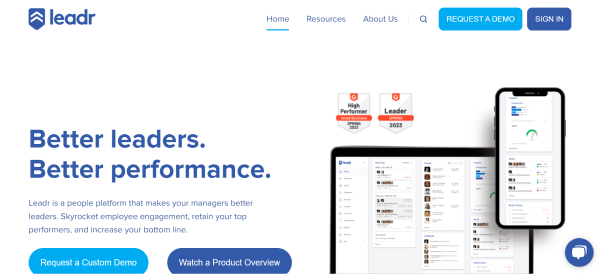 Leadr has various features necessary for leading teams consistently. For one thing, it boasts a powerful development tool for meaningful one-on-one meetings. You can use this to collaboratively create meeting agendas, share and receive feedback, track progress for documented goals, and facilitate performance reviews.
Leadr also offers tools for setting up customized or company-wide learning projects like videos, books, articles, or podcasts. With these resources, you can equip your team with the necessary knowledge to advance their career.
Cost: Contact Leadr
Key features:
If you still feel the need to learn more about this topic, you might want to check out some training performance management programs. These programs will help you kickstart your performance management process. You'll also gain the proper skillset to manage your team effectively and take their job performance to the next level.