2. Kahoot!
If you're looking for an app that focuses on gamified lessons, Kahoot! might be one of the best options out there. It's a game-based online learning app helpful for making learning more engaging and exciting. You can make a learning game or trivia quiz about any topic in the language of your choice, host a live game with questions on a big screen, share a friendly contest for distance learning, or join a "Kahoot" with a PIN and answer questions on your device.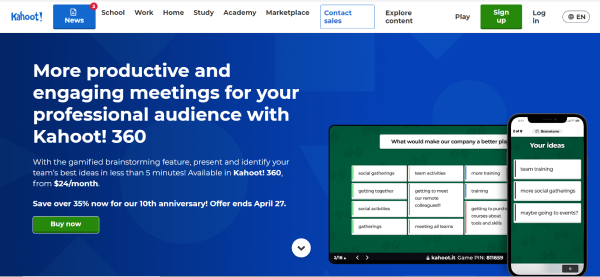 If you want to use it for work, you can create "Kahoots" as an individual challenge for team members to complete at their own pace. Kahoot! also has reports and analytics to help identify areas where learners may need more help and give feedback. 
Cost: Free, paid plans
Key Features:
Interactive game-based format

Multiple game templates

Live group participation or self-paced

Reporting & analytics
3. Quizizz
Like other e-learning apps, Quizizz is another great platform if you're up for an interactive and engaging learning experience. This e-learning app has a customizable course library and offers dynamic classroom sessions with live presentations, quizzes, and polls. Quizizz also has assessment and e-learning tools that make room for better retention and supplies insights and reporting to help admins track learner progress.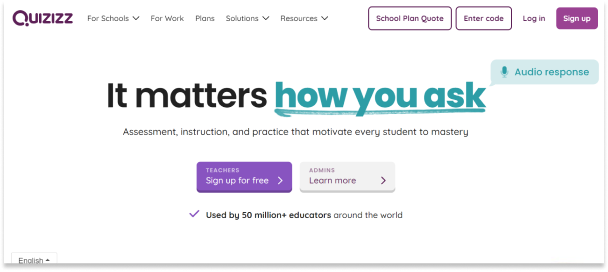 You can also check out Quizizz For Work, where you can apply the app's innovative features and gamification elements that will appeal to your team. You can assign asynchronous e-learning so your team can choose the learning schedule that works for them.
Cost: Free, paid plans
Key Features:
4. Khan Academy
Khan Academy is a free online learning app that gives learners of all ages practice problems, video lessons, and a personalized learning dashboard so they can learn whenever and wherever they want. The platform offers a wide array of course materials in subjects like math, science, computer science, reading and language arts, art and humanities, economics, and life skills. 
Khan Academy uses video as the primary learning material, accommodating thousands of video lessons from professionals across different industries.
Cost: Free
Key Features: 
4,000+ courses

Personalized learning dashboard

Practice exercises

Progress tracking

Instructor-led video lessons
5. edX
edX is an online learning app offering access to over 3,000 courses on in-demand topics from top universities and organizations worldwide. In their wide-ranging course selection, you'll see video lessons on subjects like Math, Science, History, Social Science, and many more. It also gives an opportunity to gain certificates and degrees from some of the world's top universities, such as Harvard, Oxford, MIT, and Berkley. All that while offering a social learning experience where learners can connect with each other.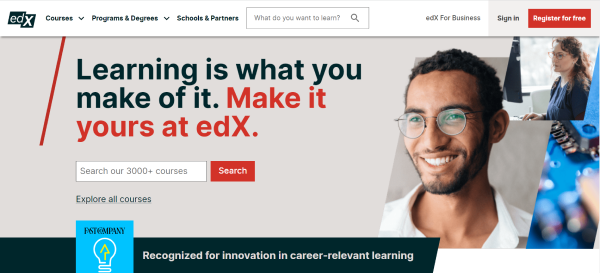 If you want to use it for workplace training, you can change your plan to edX For Business, which offers corporate learning content and professional certificates for career advancement.
Cost: Free, paid plans
Key Features:
6. Coursera
Along with edX, Coursera is regarded as one of the best learning apps where users can enroll in courses and get degrees from leading universities and companies around the world. Its most popular courses include computer science, data science, business, and information technology, but you can also explore plenty of other subjects according to your background and interests. 
Coursera practices a flexible learning approach, so you can learn anytime and anywhere. You can download videos, listen to audio-only supported lessons, and learn on any device with mobile-friendly courses. Plus, you can always pick up where you left off with saved coursework, quizzes, and projects across your devices.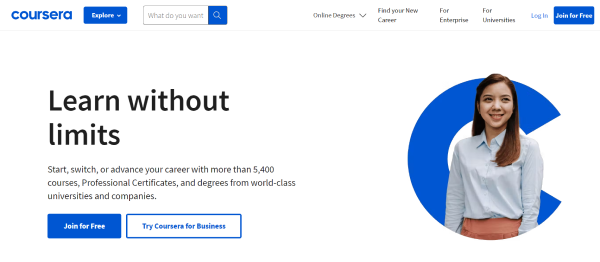 You can also try Coursera For Business if you're aiming to upskill your team. They have hands-on, expert-led training programs and a skills dashboard to boost training effectiveness.
Cost: Free, paid plans
Key Features:
5,000+ courses

Flexible learning

Supports audio-only courses

Quizzes and projects

Skills dashboard

Professional certificates and degrees available
7. Alison
If you're a job-seeker looking for an online learning app to guide your career development journey, you might want to consider using Alison. Alison is a career empowerment platform providing workplace skills training with over 4,000 free Certificate and Diploma courses and career growth tools. They add hundreds of new lessons monthly across categories such as Engineering, Business, IT, Health, and Marketing.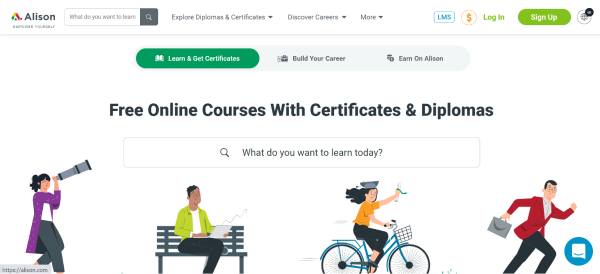 Alison also allows organizations to improve their workforce through Alison For Business. You can build personalized learning tracks for your team based on your organization's needs.
Cost: Free, paid plans
Key Features:
4,000+ courses

Personal dashboard

Certificates available
8. Skillshare
Skillshare is an online learning app with over 35,000 classes taught by industry leaders in design, technology, business, and more. With its vast library of courses, you can easily find classes that suit your needs and interests. Skillshare uses educational videos that usually last 30 to 40 minutes, so it's ideal for visual learners. It's also a good platform for learning something new and doesn't have to be for work-related purposes.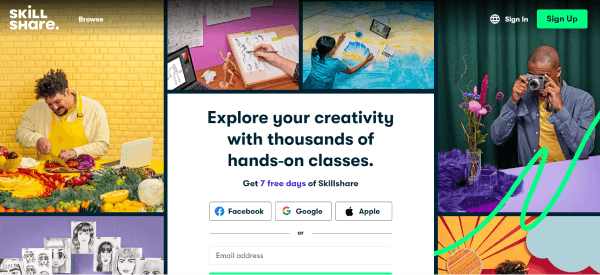 But if you want to use it for work or invest in your team's professional growth, you can opt to use Skillshare For Teams. It features a team management portal for a personalized experience, detailed reporting, and analytics.
Cost: Paid plans
Key Features:
35,000+ classes

High-quality videos

Suitable for creative and professional courses

Easy-to-use team management portal
9. TED
Another online learning app you can think about is TED. It hosts over 3,000 carefully curated educational videos from remarkable speakers on business, science, technology, design, education, and global issues, with subtitles available in more than 100 languages. You can also watch a lesson via TED-Ed, customize it, and roam around the app's growing library of learning resources. Or you can listen to a collection of podcasts anywhere under the TED Audio Collective.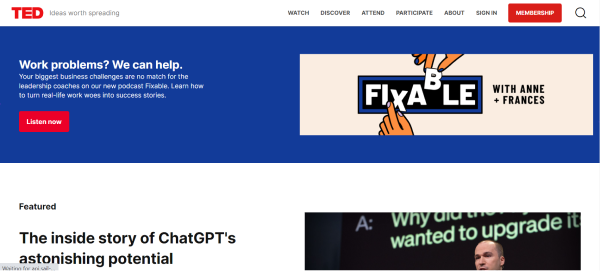 With thousands of talks available online for free, TED has become a go-to source for anyone seeking knowledge, inspiration, and a new perspective on the world.
Cost: Free, paid membership
Key Features:
3,000+ inspiring talks from experts

Vast video and podcast library

Subtitles with 100+ languages

Personalized playlist options
10. Nearpod
Nearpod is a mobile learning app with more than 22,000 resources and tools for creating learning content that suits your team's training needs. They give real-time insights into learner knowledge using interactive lessons, videos, and gamified learning. Nearpod also features formative assessments and data-driven feedback, keeping instructors posted on any change in progress so they can determine learners who need more attention.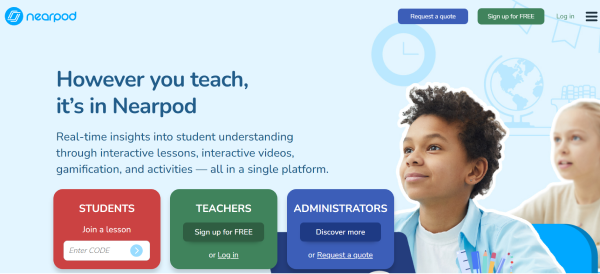 Cost: Free, paid plans
Key Features:
22,000+ learning resources

Customizable lessons

Interactive lessons and videos

Gamification and activities