LMS Systems for Business # 2 - Violet LMS
Violet LMS is a complete LMS service platform that can help you with various types of training such as employee, sales, and customer service training. While the platform creates online courses with interactive elements, it also offers virtual training sessions. Additionally, this LMS can handle any of your certification templates and management needs.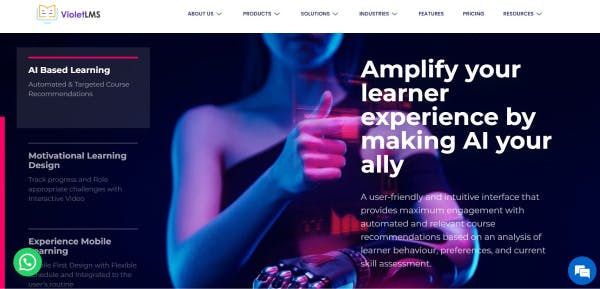 This free learning management system is an excellent option if you have a big organization that requires a strong LMS with robust features. But, if you're a small business owner or manager, you might find some of its tools overwhelming and unnecessary.
Cost: Free
Key features:
Content management

Training management

LMS customization
LMS Systems for Business # 3 - Trainual
If you're looking for an elearning platform that caters to both employee training and onboarding, Trainual might be a good fit for you. Trainual offers pre-made lesson templates and HR policy and procedure templates to make creating training resources easier for you.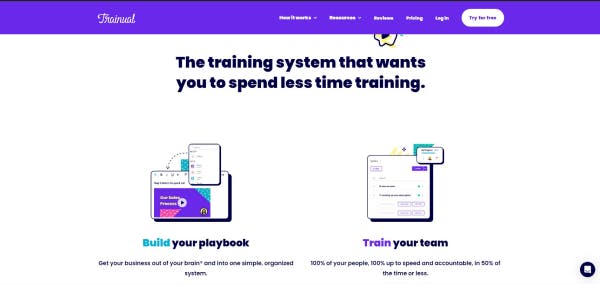 With Trainual, you can add different documents and media to your courses and customize them for your specific business needs. This onboarding LMS even allows you to organize your company's onboarding materials, so new hires can quickly access important documents. Trainual also gives tools for managing teams, delegating tasks and responsibilities, and creating organizational charts.
Cost: Starts at 10 USD per user/month
Key features:
Lesson templates

Organizational charts

Team management
LMS Systems for Business # 4 - Persona Learning
Persona Learning is an elearning platform that can give you several high-quality features to help save on training costs while making sure that all your learners stick to corporate standards.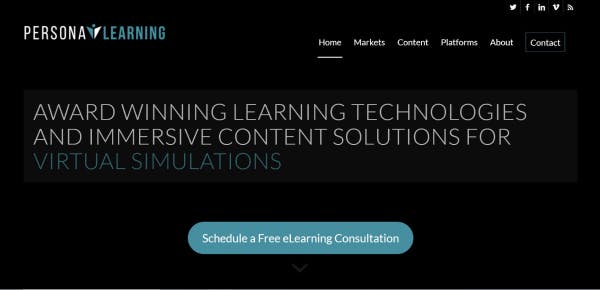 Their elearning creator tool includes built-in course design features like photos, graphics, and audio to create a great learning experience for everyone. You can also use their style sheets to customize the platform with your branding and change colors, fonts, and other elements to keep your online training materials consistent.
Cost: Contact Persona Learning
Key features:
LMS Systems for Business # 5 - Innform
If you're on the hunt for an elearning platform that can meet all your business training needs, Innform is a great option to consider. You have the choice of over 100 ready-made courses, or you can use your existing content and transform it into an interactive training manual.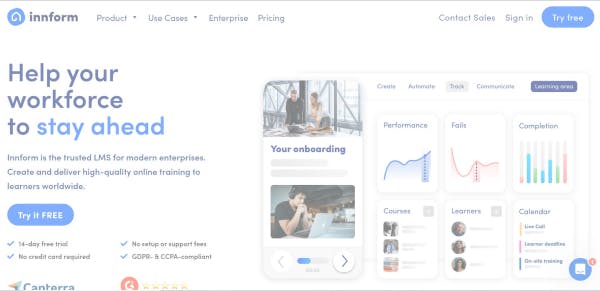 Innform also allows you to easily add files to the courses or quizzes you create. After completing a course, you can reward learners with points, badges, and a spot on the leaderboard to boost engagement. Innform's monitoring and reporting features can also help you track your teams' progress at all times.
Cost: Starts at 1 GBP per user/month
Key features:
100+ ready-made courses

Badges and leaderboards

Monitoring and reporting
LMS Systems for Business # 6 - Acorn
Acorn is the perfect learning management system for small and mid-sized businesses as well as non-profit organizations. It's SCORM-compliant, customizable, and perfect for administrative tasks. The platform's flexibility allows for customized course creation using a drag-and-drop editor, which makes it easy for you to add multimedia content, and brand your courses.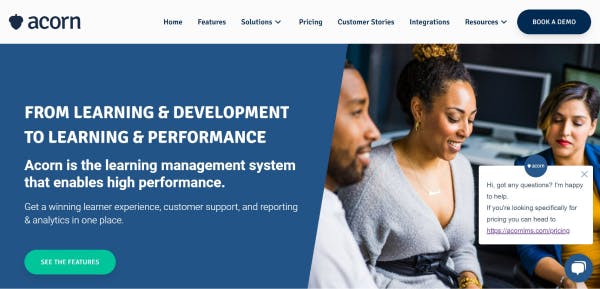 With Acorn, you can easily manage your learners, and add certificates, quizzes, and assignments with a few clicks. All these features will help you deliver and track training materials efficiently, save time, and increase employee engagement. Like other LMS systems for business, the platform also offers an e-commerce option if you want to sell your courseware. 
Cost: Contact Acorn
Key features:
Administrative assistance

Customized course creation

E-commerce functionality
LMS Systems for Business # 7 - GoSkills
GoSkills is an LMS designed to suit businesses of all sizes. It features gamified learning platforms to encourage friendly competition among your learners. This LMS also supports all types of content and files to keep your learners engaged.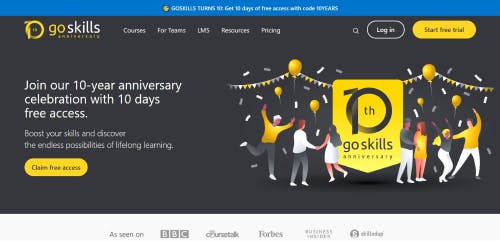 This cloud-based platform is also mobile-friendly, which allows your learners to access training content from anywhere. It even includes tools that can let you track the progress of your learners. But, a downside is that you can't edit courses within their library, and their paid options might be expensive for small businesses.
Cost: Contact GoSkills
Key features:
Gamification

Mobile learning

Progress tracking
LMS Systems for Business # 8 - Auzmor Learn
Auzmor Learn can help you manage and track training materials for your learners and other stakeholders. It houses course creation and data storage features all in one place. You can monitor your learners' progress using its dashboard, and learners can track their own activities using a similar tool.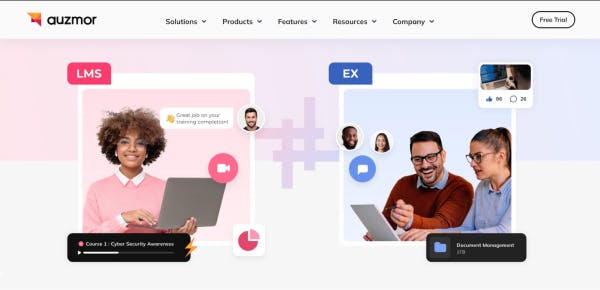 This LMS's unique selling point compared to other LMS systems for business is its great feature called open enrollment. This allows learners to enroll in any course and continuously upgrade their knowledge. One downside is that Auzmor Learn currently lacks an international training feature for teams that speak multiple languages.
Cost: Contact Auzmor Learn
Key features:
Course creation

Dashboards 

Open enrollment
LMS Systems for Business # 9 - 360learning
360Learning is a great way to manage your team's training. Its various tools will allow you to teach your learners new skills, create courses, and monitor their progress.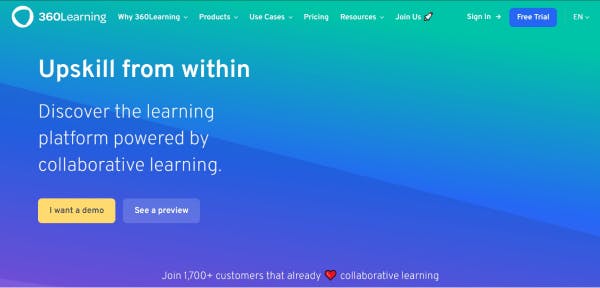 Your learners can also use features like group pages and discussion boards to work together and learn collaboratively. You don't need to be a technical expert to use any of 360Learning's tools, so it's perfect if you're new to online training.
Cost: Starts at 8 USD per user/month
Key features:
Course creation

Progress monitoring

Social learning
LMS Systems for Business # 10 - Forma LMS
Forma LMS is a great LMS that has a modern and user-friendly design, making it easy for learners to use. It has a bunch of tools that can help you create training courses quickly and easily.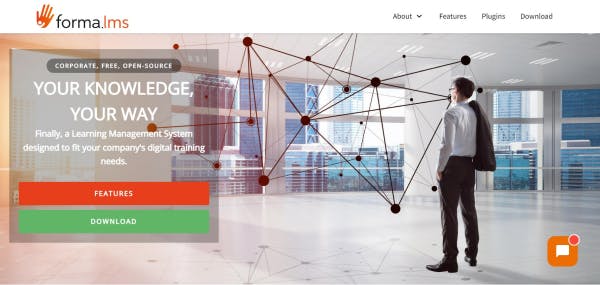 This LMS for business is specially designed as a corporate LMS and has features like certificates, video conferencing, and calendars to help you manage training events. You can also create custom reports to see how well your team is doing and spot areas where they need more training.
Cost: Contact Forma LMS
Key features:
Course creation and certification

Video conferencing and calendars

Custom reports