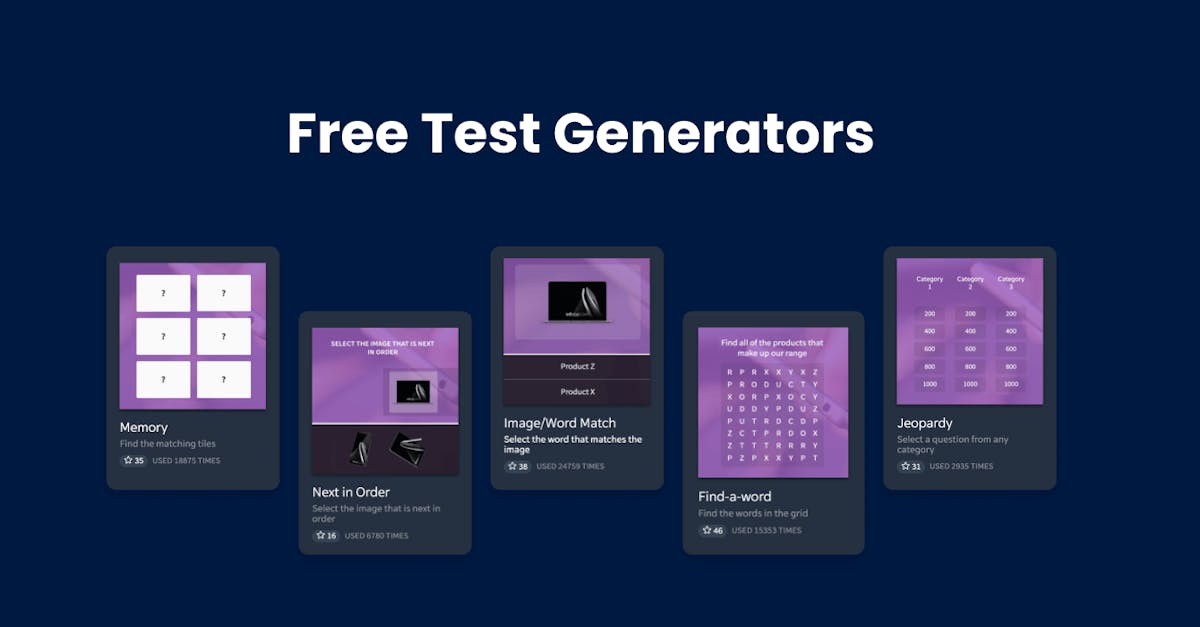 A free test generator makes employers, organizations, and teachers' lives a lot easier. They can create engaging and interactive tests at no cost at all. It's an easy way to quickly gather learner information and increase their knowledge retention. We've gathered the best free test generators for you to try out today.
Free Test Generator #1 – EdApp
EdApp combines a world-class quiz maker and spaced repetition features to provide you with the most powerful free test generator in the world. EdApp's spaced repetition feature, Brain Boost, automatically creates interactive lessons based on content previously learned from your EdApp courses and can present these lessons in the form of micro exams.
On the other hand, EdApp's Rapid Refresh quiz maker aims to deliver bite-sized quizzes at regular intervals to not only check learner comprehension but reinforce learning. Rapid Refresh quizzes are easier to set up compared to other free test generators. All you need to do is upload your questionnaire into a spreadsheet. This intuitive quiz creator tool will then automatically transform them into gamified and interactive questions. Once your quiz has been uploaded to the platform, you can play around with the quiz settings available. For example, you can randomize the question order if you want to A/B test your quizzes. You can also choose to launch your tests in one go or deliver them at certain intervals.
After your learners have completed their online test, you'll receive big data analytics to help you determine what they actually need for training. Some of the data you can gather from the analytics tool are their behavior, their training performance, their time completion, and their weakest areas. 
Price: Free
Features: Brain boost, Spaced Repetition, mobile-friendly, and more
Free Test Generator #2 – Free Online Surveys
The Free Online Surveys platform is a wonderful free software that gives you the option to test both students and staff members alike. You can make a quiz that require up to a thousand responses. This free test generator is quite famous and is utilized by multiple international household names such as Adidas, Siemens, Amazon, and more.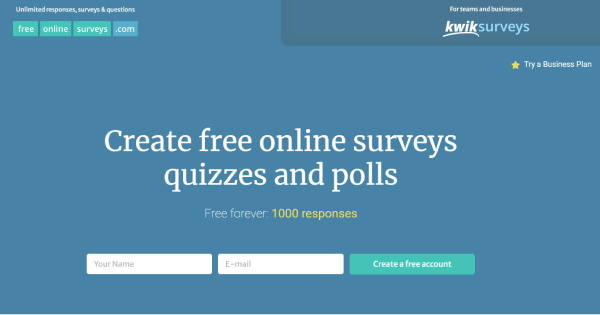 With the Free Online Survey software, you can generate graded tests and survey questions that utilize incredible features such as automated scoring, time limits for each test, multiple choice question, filters and segments, the option to show or hide answer sheet and scores, and more. The automated scoring feature is great because it takes the pressure off you as you don't need to go through individual tests and survey results to give a grade. With the time limit feature, you can set limits for how long each student has to complete a particular test. The A/B testing feature allows you to see which variant of a particular variable performs better than the other.
Although this test creator is free, it does provide you with customizable options that can synchronize with your brand. These customization options include theme colors, images, font sizes, videos, and customizable messages that can be utilized to provide personalized feedback to test takers. This free test generator needs a way to schedule, and automatically deliver quizzes, this would be a big plus.
Price: Free
Features: Automated scoring, A/B testing, Customization
Free Test Generator #3 – Cambridge
Cambridge International has now made their once subscription-only test maker accessible for free. The software is a bit niche as it caters only to the educational institution category. It's useful for teachers who want to create high-quality, customized tests for their learners by using questions from Cambridge.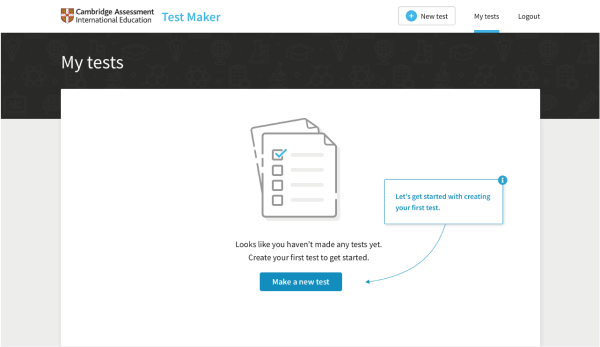 The free test generator provides up to 500 questions from six of Cambridge's most popular IGCSE syllabuses. These syllabuses include physics, mathematics, additional mathematics, business studies, chemistry, and biology. Teachers have the option to filter their tests by topic or types of questions and exam series. When they find the questions that best suit their learner's ability they can preview and then select the ones that they want to use. The tests can be created for individual students or entire classes.
There is a review and check feature on the software that enables teachers to check the difficulty of the overall test and to ensure that the test created covers all the right topics and assessment objectives. This free test generator is great but it is a bit too niche.
Price: Free
Features: 3000 questions, customizable, test preview
Free Test Generator #4 – Interact
Interact is a free test generator that is great for creating lead generation quizzes. It provides hundreds of ready-to-use, fully customizable templates for users who want a quick and easy way to create their tests. In addition to its customizable templates, users can use this free test generator to create their tailor-made quizzes as well. The software allows for the customization of quiz colors and designs for your test to synchronize with your brand.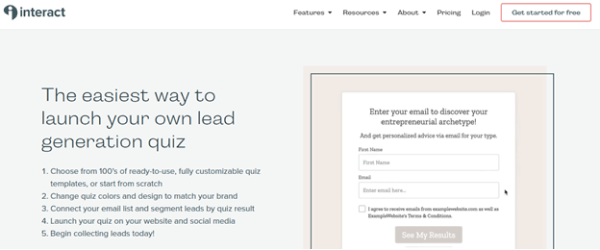 After the lead generation quiz has been completed, you can connect your email list and then segment the generated leads by quiz result. A major feature of this platform is that it allows you to launch the quizzes on your website and social media platforms to reach a wider audience. You can use your quiz just like a daily post, this is a great way to personalize your marketing. Because your quizzes can be published on your social media pages, your followers can share them and get you even more leads.
International brands such as the American Red Cross, Solluna, Lush, and more utilize this platform to generate leads. This is also another niche platform that may not be as widely adopted as others on our list.
Price: Free
Features: Lead generation, templates, export to social media
Free Test Generator #5 – FlexiQuiz
FlexiQuiz is a powerful free test generator that allows for the easy creation, dispersion, and assessment of tests, quizzes, and assessments. The platform allows users to create respondent accounts, and custom email invites that are good for branding. The platform is mobile-ready, so both test creators and test-takers can utilize their mobile devices to access quizzes at any time from anywhere.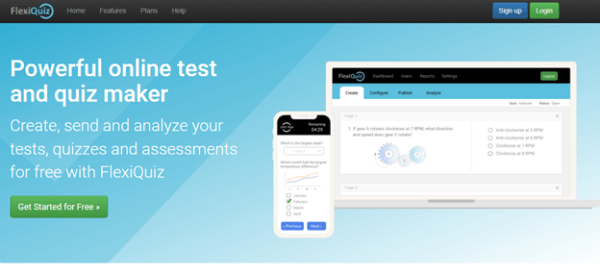 This software provides multiple question type formatting options that include multiple-choice, picture choice, short answer, matching, file uploads, fill in the blanks, and essays. You also have the option to indicate whether or not a question is optional or required. At the end of each test, users can provide instant feedback to test takers. Speaking of tests, the test you create can be published privately, sent to a selected group of individuals, or be publicly accessed by anyone who has the link.
The platform instantly grades your tests and then provides in-depth reports which allow for analysis of all responses provided. FlexiQuiz is packed full of useful features, but it could benefit from a feature that allows you to upload your older test materials as well.
Price: Free
Features: Mobile-ready, Private testing, analytics
Free Test Generator #6 – Testmoz
The next free test generator that made our list is Testmoz. The free plan available from this platform will let you distribute your tests online and get test results instantly after the tests are completed. In addition to that, the software automatically does all the grading for you, saving you time and energy which can be used for other meaningful tasks.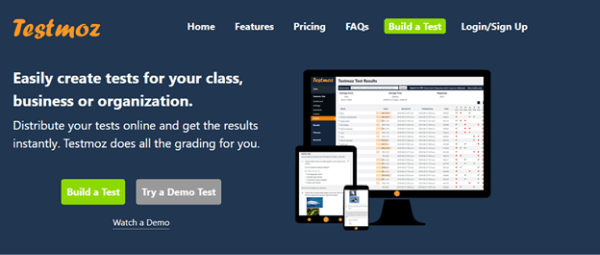 With this platform, you can completely customize the tests you create by uploading images, embedding videos, selecting the language the students will interact with, setting time limits for each quiz, and many other options. Even though the platform is simple to operate, it has tons of features that each teacher, trainer, or employer may need to generate tests. You are allowed to create a question bank that you can pull questions from for your electronic or paper tests.
One option that is not commonly available from a free test generator is the option to show either a single question per page or all questions at once. This option is available with this software. You can use the software to set the test dates but unfortunately, you can't schedule the platform to automatically deliver the quiz on your behalf.
Price: Free
Features: Analytics, Customizable, time limits
Free Test Generator #7 – QuestionPro
With this next platform on our list, QuestionPro, users can generate free tests ranging from basic surveys, employee engagement solutions, to customer experience feedback quizzes. The platform is used by a lot of household names such as Google, Disney, Microsoft, Amazon, and P&G. QuestionPro allows you to use your branding to personalize the test. The tests you create can be populated with multiple question types.

This software comes with tons of professional templates which allows for the easy creation of surveys for market research, academic research, customer satisfaction, and much more. The QuestionPro free test generator supports over 100 languages, allowing you to reach a much wider audience than other platforms. Your audience and yourself can use mobile devices to both create and take tests.
After tests are completed, the platform provides shareable, automated reports that you can use to analyze data provided, and export said data to a variety of supported methods such as SPSS, Excel, and CSV. QuestionPro is backed by a 24-hour global support team, this is extremely important because you can get support in almost any language, at any time. Unfortunately, there isn't a way for you to deliver content at increasing levels to your team to improve their knowledge retention.
Price: Free
Features: Export, 100 Languages, multiple question types
Free Test Generator #8 – Jotform
If you were looking for a platform that allows you to build tests for any subject area, add conditional logic, and automatically grade answers in a quick easy way, Jotform is another good option. This free test generator provides free online test templates so you don't have to worry about building your test from scratch. These templates can be customized to match your classroom and come in both classic form templates and conversational card forms that are more fun and engaging.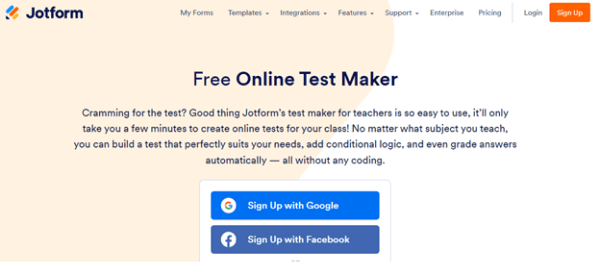 The quizzes created can be in a variety of formats such as math, multiple-choice, vocabulary, and more. If you are worried about not having the requisite coding knowledge to use the platform, remember we mentioned it is easy to use and this means no coding knowledge is required. The authoring tool allows you to simply drag and drop text boxes or multiple-choice questions. You also have an option to add an upload field for your students to upload files as answers and you are given a place to provide test instructions.
Your tests will be fully customizable and you can even upload photos, your company's logo, and adjust colors to fit your brand. Jotform is feature-packed but is missing a way to automatically schedule and deliver tests to your students.
Price: Free
Features: Customizable, drag and drop, templates
Free Test Generator #9 – ProProfs
ProProfs is a popular quiz maker that has over 100,000 quizzes created and taken by over 50 million people. It provides a simple way to create online quizzes that are highly customizable that can be accessed at any time from anywhere. After you have sent out your tests, you will receive reports and analytics to help you get your students' understanding of the material.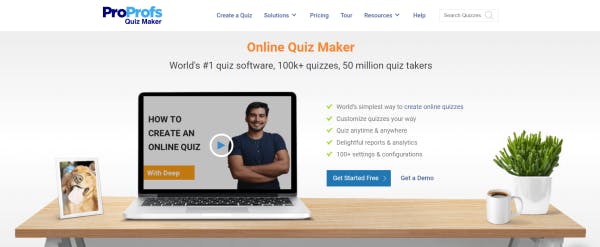 The platform is one utilized by international brands such as Dell, DHL, Cisco, and Sony. As we mentioned, it is quite easy to use this free test generator. All you would need to do is choose the type of quiz you would like to create, choose the templates you want to use for the quiz, or make one from scratch, then add your questions, images, and videos. After you've entered all of the quiz information, you can go about customizing the look of the quiz and the settings available. The last step would be to share the quiz with your students or employees.
The platform is also useful for creating market research tests, driving skills tests, customer service training tests, and employee satisfaction quizzes. If ProProfs had a way for you to create courses to go along with the quizzes, it would have been a complete package.
Price: Free
Features: Analytics, multiple question types, templates
Free Test Generator #10 – Fyrebox
The final free test generator on our list is Fyrebox. This free test generator is a bit unique and has a feature not many others do. You can create a quiz that can be published in two formats. The traditional quiz format and also a conversational text format like the ones you get from automated help bots on a lot of websites. The software can be utilized to generate leads, provide entertainment, or assess knowledge retention.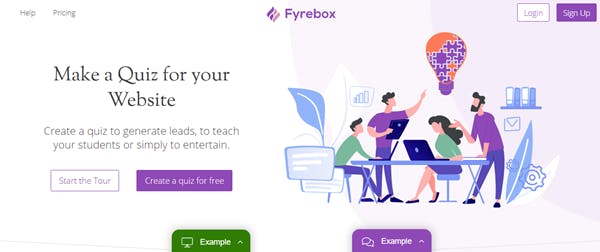 The lead generation aspect of the platform allows for you to export the contact information garnered from quizzes to over 3,000 applications. In addition to this lead generation feature, you can use your quizzes to reach a wider audience by adding your social media information or your website information to the last page of a quiz, redirecting your participants to your social pages or your website. Fyrebox allows you to receive a report that includes your participant's answers, their score, and how long they spent completing the quiz. 
You can use the software to conduct market research through interactive surveys. The statistics from these quizzes will be automatically recorded and you will be able to see how many participants started, finished, or choose not to complete your test.  Unfortunately, Fyrebox does not have a way to automatically increase the difficulty level of the content distributed.
Price: Free
Features: Analytics, Lead generation, multiple quiz types