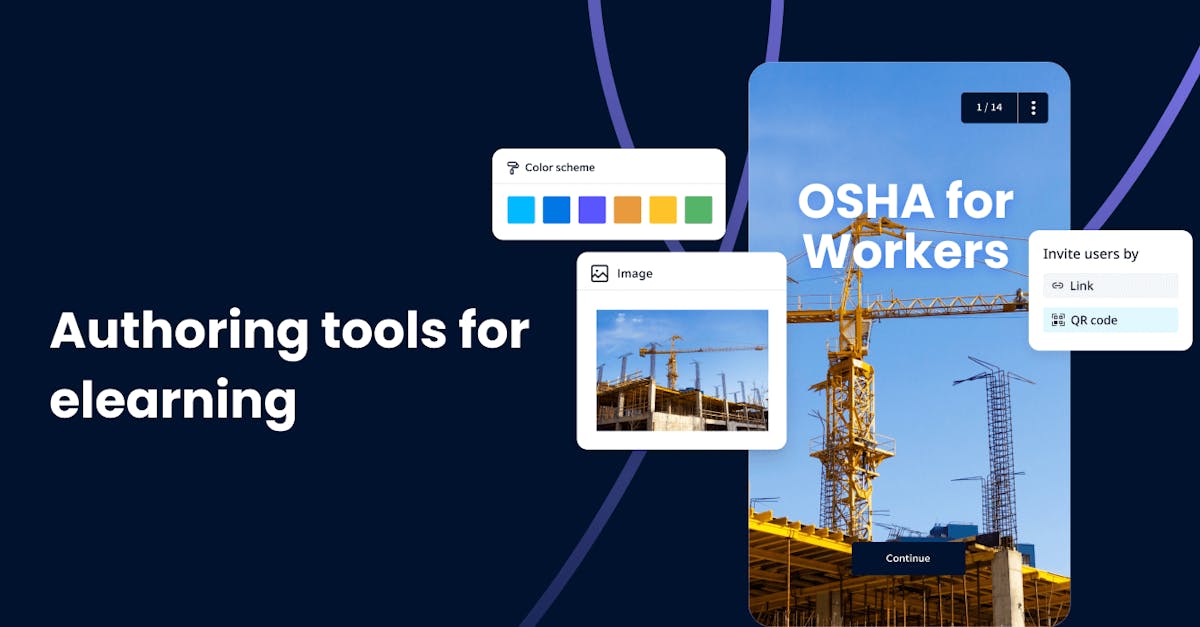 1. EdApp Authoring tool for elearning
Why use EdApp?
EdApp's Creator tool is the best authoring tool for learning since it allows you and your training managers to produce dynamic and interesting microlearning content with ease. It has a collection of pre-made themes and templates, drag-and-drop features, and the option to add interactive components like gamified quizzes, polls, and videos.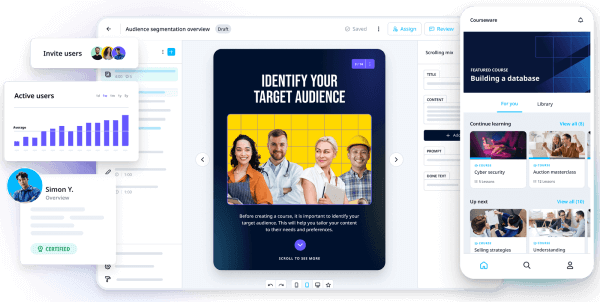 If you want to save a lot of time and energy when creating courses, you can also check out AI Create by EdApp! It's a game changer, allowing you to convert your amazing ideas into interactive, super-effective courses in a matter of seconds. Simply type in a topic, keywords, a synopsis, and even a link. Isn't that incredible?
Features:
Convert training ideas into engaging courses

Cut down on time and energy spent on creating courses with EdApp

Gamify your training with quizzes, polls, and videos
Sign up for EdApp to get started on elearning authoring
2. Evolve authoring tool for elearning
Why use Evolve?
One of the authoring tool examples you should also look at is Evolve. Evolve Interactions helps you build courses faster. It rapidly combines components such as flip cards, carousels, flow charts, and sliders.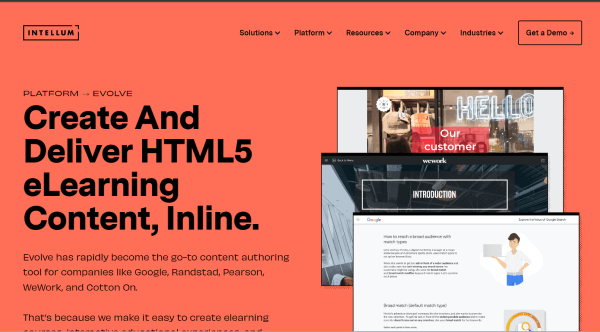 You can also develop tremendously engaging experiences by combining customizable tables, interactive information, and integrated movies. It also includes a resource center where you can grab inspiration for your next instructional design project. 
Features:
Build courses faster with Evolve Interactions

Integrate multimedia components into your courses

Create great learning experiences through interactive information
Cost: Starts at 576 USD per year
Platforms Supported: Mac, Windows
3. BranchTrack authoring tool for elearning
Why use BranchTrack?
BranchTrack's browser-based simulations editor allows you to build captivating simulated scenarios that run on any device without any technical or design knowledge. Existing training content such as files, photos, videos, text, voice-overs, free-text responses, and more can be attached.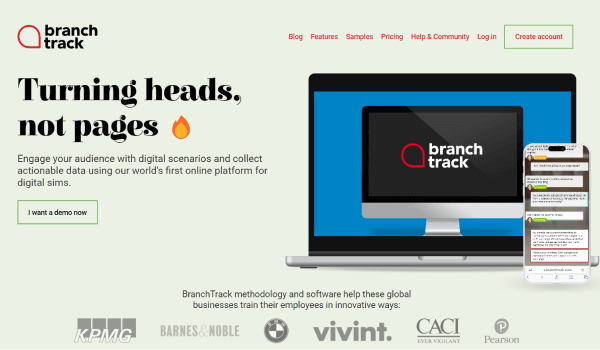 BranchTrack also contains a built-in picture collection, real-time reviewing for team collaboration, and Classes to bring your learners together in one area. 
Features:
Add in voiceovers, free-text responses, and other multimedia

Promote social learning through BranchTrack's Classes
Cost: Starts at 999 USD per year
Platforms Supported: Linux, Mac, Windows
4. Explain Everything authoring tool for elearning
Why use Explain Everything?
Explain Everything is one of those elearning authoring tools that primarily operates as an interactive whiteboard. On a digital whiteboard, you're able to draw, present, animate, and create films.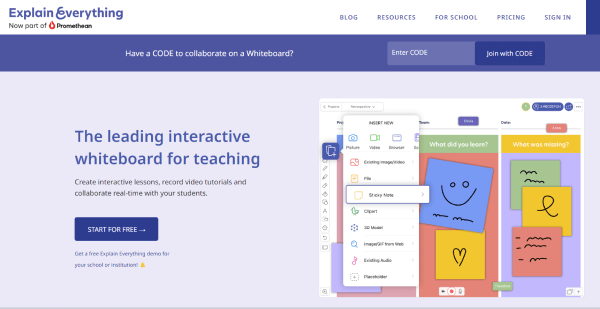 You can capture voice recordings and all of your work on the canvas to transform your whiteboard into training lessons. You can modify it as needed before exporting it as a video in a few simple steps. Because it supports practically any document file format, you can even bring in existing training content. 
Features:
Turn your ideas whiteboard into lessons with Explain Everything

Record your voice and items on the whiteboard to transform into lessons

Supports almost any document file format
Cost: Request a quote
Platforms Supported: Web, IOS, Android
Learn more about Explain Everything
5. dominKnow authoring tool for elearning
Why use dominKnow?
dominKnow is an elearning software that combines a training module generator and a content management system into a single package. It's sought after by several businesses to satisfy all of their team collaboration and corporate training needs.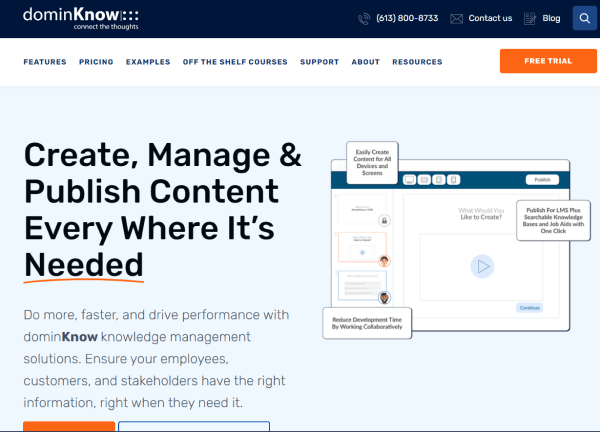 The authoring tool for learning can be used to create interesting SCORM-compliant courses. Simply select from a variety of SCORM creator templates and digital assets and send them directly to your workers' learning devices. 
Features:
Generate training content through dominKnow's training module generator

Promote social and peer learning

Create SCORM-compliant courses
Cost: Request a quote
Platforms Supported: Linux, Mac, Windows
6. BrainCert authoring tool for elearning
Why use BrainCert?
BrainCert is an LMS with built-in elearning tools. Its modern and user-friendly interface makes it simple to browse various features such as the course creator wizard, testing platform, customizable theme design, and virtual classroom. The course creation wizard makes it simple to import, adapt, and deliver courses to your learners.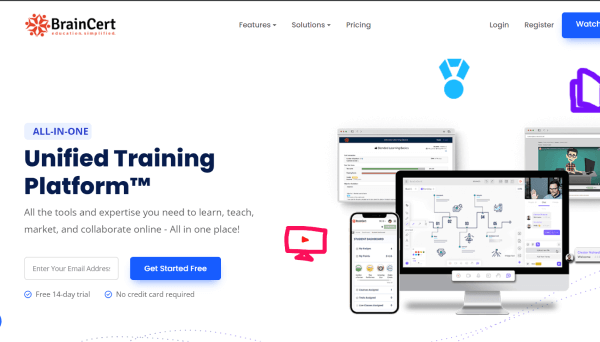 Features:
Access a ton of built-in elearning tools that are SCORM-compliant

Simplified course creation for beginners

Import and deliver customized courses to your learners
Cost: Starts at 9 USD per month
Platforms Supported: Linux, Mac, Windows
7. Whatfix authoring tool for elearning
Why use Whatfix?
Whatfix blends personalized course content authoring with scalability, making it simpler for you and your trainers to create engaging training programs for your learners. When learners first access the platform, they'll be welcomed with a personalized message and an application tour that'll expose them to the many features of the platform.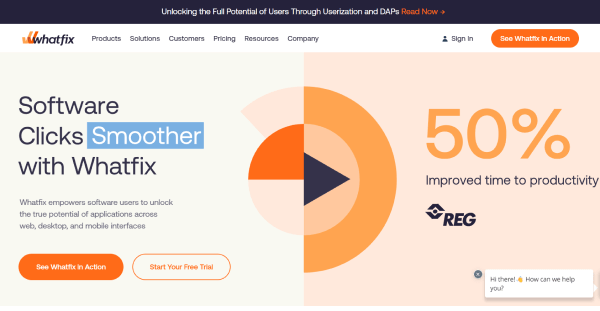 You can also design condition-based tutorials that are tailored to each employee's function, location, and ability level to further customize the learning experience.
Features:
Scale personalized course authoring with Whatfix

Deliver individualized learning experiences to learners

Design condition-based tutorials for each employee
Cost: Request a quote
Platforms Supported: Windows, Web, IOS, Android
8. H5P authoring tool for elearning
Why use H5P?
H5P is an open-source content authoring tool for learning that lets you develop rich HTML5 content. You only need a web browser and a website that has an H5P plugin. It delivers a variety of interactive content kinds, such as quizzes, surveys, games, and simulations. H5P information can also be incorporated into websites, elearning applications, and LMS, making it simple to share and reuse.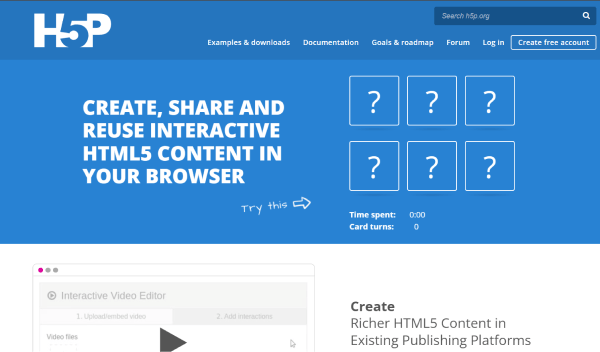 Features:
Create HTML5 rich-content on H5P

Offer interactive content in your training courses

Give your learners flexibility to learn on the go
Cost: Free
Platforms Supported: Web
9. Sana authoring tool for elearning
Why use Sana?
Sana is one of those authoring tools for elearning that lets you create and deliver tailored, interactive learning experiences. To supplement your learning content, you can integrate interactive quizzes, polls, reflections, takeaways, and more.
Its real-time collaborative editing allows your team members from all around the world to actively participate, evaluate, and give feedback. You can even build courses more quickly by using pre-made templates and AI-powered suggestions.
Features:
Develop tailor-fitted interactive learning sessions

Add interactive features to training courses for better engagement

Edit training content as you go, along with other team members
Cost: Starts at 7200 EUR per year
Platforms Supported: Windows, Mac
10. aNewSpring authoring tool for elearning
Why use aNewSpring?
You don't have to be an instructional design expert to develop outstanding training materials, according to aNewSpring. Its built-in authoring tool for elearning allows you to develop courses by taking advantage of course templates and instances. You can even customize the themes and colors for your courses. Because of its central content library, aNewSpring also makes it simple to reuse material.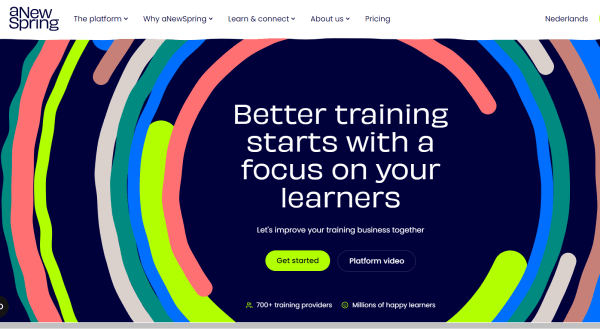 You can also add rich material like movies, photos, question kinds, and more, as with the majority of the authoring tools on our list. 
Features:
Design and build good training content even without expert knowledge

Use the course templates and instances to build courses from scratch

Customize the course design in any way you want
Cost: Starts at 16.50 EUR per learner per year
Platforms Supported: Linux, Max, Windows
What is an authoring tool in e-learning?
An authoring tool in e-learning is a software application or platform that allows you or your training managers to create, develop, and publish digital learning content and courses. This is all without extensive programming or technical expertise.
These tools simplify the process of designing, organizing, and delivering e-learning materials to learners through various online platforms, such as Learning Management Systems (LMS) or websites.
Authoring tools offer a range of features and functionalities, which may include:
Content Creation: Authoring tools allow users to create a wide range of content types, including text, images, videos, audio, interactive quizzes, simulations, and more.
Multimedia Integration: They often support the integration of multimedia elements, making it easy to incorporate videos, images, audio, and animations into the learning materials.
Templates and Themes: Many authoring tools offer pre-designed templates and themes, which can streamline the design process and maintain a consistent look and feel throughout the course.
Interactivity: They help create interactive elements like clickable buttons, drag-and-drop exercises, branching scenarios, and simulations to engage learners effectively.
Assessment and Quizzes: Authoring tools typically include features for designing and embedding quizzes and assessments to evaluate learners' understanding and progress.
SCORM Compliance: Some authoring tools support the SCORM (Sharable Content Object Reference Model) standard, allowing content to be easily integrated with various learning management systems.
What are the three types of authoring tools?
There are several types of authoring tools used in e-learning, each with its own focus and capabilities. Here are three common types:
Slide-Based Authoring Tools: These tools are designed for creating linear, slide-by-slide e-learning courses. Users can create content by arranging text, images, multimedia elements, and interactivity on individual slides. Slide-based authoring tools are often used for basic e-learning courses and are relatively easy to learn.
Scenario-Based Authoring Tools: Scenario-based authoring tools are used to create immersive, branching scenarios and simulations for e-learning. They are ideal for creating interactive and decision-based learning experiences where learners make choices that lead to different outcomes. These tools allow for complex storytelling and are often used in scenarios like compliance training and soft skills development.
HTML5 Authoring Tools: HTML5 authoring tools are versatile tools that focus on creating responsive and mobile-friendly e-learning content. They allow for the development of content that adapts to various screen sizes and devices, guaranteeing a consistent user experience. HTML5 authoring tools are particularly suitable for modern e-learning, as they support mobile learning and responsive design.
EdApp is a mobile learning management system designed for today's digital habits, delivering more engaging and effective micro-learning directly to learners anytime and anywhere.
Sign up for this authoring tool for elearning today.