2. Personalized learning paths
Even before the popularization of ChatGPT and other generative AI models, learning management systems (LMS) have already used AI to create personalized learning paths. These are recommended learning experiences based on the profile and performance of individual learners.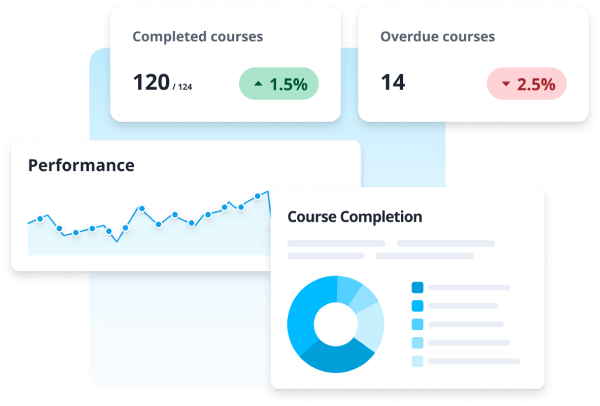 Through smart learning, AI can algorithmically create meaningful learning paths, similar to how content channels like TikTok and YouTube work. As an L&D manager, you can take ownership of your team's learning with the help of AI without the stress of micromanaging.
At times this is called adaptive learning, where the learning technology and AI tailor-fit a learning program just for your learner's style and pace. And depending on their progress, AI can automatically recommend more challenging or more supportive learning materials.
3. AI Translation
In a globalized world, training happens in different places and in different languages. For a diverse team, creating training for multiple languages can be deeply time-consuming and stressful. That's where AI comes in.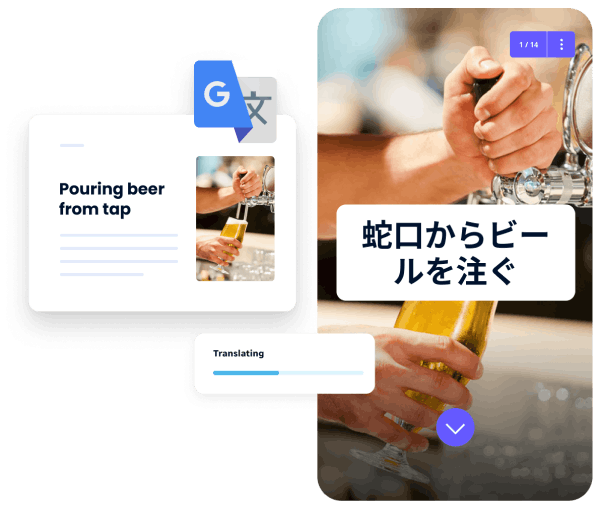 Learning management systems like EdApp, one of the best AI platforms on the market, can instantly translate your learning programs and courses into any of the 100+ available languages with a click of a button. And if you're already using EdApp to deliver your training courses you can set it automatically to your learner's preferred language.
4. Generate quizzes
Why build quizzes yourself when you can generate interactive learning content with the help of artificial intelligence? Just like most learning content, you can automate the creation of quizzes for your courses through your learning management system's course creator.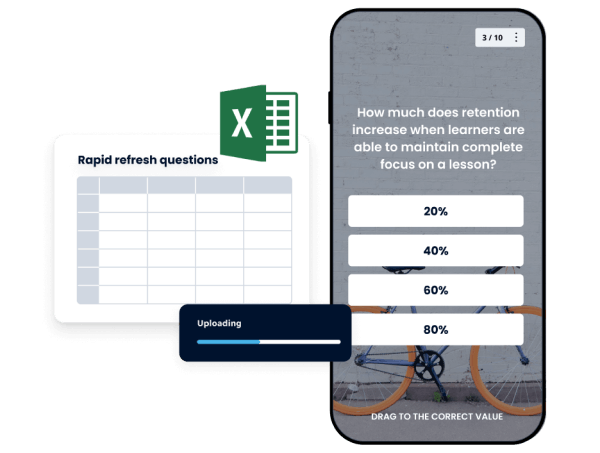 Some software like EdApp has automated refresher quizzes that can be added to courses without additional content creation. EdApp calls this Rapid Refresh where you can quickly generate quizzes by adding questions to an easy-to-fill spreadsheet. And the algorithm will base the frequency of the refresher delivery on your team member's performance.
5. Create outlines
If you're creating bulk content or a whole curriculum, maybe you'd be more comfortable generating outlines instead of entire courses. AI can help you structure your training programs and break them down into more digestible chunks. Some AI assistant tools like ChatGPT and Poe AI can create outlines and course structures with just a keyword. 
6. Generate images
Finding visual aids for training courses can be difficult. Stock images may not be specific enough and can even get boring. One of the benefits of artificial intelligence is that you can generate new and specific images based on keywords. For example, if you need sample images for safety topics like trips and falls you can easily generate some.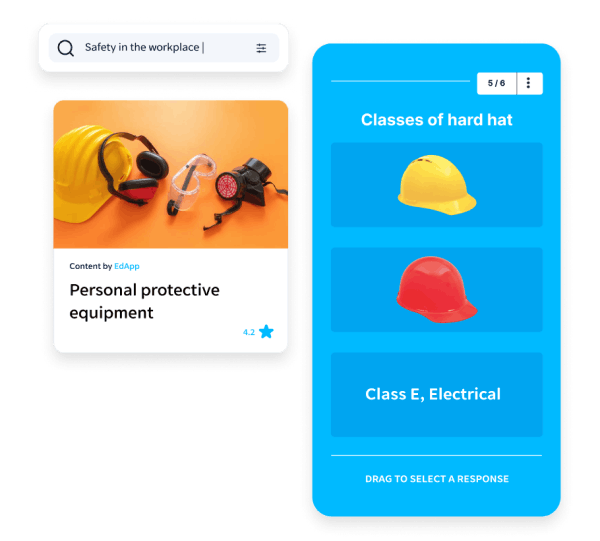 This can even be useful for more technical courses like forklift training, crane operation, and electrical safety.
7. Data analysis
Just like in learning paths, AI can do more than just create content. Artificial intelligence can support L&D managers with in-depth data analysis of learner performance and progress. AI can do this through feedback evaluation, statistical analysis, and training material insights. For those looking to delve deeper into the technical side, collaborating with an artificial intelligence development company can provide advanced insights and solutions tailored to specific training needs.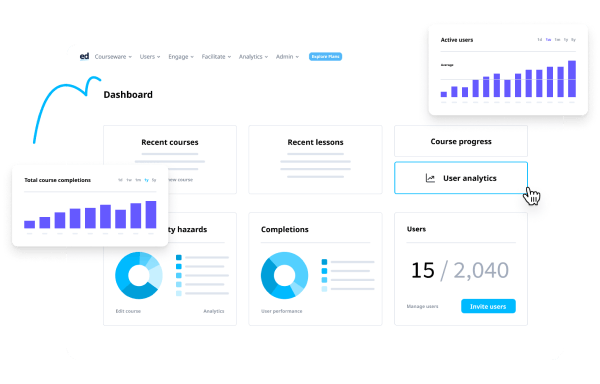 And after the analysis, AI can automatically generate reports that teams can use to create much better programs that serve their learning objectives. 
8. Summarize content
If you're having a hard time understanding difficult concepts you want to include in your training courses, you can use AI to help you summarize content. Chatting with programs like ChatGPT can help you learn quicker than Googling a keyword or term. A natural consequence of this is that you can use the summaries generated by AI to be included in your training courses themselves.
9. Conversation practice
If your teams are client-facing or work in retail, using AI is an effective way to practice conversations without the pressure of nailing every conversation right. AI in learning and development uses machine learning algorithms to develop and deliver role-playing scenarios to help teams learn how to handle difficult situations.
You can even customize tools like ChatGPT to take after customer personas and generate responses based on a client profile.
10. Brainstorming
AI corporate training tools can be great assistants. So, when you're stuck in a rut or facing mental blockers, you can just consult AI to help you find ideas. Most generative AI tools like ChatGPT can give you a wide range of ideas for any kind of topic. And if you're building courses, EdApp's AI Create can basically get rid of the research part altogether.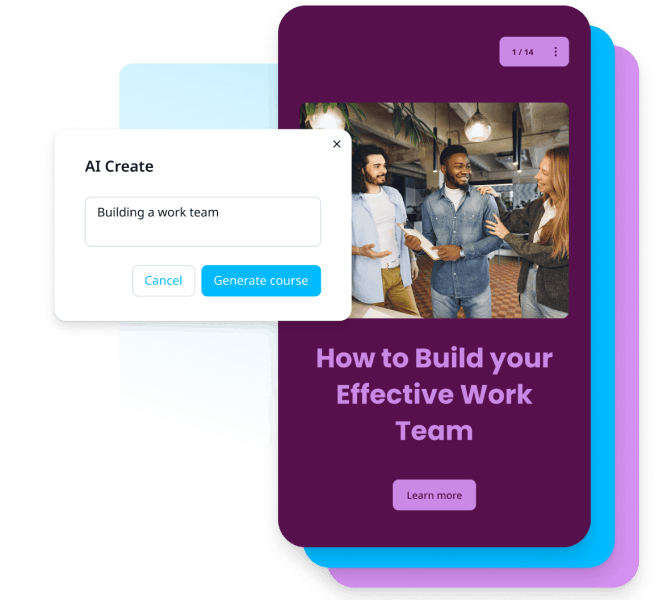 Just key in a topic or lesson and boom, you'll have a fully designed microlearning lesson. You can even build on the content with the amazing course creator with full Canva integration to make designing easier than ever.