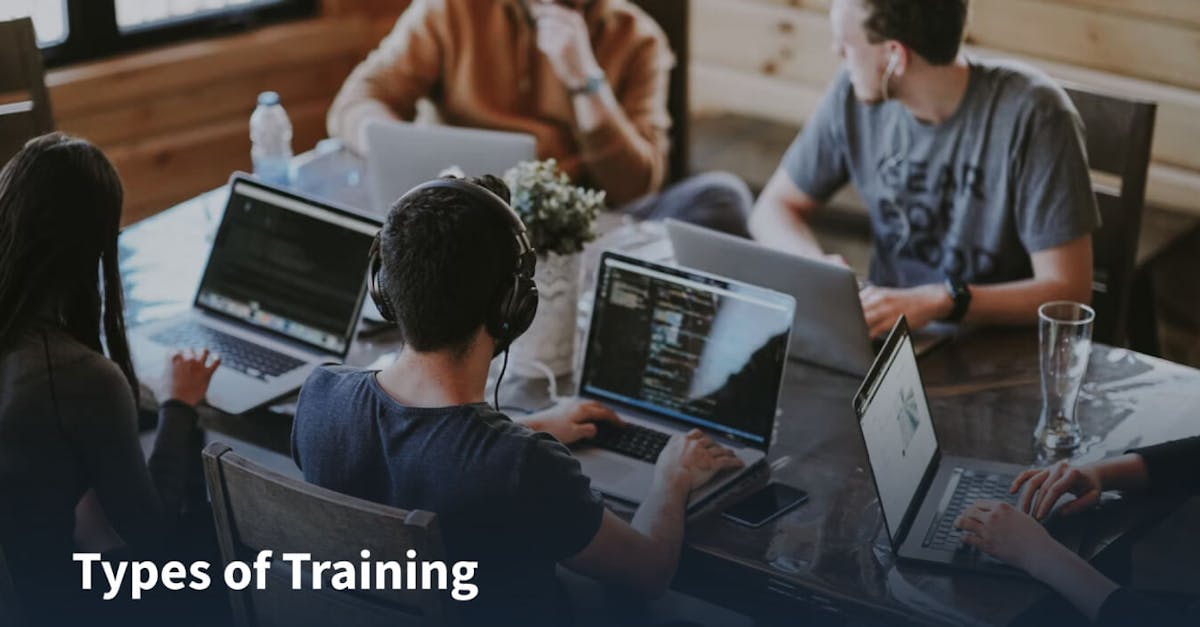 There are various types of training that you can use to develop and enhance the competency of your employees and make sure that they succeed in their roles. The tricky part, however, falls on choosing which one matches up with their needs, goals, and career direction. Before you make a strategy for your training, you might want to look into the various types of training and find which training type is best suited for your team.
1. Orientation Training
Orientation training serves as the formal introduction and welcoming program for your newly hired employees. The primary goal of this type of training is to guide them through the basics, like their role, company goals, and their teammates, and make sure that they feel comfortable on their first day at work. You can take advantage of this training to walk the new employees through systems, policies, or procedures that are specific to your company. It's also the perfect opportunity to inform them of what the company expects from them and address any concerns they may have before they officially join your team.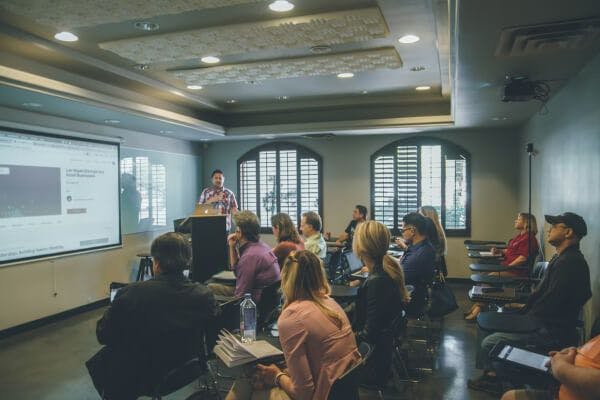 There are different ways to run your orientation training. The most common one is through an in-person format and one-on-one meetings. But due to the COVID-19 outbreak that has forced almost every working individual to shift into remote work for safety, more companies are now turning to an online format to make this training program more efficient and convenient to take. 
If you're planning to make your orientation online, it's best to look for a platform that can help streamline and simplify the entire process, like EdApp. Through its built-in authoring tool and template library, you can create your orientation training with no fuss. It also integrates with the world's leading graphic design program, Canva, ensuring that you have an array of beautiful media resources at hand to make your orientation training more visually appealing for your new hires. And thanks to its mobile app's cross-platform functionality, your training will be easily accessible through their computer, tablet, and smartphone.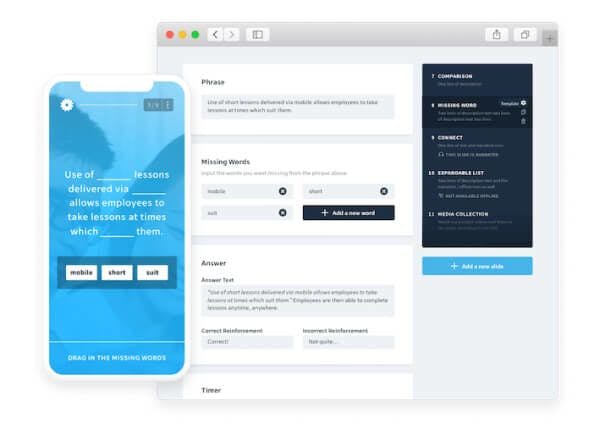 2. Onboarding Training
Onboarding training focuses on building the skills and knowledge of your new employees. It's often muddled up with orientation training, which is a separate activity that only takes place once. Onboarding, on the other hand, is a continuous, comprehensive process, and it's designed to run until your trainees have fully adjusted to their roles and the corporate culture.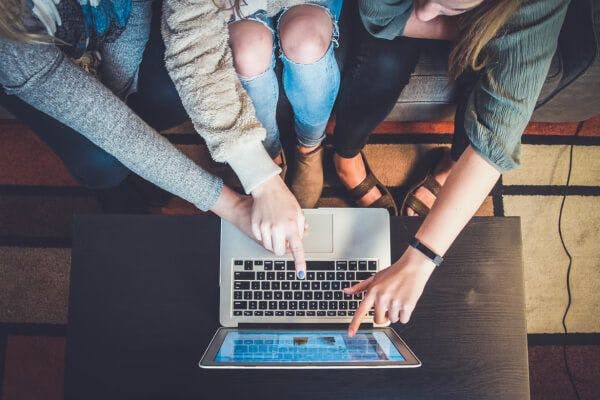 For this type of training, you can discuss topics that your team needs to perform their jobs well, like the overview of your products and services, target customers, your company's best practices, and more. There are different ways to pass on this information to your new hires. You may opt for a day-long workshop, although you might also want to explore the microlearning method to make your onboarding more fun and engaging. By presenting your trainees with concise, targeted learning experiences, the retention of new knowledge will significantly increase. 
EdApp specializes in this learning strategy, allowing you to create your own micro courses through its authoring tool. If you're short on time, this onboarding LMS also offers a range of beautiful, world-class microlearning courses that you can import and deploy right away for free. Most of them are fully editable too, meaning you can tweak and rebrand them as needed, giving a more personalized onboarding experience for your new employees.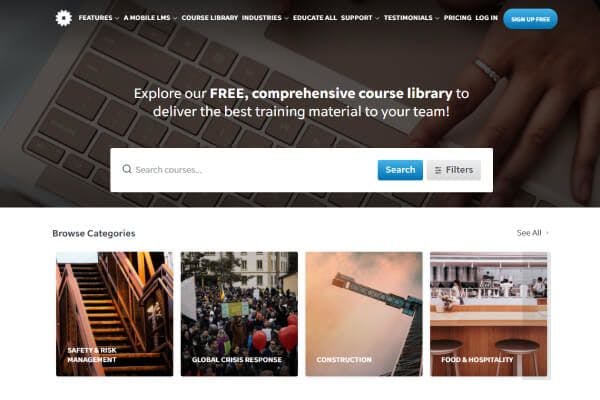 3. Refresher training
Refresher training is a type of training that's used to review and revisit concepts relevant to your organization. The key purpose is to either keep a team's knowledge fresh and maintained, or restore old skills that they may have already forgotten due to lack of use. The concept behind this training is based on the human nature to easily forget knowledge, especially if they're not used or applied on a regular basis. Refresher training is deemed as the most effective way to help employees reconnect with any lost knowledge and correct any performance lapses.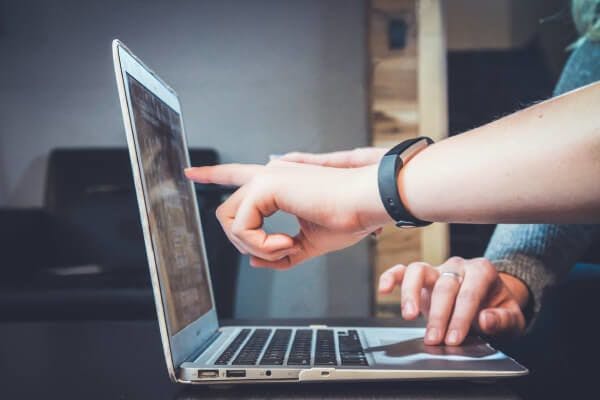 4. Hard skills development training
Hard skills development training seeks to build and nurture your team's skill set in order for them to perform their tasks successfully. These skills are industry-specific, and they entail specific knowledge and abilities that are highly integral to the operations of your company. Hard skills training is usually targeted and it's best offered to people that would most benefit from it. Say, you're running an e-commerce business and you're planning to arrange customer service skills training. This program is only beneficial for your client-facing team and not your IT department (unless they're also interested in learning this skill). Other examples of skill-based training include software training, SEO/ SEM marketing, technical writing, construction training, first aid training, and more.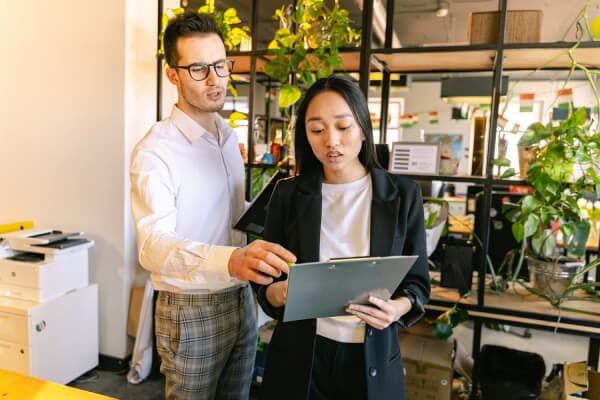 5. Soft skills development training
Soft skills training is geared towards developing traits and habits that your employees can use to improve the way they work and collaborate with others. As compared to hard skills, which help your organization to run and function well, soft skills contribute to building a positive work environment and ensuring your company's healthy and long-term success. Communication, adaptability, problem-solving, public speaking, and conflict resolution are some of the most common soft skills that are valued in almost any industry.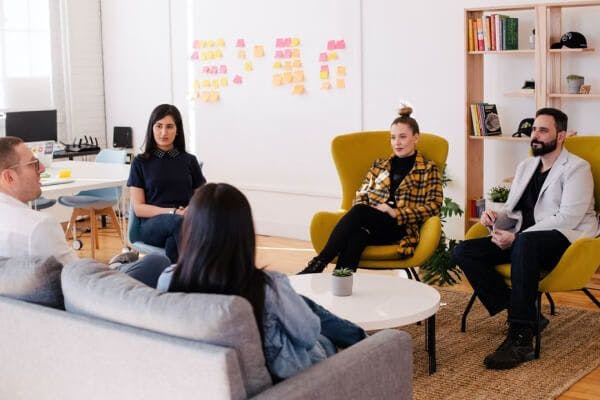 Streamline your organization's hard and soft skills development training process with the help of learning management systems like EdApp. Apart from its in-built authoring and course library, this LMS platform also comes with powerful analytics that can help you monitor the success of your program and track your employees' training progress. These analytics can be used to identify potential skills gaps, both hard and soft, and from there, improve your training design.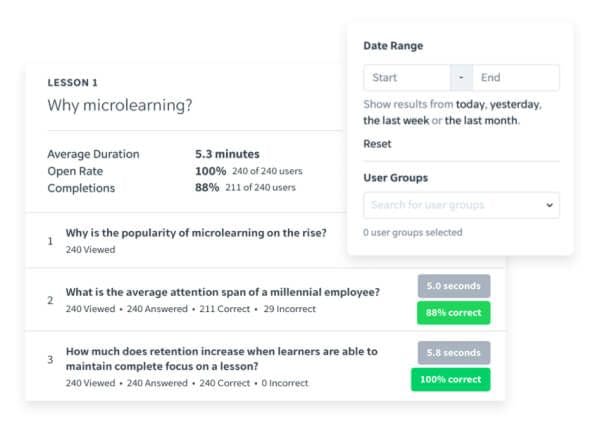 6. Team Training
Team training is a type of training that a department or organization takes together. You can use this training to demonstrate to your trainees how to use new tools and software, keep them up with the recent regulations and procedures, or show them how to develop their technical and soft skills. Although the topics discussed vary depending on the purpose of your training, the main idea is that it should be taken and completed as a group rather than individually. Employees who have received good team training are more likely to be engaged and experience a sense of belonging. This type of training also aids in building strong bonds among your team members, which, in turn, brings better performance and greater business results.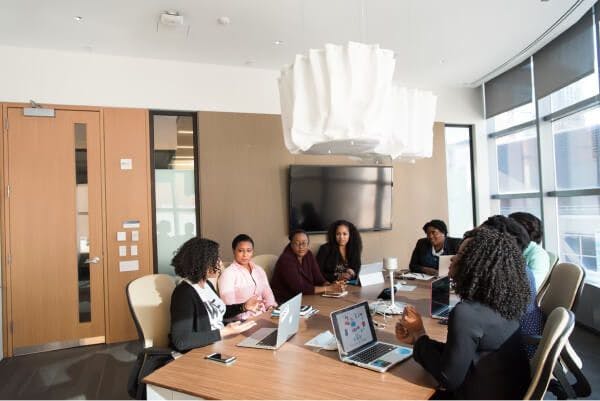 7. COVID-19 Training 
COVID-19 training is more of a safety training type that aims to equip employees with the information and safety measures they need to protect themselves, the people around them, and the community at large. It will also help them better understand the severity of this highly contagious virus, as well as their role and responsibilities to make their workplace safe for everyone. Some of the most common topics that you may discuss in this training include the basics of coronavirus, such as its general structure, signs, symptoms, and transmission rate. You may also dig a little deeper and go over the social and cultural implications of this virus, its mental health impact, and general tips to overcome them.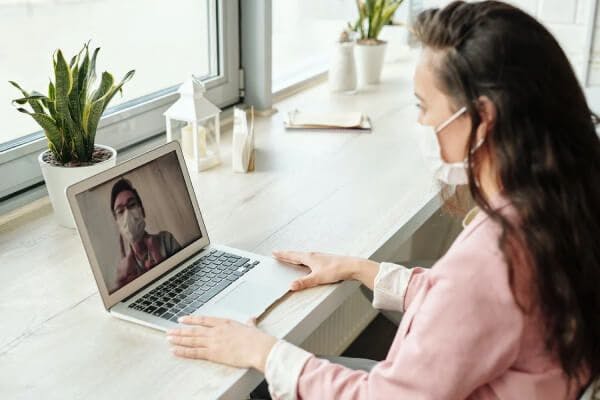 8. OSHA Training 
OSHA training focuses on raising awareness of the safety rules and regulations set and enforced by the Occupational Safety and Health Administration (OSHA), a large regulatory agency responsible for creating and ensuring safe and healthy working conditions for everyone. This type of training is particularly vital for workers who regularly face hazards on the job, like construction workers, miners, healthcare providers, laboratory professionals, and more. By keeping them up to date with OSHA's regulatory framework, they are more likely to avoid potential accidents and illnesses. Taking safety certificate courses will help you and your team understand safe working practices. Hosting OSHA training is also the best way to protect your business from potential legal conflicts and violations and reduce workers' compensation claims.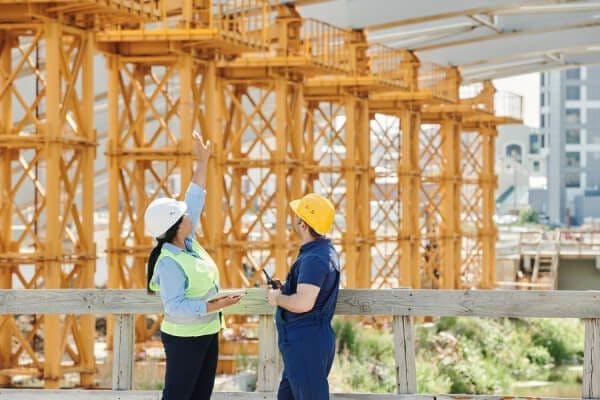 9. Cybersecurity training 
While there's no denying the advantages of technological advancement today, it has also created a slew of workplace concerns, one of which is the increasing number of cybercrimes. If your organization is heavily relying on technology, then it goes without saying that a cybersecurity training program must be part of your top-most priorities. Organizing this type of training for your employees will give them an adequate knowledge of cybersecurity, especially its core functions, critical relevance, trends, and threats, alongside security and data protection practices to avoid the most prevalent cybercrimes and intrusions today. While this training is often given to IT departments, it's also a good idea to expand it to your general employees, including your writers, customer representatives, and service providers. Take advantage of this activity to prevent security breaches and improve their access to and use of company computers, software, and internet apps.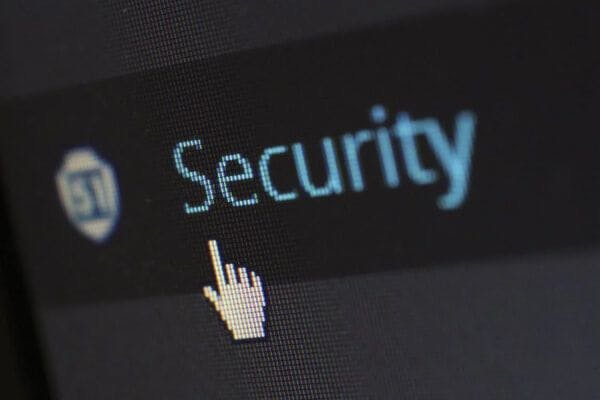 10. Product or service training
Product or service training is a highly valuable type of training that you can provide to your client-facing personnel, like sales reps and service providers. The goal is to familiarize your trainees with the specifics of your company's products or services and their unique selling points, making sure that they will be able to represent your brand as accurately and positively as possible. This training is also used to keep your team current on new products or updates.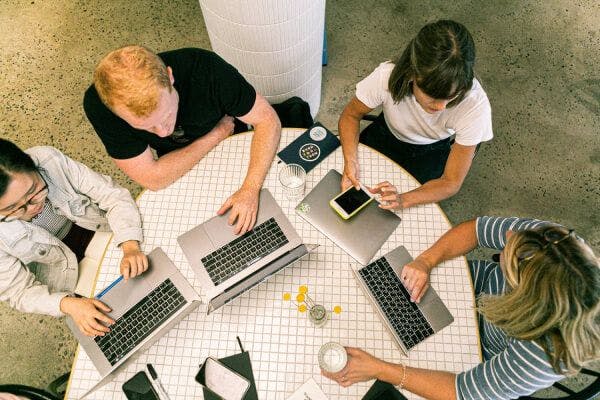 If you want to put a new spin on your product training, EdApp has a range of gamification features that can help you make it more engaging. Among the best ones are its game-based templates, which can help you curate product training courses in a game format. The strategy makes an otherwise boring lesson into a fun smartphone game, significantly improving the engagement rate of your training. This learning gamification platform also takes pride in its Brain Boost tool that's based on the science of spaced repetition. The logic behind is that it'll automatically quiz your learners in spaced intervals, helping them retain your product or service information better.