With the help of onboarding programs, it's made easy for you to gather all the necessary employee information from your new hires. This is while providing them with all they need to know about your company culture and policies. This is a very important process that will affect retention and their understanding of their roles. You can only do onboarding once so we've got the 10 best onboarding programs to make sure you do it right.
Best Onboarding Program #1 – EdApp
EdApp is one of the best learning management systems and is the perfect option for both your onboarding and training programs. Throughout the onboarding process, your new employees will need to complete forms, read up on company policies, company culture, and learn about their roles. You should get the best software that will help you create learning materials easily, even without coding knowledge. The platform also helps you to seamlessly deliver the onboarding materials to employees remotely on any device. If you currently have PowerPoint onboarding materials and don't want to waste time and resources converting them, do not worry. EdApp has a great PowerPoint converter just for these types of things. Convert them so everything can be available to any new employee on one platform. Your onboarding process will never be better than it is going to be with EdApp. It has all the tools you need to create, manage and monitor the entire onboarding process to build a lasting experience and increase employee retention.

Price: Free
Features: LMS, Authoring Tool, Editable Content Library, Spaced Repetition, Mobile Learning, Microlearning, Rapid refresh, Elearning Gamification, Active Learning, and more.
Sign up for Free and Start Using The Best Onboarding Program
Best Onboarding Program #2 – Zenefits
Zenefits is a human resources platform that has numerous tools including an automated, integrated onboarding solution. The onboarding process from Zenefits starts with your initial offer sheet to potential employees. You will have an option to create customized offers, with benefits, request background checks, and more. The platform gets most of your work done for you by allowing a new employee to basically onboard themselves by completing first-day onboarding tasks and inputting their information, information which is then synced to payroll and benefits. The platform then automatically creates W-4 and I-9 tax documents with the new information.

Price: Starts at $8/ month per employee
Features: HR administration, onboarding, compensation, performance management, time & scheduling, people enablement, payroll, payroll administration, reporting, and tax & filing
Best Onboarding Program #3 – BambooHR
BambooHR is an all-in-one human resources software with a data focus foundation. BambooHR tries to reduce the time and effort it takes to gather, study and manage employee information, the same information it will use to help you personalize their onboarding experience and ensure employee retention. Speaking of employee information, BambooHR also provides a secure way for you to secure the sensitive data of your employees. You can use the reporting feature to create reports that eliminate the guesswork on how effective your onboarding process is going so you can make strategic decisions on which elements to change and which to keep. Because the software is data-driven, it helps you to create onboarding forms quite easily. The software comes preloaded with New Hire Packet Template that gives you a way to easily customize your new hire's onboarding experience based on their job types, locations, departments, and more. The software is not free, unfortunately, and in addition to that drawback, it does not offer a way to create onboarding material for your new hires to learn from.

Price: $6.19- $8.25 per employee per month
Features: Can be deployed Globally, Email Alerts, Supports electronic signatures, Performance Management.
Best Onboarding Program #4 – HR Partner
The HR Partner platform is a complete HR solution that offers a lot of features including employee records, leave management, first-day onboarding checklist, recruitment and applicant tracking, custom forms, an employee portal, and a lot more. The feature that we want to focus on is the onboarding checklist feature. HR Partner aims to make your onboarding process seamless with minimal effort. With their onboarding feature, you can create templates to draw from in the future. You can also create your own custom checklists to follow for the onboarding process. The items on your checklists can vary and include links to documents, documents for e-signing, embedded videos, checkboxes, and more. An important aspect of HR Partner's checklist is that you can set up different ones for different roles. Unfortunately, setting up checklists doesn't get a lot of the onboarding work done, so you may want to partner with other software or learning management systems.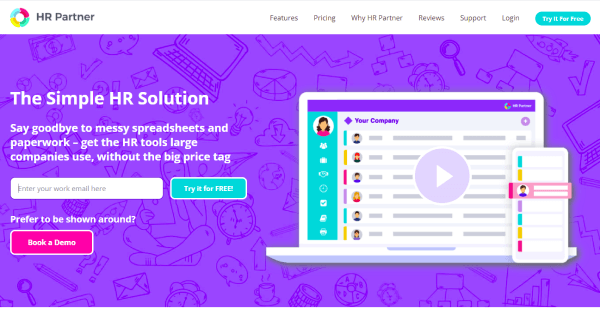 Price: Starts at $75USD for up to 25 employees per month
Features:  Employee Records, Leave Management, Onboarding Checklists, Recruitment & Applicant Tracking, Custom Forms, Expense Claims, Electronic Signatures, Employee Portal, Payroll & Other Integrations
Best Onboarding Program #5 – ClearCompany
ClearCompany is another HR platform that offers a lot of solutions including onboarding. They offer remote onboarding so your new hires can go through the process from anywhere around the world at any time. The platform also supports mobile devices perfect for online training. The ClearCompany platform allows you to impress the new guys with an attractive, branded online portal that has an intuitive user interface similar to some learning management system. With ClearCompany, you can manage all the company electronics being used by new hires remotely from one centralized database. You can also keep track of all devices in the company from ClearCompany.
An interesting feature is its auto-fill feature that carries data from form to form. Background checks can also be conveniently done electronically with ClearCompany. You will also be able to introduce your team managers to new hires from the platform. If you are working with a large team, the software can get pricy, so keep that in mind.

Price: Depends on company size.
Features: Interactive Reports, Device & Equipment Management, Mobile Friendly, Compliance and I-9 Management, Intelligent Forms, E-Verify, WOTC and Background Checks, and Employee Introductions.
Best Onboarding Program #6 – Basecamp
Basecamp is an onboarding program designed to cater to companies that are working remotely which makes it suitable for online training. It focuses on the organization of data so you can clearly see your progress. You can take all your onboarding activities and training programs and run them from Basecamp. The software comes with a message board that you can post announcements on, pitch ideas, show progress on, and others. You also get a To-do list feature, a schedule from which important dates can be placed on a shared schedule, an Automatic Check-in that you can set recurring questions, and group chats where everyone can ask questions and communicate.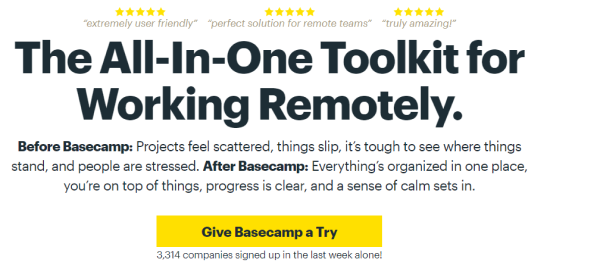 Price: $99/month
Features: Remote work, Scheduler, To-Do Lists, Check-Ins, Message Boards.
Best Onboarding Program #7 – Whale
The Whale platform will allow leaders like yourself to organize and share SOPs, processes, and knowledge. With your company knowledge centralized through Whale, your onboarding process and training programs can be done more effectively. From Whale's software, you can build a handbook to detail SOPs and correct processes. You can make the onboarding material animated and engaging and also access management tools that make the whole onboarding process easier. When you sign up for Whale, you get access to their libraries, and you can create your playbooks and boards to operate from. You can create onboarding content from many sources including Google Drive and web extensions. This information can then be shared through suggestions, print, and export, and more. The software is a bit pricy, unfortunately.

Price: Starts at $12/user /month
Features: Editor, Assignments, Tagging, Expert Reviews
Best Onboarding Program #8 – Qualee
Qualee aims to improve your company's production by centralizing company function in one place and promoting employee engagement and company culture. Your onboarding process through Qualee will be transparent and confusion-free with its time-released modules feature perfect for online training. You can get repetitive tasks in your employee onboarding process to be automated and accessible from any location. If you want to know how you and your company are doing from a newly employed worker perspective, take advantage of Qualee's micro-surveys. Speaking of micro, Qualee offers micro-lessons that you can share with new employees to teach them about the company's mission, policies, and culture. Oh, and before we forget, these lessons can be in a variety of formats as the platform has a multimedia library. If the platform catered to more industries and are more like learning management systems that offer more features, it would be the best.

Price: $3.99 per user, per month.
Features:  X-Boarding Journeys, Engagement Micro-Surveys, Micro-Learning Journeys, Actionable Insights, Multi-Media Library, Digital Forms & eSignatures, and Native App for iOS and Android.
Best Onboarding Program #9 – Sage HR
Sage HR is a complete human resources solution that aims to help companies with their day-to-day HR needs. You can sign up for the platform's services and choose the features that your company needs help with. Regarding their onboarding feature, Sage HR gives you an opportunity to automate the onboarding process by giving new employees a predefined task list that you will get progress reports from. This list can be automatically assigned when a new employee is registered. We are ok with the automatic task assignment feature, but we would be even more impressed if all of those tasks could be created, managed, and stored in one place. Sage HR could offer these options in the future so keep an eye out.

Price: Starts at $5.50 per employee, per month
Features: Core HR, Leave Management, Performance, Shift Scheduling, Timesheets, Expenses, Recruitment, Reporting, and Onboarding
Best Onboarding Program #10 – Gusto
The Gusto platform is an HR solution that offers a wide range of HR services to its subscribers. Some of its services include offer letter service, first-day onboarding checklist, document creation, and software setup. It has onboarding tools designed to minimize the time it takes you to get your new employees situated. These tools can also be accessed remotely, so that's a plus. You can use the Gusto platform to set up onboarding checklists that make the whole process easier and more organized. Their checklist feature comes pre-populated but it is editable so you will have an option to add and subtract items as you please. The platform is more suited for small businesses so it will be a bit unwise to use it if your company is on the larger side.

Price: $39/mo base price
Features: Payroll, Employee Benefits, Hiring and onboarding, Time tools, HR experts, and Gusto Wallet
Conclusion
There are many quality onboarding options on our list that you can choose from, but we think that EdApp covers all the bases that your company needs. It allows you complete freedom to create while providing you with creative support and automation. Your new hires will have no issues accessing the materials and the whole onboarding process will be affordable, effective, and convenient.