Security awareness training software is a must-have in any organization. Without it, your organization risks security breaches, data leaks, and even litigation. To prevent that from happening, here's the top security awareness training software you can use for your organization today.
Security Awareness Training Software # 1 – EdApp
EdApp makes it to the #1 spot on our list precisely because of their vast course library filled with security-related training courses. The most popular of these courses are Cyber Security Awareness, Cybersecurity & Internal Threats, and Cyber Security. These courses go into detail about the steps your organization needs to take to minimize cyber threats and how your learners can fix problems should you get breached.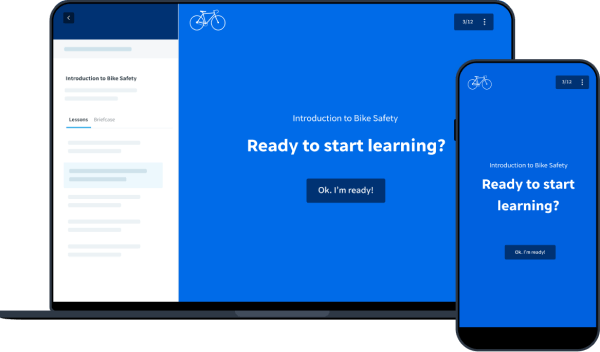 Apart from giving in-depth knowledge, these security awareness training courses are also interactive and can better engage your learners than your average training programs. EdApp courses do this by applying active learning, mobile learning, and gamification techniques into each and every lesson. Because of this, you'll be sure to see drastic changes in your learners' performance and skills.
This security awareness training software also has a feature called Rapid Refresh. Rapid Refresh allows you to conduct refresher training for your learners so they don't forget any crucial information. It does this through quick quizzes formatted into bite-sized content. You can regularly schedule your learners to take Rapid Refresh quizzes on EdApp. All you have to do is schedule when. It's as easy as that.
Cost: Free
Key features:
Courses on security awareness training

Active learning

Gamification

Rapid Refresh
Take the steps you need to protect your organization by signing up for EdApp today.
Security Awareness Training Software # 2 – KnowBe4
With KnowBe4, you'll now have security awareness training software to help you deal with the challenges of common security threats such as social engineering, spear phishing, and ransomware threats.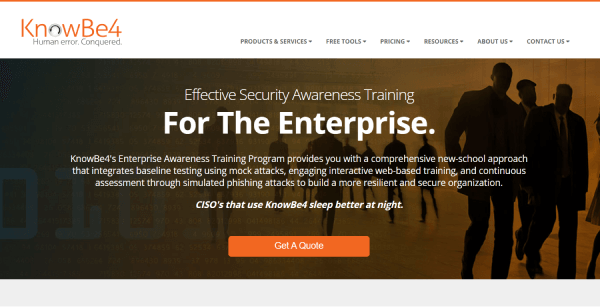 This security awareness training software is simple to use, intuitive, and powerful. Its admin console supports multiple languages so deploying this to your global teams will be a piece of cake. It also has end-user localization options which provide your users with an immersive learning experience. With the optional gamification customization tools, your users can compete with each other on the leaderboards and win badges while learning how to keep your business secure from cyberattacks.
Cost: $23 USD/user/month for at least 100 users
Key features:
Admin console

Supports multiple languages

Customization
Security Awareness Training Software # 3 – Hoxhunt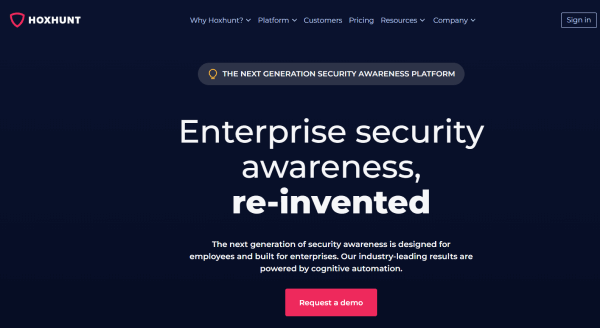 Hoxhunt is a security awareness training software that uses phishing training and security awareness training to safeguard enterprises from cyber-attacks. It equips employees with the knowledge and confidence to spot and respond to assaults with training courses. It also offers security professionals with real-time insight into risks, allowing them to respond quickly and restrict the spread of threats. The security awareness training software saves you time by automating manual processes, allowing teams to focus on what really counts.
Cost: Request a quote
Key features:
Automation

Rel-time insight

Security awareness courses
Security Awareness Training Software # 4 – Infosec IQ
Infosec IQ provides your teams with the information and skills they need to be cybersecure at work and at home. It offers a wide variety of security training courses that include training on CompTIA, EC-Council, Cisco, and AWS.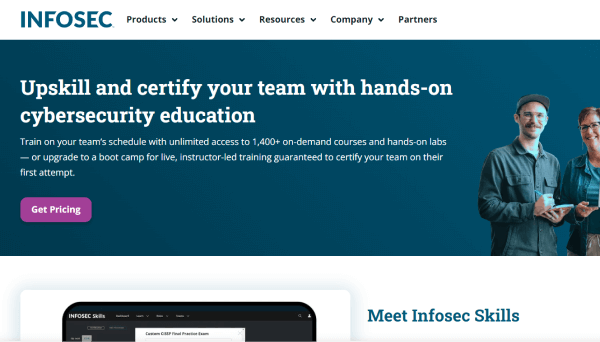 You'll have everything you need to equip staff to recognize, report, and combat cybercrime with over 2,000 security awareness and training tools. These tools include learning paths, cyber ranges, custom ceritification, and skills assessments. Each part of this platform can be tailored to your organization's culture and workers' learning preferences.
Cost: $799 USD/license/year
Key features:
Security training courses

Learning paths

Skills assessments
Security Awareness Training Software # 5 – MetaCompliance 
MetaCompliance gives you the power of an all-around security awareness training software through policy management, privacy, eLearning, simulated phishing, and risk management. One of their key features is their customizable security awareness training materials. You can personalize these courses to your organization by adding in your own branding and media files.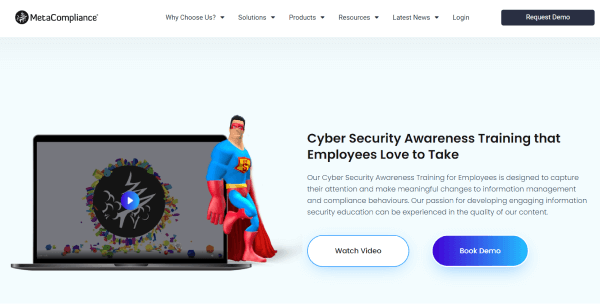 This security awareness training software can also significantly reduce the time taken by planning and manually executing your training program. It does this through its security awareness campaign planner and automated LMS.
Cost: Request a quote
Key features:
eLearning

Security awareness training content

Customization
Security Awareness Training Software # 6 – Proofpoint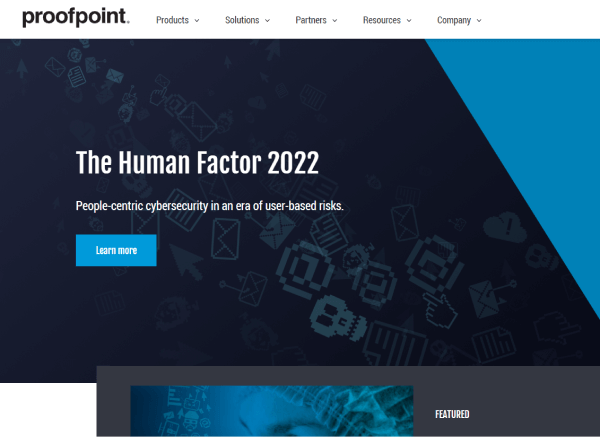 Proofpoint prepares your organization for real-world security attacks. It uses industry-leading threat data to give the best solutions to anyone vulnerable to security attacks: your teams, your leaders, and your customers. This security training awareness software does this by simulating cyberattacks, providing knowledge assessments, and gamifying your learners' training. Its privacy training tool, awareness materials, reporting and analytics tools are also available in over 40 languages.
Cost: Request a quote
Key features:
Simulations

Knowledge assessments

Gamification
Security Awareness Training Software # 7 – SoSafe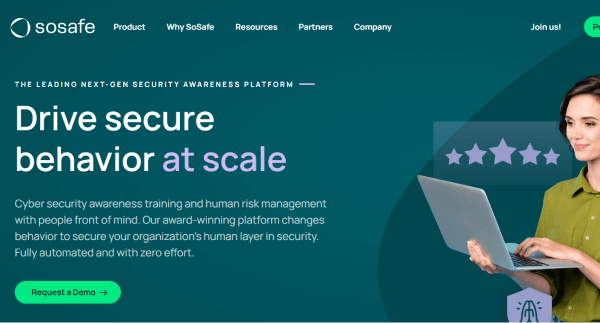 SoSafe's security awareness training software allows organizations around the world to develop a security-focused culture and minimize risk. It provides engaging individualized learning experiences and sophisticated attack simulations powered by behavioral science and clever algorithms. With its training courses and smart attack simulations, you can transform your teams into your best line of defense against online attacks. It also has comprehensive analytics to track ROI and identify risks in your organization.
Cost: Request a quote
Key features:
Simulations

Courses

Analytics
Security Awareness Training Software # 8 – Immersive Labs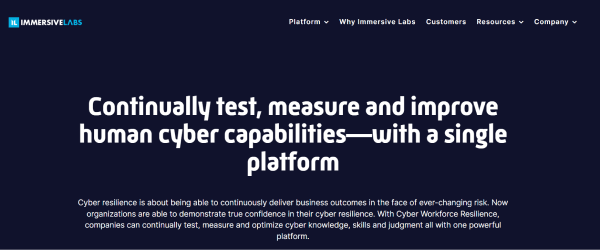 Immersive Labs gives you the power to regularly assess, build, and prove your organization's cyber workforce resilience. It provides realistic simulations and hands-on cybersecurity laboratories to assess individual and team capabilities and decision-making in the face of ongoing threats. With Immersive Labs, you can now demonstrate your cyber resilience by benchmarking your preparation against industry standards, developing team competencies, and showing risk reduction and compliance with data-backed proof.
Cost: Request a quote
Key features:
Real-world simulations

Cybersecurity labs
Security Awareness Training Software # 9 – CybeReady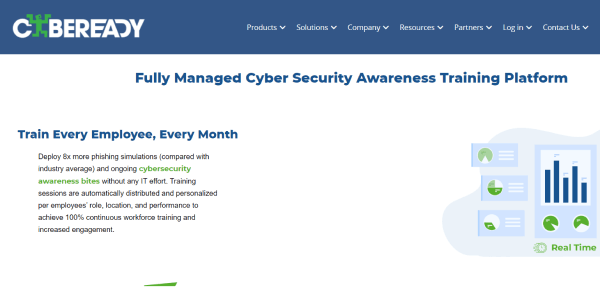 CybeReady addresses all your security threats with its adaptive security awareness training software. Some of the ways it does this is through its security awareness programs, phishing simulations, and compliance tool. The platform operates automatically and doesn't need any human intervention. This way, you can engage more employees to become your organization's line of defense more effectively, more regularly, and with significantly less effort.
Cost: Request a quote
Key features:
Phishing simulations

Compliance tool

Automation
Security Awareness Training Software # 10 – Curricula
Curricula facilitates SOC 2 compliance through its self-paced security awareness learning software. Your teams can take courses on privacy, ransomware, phishing, PCI, GDPR, social engineering, passwords, and other subjects.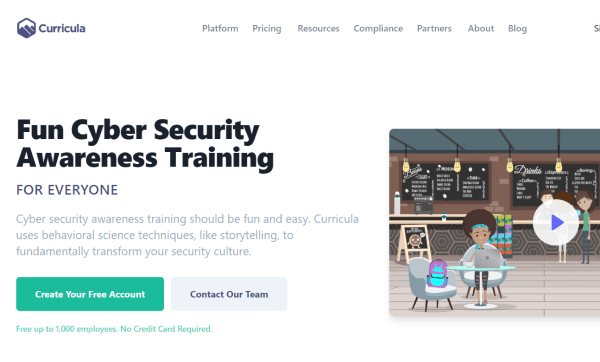 The behavioral science-based method of learning used in Curricula keeps workers engaged through stories and role-playing scenarios provided in assignments throughout the year.  As a result, the training programs you mount through Curricula are more successful and go well beyond simply ticking the compliance box.
Cost: Free
Key features:
Self-paced learning

Course library

Role play
EdApp is a mobile learning management system designed for today's digital habits, delivering more engaging and effective micro-learning directly to learners anytime and anywhere.
Sign up for this security awareness training software today.