With LMS for customer training, you can give your customers the resources they need to maximize and understand the ins and outs of your product or service. By using these platforms, you can improve overall customer satisfaction and solidify their loyalty. In this article, we've put together a list of LMS for customer training that are available on the market today.
LMS for Customer Training #1 – EdApp
EdApp is a top-of-the-line LMS for customer training that is perfect for educating your customers about your brand's mission, goals, and range of products or services. Your customer relations staff can create onboarding and training content with ease thanks to its drag-and-drop course authoring tool. Unlike most LMSs, EdApp allows you to add branding elements to your courses, which is especially helpful if your organization has specific branding guidelines.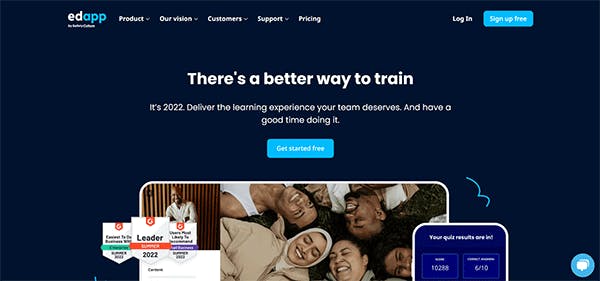 Customizing training material is easy as this platform features over 80 microlearning templates and a wide range of gamification elements. Not only will these interactive training features help you boost engagement, but they're also great for increasing customer onboarding rates.
Rapid Refresh, EdApp's built-in online quiz maker, allows you to send out service and product-related quizzes to your customers. This will help them remember features, benefits, and other important information about your products or services. To use Rapid Refresh, all you need to do is fill out a simple spreadsheet that will automatically create and distribute a quiz to your customers. You can also schedule the quizzes any way you'd like, whether that's daily, weekly, or all in one go. 
Cost: Free
Key features: 
Course authoring tool

Microlearning templates

In-app branding

Quiz maker

Gamification
Join EdApp for free and start using the best LMS for customer training!
LMS for Customer Training #2 – Thinkific
Another LMS for customer training on this list is Thinkific. It offers cool features such as drag-and-drop authoring and course management tools that make it easy for you to design, distribute, and sell customer training or onboarding content. Unlike other LMSs, the site hosts more than 50,000 course creators and over 100 million courses in its course library. The courses are sorted according to different content types, including surveys, videos, and modules from other course creation software like Articulate Storyline and Adobe Captivate. This wide range of options is especially helpful for companies who don't have extra time or resources to create customer training materials from scratch. 
Building an engaging and effective learning experience for your customers is even simpler with Thinkific's paid plans.
Cost: Free plan, Paid plans start at 74 USD per month
Key features: 
Drag-and-drop editor

Course management

Course selling

Course library
LMS for Customer Training #3 – WorkRamp
WorkRamp is designed as a fully packaged elearning software that can be tailored for different types of employee training. Additionally, you can also use this platform as an LMS for customer training to teach your customers about new products or services, boost their engagement with your company, and drive more income.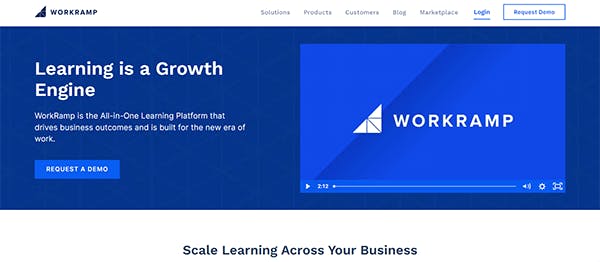 This online training platform also allows you to develop dynamic learning materials and design learning pathways for your employees and customers based on their learning preferences. You can even make courses for negotiating skills training, compliance training, and more. It also offers specialized onboarding and compliance training capabilities, dashboards and analytics for measuring learning progress, and a blended learning environment that supports online instructor-led sessions. With so many advanced features, WorkRamp takes your overall customer experience to a whole new level. 
Cost: Available upon request
Key features: 
Content creation

Customer training

Virtual instructor-led training

Customized learning pathways
LMS for Customer Training #4 – WizIQ
With WizIQ's LMS for customer training, you can easily create well-designed online training and onboarding courses in just minutes. Through a multi-modal learning feature, it allows your customers to choose between real-time audio, video, or textual learning. Using the built-in virtual classroom and HD video conferencing tools, you can also set up synchronous online classes to onboard your customers. Additionally, WizIQ offers interactive whiteboards, polls, and quizzes to level up customer engagement,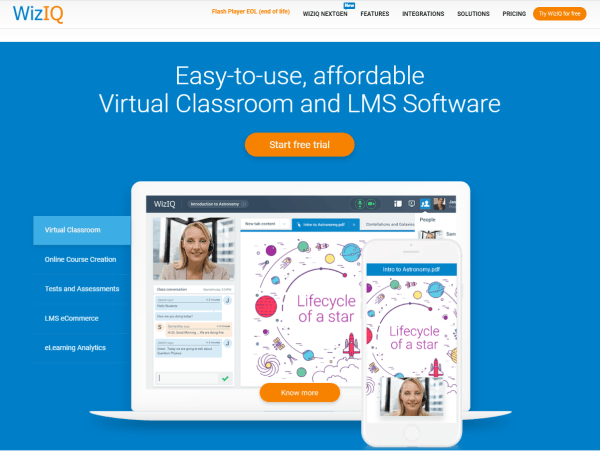 WizIQ's easy-to-use course builder, which is accessible on both desktop and mobile devices, makes the overall process of creating, customizing, and sending out training materials so manageable. Simply set up your learning portal and upload your elearning content to get started.
Cost: Starts at 5 per month
Key features: 
LMS for Customer Training #5 – GoToTraining
Develop and administer customer training sessions using GoToTraining. With the help of this LMS's in-built features, organizations can create customer training content, conduct customized registration, and share and publish courses effortlessly.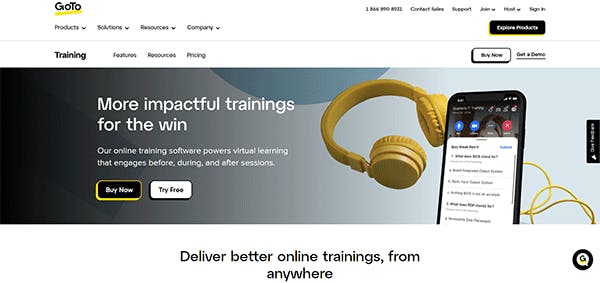 By using quizzes, polls, small-group activities, and conversations during live training events, this LMS for customer training also promotes more engagement and a better understanding of your products and services. You can also upload, arrange, store, and reuse your courses, exams, and recordings in this tool's content library. The best part is that your customers can then access these training and learning resources anytime and anywhere.
Cost: Paid plans
Key features: 
LMS for Customer Training #6 – Ruzuku
Ruzuku is another excellent LMS for customer training that you should take into account. It's designed with a powerful yet user-friendly interface that allows you to create and manage online courses without being overwhelmed by complicated features. In just a few simple steps, you can customize courses to match your brand and add information that meets the training objectives of your customers. You can also include downloadable PDFs, Word, PPT, and other files in your course materials to foster engagement and encourage self-paced learning.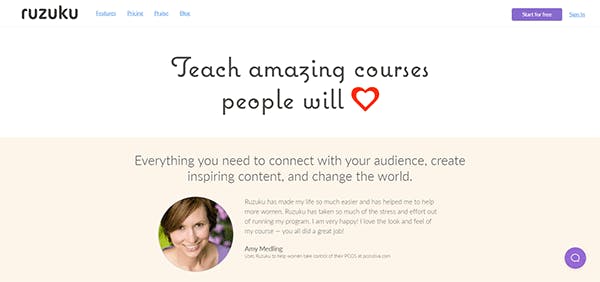 Beyond designing and implementing courses, you can monitor your customers' overall customer onboarding rates through Ruzuku's reporting feature. You can also keep track of their questions and comments through this tool. 
Cost: Starts at 99 USD per month
Key features: 
Content creation

Self-paced learning

Online conferencing

Reporting feature
LMS for Customer Training #7 – Open LMS
Open LMS is packed with a variety of interactive elearning features that make it simple to create and administer training presentations, games, and quizzes for your customers. Through its virtual conference and live webinar features, you can use the tool to facilitate real-time discussions with your customers. And, apart from being able to run live sessions, you can also record discussions and publish them as courses so that your customers can revisit them anytime for self-paced learning.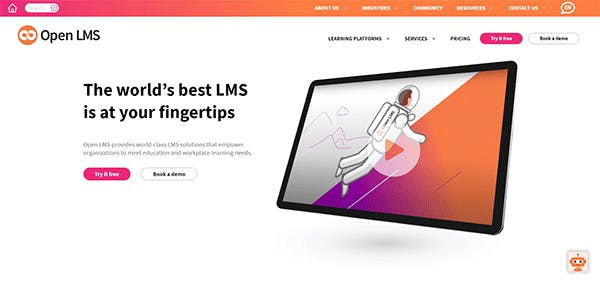 Compared to other LMS for customer training, Open LMS doesn't offer pre-made courses. However, a subscription to their platform will grant you access to ten ready-made courses from GO1, which offers more than 50,000 training programs on a variety of subjects, including digital marketing, finance, and health.
Cost: Pricing plans available upon request
Key features: 
LMS for Customer Training #8 – Northpass
With the right LMS for customer training, you can make a great first impression on thousands or even millions of customers. As a platform, Northpass does this by giving you a range of training resources that can improve your customers' onboarding and training experience.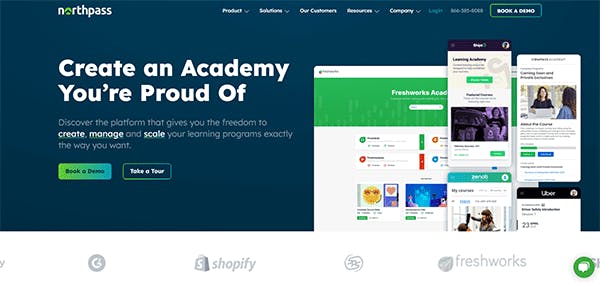 You can use their course authoring tool to build a high-impact course in just a few steps. You can also include evaluation metrics like video training completion parameters and assessment score minimums to make sure the audience is engaged with their training program. The platform also offers other blended learning tools like live webinars, learning paths, and certifications, all of which help you create a seamless training or onboarding experience.
Cost: Pricing is available upon request
Key features: 
Course authoring

Embedded learning

Reporting and analytics

Dedicated support
LMS for Customer Training #9 – isEazy
isEazy works well as an LMS for customer training by allowing you to create your very own expert eLearning courses. Its intuitive authoring tool doesn't require any technical skills or design expertise to use. You can easily translate courses, customize your uploaded images, and choose from various course layouts and templates. You can further tailor your customer training courses by including interactive elearning elements like quizzes and timelines. But keep in mind that any course published with the free version will have an isEazy watermark.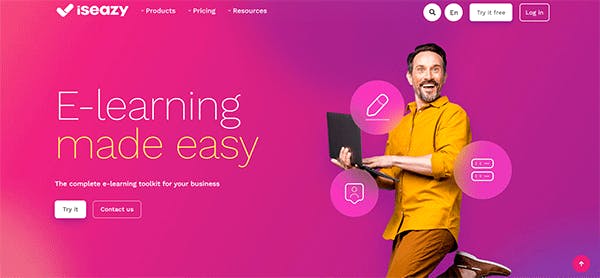 isEazy also features a collaboration tool that allows multiple users to edit a course simultaneously. You can use this if you want to distribute your courses more efficiently and save time creating content. 
Cost: Free basic plan, Paid plans start at 69 USD per month
Key features: 
Cloud-based authoring tool

Course layouts and templates

Course collaboration
LMS for Customer Training #10 – Echo360
This automated LMS for customer training is designed to help organizations deliver effective customer learning materials at scale. You can simply examine activity streams using the platform's automated insights, which can then support your organization's customer-data-driven decision-making. Using Echo360's responsive authoring tool, you can create or edit elearning content that functions flawlessly on desktops and mobile devices.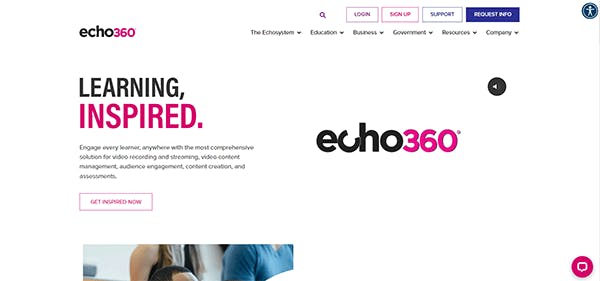 With features like quizzes, games, simulations, infographics, flashcards, and simple course templates, you can easily create highly interactive customer training materials. If you want to be able to reuse your elearning content or transfer them to other LMS platforms, Echo360 gives you the ability to publish courses as xAPI or SCORM packages. 
Cost: Starts at 395 USD per year
Key features: 
Automated insights

Responsive course authoring

xAPI and SCORM package publishing