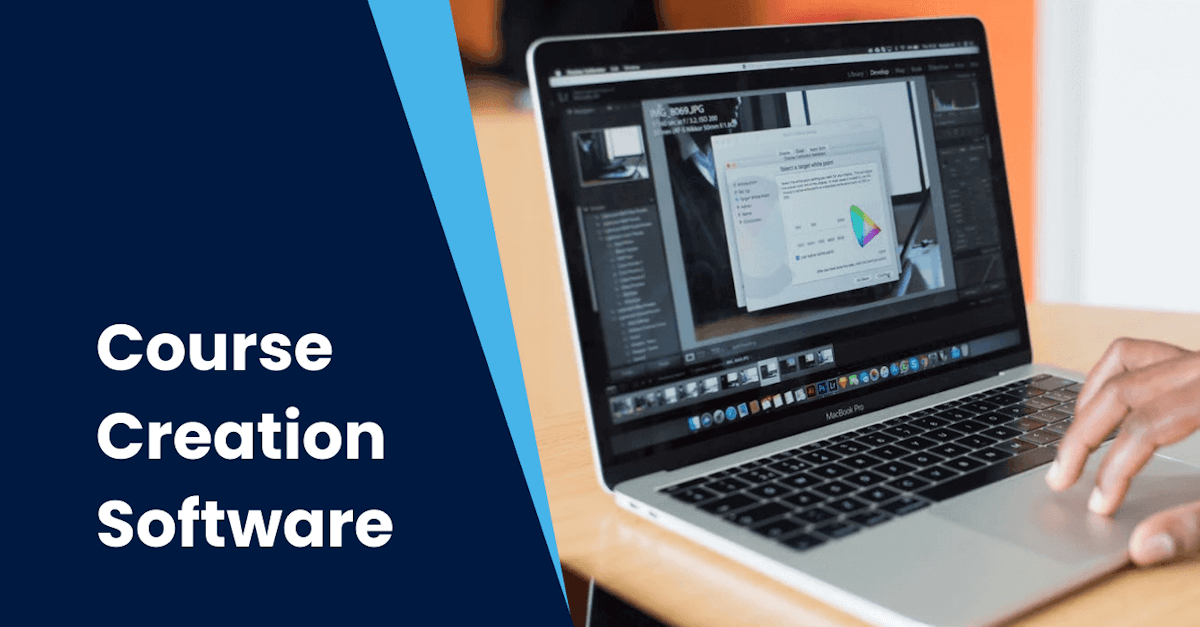 The demand for course creation software has risen steadily over the last few years. It's not surprising, given how it streamlined the entire employee training process for corporations and allowed every individual from all industries to update their skills and knowledge according to their comfort. In this post, we'll explore the most popular course creation software that you should definitely check out and consider. 
1. EdApp
EdApp is rapidly gaining popularity in the corporate world as a full-featured course creation software that helps deliver high-quality online training with little to no fuss. In fact, industry giants such as Coca-Cola, Shell, Bayer, and Pandora have enjoyed this LMS platform, citing improved learning benefits from using EdApp as the primary software for training their workforce.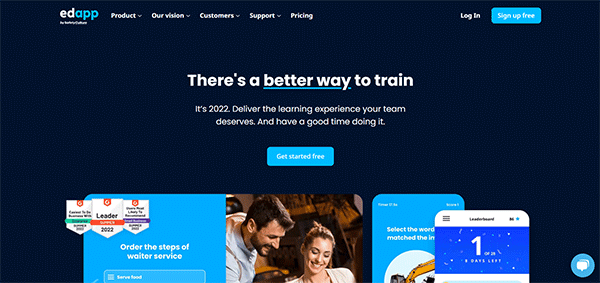 What makes EdApp a standout tool on this list is its authoring solutions, which allow for the seamless creation of online courses that you can deploy as early as today. It's free and template-based, eliminating the need to overspend too much of your time or money designing your slides. As a rapid tool, you can also immediately tweak and update your online courses whenever needed, or even add relevant content that just appeared on last night's news. Worry not, as a push notification can be activated to nudge your learners about your course changes. There's also a course library that features courses like negotiating skills training courses, workplace safety courses, and more that you can readily share with your team.
Offer thoughtfully designed professional growth that your employees will like. Bring your learning requirements to EdApp's instructional design team, and they will convert them into dynamic and engaging courses.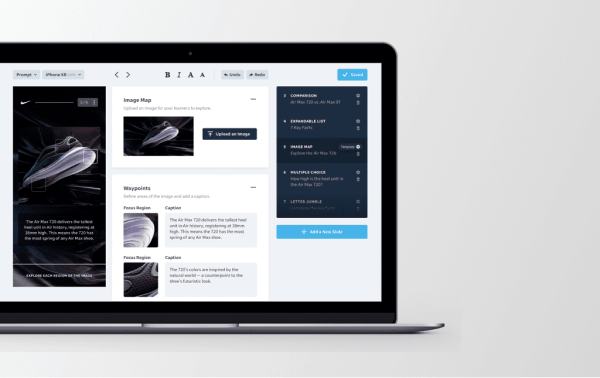 Finally, there's also an online course analytics suite that will give you an insight into how your online courses are performing and how your learners are interacting with them. Here, you'll see the completion rates of your courses, the average length of time spent on each slide, and the percentage of users who answered a question correctly.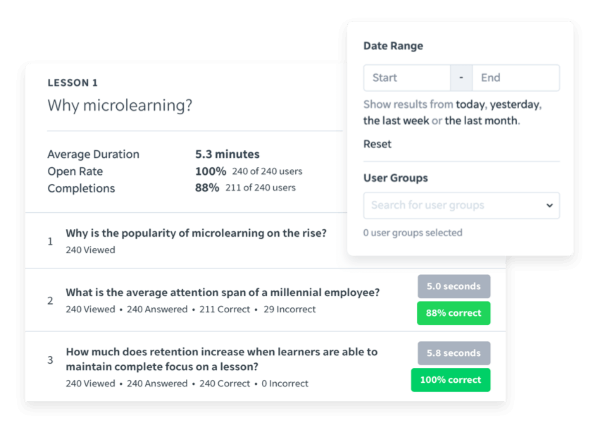 Cost: Free
Key features:
Rapid course authoring tool

Template library

Push notifications

Online course analytics suite
2. Skill Pill Microlearning Courses
Skill Pill is a pioneer in creating high-quality online courses designed to help teams from almost any industry gain the skills and knowledge they need to do well in the modern workplace. Their digital learning library houses over 6,000 courses that cover topics like leadership, management, sales, and personal effectiveness. What's great about these courses is that they are loaded with various interactive elements like videos, games, and quizzes, and worksheets to help double the level of retention. They can also be mapped so they align with your organization's goals and competencies.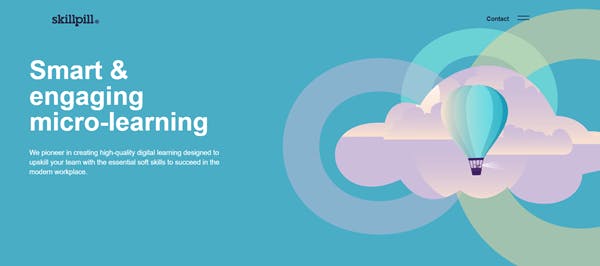 Apart from its ready-made digital content, this course creation software offers bespoke course creation services too. In case there are topics that aren't available in their library, Skill Pill can produce custom videos, skill pill microlearning courses, and animations that are designed and branded specifically for your organization.  
Cost: Available upon request
Key features:
3. EssentialSkillz
EssentialSkillz is your go-to course creation software if you want to strengthen your organization's compliance culture. Through its in-built authoring tool, you can easily put together learning materials, documents, and policies to help your employees succeed in their roles. If you're short on time or resources, this platform offers over 70 SCORM-compliant courses that you can deploy to your team. They tap into critical compliance topics like health and safety, code of conduct, conflict resolution, and data protection, which you can edit and customize using their authoring tool.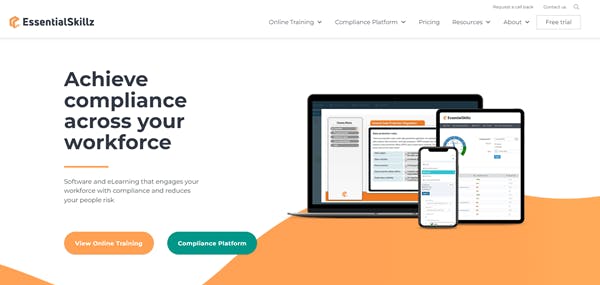 This training software reduces the administrative burden by automating the enrollments for training. This way, you no longer have to manually chase your team into taking their online courses. They also provide in-depth course reporting to help spot compliance gaps and issues and address them as soon as possible. 
Cost: ,900 USD per year
Key features:
4. Envato Elements
These days, online learners have so many options, and creating rich and varied assets is essential if you want to have and hold their attention. This includes everything from explainer and slideshow videos, to podcasts, presentations, and data visualizations. You can create all of this and more with a subscription to Envato Elements, a one-stop shop for digital assets, used by marketers, designers, and video makers. You may explore its library of education resources and templates to find everything you need to create your online course, whether it's a logo for your learning series, photos to illustrate your key messages, or graphic templates to speed up your process.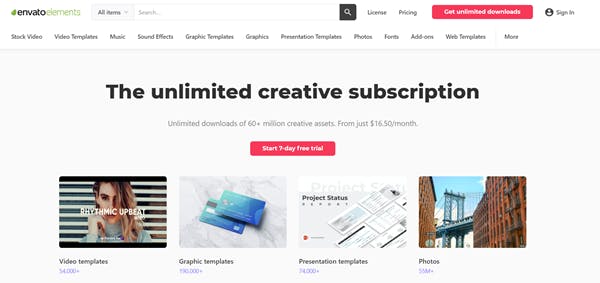 Cost: Starts at .58 USD per month per member
Key features:
5. ProProfs
The eLearning authoring software by ProProfs Training Maker is a cloud-based and highly intuitive course creation tool for rapid authoring. Using it, you can create online courses, lessons, and tests, and share them with anyone, anytime, anywhere, and on any device. A well-stocked and regularly updated library of courses and templates makes it easy to get started. These resources are professionally designed and fully customizable. You can also import eLearning materials you already have, such as images, videos, graphics, recorded webinars, and quizzes.
A centralized and secure virtual classroom enables users to easily administer, manage, track, and analyze courses and quizzes online. Task automation, 100+ customizations, AI reporting, and  completion certificates are among the key functionalities in the solution.
Cost: Starts at $1.97/learner/month (billed annually)
Features:
6. Bridge
You can take advantage of Bridge's robust course management tools and features to drive your employees' growth and ensure that their skills and knowledge are aligned with your company's goals and vision. One of the best features is its native authoring tool, which harnesses the power of simplicity. It can help you put together and deliver scalable online courses in just minutes, and you don't even need a training manual to get started. You can further boost the effectiveness of your online courses by adding video role-play and skills assessments, so your learners feel more motivated to take and complete the training they need.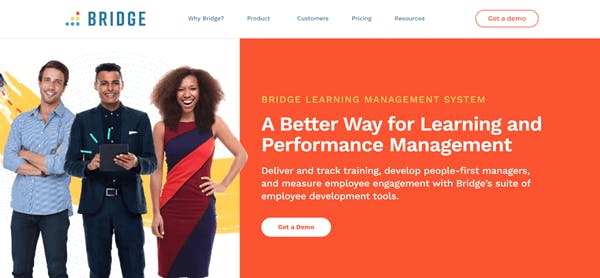 Bridge's analytics and insights feature also comes in handy to make sure you're on top of your employees' learning journeys. You can monitor important metrics like the learning progress of your employees, courses with the highest engagement, overdue learners, and more. 
Cost: to 2 USD per month
Key features:
Native authoring tool

Video role-play

Skills assessment
7. Podcastle
Podcastle is a content creation tool that will allow you to easily create and integrate engaging multimedia elements into your course. While you can't deploy the course on the platform, you can record and edit high-quality video and audio to be used in your course.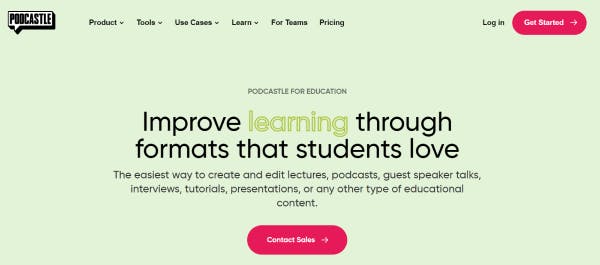 The platform also enables you to host video conferences and automatically records them for further use.
Other than AI-powered tools that massively simplify the video content creation process, especially if you're a beginner, Podcastle also offers built-in transcription and text-to-speech services. You can transcribe audio for descriptions and subtitles in your course as well as repurpose your content in other ways. You can also use Podcastle's human-like voice skins or your own voice to record instant voiceovers, thus saving you time and better capturing your audience's attention.
Cost: Free and paid plans
Key Features:
Content creation tools

Seamless video conferencing

Transcription and text-to-speech services
8. Pathwright
Pathwright reinvents the world of learning through its powerful course creation and management features. Creating courses, projects, and discussion exercises is convenient with this course creation software, and you can even update every part of your learning material on any screen, whether from your desktop or your mobile phone. You also have the option to add unique cover art backdrops or choose the appropriate theme to guarantee that your team's courses and assignments look spectacular. Feel free to use due dates and auto-reminders via email to keep your learners on track with their learning.
training courses to motivate employees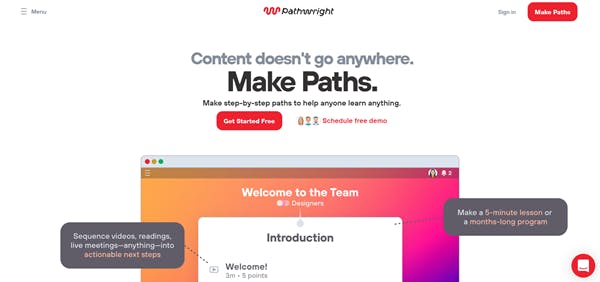 If you want to further engage your team, you can also create quizzes and tests with points, and even add explanations to make your training content clearer. You can also enable a course completion certificate to motivate your employees to complete their courses. 
Cost: Starts at 9 USD per month
Key features:
9. Passion.io
Quite different from other course creation software on this list, Passion.io is  ideal for instructional designers and online tutors seeking to design and sell their courses. Not only can you create your courses, but you can also build a standard app that allows your learners to access your content on any device. There are no complicated authoring practices. Following a drag-and-drop structure, you can get your online courses up and running and sell them in just a few minutes. 
Additionally, Passion.io offers various features and functionality to drive learning excitement. For example, it has a feature called drip content, where you can release your courses one by one like a drip. You can even stack them from easy to hard so that your learners will not give up halfway through your program. Quizzes, calculators, and worksheets can also be added to tap into their competitive spirit. 
Cost: 9 USD per month
Key features:
Course and app builder 

Drip content

Analytics and insights
10. CourseCraft
At CourseCraft, you can easily put together online courses and manage them without hassle. The best thing about this course creation software is its simple and flexible editor, which functions like your standard word processing program. Just type in your training module, upload images and videos, attach downloadable files, and you're all set. You can even add some forms, quizzes, and surveys if you want to engage your learners and get some insights directly from them.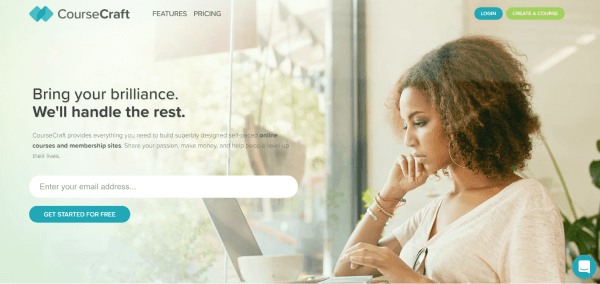 There's no limit to how many lessons you want to upload and share with your learners—this digital learning platform has you covered. 
Cost: Free and paid plans
Key Features: 
Course editor

Forms

Quizzes

Surveys
11. Bit.ai
Share your business knowledge and digital content with this corporate training platform, Bit.ai. One of its key hallmarks is its smart document editor that makes it incredibly easy to create, publish, and share your online courses. Bit.ai takes care of the design and formatting, so you can just focus on the content of your learning materials. Your courses will be stored and categorized in smart and personalized workspaces, which are only visible to the team you determined, or the person who created them. This gives you complete control over who has access to the business' resources, ensuring that only the right documents will be shared with the right people.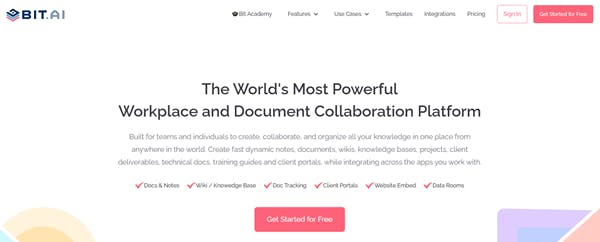 Cost: Free; Paid plans start at USD per member per month
Key features: 
12. Learnbook
Last but not least, Learnbook is a good course creation software loaded with a range of eLearning tools and features that can help you build and manage your online course with ease. Within these courses, you can also add quizzes, games, and interactive videos, securing a higher level of learning success in your organization. If needed, you can also run live webinars and virtual conferences to deliver your online courses and discuss the content with your team and colleagues in real-time. Feel free to record the discussion and publish them as courses so your team can still revisit them for their self-paced learning.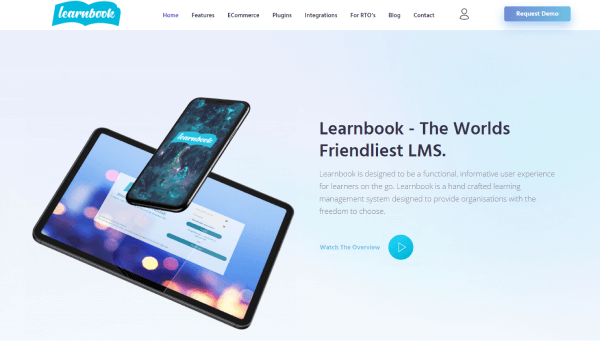 There are no ready-made courses available on this platform. Although a subscription will give you access to 10 off-the-shelf classes from GO1, which houses more than 50,000 programs covering diverse topics ranging from health and food services to digital marketing and finance. 
Cost: Pricing plans available upon request
Key features: