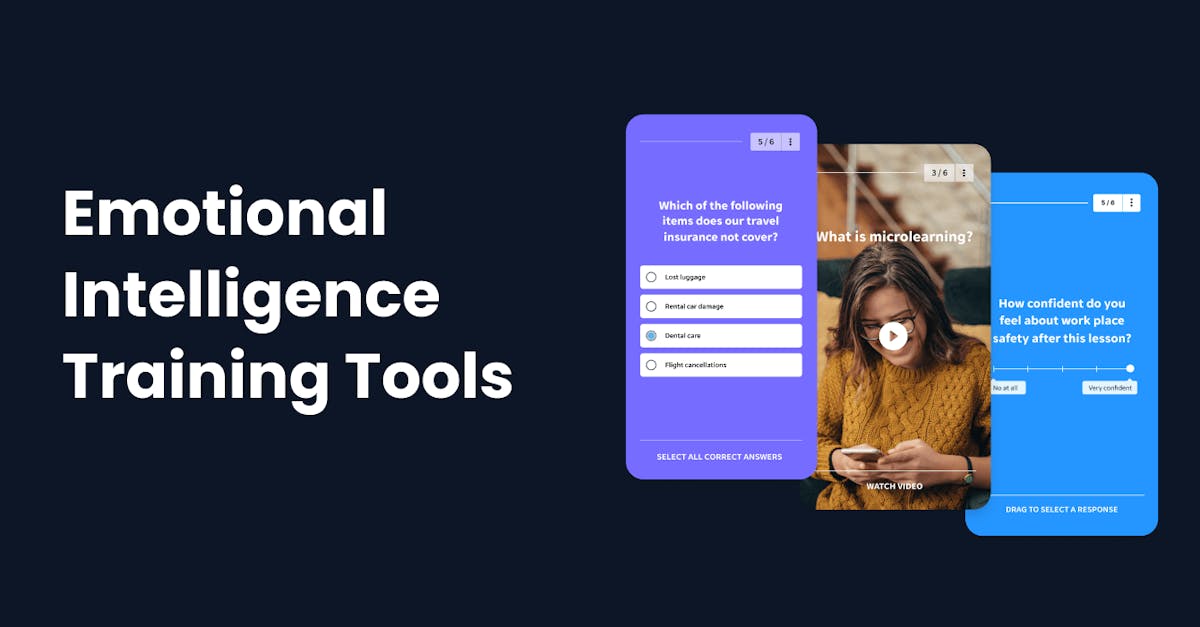 Employees with high emotional intelligence create better relationships with their co-workers, bosses, and clients. That's why it's important to get emotional intelligence training tools for your organization. These tools can teach your learners how to gain emotional intelligence, how to prevent conflict, and keep strong relationships.
Emotional Intelligence Training Tool # 1 – EdApp
EdApp should be at the top of your list when it comes to developing emotional intelligence. It's a globally known emotional intelligence training platform that keeps its customers returning for more for two reasons: it's free and offers excellent training solutions.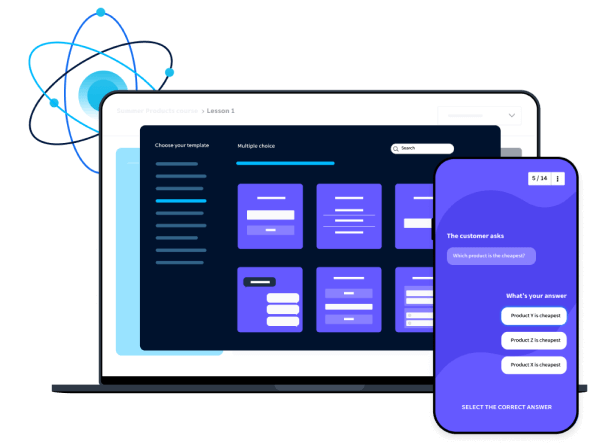 Their catalog of emotional intelligence courses is fully customizable and ready to be delivered to your workforce. Handling Objections with Emotional Intelligence and Emotional Intelligence at Work (Manufacturing) are among the courses offered. These courses on emotional intelligence address subjects such as why it's crucial for your team to have emotional intelligence and how they can apply it in their day-to-day work.
If you can't find the specific course you need in the library, you can have it created specifically for you. Use EdApp's Course Creation services to collaborate with a professional learning and development (L&D) team, and create the finest programs for your company. These custom-built courses are created with the most recent learning methodologies in mind, which your team will absolutely love.
They also offer a variety of cutting-edge L&D options that are often only available behind a paywall. These features include user-friendly authoring tools for beginners, several third-party integrations, and an easy-to-use LMS.
Cost: Free
Features: 
Customizable course library

Emotional Intelligence courses

Course creation services

Modern LMS
Get started on your team's emotional intelligence training by signing up for EdApp today.
Emotional Intelligence Training Tool # 2 – UpsideLMS
UpsideLMS is another emotional intelligence training tool that helps in upskilling your team, centralizing learning materials, and making sure that your employees comply with corporate rules. It offers a wide range of useful tools, including content creation, gamification, reporting, instructor-led training, and virtual training.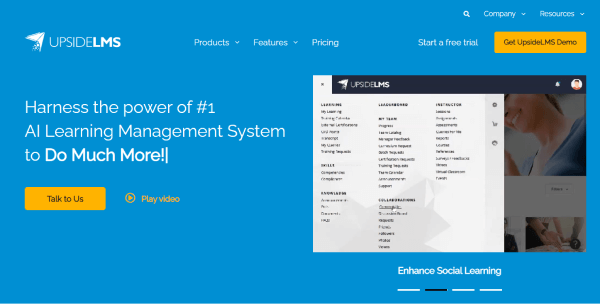 The training platform has a massive online library of over 80,000 ready-made elearning courses and videos, allowing your learners to access high-quality online training content quickly. UpsideLMS also offers emotional intelligence training courses that keep your employees engaged and develop healthy relationships at work.
Cost: Request a quote
Features: 
Emotional Intelligence Training Tool # 3 – Vowel LMS
Vowel LMS gives you the ability to control how learning takes place in your organization. It simplifies the process of assigning courses, managing learner progress, and seeing configurable reports. Its drag-and-drop HTML course builder makes it simple to create courses on the fly without any technical knowledge.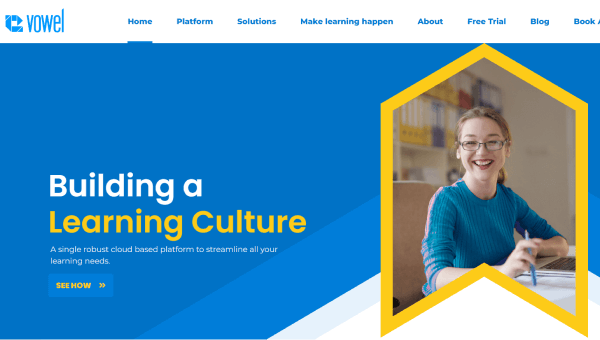 You can upload SCORM content with a couple of clicks if you already have it, or you can choose from their course library if you don't want to start from scratch. Traditional training sessions can also be made much easier using Vowel LMS' classroom management tools such as automatic reminders, homework submission, and workshop scheduling.
Cost: Request a quote
Features: 
Emotional Intelligence Training Tool # 4 – Learningbank
Learningbank is another excellent emotional intelligence training tool. This hybrid learning solution offers an active learning lifecycle system that allows you to design and automate different training content for various stages of your workers' learning journeys.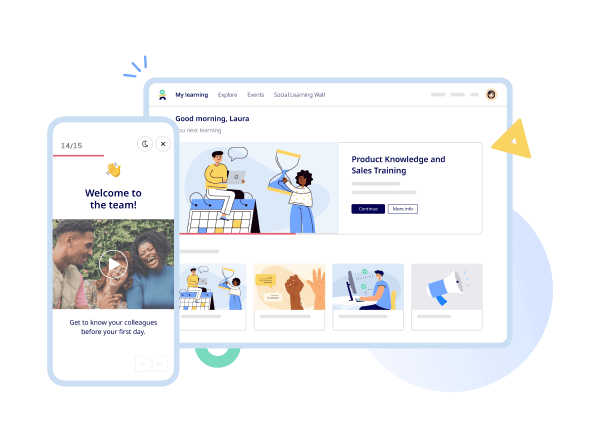 You may also save time and money by using the platform's pre-built customizable content. Import a course from their training store, drag and drop your own content, and share your team's finalized learning materials. Apart from its pre-built content and learning store, you can incorporate unique branding, and employee data, and create a social learning wall. Keep in mind, though, that these added features may increase the overall cost of your LMS membership.
Cost: Request a quote
Features: 
Emotional Intelligence Training Tool # 5 – Rippling
Rippling is well-known for its emotional intelligence training tool and automatic self-training features. What's fantastic about their self-paced training tools is that they offer a course library with over 1000 pre-built courses that you can already take, including emotional intelligence courses.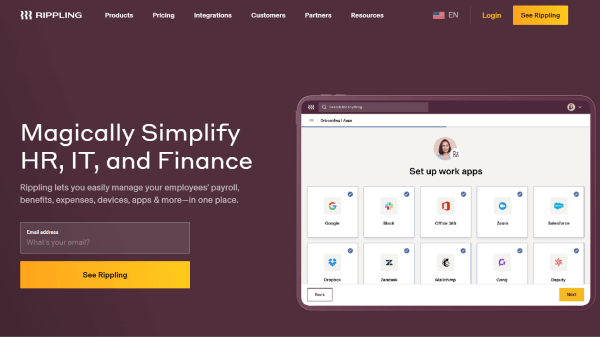 Unlike other LMSs, Rippling offers advanced course assignments that can transfer your courses over when you schedule them for your learners. You simply need to create their enrollment once, and then they'll take care of the rest. Set up course notifications to hold your learners accountable for their learning progress.
Cost: 8 USD/user/month
Features: 
Emotional Intelligence Training Tool # 6 – edX
If you want to take higher-level courses, edX delivers access to emotional intelligence training courses from reputable and well-known academic institutions, such as Harvard, MIT, Berkeley, Google, Microsoft, and others.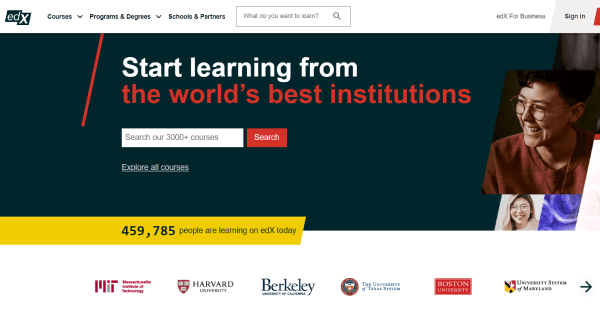 Their course collection, which can be accessed in up to 11 different languages. It also has a broad range of subjects and learning solutions in job-related subject areas such as computer science, engineering, workplace emotional intelligence, and business, to name a few. There are additional assessments to determine your learner's existing level of skill in the courses.
Cost: Free
Features: 
Course library

Assessments

Certifications
Emotional Intelligence Training Tool # 7 – FutureLearn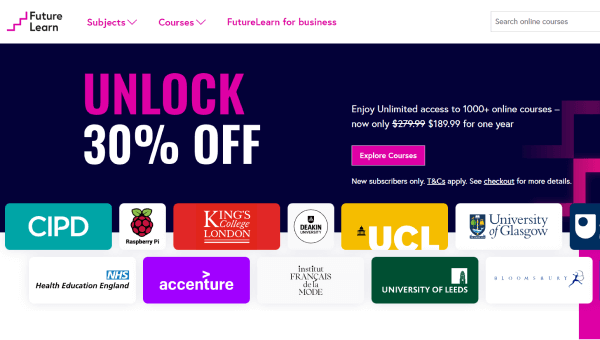 FutureLearn is an emotional intelligence training platform that helps your learners develop new skills and talents faster. This content management system (CMS) has approximately 2,000 separate courses on a wide range of themes, such as healthcare and nutrition, business and management, emotional intelligence, and many others. These courses are created by world-class organizations and industry experts. They're offered in the form of self-paced online videos, articles, discussions, quizzes, and other activities.
Cost: Request a quote
Features: 
Self-paced video courses

Quizzes

Discussion boards
Emotional Intelligence Training Tool # 8 – Schoox
Schoox is an emotional intelligence training tool that focuses on learning and human management. It includes a course library that covers a wide range of topics such as safety, security, emotional intelligence, and more. You can also develop courses in any format with Schoox's drag-and-drop course creation tools.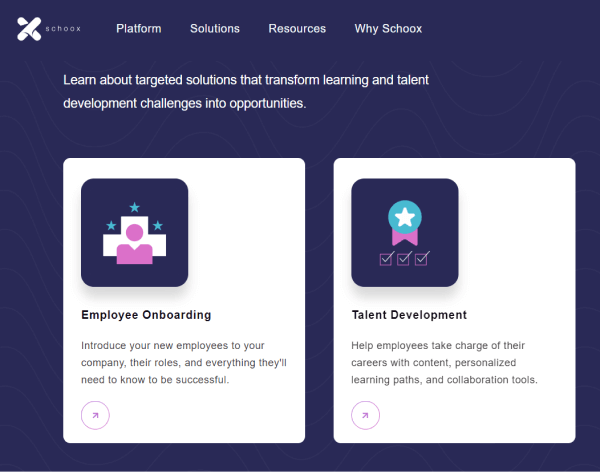 To monitor knowledge retention, you can automate evaluations for your learners based on their performance. It also has a mechanism called Impact Factor, which considers factors including the employee's tasks, skill performance, and skill strength to better deliver tailor-fitted courses.
Cost: Request a quote
Features: 
Course library

Drag & drop content authoring

Personalized course assignment
Emotional Intelligence Training Tool # 9 – Cloud Academy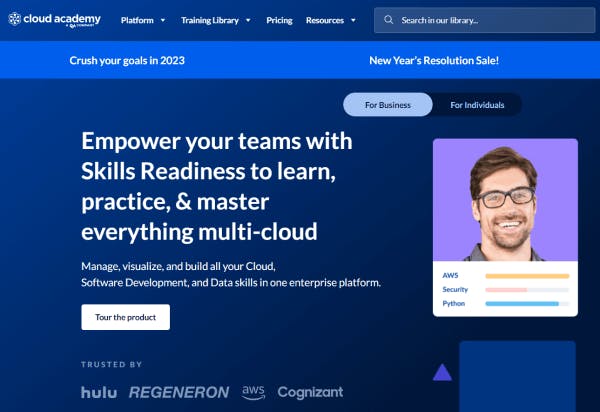 Cloud Academy is a corporate learning platform that creates more in-depth and personalized learning content for your team. This emotional intelligence training tool is great for creating exams with pre-built questions and supplying users with access to a big content library. This training technology also allows your learners to access learning information even when they aren't connected to the internet. It also has a Cloud Roster function, which encourages users to learn the most vital skills necessary for their jobs.
Cost: Starts at 39 USD/user/month
Features: 
Customizable exams

Training content library

Offline mode 
Emotional Intelligence Training Tool # 10 – Khan Academy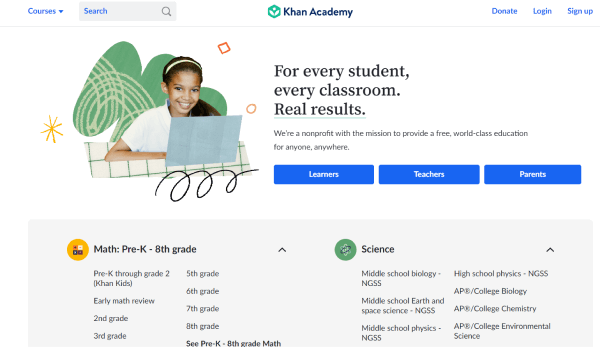 Another emotional intelligence training tool is Khan Academy, which contains over 4,000 expert-created courses in a range of subjects such as emotional intelligence, arts and crafts, and economics. This elearning platform offers a diverse selection of instructional content, ranging from elementary school subjects to university and professional courses. All you have to do is choose one to tailor your learner's training. There are also assessments, assignments, practice activities, and extra materials accessible.
Cost: Free
Features: 
EdApp is a mobile learning management system designed for today's digital habits, delivering more engaging and effective micro-learning directly to learners anytime and anywhere.
Sign up for this emotional intelligence training tool today.