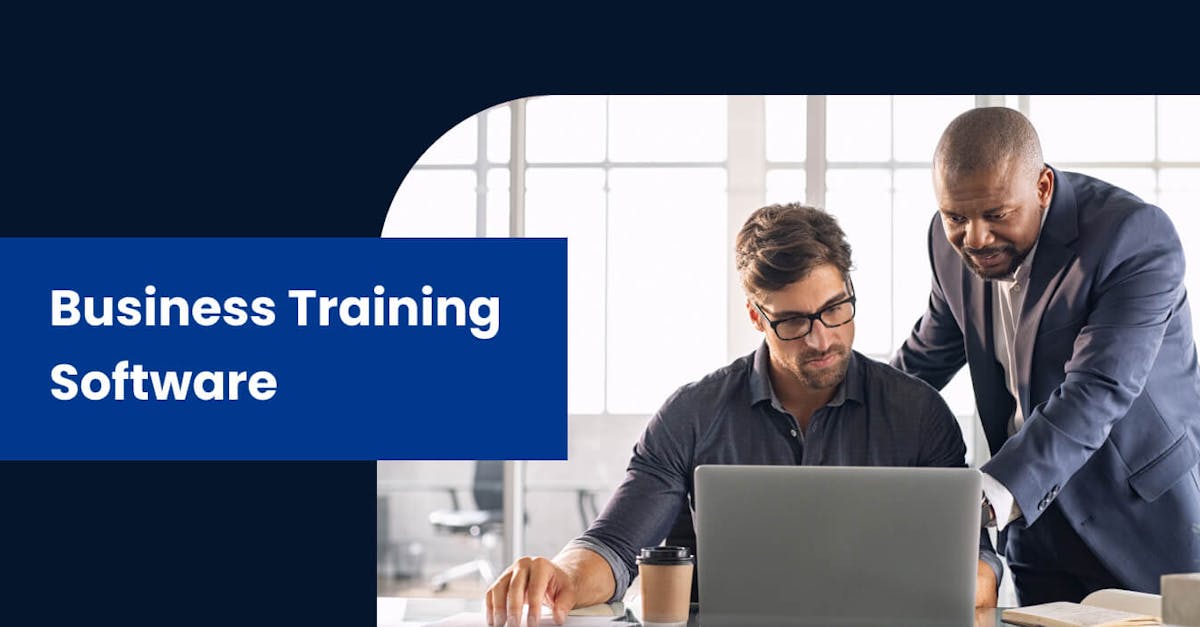 Training is critical for your company's success in today's competitive marketplace. That's why we have compiled a list of the software for training employees and business training programs  to incorporate into your training and development initiatives. These business training software have features that will help you create high-impact learning in your organization.
Business Training Software # 1 – EdApp
EdApp should be at the top of your list when it comes to business training software. It's a globally known elearning development software that retains clients for two reasons: it's free and gives great training.
Their catalog of corporate learning courses is fully customizable and ready to be delivered to your workforce. Communication in Project Management, Digital Marketing, and Solution Selling Strategy are among the courses offered. These courses address subjects such as why business planning is crucial and how to make your company stand out from the crowd.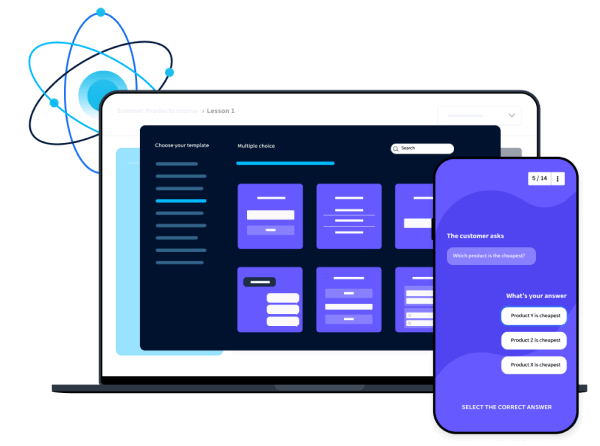 If you can't find the training you need in the library, EdApp can carefully craft one for you. Use EdApp's Course Creation services to collaborate with a professional learning and development team and create the perfect training programs for your company. These custom-built courses are created with the most recent learning methodologies in mind, and your employees will appreciate them.
They also offer a variety of cutting-edge training options that are often only available behind a paywall. These features include user-friendly authoring tools for beginners, several third-party integrations, and a convenient LMS.
Cost: Free
Features:
Course creation services

Massive course library

Customization options

LMS
Grow your business by signing up for EdApp today.
Business Training Software # 2 – Accessplanit
Accessplanit is a one-stop business training software that helps you optimize and automate training operations, while also generating high-quality training materials and giving excellent learning experiences to your learners. Its course admin tool allows you to easily arrange course and training events, whether in-person or online, making it ideal for a blended learning strategy.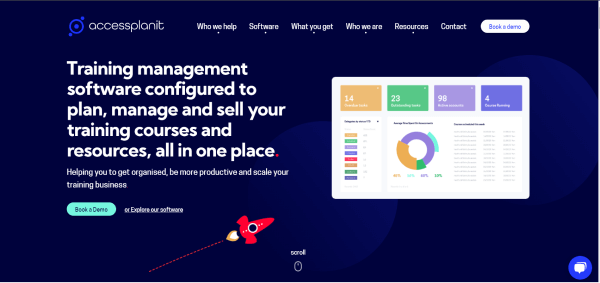 As a platform designed to centralize all training activities, you have access to a variety of flexible training options for course preparation, such as face-to-face meetings, webinars, and mobile learning.
Cost: Request a quote
Features:
Course management

Automation tools

Reports and analytics
Business Training Software # 3 – Sharepoint
Anyone on your team can create and organize corporate training courses like a pro using SharePoint's business training software. There are a variety of templates available to help them out from developing courses and arranging events to getting employee feedback.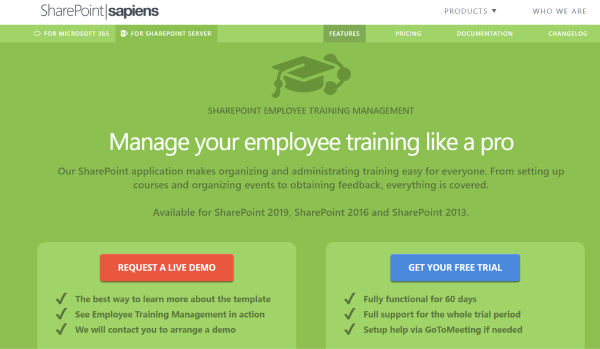 It also offers a simple platform for developing training activities and keeping track of important dates, such as course deadlines. Your team's experience and new skill level are then posted on the platform once the course is completed. This makes it simpler to choose the right individual for restructuring, such as succession planning.
Cost: 4,799 USD
Features:
Training design and implementation

Feedback gathering and analysis

A searchable database of training history
Business Training Software # 4 – Whale
Whale is another business training software designed for process documentation and personnel training. It includes an easy-to-use editor, editing tools, and a variety of templates to help you create a training playbook that can be easily sent to your staff.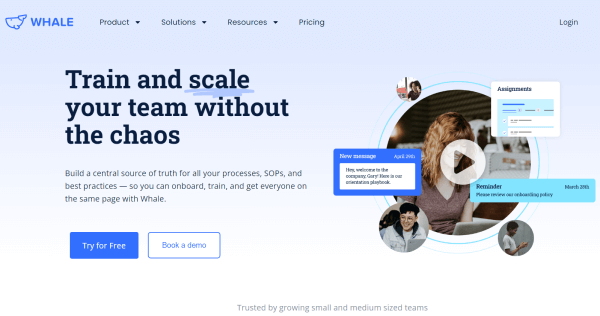 It delivers learning via a plug-and-play browser extension that your team can quickly access. They also offer user skill profiles to identify employees who require more training to attain their objectives or to master certain skills in order to gain insight into employee performance.
Cost: 119 USD/month
Features:
Browser plugin

Knowledge insights

Custom integrations
Business Training Software # 5 – Cloud Academy
Cloud Academy is a business training software that creates more in-depth and personalized tech learning content for your team. This web-based training tool can be used by creating exams with pre-built questions and supplying users with access to a big content library on technical fundamentals.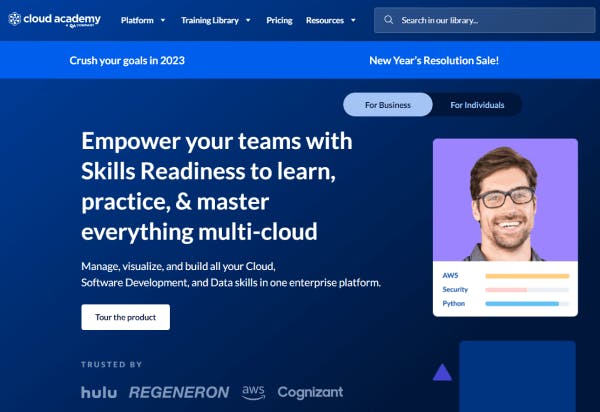 This training technology also allows your learners to access learning information even when they aren't connected to the internet. It also has a Cloud Roster tool, which encourages users to learn the most vital skills necessary for their job tasks.
Cost: Starts at 39 USD/user/month
Features:
Customizable exams

Training content library

Offline mode 
Business Training Software # 6 – GoToTraining
GoToTraining is well-known for its creative and entertaining features, which can transform an otherwise boring and intimidating training experience for your staff. It delivers the most straightforward options for guiding you before, during, and after training sessions, from registration to information sharing, assessments, and polls.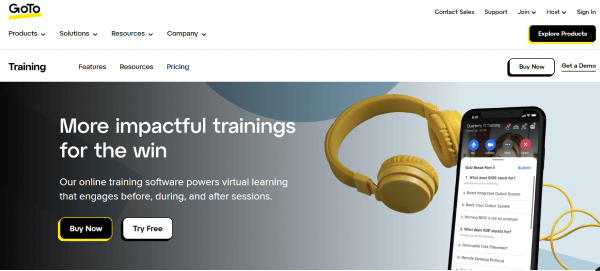 Before you start developing your course, you can use this business training software to make customized registrations with customizable questions. The data can then help you better understand your learners' needs and preferences, allowing you to select and create the best training courses for them.
Cost: Starts at 109 USD/month
Features:
Business Training Software # 7 – Continu
Continu is a business training software created for today's modern workforce. Using its powerful course authoring tools, you can construct courses and develop learning tracks to match the needs of each trainee. You can also tailor their learning experiences using its Smart Segmentation feature, which allows you to filter by location, department, or custom parameters.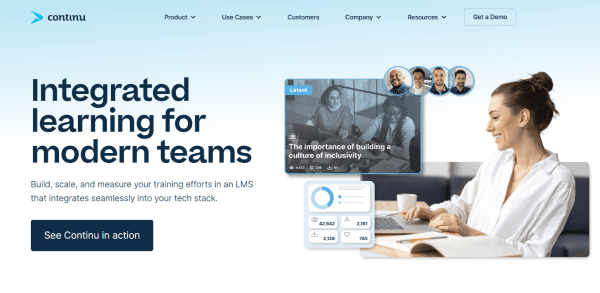 This LXP also has custom reporting, which allows you to fine-tune reports to gain insights into the performance of your staff. Trainees could also have their own dashboard where they could monitor their progress.
Cost: Request a quote
Features:
Business Training Software # 8 – Edgagement
Edgagement is a business training software, developed with a simple drag-and-drop authoring tool for creating gamified courses. Even if you have no graphic design knowledge, you can easily create interactive training materials by taking advantage of over 15 game themes, such as Spin to Win, Fact or Fiction, and Double Match.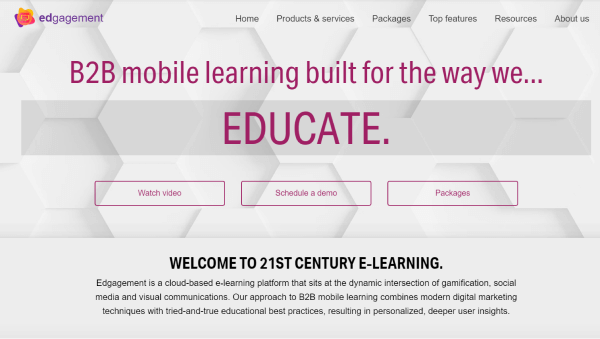 Edgagement also includes a data center, which offers information on game engagement, completion rates, and learning gains. This allows you to analyze overall performance, correct knowledge gaps, and optimize your training content for better future outcomes.
Cost: Request a quote
Features:
Business Training Software # 9 – Kallidus
The popularity of Kallidus has grown as a consequence of its cutting-edge business training software and resources, which businesses like yours will find useful and advantageous. For starters, they deliver an easy-to-use course builder that allows you to quickly create and update training content.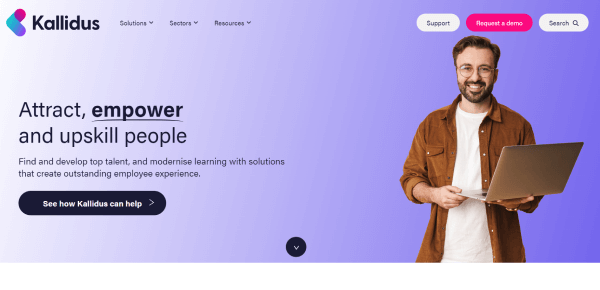 If you already have resources, just upload them to the platform and convert them into an online course. If you want to add further customization to your learning content, this LMS can be adjusted to meet your branding needs.
Cost: Request a quote
Features:
Intuitive course builder

Customizable LMS
Business Training Software # 10 – V360E
V360E was originally created as a VR-based online training platform for aviation training. It is now a highly dynamic business training software for a variety of physical and labor-intensive sectors, including healthcare, construction, and transportation.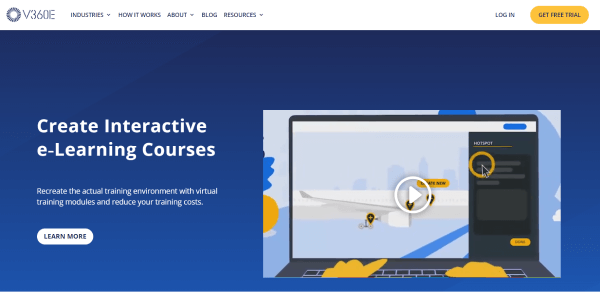 In a VR-based training session, you can expand what trainees can learn by including a 360 panoramic photo or video, audio components, and supplemental text. Your learners can hone their skills by using online testing software through V360E's PC and mobile apps. The downside with V360E is that because of its limited features list, you may need to seek out alternate resources for more extensive training
Cost: Request a quote
Features:
VR-based online training

Mobile access

Interactive test
EdApp is a mobile learning management system designed for today's digital habits, delivering more engaging and effective micro-learning directly to learners anytime and anywhere.
Sign up for this business training software today.