Best Zoom Meeting Game #2 - Find-a-word game
The Find-a-word game is also a fun game to play on Zoom meeting. There would be a word search puzzle where your staff will look for hidden words. These words can be arranged horizontally, vertically, or diagonally, forwards or backward. This virtual employee engagement activity is best used either during or after your Zoom meeting as it can help your team recall terms and keywords that were discussed in your talk.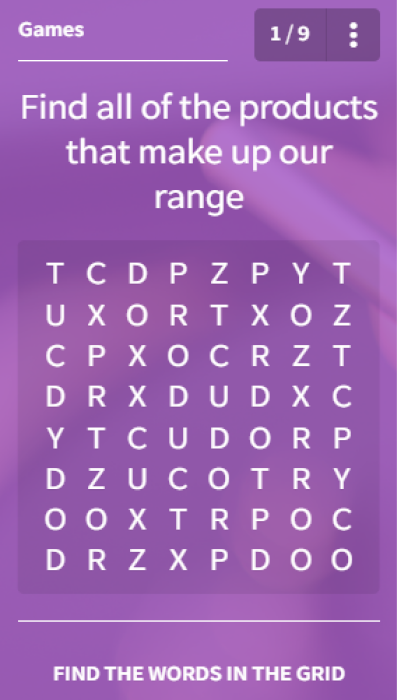 Give this fun virtual game a try with the help of EdApp's Find-a-word game template. This template has been optimized for any screen size. During your virtual meeting, have each team member hold their phone and work on a word puzzle that you've prepared. This fun and interactive game can get everyone involved and interacting, regardless of their physical location.
Best Zoom Meeting Game #3 - Virtual Scavenger Hunt
The Virtual Scavenger Hunt can be an excellent way to engage your team in a challenging activity. Here, you can ask your staff to find a list of items within their respective homes. It could be anything from a stapler, a pencil, a book, or anything specific that would help them better understand the agenda of your meeting. The team that finds all the items first at the end of the time limit wins.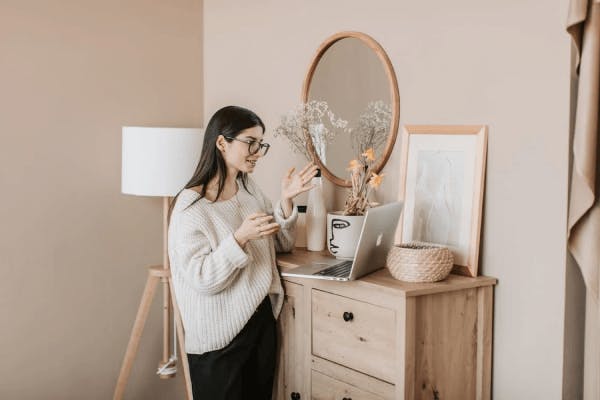 This fun training game for employees is commonly played in teams and is gaining popularity among managers and supervisors who want to strengthen their team's collaboration and communication. But not only is it a fun activity to get everyone involved in the meeting, but it also has a challenging aspect that makes it a great Zoom meeting icebreaker. Your team members will have to put their problem-solving skills to the test and work together to find the items on the list.
Best Zoom Meeting Game #4 - Two Truths and a Lie
Two Truths and a Lie is the best zoom meeting game to consider if you're hosting a virtual onboarding session. It's simple – each of your new employees takes turns sharing two true statements and one false statement about themselves. The other team members will then have to guess which statement is the lie. This game is a great way to get to know your team members better and encourage friendly conversation.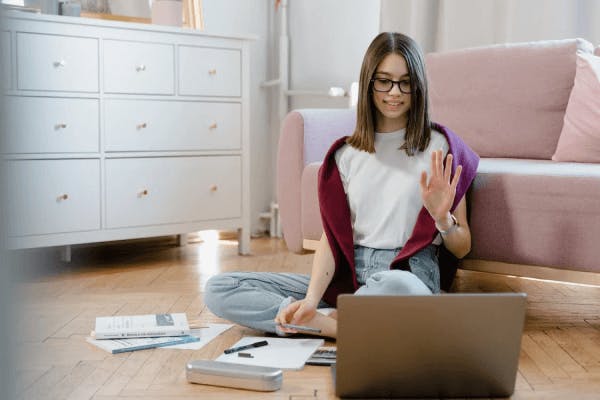 Best Zoom Meeting Game #5 - Memory game
Challenge your team's memory and concentration skills to test using the Memory game. This Zoom meeting game will have your staff tap on each tile to uncover words or definitions. They need to remember them in the correct order to win the game.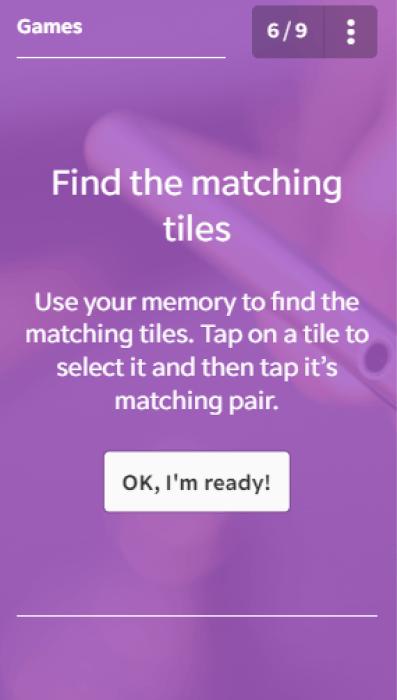 This fun virtual game is highly useful in meeting and learning situations where employees may be required to retain large amounts of information. This is mostly because the game will encourage them to stay focused as they recall the location of the matching pairs of cards. 
Take advantage of EdApp's Memory Game template to include this game in your team's next Zoom meeting. It's 100% free to use – no credit card is needed to get started. 
Best Zoom Meeting Game #6 - Charades 
If you ask anyone on your team, they probably would agree that Charades is one of the most exciting virtual activities to play. It's a classic game in which one person acts out a word or phrase without speaking and is limited to body language and gestures. Meanwhile, the rest of the team has to pay attention to the person acting out and try to guess the words and phrases given.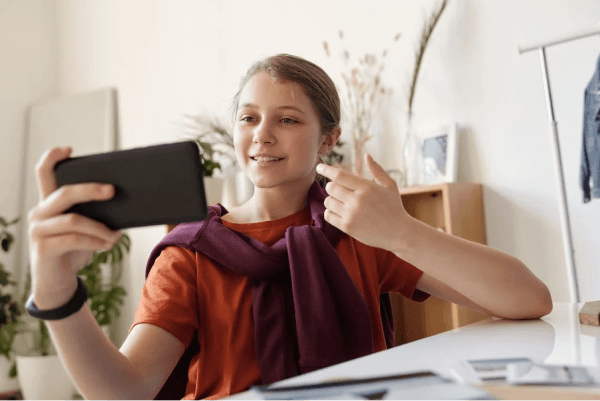 This Zoom meeting game can be especially useful for improving your team's nonverbal communication skills. It's also a great way to practice how to give information concisely and effectively. And since it's played in teams, it can help build a sense of friendly competition and encourage teamwork on the side. 
Best Zoom Meeting Game #7 - True or False
Playing True or False in a Zoom meeting is just like playing it in person. You'll present a series of statements related to the main topic of your meeting and ask your team to determine if they're true or false. Depending on your learning objectives, it can be played individually or in teams. To make it even more exciting, a point and reward system is usually applied.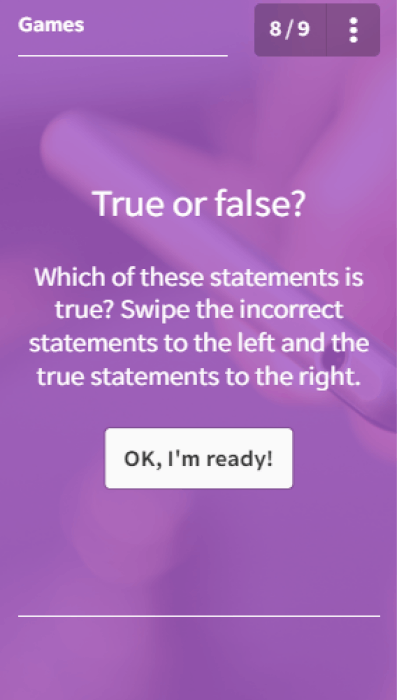 EdApps' True or False game template can help you put together beautiful slides for your True or False Zoom meeting game. Here, your staff will simply have to swipe right for true statements, and left for false. The slides can be customized using your theme and style, and you can even add your logo for a more personalized learning experience. 
Best Zoom Meeting Game #8 - Trivia
Trivia is a great game to play at zoom meetings. It involves a series of trivia questions that will help your team better understand the objectives of your meeting. To get started, you'll need to share your screen and choose to use a virtual buzzer or have your staff type their answers in the Zoom chat.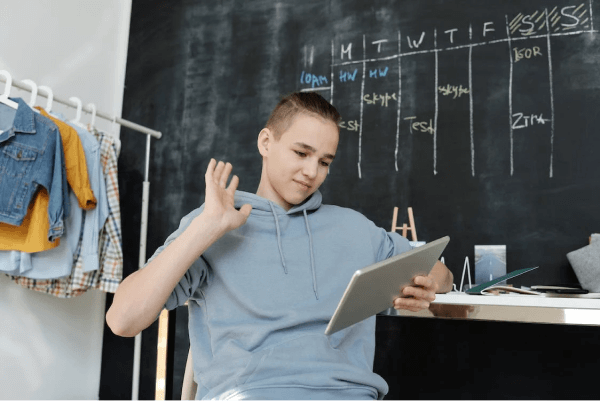 Here, you can connect the meeting topics with some of the questions to reinforce what was discussed. For example, if the meeting's objective is to highlight the new product features, you can include questions related to those features in the trivia game.
Best Zoom Meeting Game #9 - Would You Rather
Playing the "Would You Rather" game in Zoom is a great way to help your team improve their daily tasks and responsibilities. You can ask them interesting questions related to their work and see how they would handle different scenarios.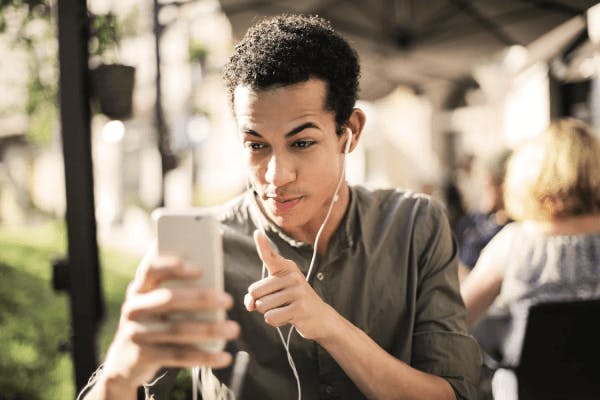 For instance, you could ask "Would you rather make a decision based on data or intuition?" and spark a conversation about the best approach to work. By playing this game, you can assess their problem-solving skills, creativity, and teamwork. 
Best Zoom Meeting Game #10 - Letter jumble
Letter jumble also makes a fun Zoom meeting game to consider. The idea is that you'll present a scrambled word or phrase. Then, your team will have to unscramble the letters to form a word or phrase. To make the most of it, you can use a term or keyword that's vital for their task or performance, or an important phrase discussed in your meeting.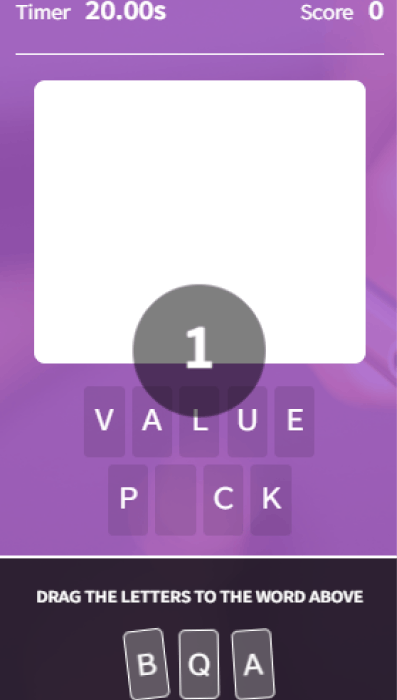 Use EdApp's Letter Jumble template to reinforce this game in your next Zoom meeting! You can also use more of its gamification best practices like leaderboards, real prizes, and scoring to give your team a sense of competition and accomplishment and make their learning experience even more exciting. Get ready to level up your Zoom meeting with these gamification features!