With the help of HR software solutions, HR teams can more effectively run everything from hiring and employee onboarding to training and project management. This is because these tools help human resource workers automate administrative processes and focus on creating a great work environment for their employees.
HR Software Solutions #1 – EdApp
EdApp is a top HR software solution that gives you thorough insights into your employee engagement and training programs. With its user-friendly Creator Tool, pre-built elearning templates, and customizable course library, it serves as an all-in-one training solution that enables you to deliver engaging courses to your employees. It was designed with mobile devices in mind, allowing your team members to access and finish their lessons whenever and wherever they choose.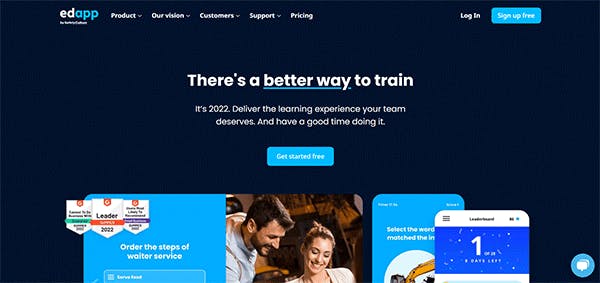 Through EdApp's built-in quiz creator, Rapid Refresh, you can also quickly determine the knowledge gaps in your team, reinforce important information (such company updates and new policies), and get feedback through surveys. The online quiz maker will distribute your questions to your teams according to your specified timetable, whether it's all at once or over the course of several days or weeks.
The instructional designers at EdApp have incorporated the latest learning trends and approaches and hundreds of interesting courses for businesses and organizations across the world. These courses can be found in EdApp's free course library and you can simply import a course that meets your training needs and customize it according to your preferences.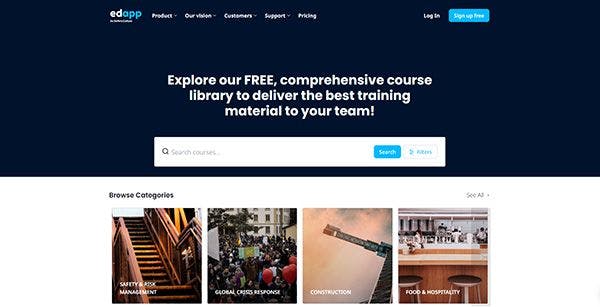 EdApp's reports and analytics suite make it easier for HR professionals to keep tabs on the development and performance of their teams while also serving as a useful engagement tracker. Through these reporting tools, you can check your learners' course progress, success rate, behavioral patterns, and whether they are successfully retaining important concepts.
Cost: Free
Key features: Mobile-first environment, editable course library, quiz & survey tool, and reporting & analytics
Join EdApp for free and start using one of the top HR software solutions on the market!
HR Software Solutions #2 – Bamboo HR
BambooHR is an all-in-one HR software solution that caters to small and medium businesses. This easy-to-use management system makes sure you have all your employee information in one place. BambooHR brings a modern approach to hiring, onboarding, performance management, managing payroll, and leave requests. It also empowers employees to help themselves, so they can update their information, request time off, and view their training and goals all in one place.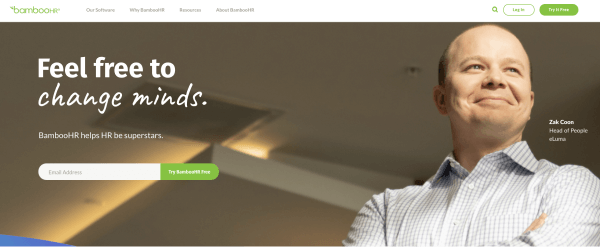 It also has engagement features, such as boards for employees' birthdays and anniversaries, as well as activity feeds for welcoming new hires. BambooHR does have a free trial, however, prices vary depending on company size.
Cost: Contact BambooHR
Key features: Employee database, payroll management, and leave management
HR Software Solutions #3 – HR Cloud
HR Cloud is a HR software solution that helps you improve your employee experience and engagement. As a comprehensive HR solution, it includes many products and features to help your HR team manage the entire employee lifecycle, such as process automation, onboarding, communication and collaboration tools, and pulse surveys. It also has a kudos feature that lets employees give a digital high five and compliments others for their efforts and achievements. Employees can convert those kudos into points to claim real rewards that your company can set up.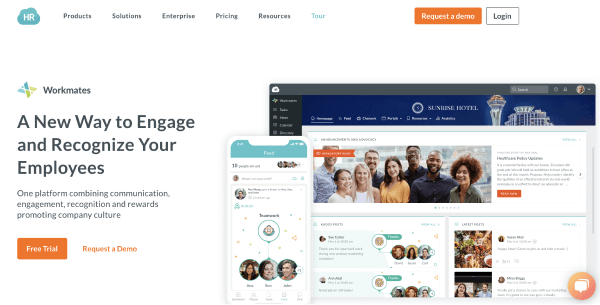 Cost: Contact HR Cloud
Key features: Kudos and rewards, centralized newsfeed, surveys, and polls
HR Software Solutions #4 – OrangeHRM
OrangeHRM is a free, modular HR software solution that you can customize to fit the specific issues that your company faces now and add more modules that address your needs as they arise. It doesn't matter if you're a team of one or 20, OrangeHRM serves any company size so you can make itM work the way you need it to. Some of the modules it offers are administration, reports, paid time off, attendance, benefits, recruitment, audits, and documents to help you manage everything that you and your team need to succeed.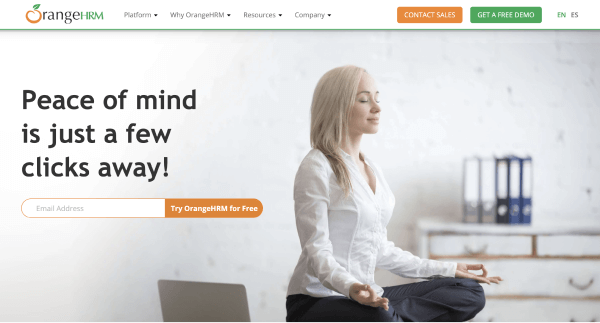 Cost: Free 30-day trial
Key features: Modular HR packages, administration, and management
HR Software Solutions #5 –  Web HR
WebHR is a cloud-based social HR software that covers the whole employee experience, from hiring to retiring. Built with HR professionals in mind, it's great for small-to-medium businesses as it can be used widely across your organization as a SaaS tool. Organizations can use it to automate many aspects of human resource management, with the dual benefit of reducing your workload and increasing the efficiency of your department by standardizing HR processes.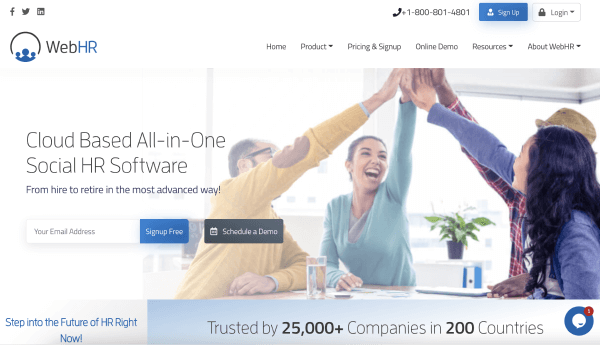 You can also use it to easily create training for employees, manage new hire onboarding, track time and attendance, keep employee records, and manage files. One of WebHR's most unique features is its integration with Amazon Alexa, allowing this software to function in a hand-free environment.
Cost: Free up to 5 users
Key features: Modular HR packages, payroll, applicant tracking system (ATS), and Alexa integration
HR Software Solutions #6 – Synchroteam
Synchroteam is among the most trusted mobile workforce management software solutions on the market. Although the platform is not strictly for HR, it comes with a variety of unique features that make it easier to monitor and communicate with your mobile workforce. From job management and scheduling to GPS mapping, time tracking, and payment processing – Synchroteam has got you covered.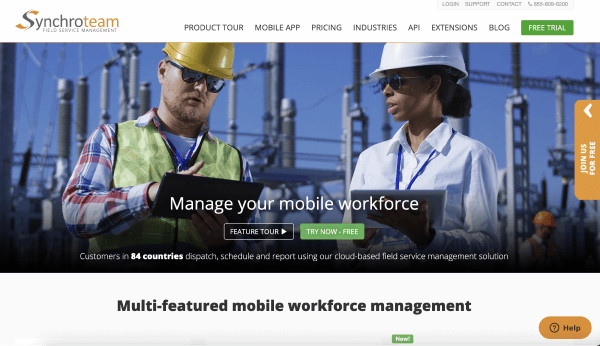 This software solution is accessible for Android and iOS mobile users, so deskless workers can easily obtain all the information and resources they need from your HR team. It also helps them communicate efficiently not only with the HR managers but also with their peers. However, Synchroteam only offers per-user licensing plans, which makes it somewhat costly especially for those handling larger teams. 
Price: 8 USD per month
Key features: Job management & scheduling, GPS map, time tracking, and mobile-friendly
HR Software Solutions #7 –  Deputy
Deputy is a shift worker management and HR software solution for the retail and hospitality industries. Their platform makes it easy to schedule your shift workers according to demand, manage last-minute roster changes, prepare accurate payroll, and communicate clearly with your teams. In short – Deputy streamlines employee admin, so you can focus on supporting your shift workers.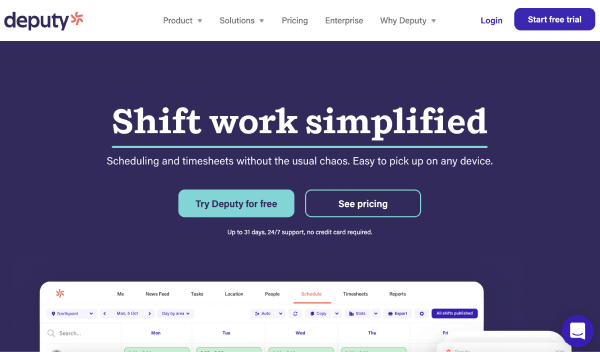 The platform has also recently integrated with EdApp, so you can easily create and allocate training to your staff. Once a worker has completed their training, records are automatically sent to Deputy, ensuring your employees are up-to-date on training before they clock in – no cross-referencing required!
Cost: Free 31-day trial
Key features: Shift worker management, payroll, and set training requirements
HR Software Solutions #8 – ELMO Software
ELMO Software is a comprehensive HR software solution that helps streamline your HR and payroll processes for increased productivity, efficiency, and employee engagement. As a one-stop shop for HR teams, ELMO solutions can be used together or stand-alone, and are configurable to your organization's unique processes and workflows. This includes applications, such as payroll, rostering, time & attendance, expenses, recruitment, onboarding, performance management, learning management, and remuneration. With a single dashboard and single-user interface, the platform requires no additional technical knowledge to get started for a seamless experience.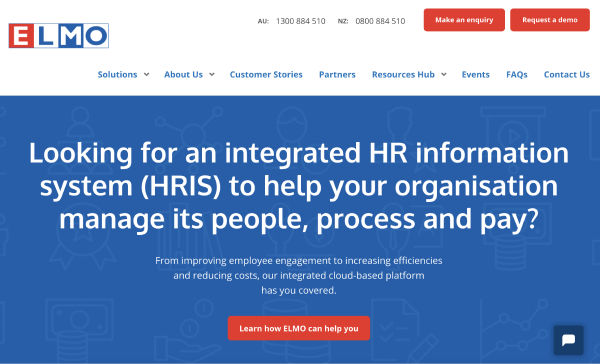 Cost: Contact ELMO
Key features: Recruitment, onboarding, learning management, and ISO 27001:2013 certified
HR Software Solutions #9 – Zenefits
Zenefits is an HR software solution that offers small-to-medium businesses management of core HR functions, like payroll, time tracking, and stock options. From hiring and onboarding to keeping employee compliance, Zenefits makes it easy for you and your team to complete the necessary paperwork. They also feature built-in safeguards to prevent accidental mistakes and compliance calendars so you never miss an important deadline. For a modern HR experience, employees can directly access onboarding, paystubs, change and view their benefits, and update leave requests from their mobile devices. This makes it easy for them to keep their information up-to-date while requiring less follow-up from you.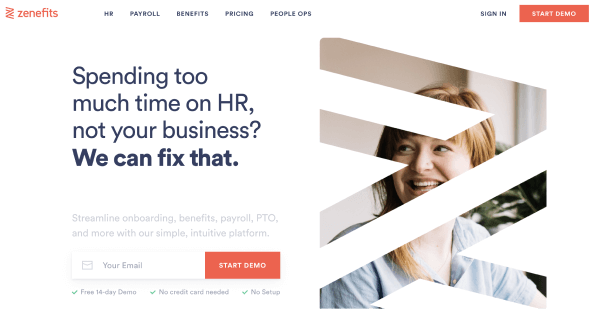 Additionally, Zenefits employs a team of HR, payroll, and IT professionals who are available by phone or email for any questions or user requests, and can often fulfill feature and integration requests within one week.
Cost: USD per month
Key features: Mobile platform, compliance calendar, phone, and email support
HR Software Solutions #10 – IntelliHR
IntelliHR is an HR software solution that helps you centralize employee records and automate performance reports for a data-driven people management experience. Fully customizable, IntelliHR can easily configure employee records and workflows, helping managers keep track of their teams' goals and productivity. The platform also allows you to capture check-ins, feedback, and reviews, so you can easily optimize your employee engagement. Plus, IntelliHR also provides its customers with a dedicated account manager who is well-versed in HR and change management. This gives you an external perspective on how you can best capture and use your employee data.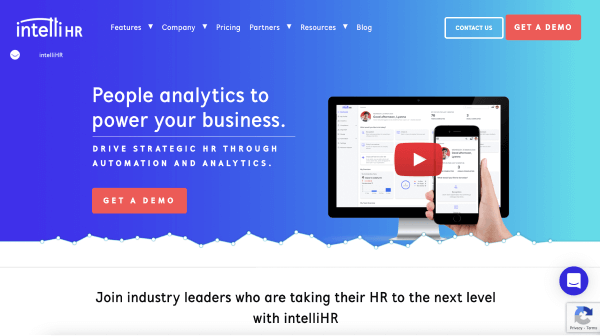 Cost: Contact IntelliHR
Key features: People-driven analytics, employee record management, and dedicated account manager
HR Software Solutions #11 – GoCo
If you're looking for an HR software solution for employee management that does it all, GoCo is the obvious choice. It streamlines your core HR, payroll and compliance needs with a user-friendly platform to help you stay organized and compliant – no extra apps required.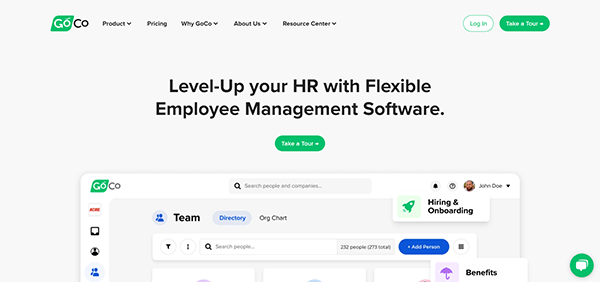 GoCo helps manage everything from onboarding new hires to tracking vacation time; they also provide solutions for ACA Compliance, Performance Management, Equity Tracking and more. They offer customizable onboarding workflows tailored to fit your organization's unique process – plus AI insights into how these spendings are impacting your budget over time. Plus, their features keep staff performance in check while allowing leaders to focus on strategy instead of day-to-day HR tasks like manually entering data or calculating overtime hours.
The best part? All of this comes at an accessible price point. Whether you're a small business or large enterprise looking for an all-inclusive HR package: GoCo has unparalleled value when it comes to online services across payroll processing, reporting & analytics capabilities and email notifications.. No matter what size business you have — from 5 employees up 15000+, GoCo will help maximize productivity levels as well as efficiency — leaving everyone with more time than ever before!
Cost: per employee per month
Key features: Modular HR packages, payroll services, applicant tracking system (ATS), compliance solutions, performance management tools and equity tracking capabilities.
HR Software Solutions #12 – OnPay
OnPay gives you everything you need to navigate HR, payroll, and benefits. Its payroll features enable businesses to be fast and precise with all their bookkeeping and tax needs, while its HR tools ensure you stay compliant. Since OnPay brings payroll and benefits together under one software, you save a lot of time on both processes. With OnPay, businesses can do everything from onboarding new staff to training senior professionals.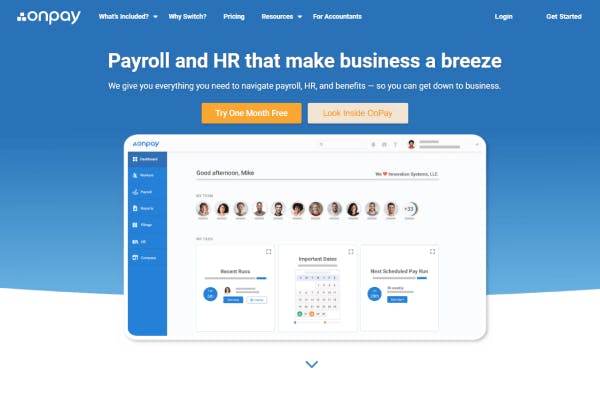 Let's not forget about their many integrations—you can connect QuickBooks, Xero, When I Work, Vestwell, Mineral, and much more. OnPay markets itself as a one-stop shop for all your HR needs, and it isn't kidding. The company itself even has an incredible customer service staff that can help you troubleshoot or set up the platform.
Cost: Free 31-day trial
Key features: Payroll, HR compliance, benefits and deductions, onboarding