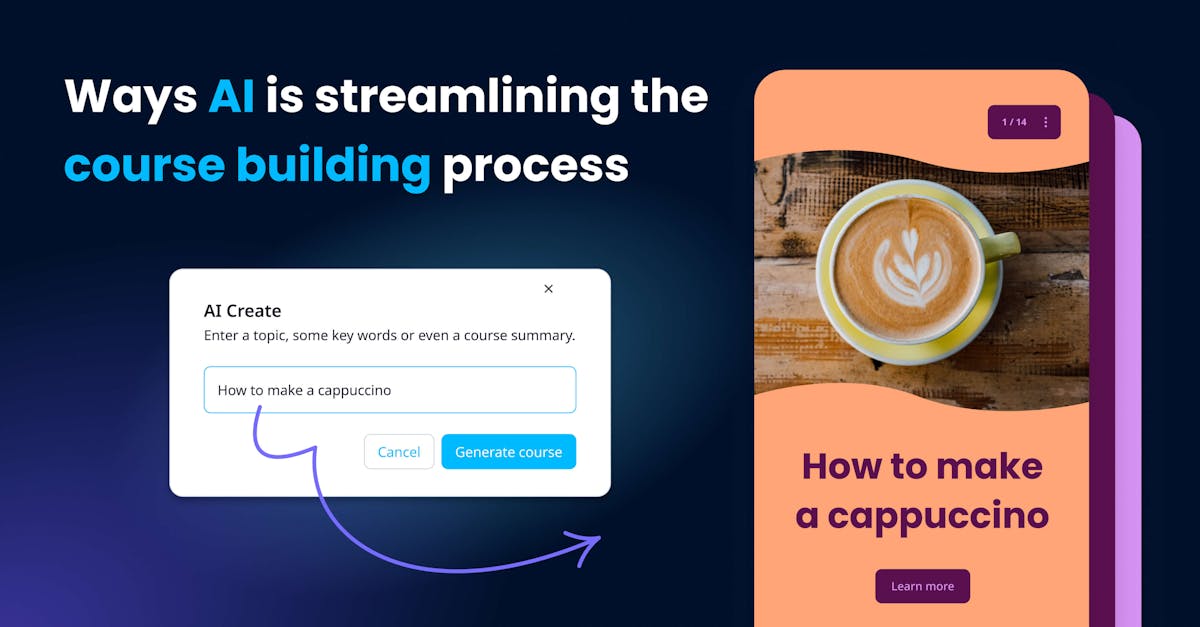 Artificial Intelligence (AI) has been around for a while already and its applications and uses in different fields are growing and becoming opportunities for many businesses. For the learning & development (L&D) space, AI application has seen significant growth. In this blog post, we will share with you the results of research that was conducted in-house, and highlight the areas where AI has helped our instructional designers the most. 
Research phase
Research is an important part of course creation. It helps make sure that your courses are timely and relevant. But research can take up a lot of time, so people are now using AI to help simplify this process. 61.8% of Instructional Designers found that AI has helped them reduce research time, saving them time and energy to work on actually creating the courses. 
This is possible because AI can crawl and analyze various online resources like articles, videos, and academic journals, to gather relevant information on your chosen topic in seconds. This means you don't have to spend countless hours doing manual research.
Course creation
Another time-consuming aspect of L&D and training can be the course creation phase. AI can speed up this process by creating courses quickly and efficiently by automating certain aspects like formatting and organization. In fact, 55.9% of Instructional Designers thought the same and found that creating microlearning lessons was much easier with the help of AI.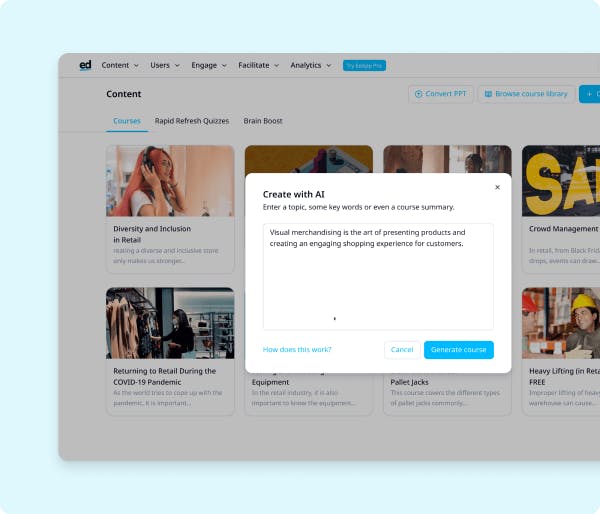 With AI, you don't need to start from scratch. AI can assist you in creating high-quality courses in a matter of minutes. 
Quiz creation
Creating engaging and challenging quizzes with the right amount of questions can be very challenging, especially if you have to do it manually every time. AI becomes your brainstorming buddy. It can help you easily generate quiz questions quickly and efficiently. AI uses natural language processing algorithms to analyze your course content and generate relevant quiz questions that fit the learning objectives of your course. 
Over 90% of Instructional Designers found that AI helps reduce the time it takes to brainstorm for quizzes and quiz questions. With AI doing most of the nitty-gritty work when it comes to quiz creation, you can focus on more creative aspects like design and gamification.
Overall, while working with AI, 19% of Instructional Designers found that they were able to save at least an hour of their time, 53% were able to save 1-2 hours, and 22% were able to save up to 2-4 hours.  
Challenges and limitations
While AI does continue to bring significant improvements to the L&D industry and general course creations, it still comes with its own sets of challenges and limitations. Here are some of the key roadblocks that you could experience working using AI for course creation.
Lack of personalization
AI-powered features are designed to create courses that work for a wide range of learners. This means that the content it generates might not fit the specific needs or learning preferences of individuals. This lack of personalization in learning content could be a significant limitation as learners may not get the most out of a course if it doesn't meet their learning needs or fit their learning styles. 
Limited creativity
While AI is excellent at automating different aspects of course creation, it may not be as creative as human Instructional Designers. Without that human touch, AI-generated courses might not be as engaging or innovative, especially for a microlearning course. As a result, learners could feel unmotivated to finish their training or they may not retain as much information as possible.
Limited understanding of context
AI tools are great at analyzing data and generating conclusions from what it gathers, but it's not able to understand the context in which the data is being used. This means that it may not be able to provide meaningful insights, causal relationships, or recommendations that take into account the specific context of your course. 
What's next for EdApp with AI
Even though the research revealed that AI can be beneficial for Instructional Designers, there still needs to be a few workarounds since most tools can't talk with one another. With EdApp's new AI Create feature, Instructional Designers can effortlessly combine the power of AI and the science of microlearning in a few clicks.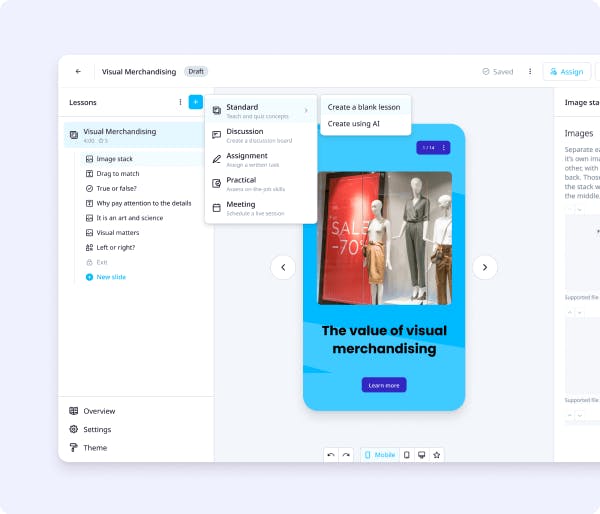 Additionally, branding lessons are a breeze, even for those without coding experience. Once the microlesson is created, designers can switch between different content and gamified slide templates, allowing for more variation between courses. AI Create ultimately streamlines the course creation process for Instructional Designers, tackles the challenges of brainstorming, and transforms lengthy learning content into bite-sized slides. 
AI Create transforms language commands or paragraphs of text into interactive microlessons with images and reinforcing questions slides. Available on the free plan, the feature allows for unlimited usage and deployment to users. Easily generate good idea after good idea with AI Create today - no head scratching required. 
Register for our upcoming webinar to find out how you can create your next best course with just a few clicks