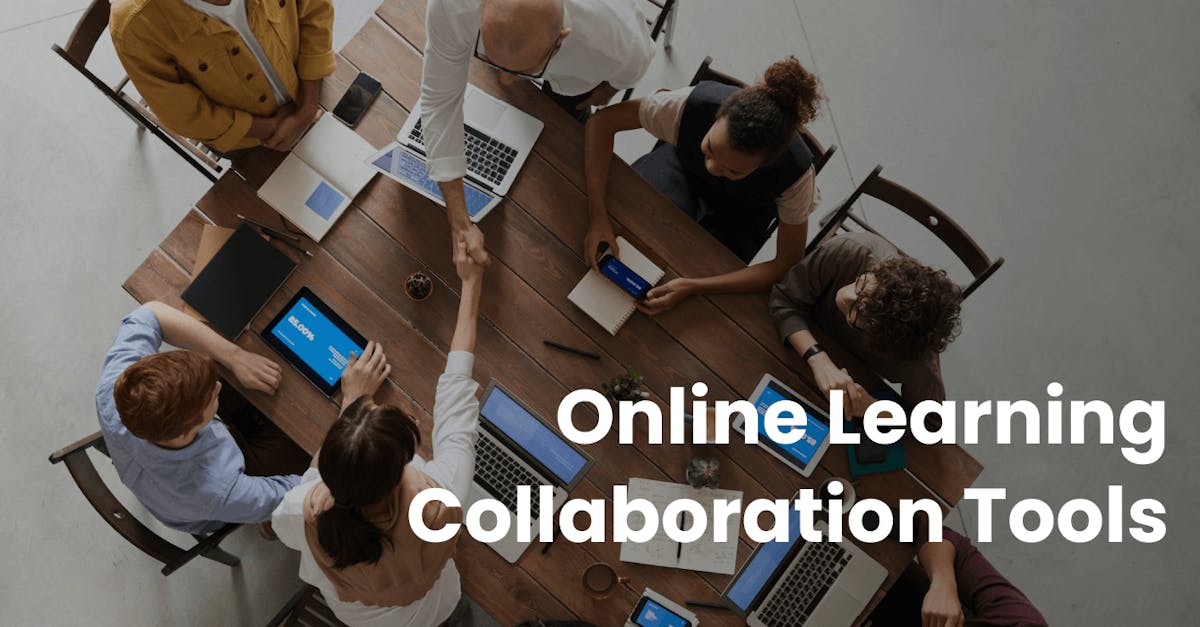 Companies can't afford to miss out on the potential of online learning collaboration tools. They're a great way to keep their employees informed and get them up-to-date with industry trends. But what are online collaboration tools, and which providers can we recommend for elearning courses?
1. EdApp
EdApp is the best online learning collaboration tool to supplement your employee's training. With the forum-like Discussions feature, learners are encouraged to reflect and apply the knowledge immediately as part of their course. This gives you the opportunity to comment and lead the discussion when necessary, and provide real-time feedback to your team. By harnessing the power of peer learning, learners are 16 times more likely to finish their courses and are more likely to develop a deeper understanding of course content when they teach it to someone else.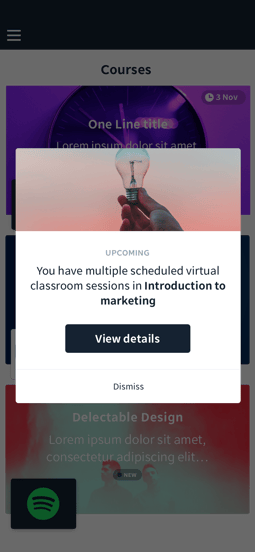 With EdApp's Virtual Classrooms, video meetings can be linked directly to a course for discussion to foster collaboration through the exchange of ideas, knowledge, and experiences.
Additionally, you can customize any of the 1,000+ courses to jumpstart your workplace learning. You can collaborate with other team leaders so you can deliver branded training to your learners in minutes – all for free.
Cost: Free
Features: Discussions, virtual classrooms
2. StoriumEDU
StoriumEDU is one of those popular online web collaboration tools for students. It's a collaborative writing game that inspires learners to write creatively. Learners can create and share original storyworlds and then use suggestion cards to affect the direction of the story. Additionally, it enables learners to develop and have influence over unique characters within a narrative. Collaboration is enabled by allowing learners to control their own characters and allowing them to play their story cards.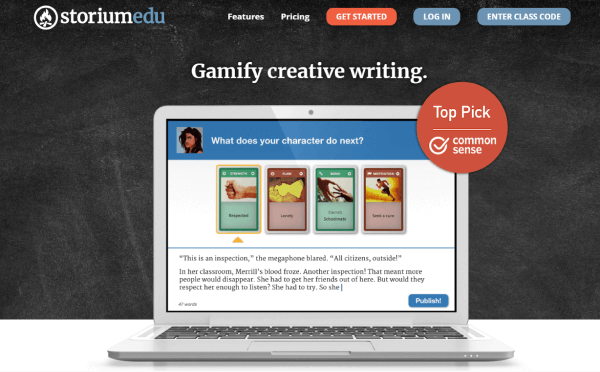 Cost: 10 USD/month
Features: Original storyworlds, suggestion cards, character control
3. 360Learning
360Learning is one of those online learning collaboration tools that can be used for peer learning. There are diverse collaborative tools that make it possible to develop professional skills and train new employees and customer-facing teams. Their intuitive course authoring suite requires no technical skills to use and enables anyone to create courses and collaborate in just a few minutes.  It provides space for meaningful interactions such as hubs, group pages, and forums.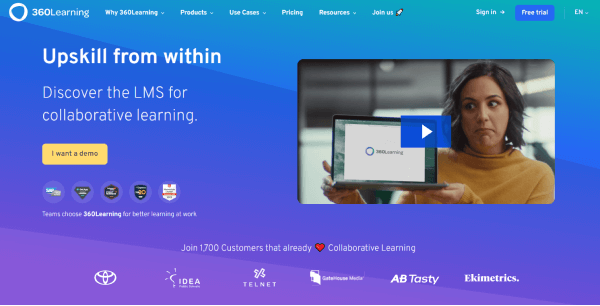 Cost: 8 USD/registered user/month
Features: Peer-based learning, collaborative hub, forums
4. Mural
Mural is an online learning collaboration tool that enables team members to interact digitally. It enables them to collaborate with one another by sharing knowledge, projects, content, and more. Due to its adaptability, teams can use the platform to share expertise, organize data, plan projects, run workshops, develop content, and much more. It also enables project facilitators to design icebreakers and edit eLearning templates from the template library to engage teams with the learning material. Despite being an excellent tool for remote collaboration, this software's mobile version can be a bit challenging to use.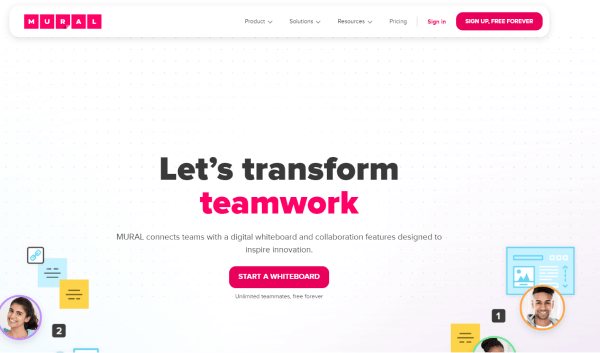 Cost: Starts at 12 USD/month
Features: Visual collaboration, remote collaboration, ready-made templates
5. Miro
Miro is one of those web based collaborative tools that features a free whiteboard that visually organizes your team's thoughts. It functions as an infinite whiteboard with an intuitive design where you can synchronously do brainstorming, mind mapping, and other tasks. Here, for instance, you can allow learners to organize their activities on a challenging project or educate them on how to work more methodically. With the help of the built-in video, chat, and comments area, you can effortlessly invite people to work on a board and stay in touch.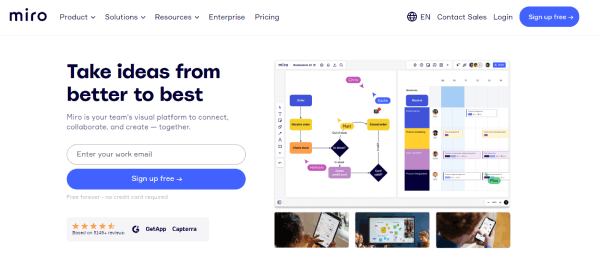 Cost: Free and paid plans Starts at 8 USD/month
Features: Visual collaboration, remote collaboration, ready-made templates
6. Padlet
Padlet is an online learning collaboration tool that allows you to add notes to a virtual wall. It offers you eight distinct layouts including the timeline, canvas, and map layout. There are countless possibilities for group learning with this software. To start a discussion on a subject, you just have to place a message on the wall and then have other students respond with their own notes. Signup isn't required making it easy to access. All you need is a link to this collaborative tool for students.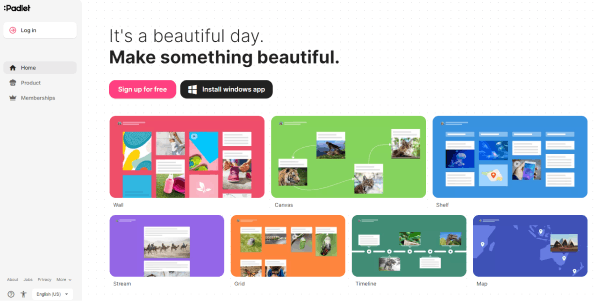 Cost: Free and paid plans Starts at 8 USD/month
Features: Quick link, virtual wall, layouts
7. Blackboard
Blackboard is another online collaboration tool to look into; it comes with a strong selection of tools and solutions that improve online teaching and learning. You can set up projects, make online courses, and even keep track of your employees' progress here. With the help of its virtual classroom solution, you can also conduct online training and communicate with your employees in real time. For the collaborative aspect, it has features such as interactive whiteboarding, hand-raise notifications, breakout groups, and chat that make peer learning and online collaboration with your team more enjoyable and interesting.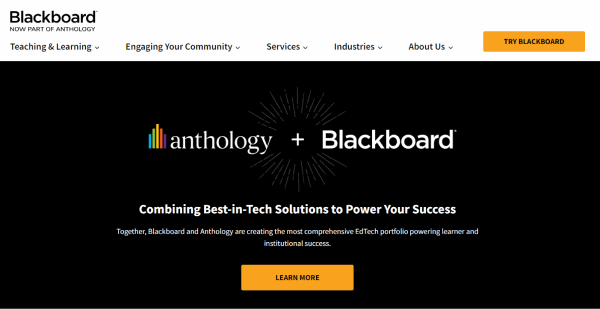 Cost: Available upon request
Features: Course authoring, task management, course monitoring, virtual classroom, automated attendance
8. Raptivity
Using the online collaboration tool Raptivity, you can create engaging and dynamic online learning environments. A growing collection of ready-to-use responsive interactions, such as panning slides, parallax displays, and 360 interactions, are available to encourage online collaboration. The tool's user-friendly interface allows you to create interactive tests, games, simulations, flashcards, and brainteasers without any prior design knowledge. You can take full advantage of the tool's numerous capabilities as a teacher or trainer to keep your team members interested in and inspired throughout the learning process.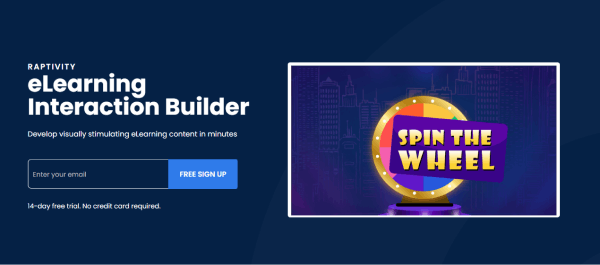 Cost: 30 USD/user per month
Features: Interactive displays, 360 interactions, interactive quizzes, gamification
9. MindMeister
MindMeister is an online learning collaboration tool that makes use of online mind mapping. It allows learners to visualize, develop, and share ideas in real time. Here, you'll have an infinite canvas for brainstorming, note-taking, project planning, and countless other creative tasks. You can also include links, attachments, embeds, and integrations to provide more context to your thoughts.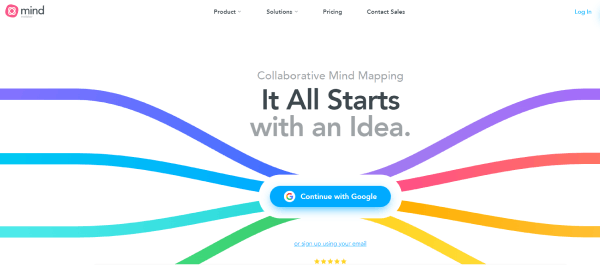 Cost: Free and paid plans (Starts at 2.49 USD/month)
Features: Real-time collaboration, file and image attachments
10. Flip
With Flip, educational films and other materials are used to encourage lively debate and involve learners. Simply form a group, choose a subject, and invite them to join a safe place for peer-to-peer support group discussions. Using the built-in camera, learners can record their answers while adding entertaining features like different lenses, frames, music, text, 3D emojis, and more. Flip can also be used with other apps, like Zoom and Microsoft Teams, which reduces the back and forth with other programs.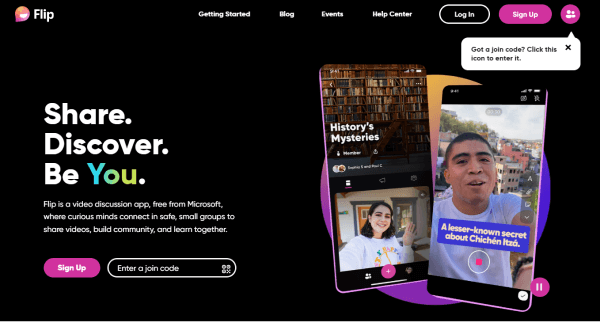 Cost: Free
Features: Video discussions, support group discussions, third-party app integration