With compliance training software, companies can train their employees on a range of mandatory training topics such as workplace safety, HIPAA, and cybersecurity. In this article, we've listed different compliance training software, including their prices and key features, to help you find the right platform for your business. 
Compliance Training Software #1 – EdApp
EdApp is a highly-adaptable compliance training software known for its powerful content creation, course management, and gamification features. Combined, these tools give you the flexibility to develop engaging compliance training courses in just a few easy steps.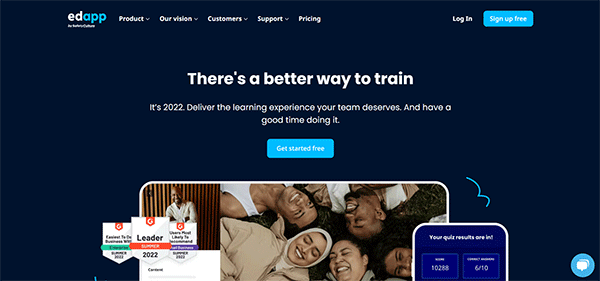 One of the best things about EdApp is its course authoring tool It gives anyone, regardless of design experience, the ability to create interactive courses. All you have to do is choose from a library of ready-made elearning templates and drag and drop your content. You can also add games like matching and sequencing to encourage course engagement. 
If you don't have time to develop compliance training courses from scratch, you can import and customize courses from EdApp's course library instead. It features a number of compliance training resources covering topics like cyber security, security officer training courses, workplace safety, healthcare, hospitality, and ethics.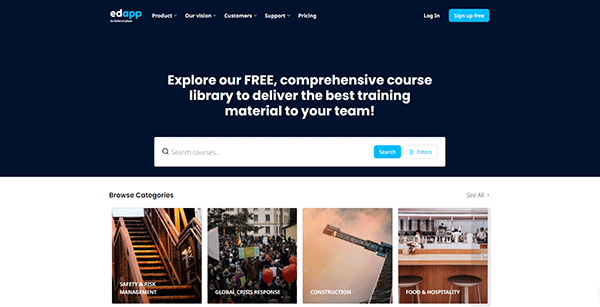 You can check out their Cyber Security course, which delves into cyber security best practices, the importance of cyber security, and different ways to prevent cyber attacks. They also offer a New Hire Safety Orientation course that goes into detail about different safety topics for work, such as emergency evacuation, fire safety, hazard communication, and more. These courses use a microlearning approach to transform complicated topics into easily digestible lessons.
EdApp also takes pride in its analytics features, which can help you track each employee's assessment results and completion statuses. The platform also allows you to send out custom push notifications as a compliance reminder for team members who haven't started or completed their training. 
Cost: Free
Key features: 
Course authoring tool

Editable course library

Gamification

Analytics

Custom push notifications
Join EdApp for free and start using the best compliance training software!
Compliance Training Software #2 – Traliant
With Traliant's compliance training software, you can transform outdated and boring compliance training resources into fun and interactive training courses. They have a team of instructional designers that help you create your elearning content from scratch. All you have to do is give them access to your brand guidelines, company images, and any compliance training materials that you have. They'll do all the heavy lifting from there.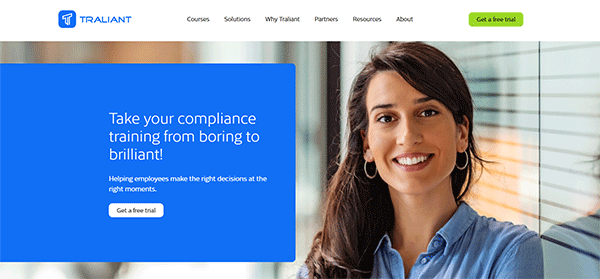 If you don't want to start from scratch, you can also take a look at their library of compliance training content and find one that suits your team's training needs. Managers and company training administrators can also automatically organize and roll out courses months in advance through the platform's Learning Center feature.
Cost: Available upon request
Key features: 
Customized content creation

Course library

Traliant Learning Center
Compliance Training Software #3 – BrainCert
BrainCert boasts a range of built-in features that are designed to meet the compliance training needs of most organizations. It features a course creation wizard that you can use to design training courses, assessments, and learning paths – no coding required. From course deployment to completion tracking, the platform also allows you to manage your team's entire compliance training program with ease. It even has SCORM functionality that makes it easy for you to upload and customize elearning content from other SCORM-compatible training solutions.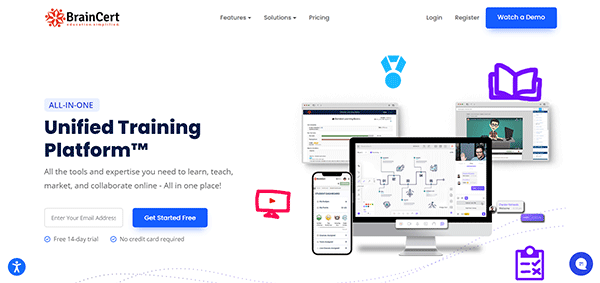 BrainCert has also been able to integrate social learning into its platform through a virtual classroom feature that comes complete with video streaming, live chat, and analytics. They also take it a step further by allowing instructors to sell compliance training courses and quizzes on the platform's very own online course marketplace. 
Cost: Starts at 39 USD per month
Key features: 
Course creation wizard

SCORM functionality

Virtual classroom

Courses and assessments selling capabilities
Compliance Training Software #4 – Coassemble
Coassemble is another top-performing compliance training software that you can use to manage your team's mandatory training requirements. It's widely known for its easy-to-use content authoring solution, which offers more than 40 interactive training templates. If you manage multiple teams across different offices, the employee progress tracker will come in handy. This feature allows you to track each worker's completion stats and training assessment results.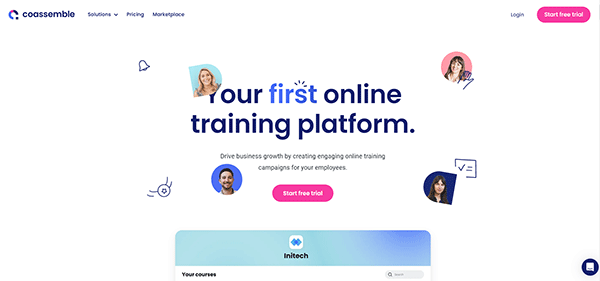 With this training platform, your employees can quickly access their compliance training materials on their mobile phones. You can also create a training hub to share elearning content with your team. This way, everything they need for compliance training can be found through a centralized repository. 
Cost: Starts at 50 USD per month
Key features: 
Content authoring

Progress tracker

Customizable templates

Training hub
Compliance Training Software #5 – Tovuti LMS
Another notable compliance training software on this list is Tovuti LMS. This platform helps organizations streamline their compliance training and onboarding processes through a number of cool features. One of these features is the course authoring suite, which gives managers and trainers the ultimate flexibility to build, schedule, and deliver courseware in just a few easy steps. This software also offers gamification tools such as leaderboards and certificates to motivate learners to complete their mandated training courses and tests.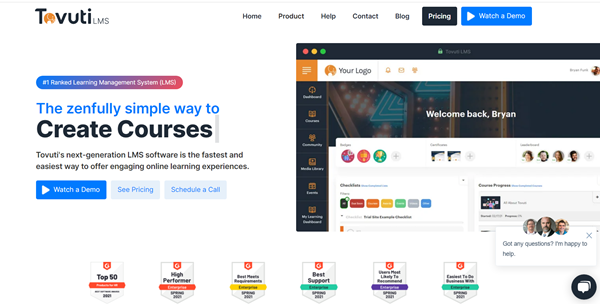 If you want to learn how well your employees performed during their training, you can check out the custom reports feature and access your team's performance data from there. The platform also offers a virtual classroom feature for those who want to hold synchronous training sessions as part of their team's compliance training program. 
Cost: Request pricing
Key features: 
Course authoring suite

Gamification

Certificates and badges

Custom reports

Virtual classroom
Compliance Training Software #6 – Looop
As a compliance training software, Looop helps you design training resources and automate compliance training requirements for your organization. Its visually appealing UX design and user-friendly course builder make the entire content creation process easier. You can even deliver courseware automatically through integrations with messaging apps like Slack and Teams. Additionally, they offer SCIM integration to help you synchronize data across different apps.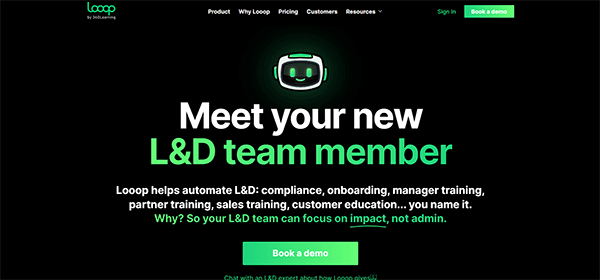 Looop also boasts features like user insights and analytics dashboards, which give you a better understanding of each employee's performance. Through these detailed reports, you'll be able to check your team's knowledge retention levels and address their learning challenges. 
Cost: Available upon request
Key features: 
Automated training

Course builder

Integrations

User insights
Compliance Training Software #7 – Fuse
With Fuse, you can design, analyze, and enhance compliance training content in a matter of minutes. As an elearning platform, some of this software's areas of specialization include mobile-first content strategy, podcast and short video creation, as well as professional motion graphic design. These innovative and creative elearning design strategies are intended to supplement conventional compliance training. They also encourage employees to not only attend compliance training sessions and complete their courses but also enjoy and benefit from them.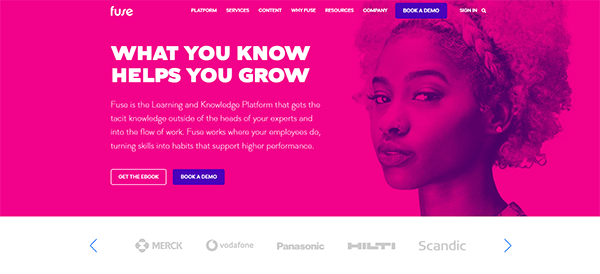 Fuse also gives organizations access to a central database where managers can keep all of their team's compliance training resources. This accessibility makes it easier for employees to train at their own convenience. 
Cost: Available upon request
Key features: 
Mobile-first content strategy

Podcast and video development

Central database
Compliance Training Software #8 – WorkRamp
WorkRamp was developed as an all-in-one compliance training software that can be tailored for various types of compliance training, including those for sales, retail, and support. Compared to other elearning solutions on the market, it can even be used to teach customers about product adoption and engagement. 
Through the software's content creation capabilities, you can develop specialized training content, learning routes, and virtual instructor-led sessions based on your employees' abilities, positions, and teams. Also, its built-in analytics and reporting dashboards help organizations measure their team's training progress and improve their compliance training courseware. Combined, these features can help you improve the overall learning experience of your employees.
Cost: Request a demo
Key features: 
Content creation

Virtual instructor-led training

Customized learning pathways

Analytics and reporting dashboards
Compliance Training Software #9 – Redseed
Redseed is a powerful compliance training software that offers pre-made compliance training programs that can be completed on any device. Compliance training courses like Cyber Security Threats, Fair Trading Act, Health & Safety at Work, and many others are available in their content library. Lessons use short videos, quizzes, activities, and other content formats to keep employees engaged and help them retain key information. You can also customize ready-made courses by adding your organization's brand colors, logos, and imagery. To try out this online software, you can register for a free 7-day trial with limited course access.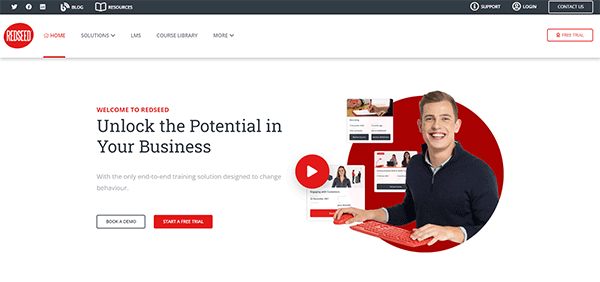 Cost: Available upon request
Key features:
Content library

Customizable courses

Multi-device compatibility
Compliance Training Software #10 – iHASCO elearning
When it comes to health and safety and HR training, iHASCO elearning stands out among other compliance training software. It offers over 140 video-based compliance training courses, which are recognized by different regulating bodies such as the Institution of Occupational Safety and Health (IOSH) and the Construction Industry Training Board (CITB).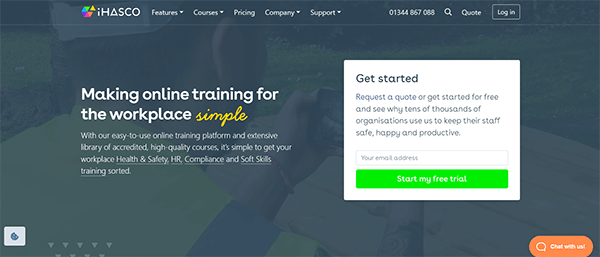 With the platform's multi-device compatibility, your employees won't have to worry about course access issues. Courses can also be translated into more than 25 languages. This is especially ideal for organizations with multiple offices across the globe. If you want to gain more insight into your team's performance and determine whether or not they are meeting compliance standards, iHASCO's reporting tools have you covered.
Cost: Starts at 120 GBP
Key features: 
140+ video-based compliance training courses

Multi-device compatibility

Course translation

Reporting tools