Free AI quiz generator #2 - Fillout's Quiz Maker
Fillout's AI Quiz Maker tool can create interactive quizzes based on a single text. Additionally, it allows you to customize these AI-generated quizzes – you can add more questions, set the difficulty level, and even update the quizzes with your own designs.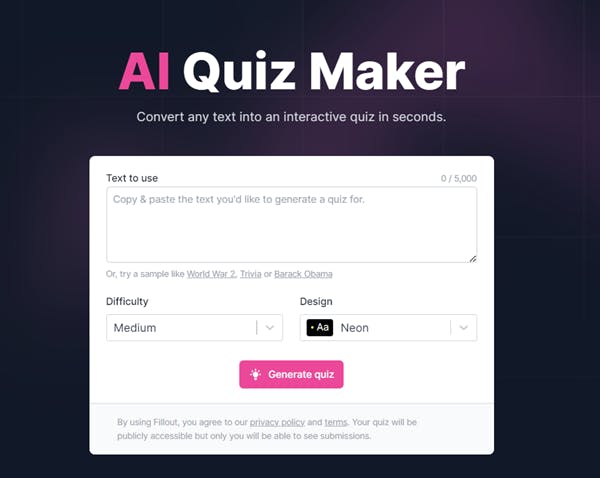 Need specific questions for your team? You can use Fillout's dynamic quiz builder to input your own questions. Even better, you can include a scoring system to make your assessment more engaging. You can also add your own logo and font to match the quiz's appearance to your brand.
Cost: Free
Key features: 
AI Quiz Maker

Dynamic quiz builder

Quiz customization
Free AI quiz generator #3 - Quizbot 
Quizbot is an advanced AI question generator that can help whip up a variety of question types, including multiple-choice, fill-in-the-blanks, true-false, matching, and more. The best thing about this free quiz maker is that it can work its magic on almost any text, PDF, or Word document. It can even create quizzes based on video links, and it does it all in a matter of seconds.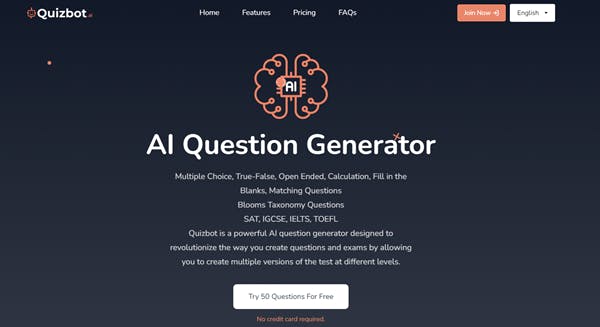 Here's the scoop: Quizbot lets you create up to 50 questions for free. But if you need more than that, you'll have to subscribe for 15 USD, which is valid for one whole year. 
Cost: Free; paid subscription starts at 15 USD
Key features: 
AI question generator

Quizzes based on text, PDF, word, and video links
Free AI quiz generator #4 - Quizgecko 
Quizgecko is also one of the great free AI quiz generators to check out. Using the power of AI, its quiz maker turns your existing content into interactive assessments in just a matter of minutes.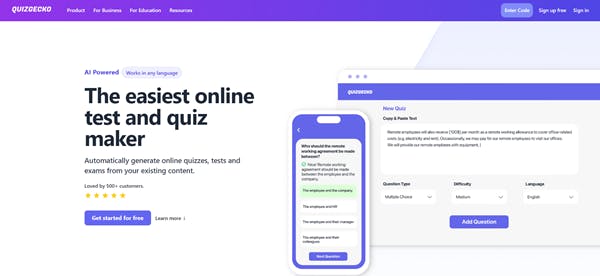 No need to start from scratch – just upload files like PDFs, DOCs, or PPTs, and Quizgecko will take care of the rest. Your materials will be transformed into online quizzes with answers and explanations.
Sharing your tests is a breeze too. You have three options: keep them private and send invites via email, make them public with a link, or share using a join code. Or, you can also download your quizzes in text, CSV, and Aiken format, so you can add your quizzes to your own learning management system (LMS). 
Cost: Free (up to 3 quizzes only per month); paid subscription starts at 18 USD per month
Key features: 
Free AI quiz generator #5 - OpExams
OpExams' AI-powered questions generator is designed to make the entire quiz-making process an easy task. This tool can create multiple choice, true or false, fill-in-the-blanks, and open questions from a single prompt – whether it's a long text or just the name of your training topic. And as a plus feature, you can create questions and quizzes in any language you prefer.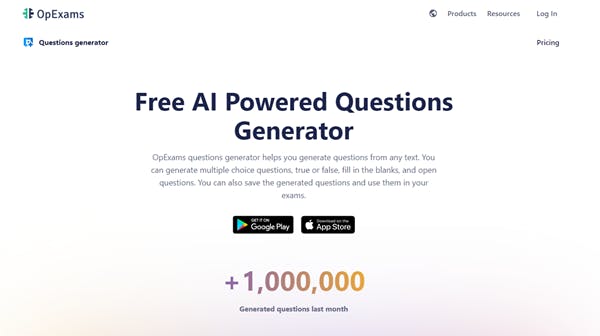 You can also keep your work organized with OpExams. Feel free to save your questions and quizzes as CSV or XLSX files, or DOCX files if needed. 
This multiple choice test maker is free to use, but there's a limit – you can create up to 10 quizzes only and you're allowed to generate just one quiz question per day.
Cost: Free (for only 10 quizzes); paid subscription starts at 5 USD per month
Key features: 
Free AI quiz generator #6 - Questgen
Questgen is a great tool for creating all sorts of assessments effortlessly. From multiple choice questions to true/false, fill-in-the-blanks, and even thought-provoking higher-order questions and Bloom's taxonomy quizzes, Questgen has it all covered.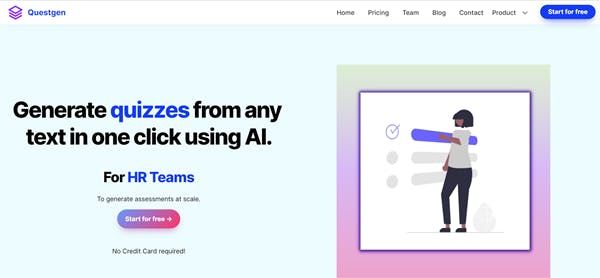 And it works in three easy steps. Make a quiz by simply entering your text, choosing your quiz types, and clicking on the "generate questions" button. Then, you're good to go!
This multiple-choice test maker also allows you to edit the quiz questions to fit your content and branding needs. You can also export them in PDF or text format if needed. 
You can use Questgen for free 20 times at the start. Once you've used those up, you can subscribe for unlimited runs at 15 USD per month.
Cost: Free (for the first 20 quizzes); paid subscription starts at 15 USD per month
Key features: 
AI quiz generator

Quiz customization

Downloadable quiz files
Free AI quiz generator #7 - Testportal
Testportal takes pride in its AI-powered question generator that can create quizzes, tests, and exams 10 times faster than starting from scratch. Getting started is easy, you just need to feed the Testportal AI what kind of questions you need and upload your source knowledge. For higher-quality quizzes, it recommends you upload as much information as you can.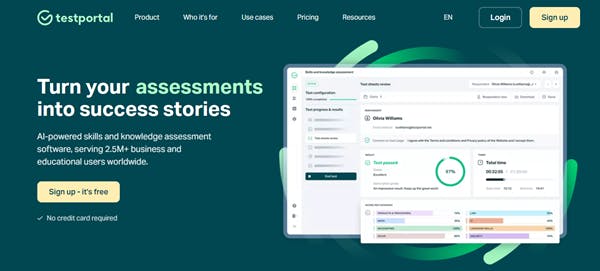 All questions generated by this free AI quiz generator can be edited. You can modify the questions, add more, or even include multimedia elements for a more engaging experience.
Testportal isn't exactly free, but you can try it out for a full 14 days without any cost. This way, you can see if it's a good fit before deciding on a monthly subscription.
Cost: Free trial for 14 days; paid subscription starts at 29 USD per month
Key features: 
Free AI quiz generator #8 - Quiz Wizard
Quiz Wizard, an AI-powered quiz generator, is designed specifically to help trainers like you save more time in your entire course creation process. Using the power of AI, it can automatically generate quizzes on pretty much any topic. And with more time on your hands, you can focus more on what's important – training and sharing knowledge with your learners.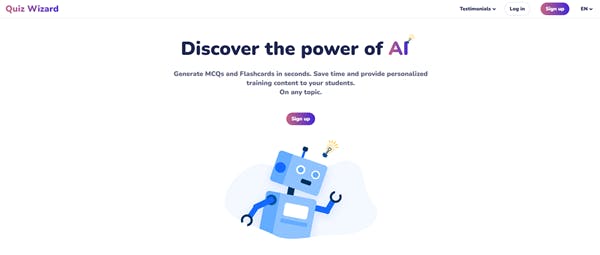 Similar to most AI quiz generators on this list, Quiz Wizard also allows you to customize your questions and adapt them to the learning needs of your team. You can also export your quizzes and upload them to your own e-learning platform, like EdApp. 
Cost: Free (maximum of two questions only); paid subscription starts at 7 USD
Key features: 
Free AI quiz generator #9 - Toolsaday
Toolsaday's AI-powered question generator lets you create quizzes your way – whether it's multiple-choice options, true or false, or filling in the blanks. The secret lies in its AI algorithms.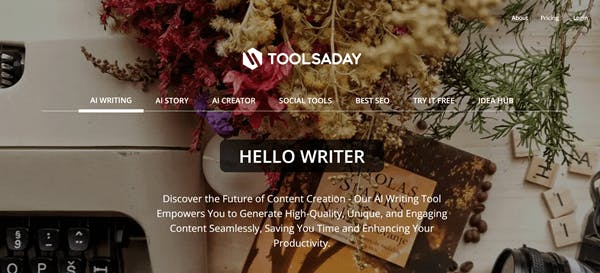 The tool analyzes your content and produces possible questions and answers, making your questions engaging and truly informative. You can even go for open questions for more comprehensive responses from your team. 
Toolsaday isn't your average tool – it's a smart one. With its adaptive learning capabilities, it keeps learning and getting better over time. As it analyzes more content, it learns how to create even better quizzes. This means it can make quizzes that match different styles, subjects, and levels of difficulty. So, each time you use it, you'll have really great quizzes for your team.
Cost: Free (1000 characters per month); paid subscription starts at 7.99 USD per month
Key features: 
AI-powered question generator

A wide array of quiz templates

Adaptive learning capabilities
Free AI quiz generator #10 - PrepAI
PrepAI is also a great AI quiz generator option for seamless assessment creation. This tool streamlines the entire process, allowing you to build high-quality exams, quizzes, and tests with just a single prompt. You can even input multiple content sources and choose from a variety of question formats. This guarantees your quizzes are engaging, relevant, and most of all, impactful.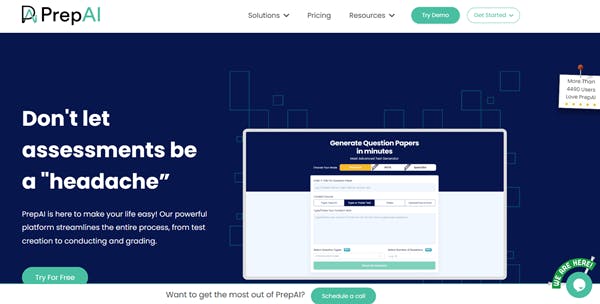 Need to save your question papers? PrepAI makes it simple to export or download them, allowing for easy integration with your preferred learning management system or any elearning platform. 
The great thing about PrepAI is that it comes with affordable paid plans starting at just 1 USD. It's not free, but it's almost as budget-friendly as free options!
Cost: Starts at 1 USD
Key features: 
Conclusion
AI quiz generators have revolutionized the way training quizzes are created. These tools make the entire quiz creation process easier, plus, they get learners more interested and even help personalize their learning.
As the world of learning and development keeps changing, using AI quiz generators in training can make learning even better and more fun.
Your team's learning success is just a quiz away - start using the best AI quiz generator today to start creating your training quizzes.