2. Courseau
Using the power of GPT 3.5 and GPT-4, Courseau makes creating mini-courses a piece of cake. All you have to do is give it a quick course description and this free course creator jumps in and hands you a well-outlined course with proper AI-assisted transcription.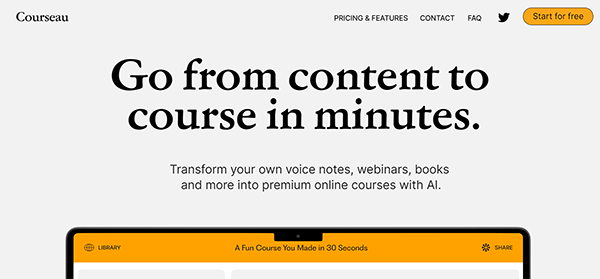 But as a quick disclaimer, do note that courses created using their free tier can only be used for personal and testing purposes. If you want to be able to publish and share your training and access premium features like analytics and branding, you'll have to pay for a subscription. 
Cost: Free, Paid plans start at 39 USD per month
Key features:
3. Heights
Another awesome AI copilot that you can use to craft online courses is Heights. It's fueled by Chat-GPT APIs, making course creation a breeze. Once you've input your course prompt or description, the platform will automatically come up with a snazzy course title, a roadmap of lessons, a catchy course description – oh, and a cool cover image too!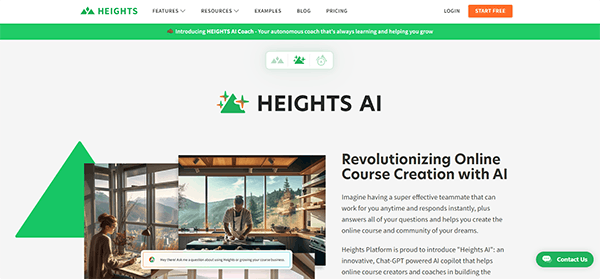 Aside from creating your course draft, Heights can also spice up your content for you. No need to lift a finger. Simply describe the changes you want to make and it'll go ahead and do it for you.
Cost: Free 30-day trial, Paid plans start at 19 USD per month
Key features:
4. CourseAI
CourseAI stands out from other competitors by giving teams access to its AI-powered course-making feature. Even those without design knowledge or instructional design expertise can use it right away since it's so user-friendly.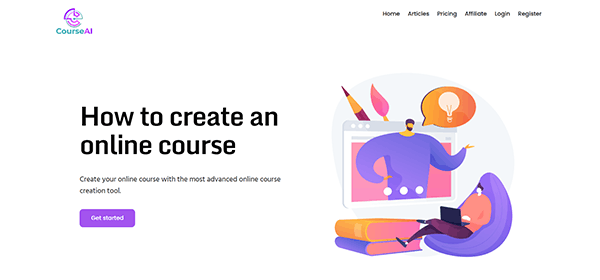 You only need to enter your course topic, and its AI course generator comes in clutch by showing you a catchy title, a well-structured outline, and comprehensive training module content. It also tailors content just for your team members, matching what they need.
The platform also lets you enhance your courses by automatically adding ready-to-use video scripts and voiceovers, making the content extra engaging. Through their quiz generation feature, incorporating quizzes and assessments throughout your training materials becomes effortless.
Cost: Free, Paid plan starts at 29.99 USD per month
Key features:
5. Lingio
Lingio is a versatile AI software that's built to improve employee training for businesses. This AI-driven course creation tool has various selling points that set it apart. For one, the platform's adaptability for mobile devices, gamified elements, and interactive course design can significantly help you create a more engaging learning experience for your team.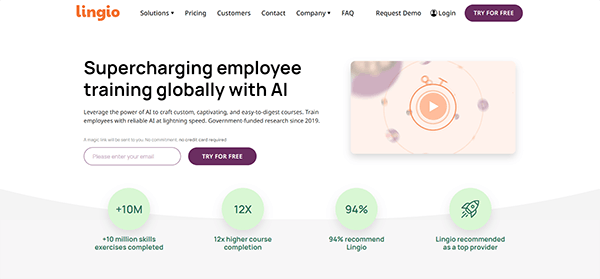 But the star of the show is its AI course creator, which simplifies the process of converting training materials into dynamic courses. This can be a huge time-saver for businesses looking to quickly develop effective training programs. The ease of course customization through user-friendly controls is another one of its biggest perks.
Cost: Free trial, Contact for paid plans
Key features:
6. Coursebox
Create and deploy courses in no time with Coursebox's super intuitive drag-and-drop builder that's built with AI. It works like this: first, you input your course's basic outline in the course structure AI creator, then the AI engine automatically swoops in to generate the initial content in mere seconds.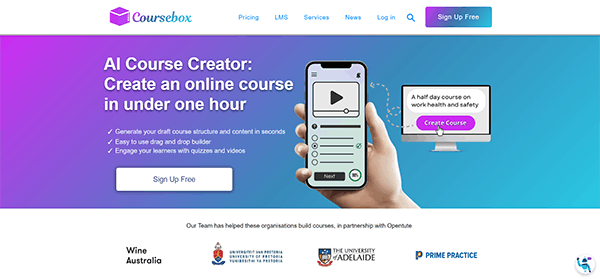 After that, it's just a matter of tweaking and adding any missing bits with its course modification features. Once you're satisfied, you can decide if you want to keep it just for your audience, share it with the world, sell it, or even export it to your favorite LMS. Easy peasy!
Cost: Free, Paid plans start at 29 USD per month
Key features:
Course structure creator

Course modification

Drag and drop builder
7. Mini Course Generator
The Mini Course Generator has a user-friendly AI assistant that you can use to make bite-sized courses. All you have to do is type in a simple course idea, and sit back as it comes up with an exciting title, a super organized course outline, and a complete, accurate, and thorough mini-course for you.
Similar to other authoring tool examples, it also has nifty customization features that not only jazz up your courses with images, text tweaks, quizzes, and more, but it does it all without breaking a sweat. Just click on design options that match your style, and voilà! You'll have  perfectly packaged training material in a jiffy.
And guess what? The platform even has a free plan! Although, there's a small catch – you can only create up to three mini-courses with it.
Cost: Free, Paid plans start at 29 USD per month
Key features:
AI assistant

Course customization
8. Mindsmith
Jump onboard the Mindsmith AI ship to completely transform your entire course creation journey. Through its AI assistant, you'll have the power to refine your lessons and make them more interactive. Give it specific pointers, like explaining a particular idea, and provide general insights for shaping your courses – think of it as a creative brainstorming partner.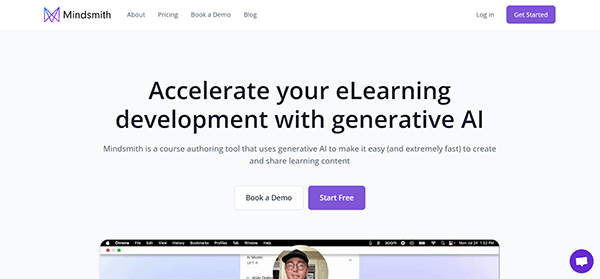 You can also gather up your company's handy resources like SOPs, employee handbooks, and product specs – these will be the AI's creative fuel. And through its theming capabilities, you can tweak the style of your courses to perfectly match your brand's vibe and personality.
The best part? Apart from being SCORM-compatible, it's also cloud-based and easily accessible, so collaborating with your colleagues in real time is seamless.
Cost: Free, Paid plans start at 29 USD per month
Key features:
AI assistant

Theming capabilities

SCORM-compatible

Cloud-based
9. Teachable
Teachable's AI-powered course curriculum generator allows you to jot down a course idea and receive an outline in mere seconds. With a snazzy course outline in hand, you'll get a peek into how your course could flow.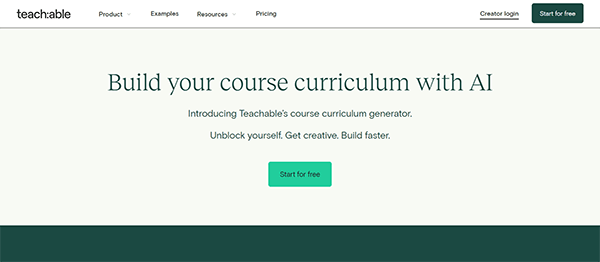 And even better? The tool gives you the power to adjust it to your heart's content. Once you're done, you can then pop it into the platform's no-code course builder, where you can customize your learning materials to your heart's content. 
Compared to some of the best AI tools for course creation, Teachable gives you access to an AI quiz generator that lets you develop engaging quizzes with a click of a button. A real time-saver!
Cost: Free, Paid plans start at 39 USD per month
Key features:
AI curriculum generator

No-code course builder

AI quiz generator
10. Kajabi
Lastly, you can check out Kajabi – an AI sidekick that's all about streamlining your online course creation process. Inside its AI Creator Hub, there's a bunch of cool tools powered by the renowned OpenAI's GPT-3. This hub works as an automatic course generator, helping you create course outlines, lesson content, and even attention-grabbing marketing copy in no time.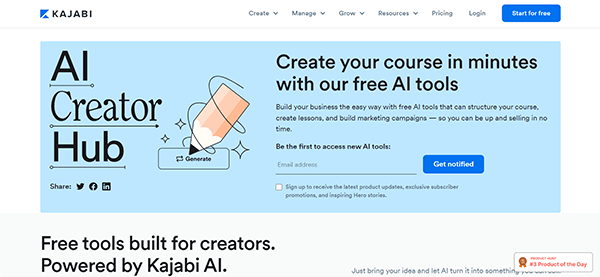 You don't need any insane tech skills to use this tool as it's designed to be super easy to use. So whether you're a techie or not, you'll be crafting well-designed courses in minutes.
Kajabi also has a mobile app that makes it easy for your team members to access their course content, no matter where they are! With the app, they don't have to worry anymore about password hassles or dealing with wonky mobile browsers – just a simple click and they're in.
Cost: Free 14-day trial, Paid plans start at 149 USD per month
Key features: