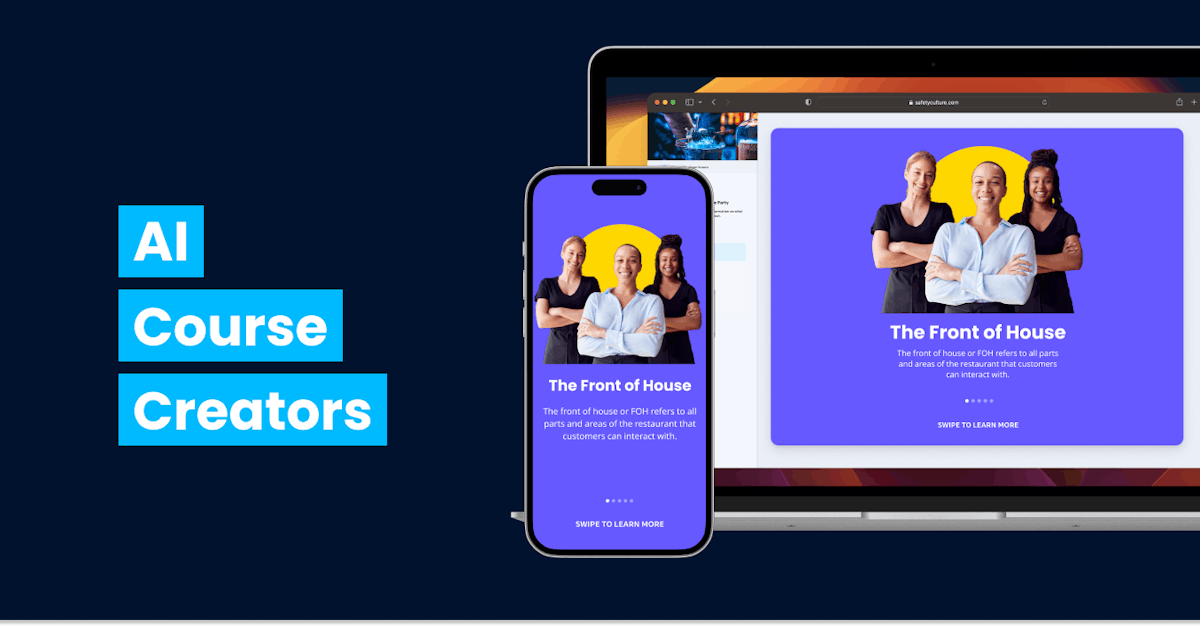 1. EdApp AI course creator
Why use EdApp?
EdApp's game-changing AI Create redefines how training courses are made. Forget about the usual content creation hurdles; now, a single click can generate captivating microlessons ready for your team. Whether it's a topic, link, or query, witness them transform into interactive learning experiences in seconds.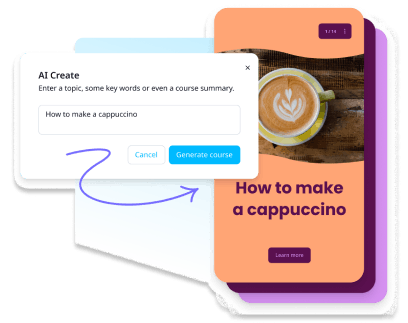 And if you're not entirely satisfied, EdApp offers a dynamic Creator Tool. It's complete with Canva integration and a variety of content templates to give your lessons a stunning makeover. To put the cherry on top, you can even gamify your lessons with leaderboards and rewards to keep your teams engaged and boost completion rates.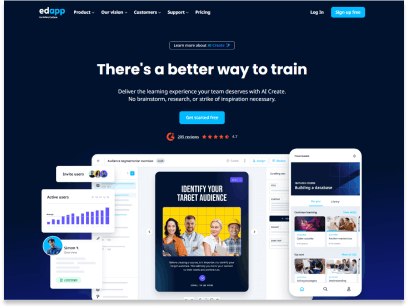 Features:
Use AI Create for generating interactive microlessons

Try out the Creator Tool with Canva integration to create captivating courses 

Boost employee engagement with gamification features
2. Coursebox AI course creator
Why use Coursebox?
Coursebox empowers you to swiftly whip up elearning content, all thanks to its AI-driven course creation software. In just a few clicks, you can sketch out a lesson blueprint and make a mobile-responsive elearning course.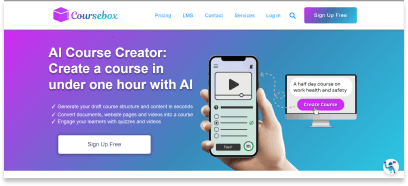 Inject some excitement into your team's learning journey by seamlessly incorporating quizzes, videos, and a medley of interactive content. Plus, the courses you make on this AI course creator can be effortlessly transferred to your pre-existing learning management system (LMS). 
Features:
Achieve quick and easy content creation with AI course creation software

Empower your remote teams with mobile learning accessibility

Make your team's learning journey exciting with interactive elements
Cost: 29 USD monthly
Platforms Supported: Web, Android, iPhone/iPad
3. NovoEd AI course creator
Why use NovoEd?
NovoEd uses learner data to tailor learning journeys using cutting-edge AI technology. By creating customized content, you can increase productivity and immerse your team in lessons that are relevant to their job.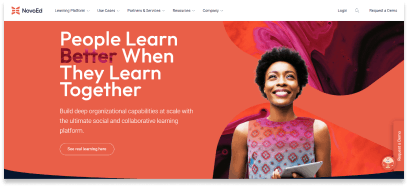 Interactive discussions, team-based learning initiatives, and feedback mechanisms foster collaboration and social learning. This AI course creator also offers seamless tool integrations, simplifying team learning and enhancing the overall experience.
Features:
Personalize the learning journey of individual team members 

Improve teamwork with collaboration and social learning capabilities

Integrate your work tools with NovoEd for a smoother experience
Cost: Contact NovoEd
Platforms Supported: Web, Android, iPhone/iPad
4. Mindsmith AI course creator
Why use Mindsmith?
Mindsmith's generative AI lets you effortlessly customize your learning materials. With AI-assisted elearning content generation, you can get rid of the often challenging brainstorming phase when developing your courses.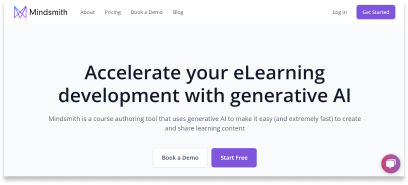 This AI course creator can guide you through every stage, from defining learning objectives to writing compelling lesson narratives. What's more, the content you create using this tool aligns with SCORM standards. This simplifies integration into your LMS and streamlines the entire learning process.
Features:
Write lesson plans and customize courses with generative AI 

Enhance your team's learning and development experience with LMS integration
Cost: 29 USD monthly
Platforms Supported: Web
5. Courseau AI course creator
Why use Courseau?
Courseau uses the combined power of GPT 3.5 and GPT-4 to simplify the creation of bite-sized courses. Just give a brief course description, and this no-cost AI course generator steps in to deliver a course complete with AI-assisted transcription.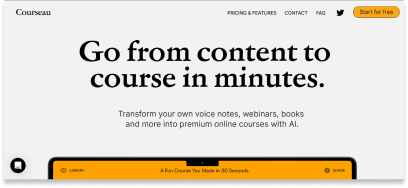 The courses you make in their free version are only for personal and testing purposes, though. If you want to publish and distribute your training content and unlock features such as analytics and branding, you'll need to pay a subscription fee.
Features:
Build detailed microlearning courses 

Access analytics and branding features with a premium subscription
Cost: 39 USD monthly
Platforms Supported: Web 
6. CourseAI AI course creator
Why use CourseAI?
CourseAI has a user-friendly AI-driven course creation tool, which is great even for people without any instructional design expertise. All you need to do is input your course topic, and the AI course maker springs into action. It can deliver an attention-grabbing title, a well-organized course structure, and training module content.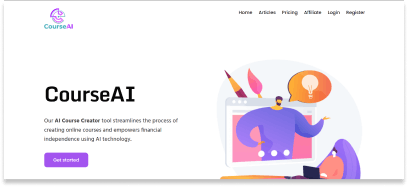 The platform also elevates your courses with pre-made video scripts and voiceovers. Its quiz generation feature also effortlessly inserts quizzes and assessments throughout your training materials. This offers a comprehensive learning experience for your team members.
Features:
Generate comprehensive and engaging courses with the help of AI

Upload audio and video files to make more interactive courses
Cost: 29.99 USD monthly
Platforms Supported: Web
7. Mini Course Generator AI course creator
Why use Mini Course Generator?
Mini Course Generator's user-friendly AI tool is an all-in-one course creation assistant. It's got you covered, from thinking of an engaging title to building a course outline and creating the lesson itself. All you need to do is give it a basic course concept, and it'll do the rest of the hard work for you.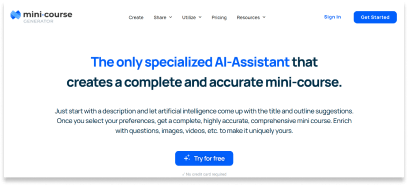 Much like other authoring tools, it has handy customization features that enhance your courses with images, quizzes, and more, all without any hassle. Just select design options that align with your preferences, and presto! You'll have impeccably crafted training materials ready in no time.
Features:
Write titles, outlines, and lessons with AI course creation assistant

Customize your courses with images, quizzes, and more
Cost: 15 USD monthly
Platforms Supported: Web
Learn more about Mini Course Generator
8. Lingio AI course creator
Why use Lingio?
Lingio revolutionizes corporate training with its AI-driven course creation tool. It offers mobile-friendly, gamified, and interactive courses available in over 100 languages, taking training to new heights.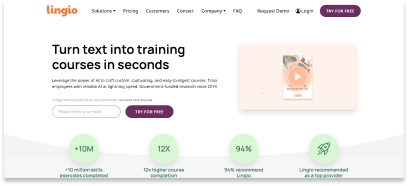 Starting with Lingio's AI-powered Course Creator is a breeze; simply upload your training materials, and it magically transforms them into captivating courses. Fine-tuning and customization are just a few clicks away, guaranteeing a captivating learning experience.
Features:
Turn your learning materials into awesome courses with AI-powered Course Creator

Encourage training participation with gamification-powered mobile learning
Cost: Contact Lingio
Platforms Supported: Web, Android, iPhone/iPad
9. Adaptemy AI course creator
Why use Adaptemy?
Adaptemy offers an effective way to supercharge your current learning solutions with its Adaptemy Roadmap and Adaptive Learning API. These tools enhance the personalization of your team's learning journey.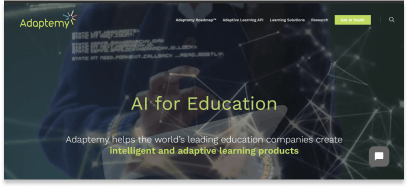 By taking advantage of AI-driven insights, Adaptemy offers personalized learning pathways for every learner. It also goes the extra mile by suggesting precisely tailored learning materials to address areas where improvement is needed.
Features:
Identify and address areas for improvement with AI-driven insights

Improve training personalization with Adaptemy Roadmap and Adaptive Learning
Cost: Contact Adaptemy
Platforms Supported: Web
10. Knewton AI course creator
Why use Knewton?
Knewton uses the power of AI and its adaptive technology to create personalized content. This boosts the effectiveness of training programs. With the insights and data from these programs, you can design training initiatives that not only engage employees but also enhance performance.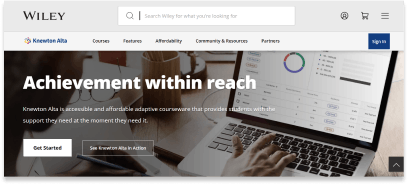 This AI course creation platform also integrates with your LMS. This simplifies workflow and reduces administrative tasks. With round-the-clock support and a straightforward course setup process, you can redirect your focus and effort toward more crucial tasks.
Features:
Personalize learning content using adaptive AI technology

Increase engagement and performance with data and insights

Lessen tedious admin work with LMS integration
Cost: Contact Knewton
Platforms Supported: Web
What is AI course creator?
An AI course creator uses AI algorithms to automate various aspects of course creation, such as structuring lessons, generating content, and personalizing learning experiences. It's a cutting-edge tool powered by artificial intelligence (AI) that streamlines the process of designing and developing training courses.
These tools can significantly reduce the time and effort required to produce high-quality courses. They make course creation way easier for businesses and trainers to deliver engaging and effective learning materials to their audience.
How to use an AI course creator to create an online course
Creating an online course with an AI course creator is truly game-changing. Here are some simple yet effective tips to help you make the most of it:
Choose Your Topic: Select a relevant and engaging topic for your course. AI can work wonders, but it's essential to begin with a solid concept.

Define Your Objectives: Clarify your course goals and learning outcomes. Knowing what you want to achieve will guide the AI in tailoring the content.

Input Your Content: If possible, incorporate any existing materials, such as documents, presentations, or videos, with your AI course creation tool. These will serve as the foundation for the course.

Trust the AI: Let the AI do its magic. Allow it to analyze your content and generate initial lesson structures. It can suggest titles, organize content logically, and even recommend interactive elements.

Review and Refine: Don't skip the review phase. Go through the course materials generated by the AI. Make adjustments to make sure that the content aligns with your goals and flows smoothly.

Personalize for Your Audience: Use the AI's personalization features to cater to the specific needs of your learners. Adapt content to different skill levels or backgrounds if necessary.

Add Interactivity: Take advantage of the AI's ability to create quizzes, assessments, and interactive elements. These engage learners and reinforce their understanding.

Design and Branding: Customize the course's look and feel. Most AI course creators offer design options and branding features. Make it visually appealing and consistent with your brand.

Test and Iterate: Before launching, test the course with a small group of learners. Collect feedback and make any necessary adjustments. Continuous improvement is key.

Launch and Monitor: Once you're satisfied, launch your course. Keep an eye on learner engagement and performance. Most AI tools offer analytics to help you track progress.

Stay Updated: AI is continually evolving. Stay informed about updates to your AI course creator, as these improvements can enhance your course creation process.
Remember, while AI course creators are incredibly helpful, they work best when combined with your expertise and creativity. With these tips, you'll be well on your way to creating a successful online course that meets your team's training objectives.
EdApp is transforming workplace learning with its revolutionary LMS. When it comes to AI course creation, EdApp stands in a league of its own with straightforward yet robust features.
Sign up for this top-notch AI course creator today.