2. Sana
Our next pick for AI software to create online training courses is Sana. This learning platform empowers teams to use knowledge to meet their goals with the help of AI technology. It aims to create immersive and collaborative learning that's highly personalized. And it does this through AI-generated questions, images, and entire courses from scratch.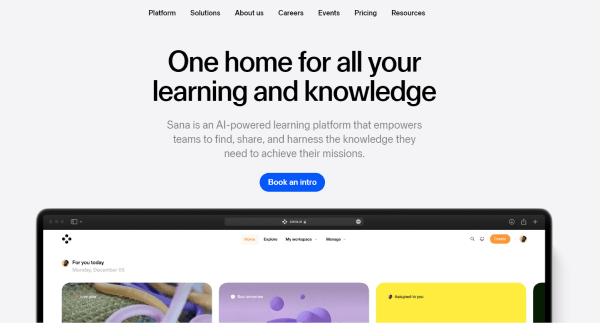 Aside from automated training ideas, Sana has a sleek design and integrates with existing team apps like Google Workspace, Notion, Github, Slack, and more. This makes collaboration and content creation even easier!
Cost: Starts at 7200 EUR/year
Key features:
AI-assisted content generation

Automated training ideas

Collaborative workspaces

Google, Notion, Github, Slack integration
3. Coursebox
You can create elearning courses in an hour with Coursebox. With its AI-powered course creator, you can design a lesson structure in seconds and build a mobile-friendly elearning course ready for delivery. You can add quizzes, videos, and all kinds of interactive media to get teams excited about learning. And the courses you build on this platform can be easily exported to existing LMS!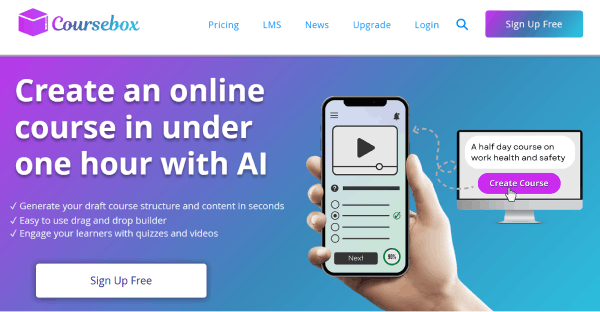 Cost: Free with paid plans
Key features:
4. Degreed
Degreed uses AI to create meaningful learning experiences for your employees. Using AI algorithms, it creates learning recommendations based on your learner's profiles, progress, and performance. It'll suggest resources like courses, academies, books, podcasts, and others to help your learners reach their learning goals. Degreed does AI-assisted skills analytics, personalized learning experiences, talent learning management, and more.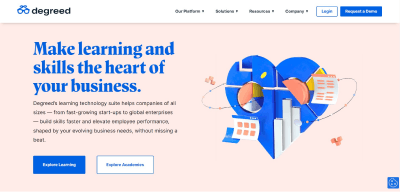 Cost: Contact Degreed
Key features:
AI-powered skill analytics

Personalized learning experiences

Human capital management
5. NovoEd
NovoEd takes advantage of learner data to curate learning experiences with AI technology. Creating personalized content and learning programs maximizes productivity by engaging learners in effective and relevant lessons.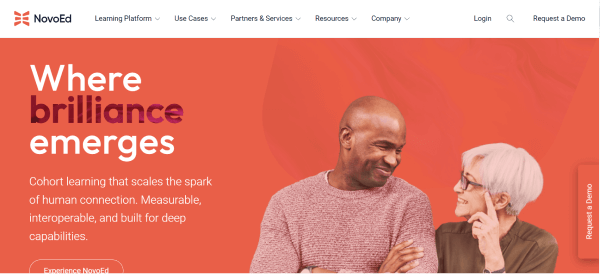 Aside from personalized learning, NovoEd allows for collaborative and social learning through discussions, team-based learning, feedback features, and more. And for content, the tool has a creator tool, AI translation, and integrations that make corporate team learning much easier!
Cost: Request a quote
Key features:
AI-powered personalized learning experiences

Collaborative and social learning

Creator tool

AI translation

Integrations
6. Mini Course Generator
If you're looking for free AI software to help you build online training courses, Mini Course Generator is the tool for you. You can build quick but comprehensive microlearning training courses through generative AI, including AI-powered images.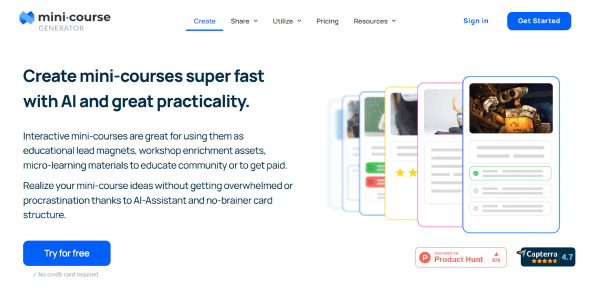 The structure is simple and doesn't require overthinking curriculums. Once you've built the initial course, you can customize it to your heart's content and add images, questions, and other types of media.
Cost: Free
Key features:
7. Mindsmith
You can transform your learning materials into tailor-fit content with the help of Mindsmith's generative AI. Brainstorming can be the most difficult part of the course creation process and you can get rid of that entire step with the help of AI-assisted elearning generation. And the AI helps you with every step of the process, from learning objectives to lesson storytelling just like an AI writing tool.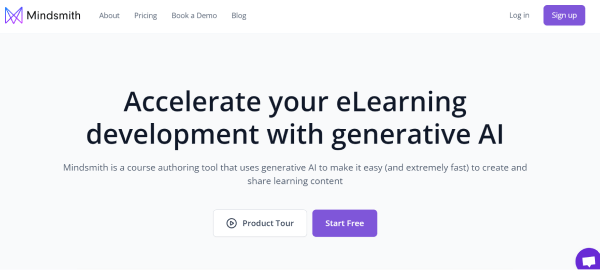 The content you create in the tool is also SCORM-compatible making it easy to integrate into existing LMS!
Cost: Free
Key features:
8. Teachable
Another great AI software to create online training courses with is Teachable. With the power of AI, you can build course curriculums minus the creativity block. Using the platform is simple, you just name your course, write a brief description, and make it yours by customizing it to your preferences. The AI is built right into the curriculum creator so you can start right away!

Cost: Free with paid plans
Key features:
9. Kajabi
Kajabi is a sleek and creative platform that hosts the AI Creator Hub, a suite of AI-powered tools that make elearning and marketing campaign creation quick and easy. The tool can generate outlines, course content, marketing copy, and more—all powered by OpenAI's GPT-3 language model. So, even if you lack technical skills and design knowledge, you can build online training courses in a matter of minutes.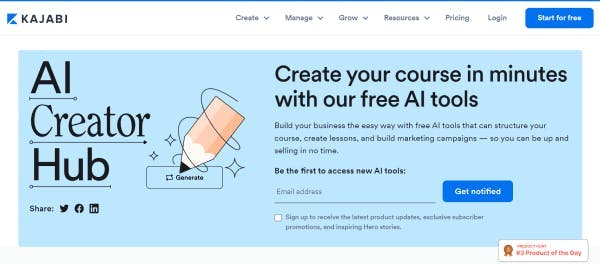 Cost: 149 USD/month
Key features:
Course outline generator

Lesson content creator

Marketing copy assistant
10. Pictory
Tired of boring old courses filled with text? Try Pictory, an AI-powered video creation tool that can transform your long-form content, Webinar recordings, and Zoom meetings into branded videos you can use for elearning. And it can even add captions to your existing videos without the need for manual transcription!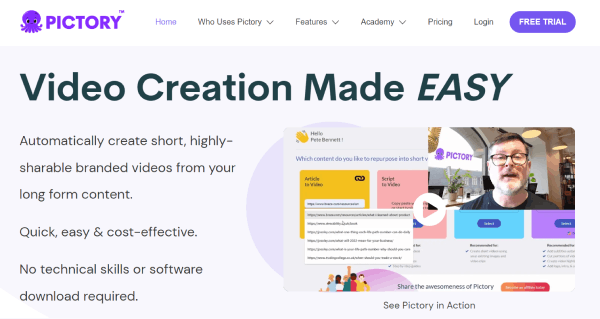 Cost: 19 USD/month
Key features:
Video converter

Automatic caption

Text-to-speech AI voices