2. Kahoot!
Kahoot! is an artificial intelligence platform that's perfect for making training more fun and engaging.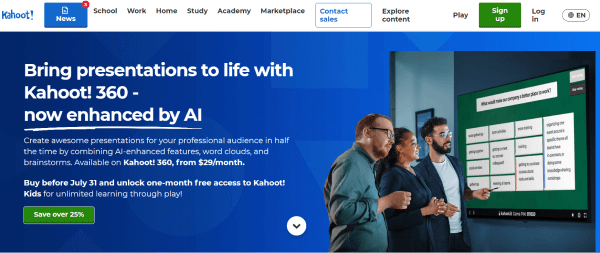 With its business solution, Kahoot! 360, you can create "kahoots" to enhance your employees' engagement, gamify your presentations, and host interactive presentations that everyone can enjoy. These are a great way to help your employees learn through blended learning methods during their onboarding, training sessions, and other social events at work.
To access the platform's AI-powered Kahoot! question generator, you'll have to purchase its Pro version at 59 USD, which costs more than the Standard plan.
Cost: Paid plans start at 17 USD/month (Standard)
Key Features:
3. Teachable
Another artificial intelligence learning app that you might want to check out is Teachable. It has an AI curriculum generator where you can build your course faster without using too much brain power.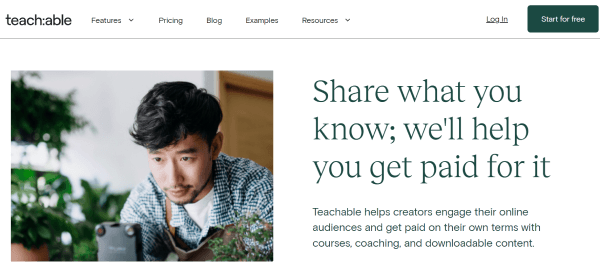 The artificial intelligence platform also offers other useful tools, such as a quiz generator, a summary generator, subtitles and translations, and a lesson writing assistant. Unfortunately, these don't come entirely for free. You'll have to avail yourself of their paid plans, which start at 59 USD per month.
Cost: Free (14-day trial); paid plans start at 59 USD/month
Key Features:
4. Memrise
Unlike other AI tools on this list, Memrise is a training platform specifically designed for the purpose of learning languages. As a modern language training tool, learners can practice what they've learned with Memrise's personalized AI language tutor called "MemBot".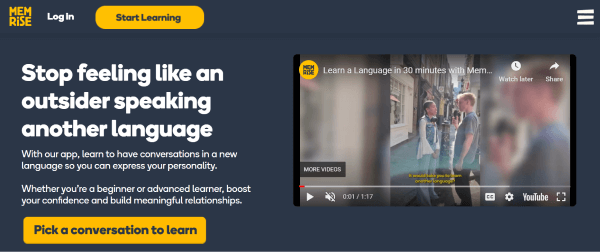 They'll have unlimited speaking practice and feedback with the chatbot, which can prepare them for foreign language conversations before speaking with natives in real life.
With a Pro subscription, learners will also have access to video clips of native speakers, gamified tests, personalized review plans, and other learning features useful for boosting language skills and memorization. They can enroll in official courses in over 23 languages, including Spanish, French, Korean, and more.
Cost: Free; paid plans start at 14.99 USD/month
Key Features:
AI language tutor (AI chatbot)

Videos and gamified tests

Personalized review plans

Courses for 20+ languages
5. Realizeit
Realizeit is an artificial intelligence platform with advanced workforce solutions for onboarding, cross training, compliance training, and upskilling. It uses adaptive learning technology and AI-based insights to personalize your employees' learning journeys and enhance their knowledge retention. It also boosts their learning speed, making training both effective and efficient.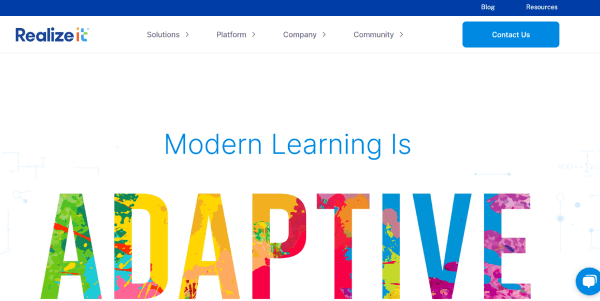 This AI software also lets you build and improve your course content depending on your employees' individual roles. You can even conduct live instruction and coaching or create assignments, assessments, and other elearning materials.
Cost: Contact Realizeit
Key features:
6. 360learning
360learning is an excellent LMS for employee onboarding and compliance, frontline staff training, and customer training. It allows you to create high-quality courses and use collaborative learning tools like group pages and discussion boards for better employee engagement.
As an artificial intelligence platform, 360learning features an AI-powered "Recommended for You" section on their homepage that analyzes your employees' learning behaviors. It automatically suggests and tailors uniquely relevant courses and programs based on their training history.
Cost: Paid plans start at 8 USD/month (per user)
Key Features:
AI-powered training recommendations

Course creator

Collaborative and personalized learning
7. Degreed
With Degreed's learning technology, you can easily deliver deep skill-building programs as part of your employee training and development plans. Besides offering custom programs and collaboration features, Degreed also has an AI recommendation tool for creating relevant learning experiences for your team.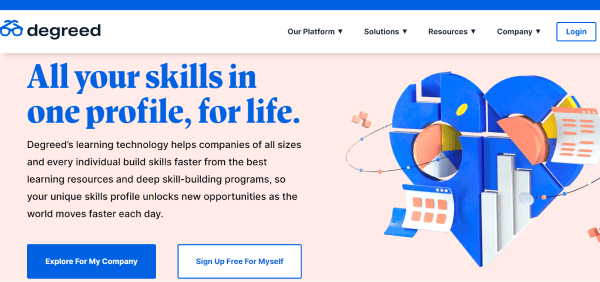 Their AI tool uses AI-driven algorithms to tailor learning suggestions that align with your team's individual learner profiles, performance, and progress. This can be especially useful for delivering personalized training where your employees are getting what they need to learn new skills or advance their existing ones.
Cost: Contact Degreed
Key features:
AI-powered recommendation tool

Personalized skill-based resources

Custom programs
8. Bridge
Bridge is an all-in-one training platform with extensive learning and development tools for skill-building, compliance training delivery, customer training, and new hire onboarding.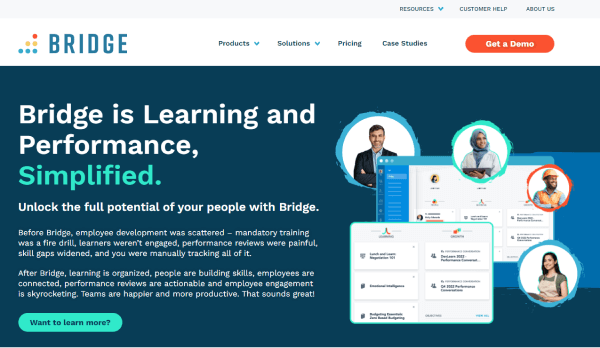 Bridge's latest toolkit addition includes Skills Plus, a designated tool for upskilling and reskilling employees with AI-based insights. It has a skills library that uses advanced technology to personalize skills and learning recommendations. It even lets you know your employees' individual strengths and weaknesses and identify what needs upgrading.
The artificial intelligence platform also has an automatic tagging feature that quickly scans courses and tags them with relevant skills. That way, your learners will know the courses that best suit their skill-building objectives, while you'll be able to streamline all your talent management processes and save hours of tedious admin work.
Cost: Contact Bridge
Key Features:
AI-based skills suggestions

Automated learning recommendations

Automatic tagging
9. Cegid
Like other artificial intelligence platforms, Cegid uses advanced AI algorithms to analyze training data about employees, including their job roles, skills, preferences, and training history. This analysis helps you see how well they're doing and create personalized learning paths that meet each of your learners' specific needs.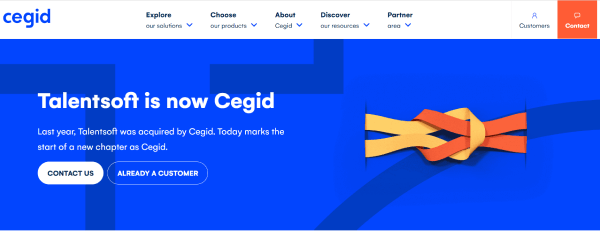 To add to that, Cegid has an AI-powered assessment tool that adapts according to your learners' performances and knowledge levels. This guarantees accurate evaluations and gives you tailored recommendations for improving content creation and delivery.
Cost: Contact Cegid
Key Features:
AI-based assessments

Personalized learning paths

Virtual reality simulations
10. Coursebox
Designing engaging lessons can also be simplified with Coursebox's AI-powered drag-and-drop course builder. You can use the tool's AI engine to outline your course structure and swiftly generate initial content within seconds.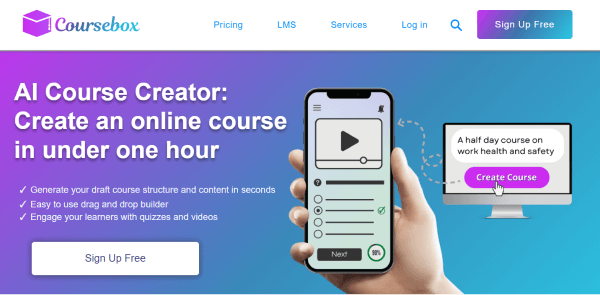 Once done with content generation, you can adjust the content, add interactive elements, and refine it to your liking with Coursebox's modification tools.
With the artificial intelligence platform's intuitive features, it wouldn't take more than an hour to finish your training material. You'll even have the option to decide whether to publish your course as public or private, sell it, or export it to your favorite learning management system (LMS).
Cost: Free; paid plans start at 29 USD/month
Key Features:
AI course authoring

Customization tools

Interactive media