While it may not always be co-workers that get angry with each other, as there are customers and other people who may present challenges and moments of tension in workplaces.  Finding a course that leaves employees with an understanding of workplace violence is an initial step.  Meanwhile, the course should also challenge those completing the course to have a plan and know how they would respond to de-escalate the situation.  Knowing what to do is necessary for everyone, even if they never have to use the training.
We are here to provide some free options for workplace training, so that your employees are trained and prepared when and if violence strikes.
1. Discrimination in the Workplace from EdApp
Employers and human resources looking for engaging workplace training to help employees get first-class information about recognizing and stopping workplace violence will appreciate this Discrimination in the Workplace course by EdApp.  Learning and development professionals design employee training programs exclusively with businesses in mind so employers can have peace of mind in knowing that the trainees have been properly trained.  These lessons can be completed using a mobile device which makes it easier for employees to complete the course on their schedule. Each employee will receive a certificate following completion of the accompanying assessment, which is part of the training requirements.  By using an engaging and interactive format, those persons completing the online training have higher levels of competency in recognizing, planning for, and responding to workplace violence if they should ever have.  Users will be actively engaged using the blended training session that EdApp provides.
This course is a perfect onboarding for your new employee, and also a great refresher training material for your existing team. Regardless of your business industry, whether it's retail, healthcare, or construction industry, your employees will surely find this course helpful and beneficial. Using a state-of-the-art platform, it will engage, motivate, and leave a long lasting impression on those individuals who complete it.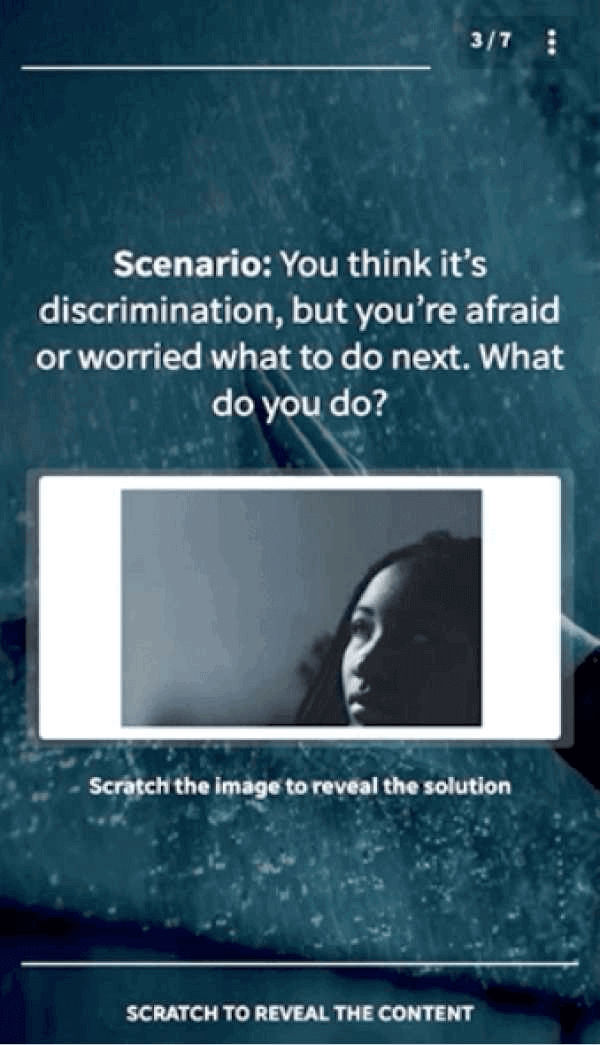 You can easily sign up to EdApp for free!
2. Violence in the Workplace from eSafety
This safety program by eSafety is designed to improve knowledge, awareness, and understanding of workplace violence and safety issues.  This workplace violence prevention training starts by discussing what constitutes violence in the workplace. It will also look into different workplace violence case studies along with the organizational and societal causes. Here, learners will also know how to identify potentially violent situations, familiarize themselves with steps to prevent this workplace violation, and ideas for prevention, and there are dangerous behaviors discussed, as well as how to recognize and respond.
3. Violence in the Workplace Awareness & Prevention from Compliance Training Group
This course from Compliance Training is designed to aid employers and employees with preventing and resolving workplace violence.  Training and development facilitators focus on discussion and taking responsibility for one's behavior and language.
4. Workplace Violence Prevention from Maine Small Business Development Center
This OSHA compliance course was created by The University of Southern Maine.  This workplace violence prevention training looks into the different types of harassment and violent situations that may lead to work related injuries and fatalities, and will teach learners how to respond and de-escalate them. Employers will also be taught about the training requirements and how to create a workplace violence prevention plan for their organization and how they can send a report to OSHA.
5. Workplace Violence Awareness from Myicourse
This course is a blended learning solution with the focus being on giving employees an awareness of workplace violence and how to respond.
6. What is Workplace Violence? From OSHA
The course from OSHA training solution discusses how workplace violence occurs and what can be done to prevent it.  Specific emphasis is given on the hazards, how to be compliant, and how to have a prevention plan at worksites.
7. Workplace Violence from 360 Training
The course presents the warning signs for workplace violence and how to prevent it.  The different types of violence and how it transpires are also discussed.
8. Preventing Workplace Violence from OSH Academy
This course will aid employees and their employers safety training related to workplace violence.  This corporate learning lesson is divided into five parts and includes a video and quiz.
9. Violence in the Workplace Training from CCOHS
This course has been recently redesigned to provide more examples and effective training relating to workplace violence. Users  and new hires will see how this issue can impact businesses and their employees.
10. Getting Real About Workplace Violence from Media Partners
This course focuses on recognizing the potential for workplace violence.  It also details how to take action when needed.
If you look back at the two scenarios we started with, having the right response during these times can be the difference between escalation and de-escalation.  With effective workplace safety training courses, employees will understand the warning signs, appropriate responses, and already have a plan in place should such unfortunate events occur.
There are other free employee safety courses that you can share and deploy to your team. EdApp has also created a list of HIPAA compliance training courses, office safety training courses, fall protection training courses, heavy machinery operator training courses and more. Make sure to check out these lists to find which ones are best for your team!
Other free course lists