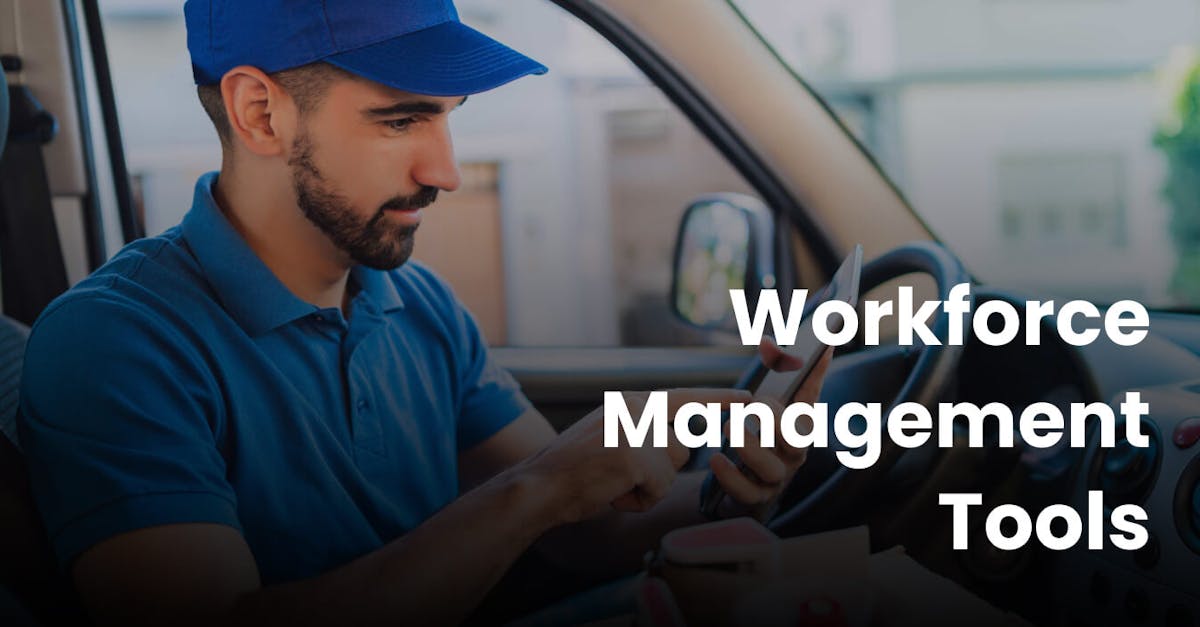 Employing workforce management tools is the best way to keep HR duties, including training and development, all in one place. However, the sheer number of workforce management tools on the market can be quite overwhelming. To save you research time, we've listed the best mobile workforce tools that can lend you a helping hand.
1. EdApp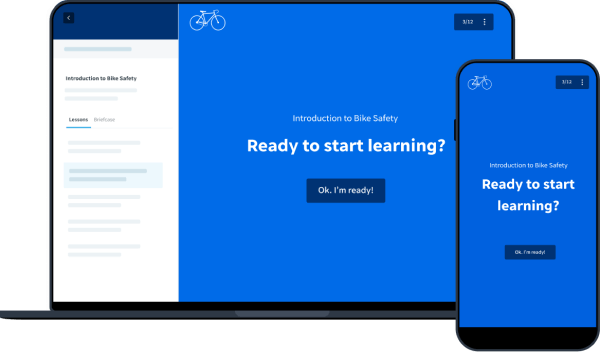 EdApp is a leading workforce management software that provides you with comprehensive insights into your training and employee engagement. As an all-in-one training solution, you can seamlessly create and deliver engaging microlearning courses to your team with its intuitive course creation tool, ready-made template library, and editable course library. Here, you'll find courses like confined space training programs, construction training, cybersecurity training, and so much more. It's made to be mobile-friendly, so your learners can access the tool anywhere they go. 
Additionally, you can identify your team's knowledge gaps and onboard new hires. You can also reinforce important information – like company updates and new policies – and survey your teams through EdApp's in-built exam creator and quiz maker, Rapid Refresh. 
EdApp also helps simplify the process of monitoring and tracking the progress and performance of your teams through its reporting and analytics feature. With a few clicks, this tracking software can check your learners' course progress, success rate, and behavioral habits, as well as confirm if they are successfully retaining key concepts.
This management system, with all of its tremendous and easy-to-use features, makes it easier for managers to connect and engage a mobile workforce.
Cost: Free
Features: Mobile-first environment, editable course library, quiz & survey tool, and reporting & analytics
Sign up for this workforce management tool for free. 
2. Web HR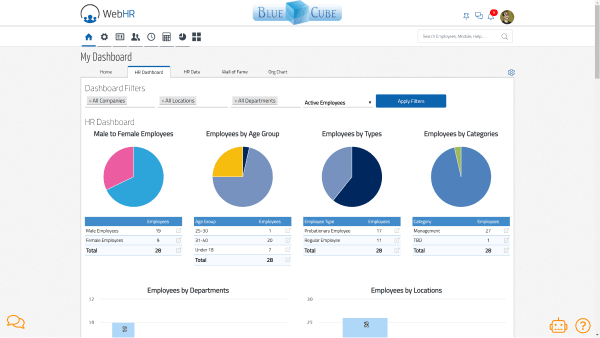 WebHR is a cloud-based social workforce management tool that covers the whole employee experience, from hiring to retiring. Designed for HR experts working in small-to-medium-sized businesses, this HR software can be broadly used across your organization as a SaaS solution.
You can use it to automate many aspects of human resource management. By standardizing HR processes, you can both reduce your heavy workload and increase the efficiency of your department. Here, you can also easily create training for employees, manage new hires' onboarding, track time and attendance, keep employee records, and manage files. One of WebHR's most unique features is its integration with Amazon Alexa, which allows this software to function in a hand-free environment.
Cost: Free up to 5 users
Features: Modular HR packages, payroll, applicant tracking system (ATS), and Alexa integration
3. Synchroteam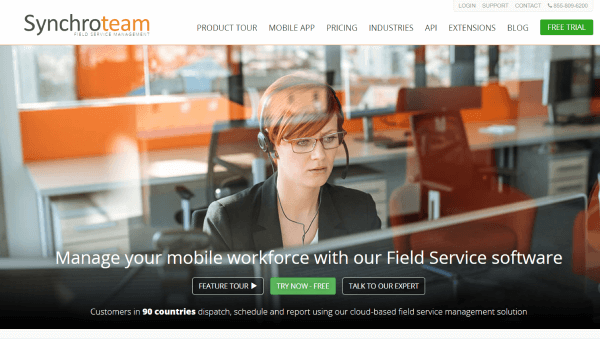 Synchroteam is among the most trusted workforce management tools on the market. Although the platform is not only for HR, it does have a number of unique features that make monitoring and communicating with your workers easier. Synchroteam has you covered for everything from work administration and scheduling to GPS mapping, time tracking, and payment processing.
This management tool is accessible for Android and iOS mobile users, so on-the-go workers can easily obtain all the information and resources they need from your HR team. It also allows them to communicate more effectively, not just with HR managers but also with their peers.
However, Synchroteam only provides per-user license options, making it fairly expensive, especially for those managing bigger teams.
Cost: 8 USD per month
Features: Job management & scheduling, GPS map, time tracking, and mobile-friendly
4. Deputy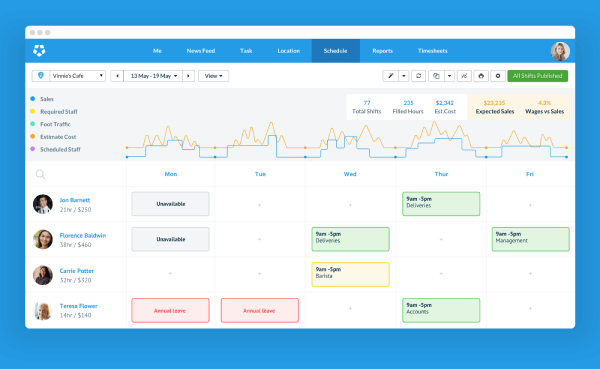 Deputy is a workforce management tool made for the retail and hospitality industries. Their technology allows you to easily plan shift employees based on demand, manage last-minute roster adjustments, produce correct payroll, and communicate effectively with your workforce. In a nutshell, Deputy automates employee administration so you can focus on supporting your team.
The platform has also just connected with EdApp, allowing you to simply develop and assign training to your employees. When a person completes their training, their records are instantly transferred to Deputy, ensuring that your staff are up to date on training when they clock in – no cross-referencing necessary!
Cost: Free 31-day trial
Features: Shift worker management, payroll, and set training requirements
5. Timely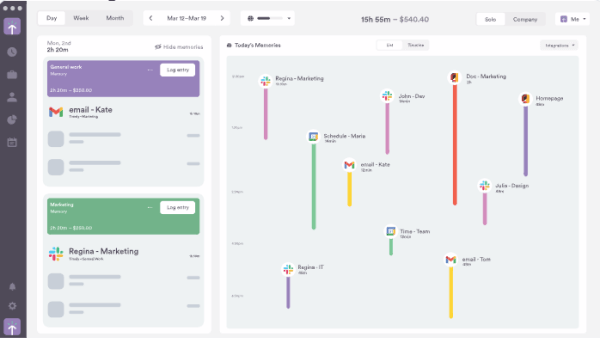 Memory.ai's Timely is a user-friendly workforce management application that simplifies and eliminates the complexity of time tracking and task management. Using Timely, your mobile workforce will receive a daily record of every online and desktop app session.
Their duties will be collected without the need to manually record and input everything, from papers to emails, and even video calls and virtual meetings. They also have total discretion over how they wish to organize and structure their timesheets, as well as how they manage their own productivity, thanks to Timely's simple controls.
Don't worry, Timely assures that all actions are completely secret. No coworkers or managers have access to their time tracking sheets unless they are shared.
Cost: Free for 14 days
Features: Automated time tracking, simplified task management, 100% task privacy 
6. Coassemble
Coassemble, formerly known as eCoach, is a workforce management tool and one of the top lms platforms that enables you to manage the learning and development of your teams. Without the need for third-party software, you can create online training courses, streamline training and onboarding procedures, and track progress. It includes over 40 dynamic and configurable themes, so designing and publishing your courses won't take long. If you manage a large mobile workforce, you will enjoy its mobile-responsive feature, which allows field personnel to access their courses at any time and from any location.
This performance management software also includes an employee training tracker, which allows for easy monitoring of all employees outside of the office. You may use it to assess their performance in three ways: the amount of time they spent on the screen, the answers and comments from quizzes and assignments, and the percentage of advancement for each course.
Cost: – 99 per month
Features: Training creation, deployment, and tracking, interactive and customizable templates, mobile-responsive courses
7. Qualtrics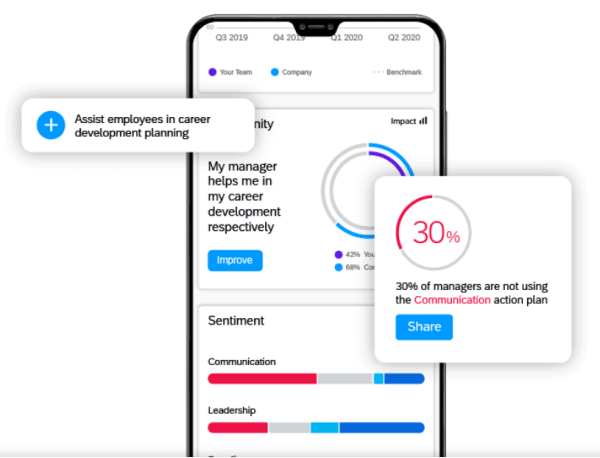 Qualtrics Employee Engagement Software is a workforce management tool with a variety of sophisticated features designed to improve employee engagement in any firm. This program collects employee input via expert content and surveys and quickly creates intelligent analysis to highlight crucial areas where the organization should focus to increase employee engagement and performance.
Feel free to pre-configure dashboards and results so that you can simply give the necessary data to your human resources department, lead managers, L&D leaders, or even company owners, or anyone else who needs data insights.
Cost: Prices available upon request
Features: Easy feedback deployment at scale, real-time insights, pre-configured dashboards and reports
8. Degreed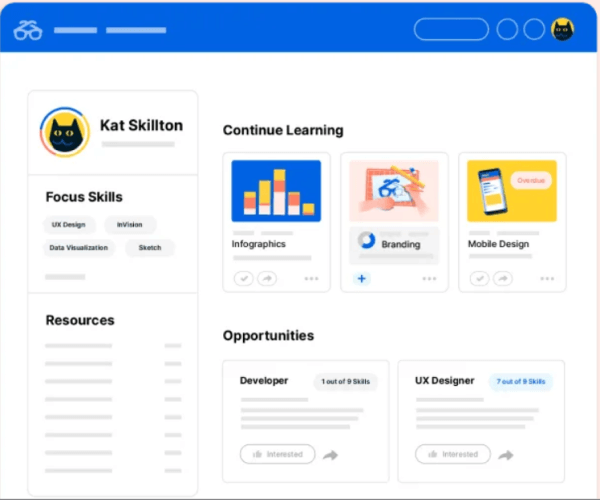 Degreed is a workforce management tool that focuses on upskilling or reskilling your staff at any scale. This tool for managers also allows you to create a plan that is in line with your workers' requirements and career aspirations.
This project management software incorporates skill analytics, providing you with a comprehensive and quantitative perspective of your employees' strengths and limitations. Its data-driven insights on skills and possibilities for improvement enable you to quickly build unique learning journeys for your workers delivered via courses, video training, books, articles, podcasts, and projects.
Degreed does more than only assist you in building training programs; it also provides a dynamic opportunity marketplace that connects your employees to projects, gigs, assignments, and positions that are equally important to your company.
Cost: Price available through a quote request
Features: Real-time skills analytics, custom content pathway, career mobility
9. AcademyOcean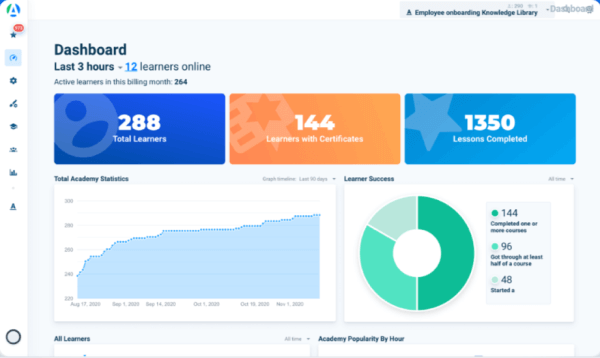 AcademyOcean is an excellent tool for onboarding and educating new workers as well as current mobile personnel. The most notable feature of this workforce management tool is its ability to automate the whole onboarding process for your workers, saving onboarding preparation time by 60%.
Instead of giving them training course PDF or PPT files, you can use this project management tool to create interactive material with photos, videos, and evaluations. Course customization is provided, allowing you to modify the content to their specific needs, although branding choices are restricted.
At the end of a course, AcademyOcean provides certificates to your team members as confirmation of training completion. They may also use their mobile device to download the AcademyOcean app and access the courses whenever and wherever they choose.
Cost: Starts at 00 USD monthly
Features: course creation, customization, completion certificate
10. WorkRamp
WorkRamp is an all-in-one learning management solution and onboarding platform that can be configured for many sorts of onboarding procedures and employee training, including sales, support, retail, marketing, and HR.
This workforce management tool can also be used to teach your clients about product adoption, boost customer engagement, and enhance income for your company. A faster onboarding process with management dashboards, configurable reporting, and an automatic calendar are among the platform's significant features.
WorkRamp helps you to create a seamless training experience for your staff by integrating all of these resources.
Cost: Paid plans
Features: sales training, support training, customer training, compliance training
11. TCP Software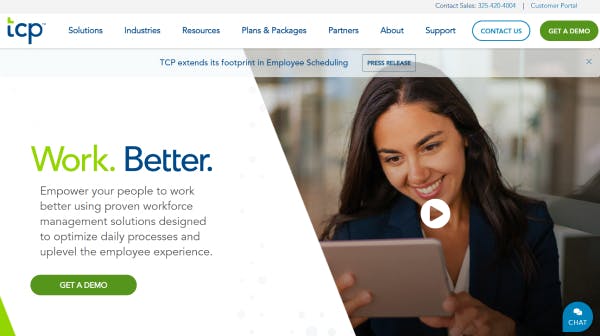 TCP Software provides premier workforce management solutions to millions of users every day. Its innovative, cloud-based software and hardware is designed to help administrators monitor and schedule employees, manage labor costs, and reduce compliance risk. These offerings include automated employee time tracking and scheduling, leave and absence management, document management, reporting and analytics and more, all of which are available on mobile.
TCP Software's products include TimeClock Plus, which is comprised of a comprehensive suite of features that work together to automate time tracking and labor related processes to ensure your teams operate efficiently. TimeClock Plus also seamlessly integrates with major payroll systems as well as its extensive portfolio of time collection solutions. TCP's Humanity Scheduling offers dynamic scheduling capabilities and an intuitive user experience that empowers managers to automate the scheduling process and engage employees within a variety of industries such as Healthcare, Hospitality and Retail. Finally, TCP's Aladtec Scheduling software is purpose-built for public safety, making it easy for users to add shifts, run reports and submit online forms, all part of daily life for this industry.
Cost: Pricing available upon request
Features: employee time tracking, scheduling, leave management, labor tracking, document management, reporting & analytics, mobile apps
12. Teamwork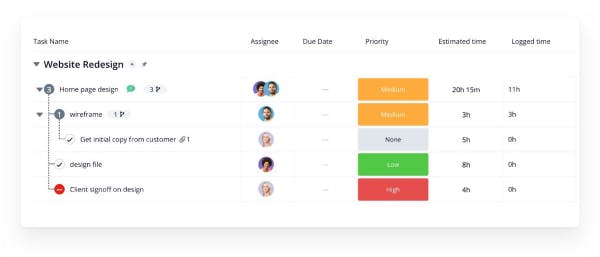 Teamwork is a project management tool that allows HR managers to create a centralized hub for teams to easily collaborate on projects across the organization. Using a project management tool, you can see exactly what needs to get done and when. Get a quick status update on tasks and milestones, see who's working on what, and spot potential blockers before they become problems.
Streamline the onboarding process with Teamwork's onboarding checklist template for new hires. It ensures every employee is onboarded quickly and efficiently and gives them everything they need to get started in their new role. Get all the advanced features you need from time tracking to budgeting to resource allocation, so you produce your best work.
Cost: Free and Paid versions
Features: Resource management, time tracking, Gantt chart and Kanban board view
EdApp is a mobile learning management system designed for today's digital habits, delivering more engaging and effective micro-learning directly to learners anytime and anywhere.
Sign up for this workforce management tool today.