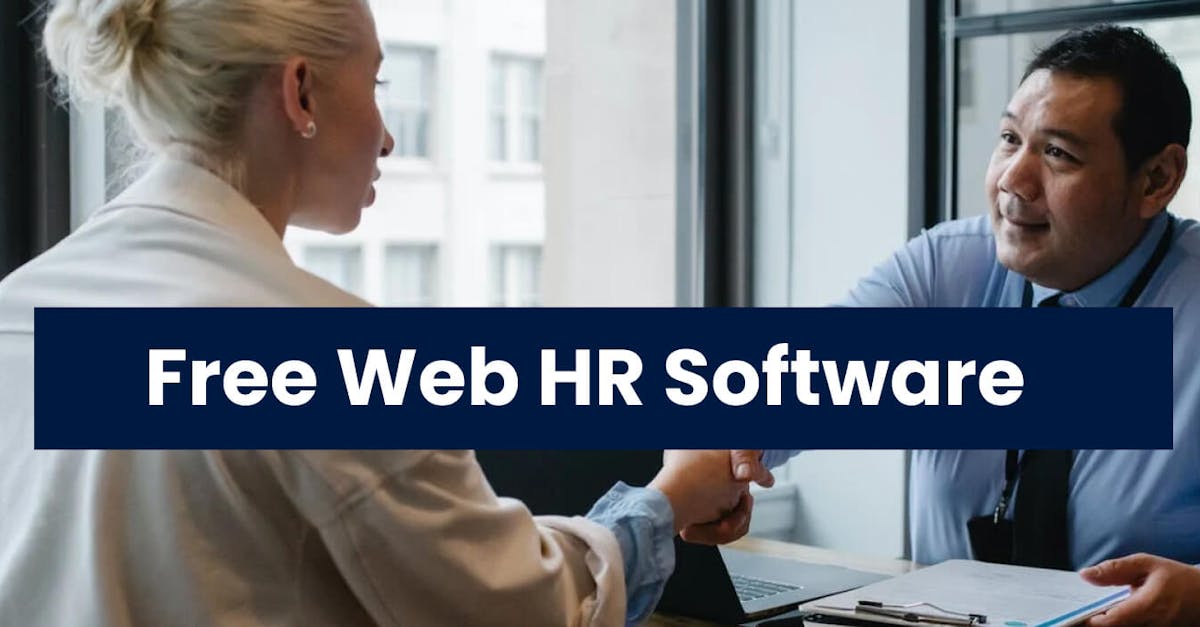 Human resource is a field that can benefit a lot from eLearning. Not only can HR staff be trained online, but HR can also create courses for other employees so that they know the company's policies. In this article, we'll take a look at the best free web HR software that HR departments should explore.
1. EdApp
Ranked as the best free web HR software on the market today, EdApp takes pride in its powerful features designed for managing self-paced online courses.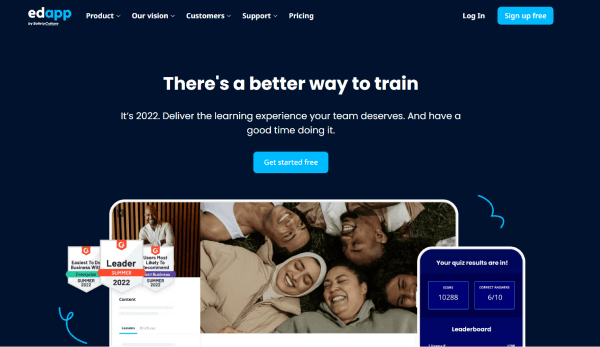 Among the best ones that your HR team will definitely find valuable are the intuitive course creator tool and interactive templates, which can help them make interactive courses in just a few clicks. These tools combine the power of microlearning with gamification to make learning fun and engaging for their learners.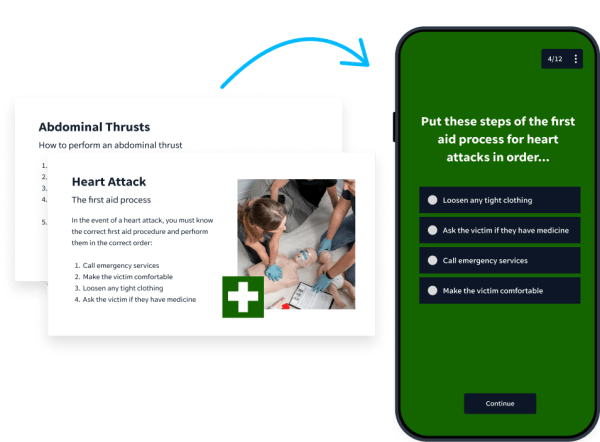 Other tools to explore include custom reports, which allow them access to real-time insights, in-depth results, and relevant KPI tracking. Not to mention, these reports can be made actionable. Here, they can automate a mobile notification to target inactive and disengaged learners, securing higher completion rates.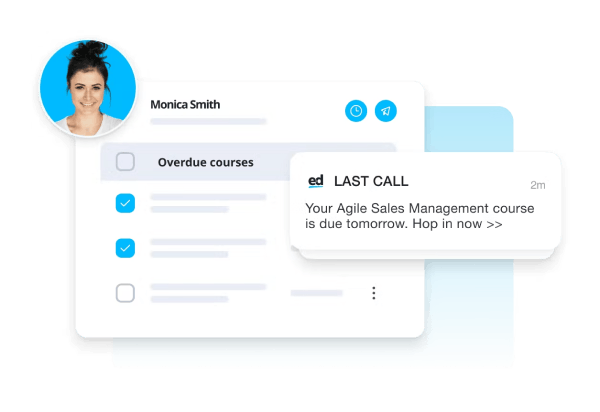 HR professionals will also benefit from the free courses offered by EdApp. For example, its course about Interviewing Talent for Startups will prepare your HR team for their recruiting process. There's also a course about Managing Remote Employees, which goes through the basics of working together with employees located in different places. These EdApp courses present learning in bite-sized chunks to ensure higher retention.
Designed with the newest learning techniques and fashions in mind. For top brands throughout the world, EdApp's instructional designers have produced thousands of interesting courses. This allows for quicker training for your teams.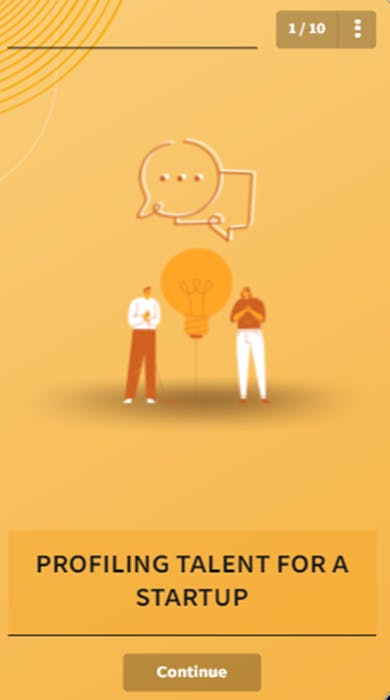 Start using the best Web HR Software today! Join EdApp for free. 
2. Bitrix4
Bitrix24 is a software tool that can be used to unify your company. It includes an activity stream, group chat, calendar, workgroups, and other collaboration tools.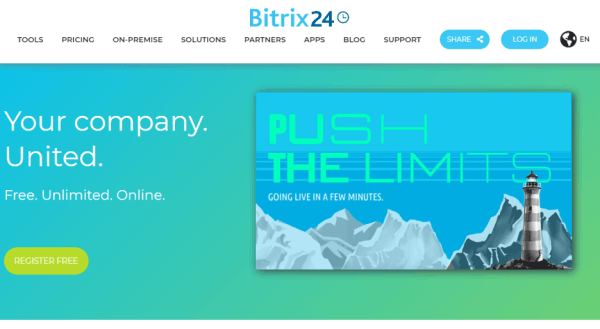 Bitrix24 can be very useful reminder for HR to keep in contact with the rest of the company. The software really shines, though, when it comes to customer relationship management and lead management. One issue, however, is the complexity of the product. Because it is very ambitious, it can be overwhelming to set up and configure.
3. Bamboo HR
Bamboo HR is HR software that is targeted to small- and medium-sized businesses. Its core features include managing employee data & analytics, hiring, onboarding, compensation, and culture.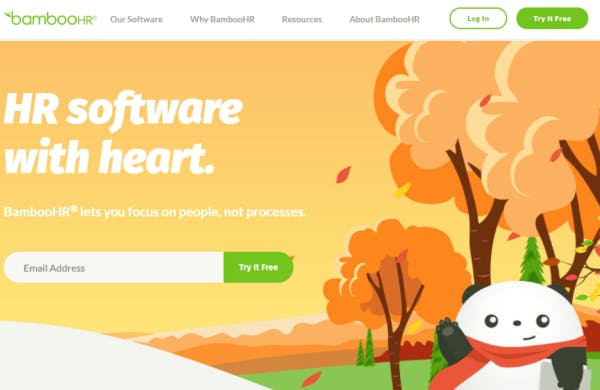 This full-featured software can be useful for education as it supports live online training program, webinars, and documentation. Bamboo HR is free to try, but involves getting a price quote thereafter.
4. Apptivo
Another option for HR software is Apptivo. Apptivo focuses not only on HR, but also CRM, project management, and invoicing.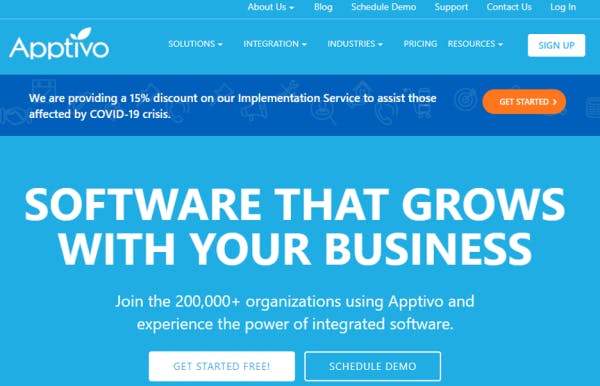 Apptivo lets employees collaborate on tasks while managing timesheets and logging expense reports.  It has a free starter plan that includes support for 3 users, although it doesn't include all features and core components.
5. Orange HRM
Orange HRM is an HR tool that is free and open source. Some of its many features include modules for administration, reports, paid time off, attendance, benefits, recruitment, audits, and documents.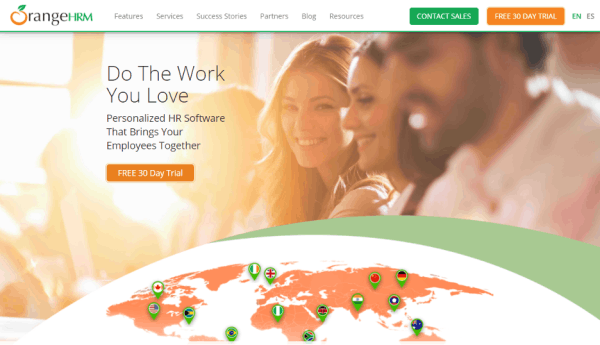 Orange HRM is web-based and considered to be very user friendly. It's also very modular, so you can customize it to fit the specific issues that your company faces now, and then later add more modules that address your needs as they arise.
6. Humi
Humi is HR software that has a free trial upon request. Humi's features include everything related to HR, such as managing payroll, benefits, employee on-boarding, and time off.
Humi is web-based tool that is known for its clean and beautiful design. One of its biggest advantages is the independence that it gives employees, as they can easily see their information from their own Humi app and perform HR tasks like requesting time off.
7. WebHR
Another software tool for HR is Web HR. It includes standard HR and time tracking features such as time and attendance time tracking, employee records, onboarding, file management, and employee self-service.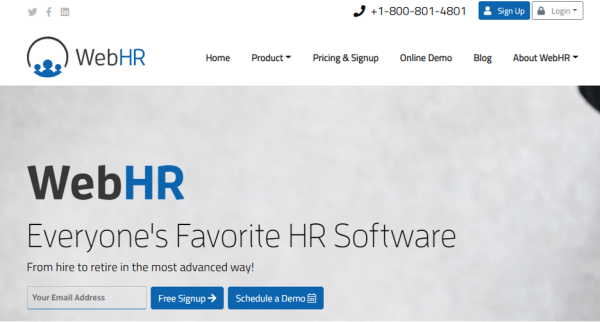 WebHR is notable for its integration with Alexa, so it can integrate the AI functionality that Alexa has to offer, including working in a hand-free environment. The free version of WebHR supports up to five users.
8. Cangaroo
Cangaroo is another HR software tool with a free option. Cangaroo offers all the standard features of an online HR system, with its focus being on handling clerical work better than other programs.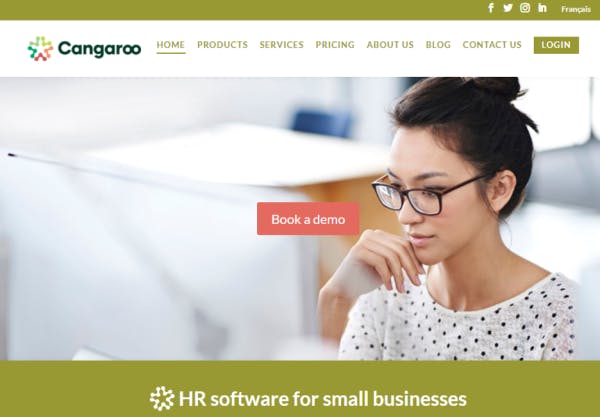 Cangaroo has several advantages, including not requiring any IT infrastructure and having fully modular portals. Cangaroo's free option is supported by employee benefits and group savings referrals.
9. Zoho People Plus
Zoho People Plus  is another HR solution that offers a free tier. It is a cloud-based service that works with businesses of any size.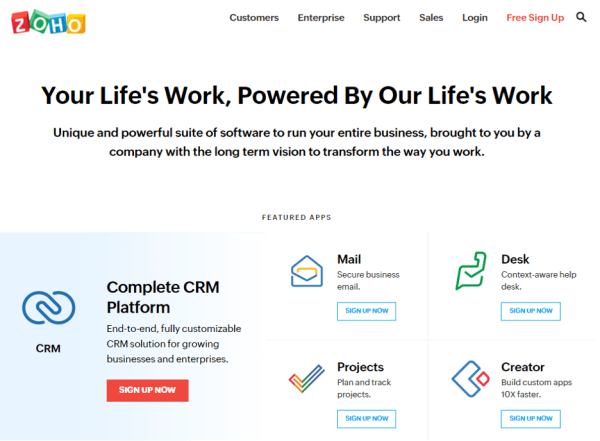 This HR software tool is known for its customization features. The free version allows you to add up to five employees.
10. Kakitangan
One more HR software service comes from Kakitangan. It has basic HR features, but is notable for its security practices which include encrypted data transfers and secure cloud storage.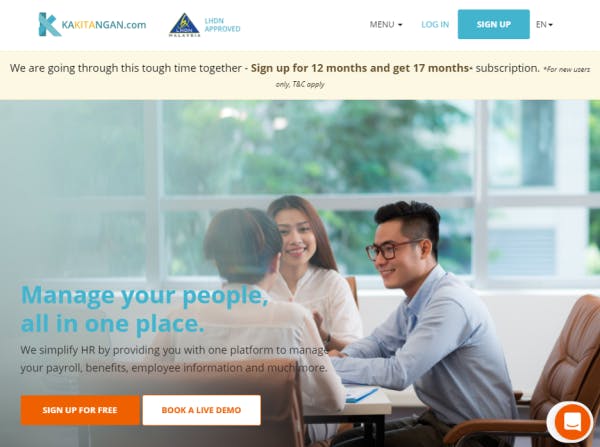 Kakitangan is a useful HR program that has bank-level security. It has a free trial, but is limited in the number of countries it serves, as it currently doesn't have an option for the United States.
11. Alison
Alison is an online HR platform that houses over 1,500 courses. HR professionals can deploy HRIS software training to the employees easily with Alison's readily available course content. Afterward, certificate is issued once learners finish a course that they can use as proof of completion. As one of the world's largest free learning tools, it's designed for employees to upskill and learn independently, without having to formally enroll in academic institutions. There are several areas of study to choose from such as business, marketing, management, computer science, and more. Learners are required to achieve at least 80 percent completion to move on and are on a self-guided learning pathway.

Features:
3,000+ courses

Course categories: Management, sales & marketing, engineering, etc.

Certificates available
Cost: Free, paid courses
12. GoBrunch
GoBrunch is the online HR software for you if you want your learners to feel like they're in a real seminar room taking their training. You can create an educational atmosphere by selecting a layout for your room and integrating your logo. Learners can then add images and even select seats in your virtual classroom, making the experience more realistic. You may easily send a link to a course catalog where your learners can access their classes and other learning tools to share the courses with them. Unlike other platforms, their free version has no time limit, and you can host webinars for up to 409 people for as long as you like.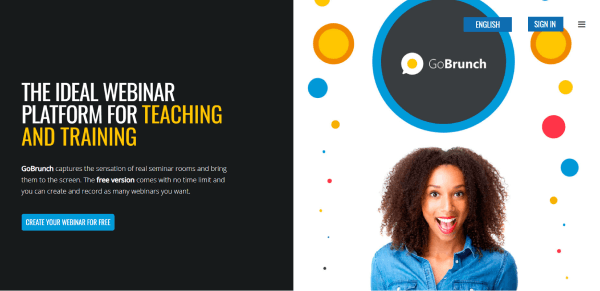 Features: 
Virtual seminar rooms

Unlimited webinars

Course catalog
Cost: Free, paid plans
13. Brainshark
Brainshark is an HR training platform that can quickly assess performance concerns so that knowledge gaps can be addressed. The platform provides classes to help your workforce upskill, particularly your client-facing personnel. Employees can benefit from their training and onboarding software features, as well as on-demand learning paths and dynamic courses, which can help them build important skills that will prepare them for their daily work.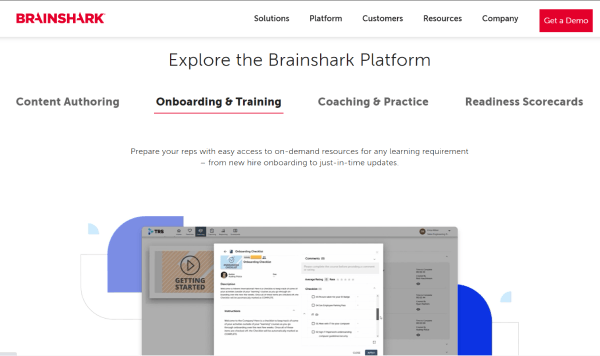 Brainshark includes a content development tool that can speed up the process of creating courses. There is also an option for HR professionals to easily take pre-made courses from the eLearning library to deploy training to their employees at a much faster speed.
Features:
Readiness scorecards

Content authoring

eLearning library
Cost: Paid plans
14. Officevibe
Officevibe is a fantastic online HR software for getting feedback from your staff. You can give them weekly anonymous questionnaires that are sent automatically so you don't have to manually send them emails. It uses a variety of methods to gauge employee engagement, including numerical scales, text bubbles, and polls. Managers can respond to feedback to continue an anonymous correspondence, or even set a 1-on-1 for further discussion. It increases employee engagement as employees can inform management about any obstacles or issues that would not ordinarily be discussed in a normal conversation, allowing them to be resolved or improved quickly. Officevibe has a free base plan but it is recommended to get a paid subscription if you want more features.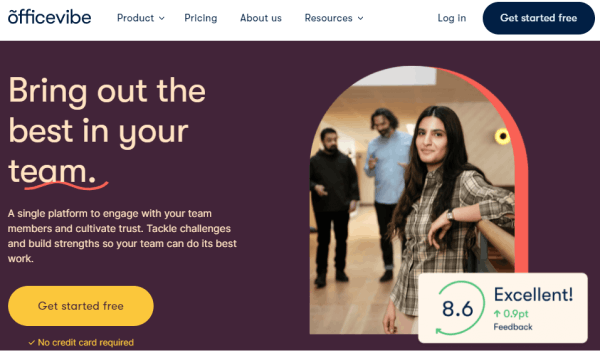 Features:
Automated pulse surveys

Anonymous feedback
Price: Free, paid plans
15. Coorpacademy
Coorpacademy is an online HR software that provides your employees with the tools to sharpen their soft skills. The learning experience platform has 1,000+ courses in their course catalog, 80 percent of which are in line with soft skills training. It also contains fun features like leaderboards and Battle Mode, where students compete against one another to see who can finish first in their class, to promote engagement among their peers. Coorpacademy also offers an analytic dashboard that keeps you up to date on your students' progress.
Features: 
Premium course catalog

Leaderboards

Analytics
Cost: Paid plans
16. Slack
Slack is a workplace communication application that allows for real-time communication. For better organization of communications, you can create different channels for different teams, subjects, or projects. It's also great for creating social channels for topics outside of work so employees can collaborate, engage, and get to know each other better. Slack allows employees to stay up to date without having to sort through a slew of emails or schedule a meeting. It also supports file sharing, allowing employees to transmit photos, videos, and documents with ease. One-on-one conversations are also made easier through direct messaging or video calls.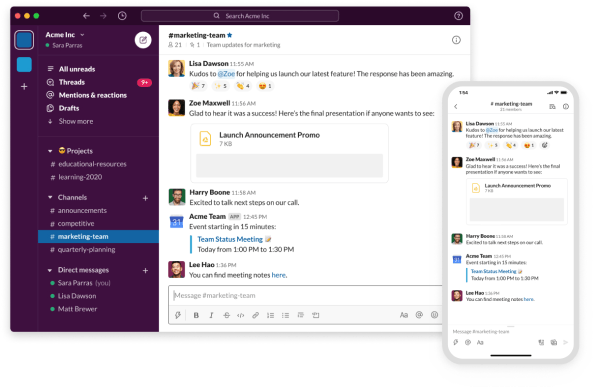 Features:
Communication channels

App integrations

File sharing
Price: Starts at .67 USD/user monthly
17. Degreed
Degreed is another flexible online HR training platform that is developed to deliver a fluid skill-development experience for small and large-scale businesses. It brings together all of the learning tools your employees will need to grow and upskill, like online courses, videos, podcasts, news, and blog posts. Thanks to the real-time data on each employee's abilities and interests, personalized content will be targeted by those who needed it. You can also use this platform to reach out to your channel partners and external audiences to give these instructional resources. With this, rest assured that their knowledge and skills are in line with your company's vision and goals.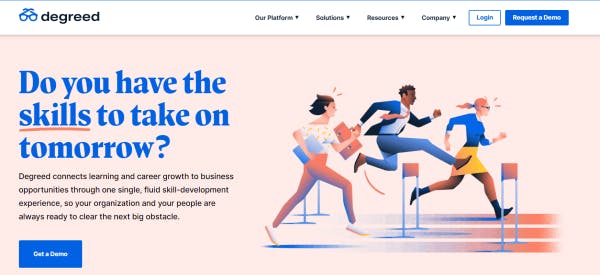 Features:
Learning materials in different formats

Real-time data insights

Automatic deployment

Resources extended to external audiences
Cost: Paid plans
18. Quantum Workplace
Quantum Workplace is another online HR software for increasing employee engagement. It has several features, including employee surveys in a variety of formats, such as pulse, lifetime, and annual, to get a sense of how employees feel. This is also beneficial for identifying engagement possibilities that HR professionals can employ in the future. Quantum Workplace also has a social media-like news feed where employees can communicate, send messages, motivate, and congratulate each other on their achievements. Goals can be created with their recognition software as well so that milestones can be recognized later on.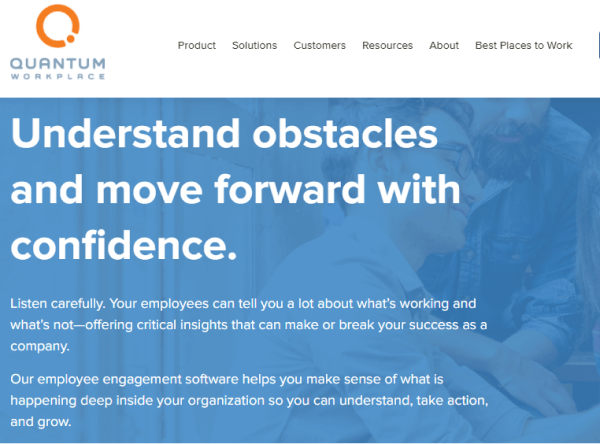 Features:
Employee surveys

Social recognition

Employee dashboard
Price: Paid plans
19. Trainual
By using an online HR solution such as Trainual, onboarding and training staff has never been so simple. This online learning platform has over 150+ pre-built templates that apply to a number of industries. It also includes 30+ free Standard Operating Procedure (SOP) templates for documenting your company's rules and processes. All that is required is a little tweaking to ensure that the information is appropriate for your company's internal duties and operations. You also have the option to keep and arrange your relevant materials in Trainual's library section. Users can then access, search, and track all courses in this manner at any time. Combined, these features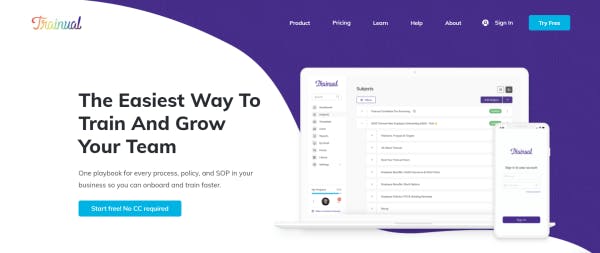 Features:
150+ universal templates

30+ SOP templates

Library section
Cost: 9 USD monthly
There are a lot of useful options out there for free HR software solutions. Some options are completely free and open-source, while others are only free until you add a certain number of users.
When considering your HR software, be sure that it allows you to set up employee training with ease. A solution like EdApp can go a long way in making sure that your employees can receive quality training on any device.
There are a lot of reasons to use online HR software. Some of these reasons include:
Ensuring corporate policies. Having an eLearning course that lays out company policies ensures that every employee is aware of the policies and has passed quizzes demonstrating that knowledge. That can give HR much more peace of mind than just referring employees to a handbook or having them attend occasional training sessions.

Promoting continued education. HR can encourage staff to keep learning new things by creating courses and making relevant certificates recognized by the company upon the course's completion.

Streamlining new employee training. The use of eLearning can also speed up the training of new hires and ensure that they comprehend things through assessments.
Because of these reasons, it's a good idea for HR staff to explore various solutions to creating eLearning in their companies. In this article, we will take a brief look at some of the better HR solutions out there. Furthermore, we'll only be considering free software. With that said, let's start our analysis of online HR software.
You can easily sign up to EdApp for free!