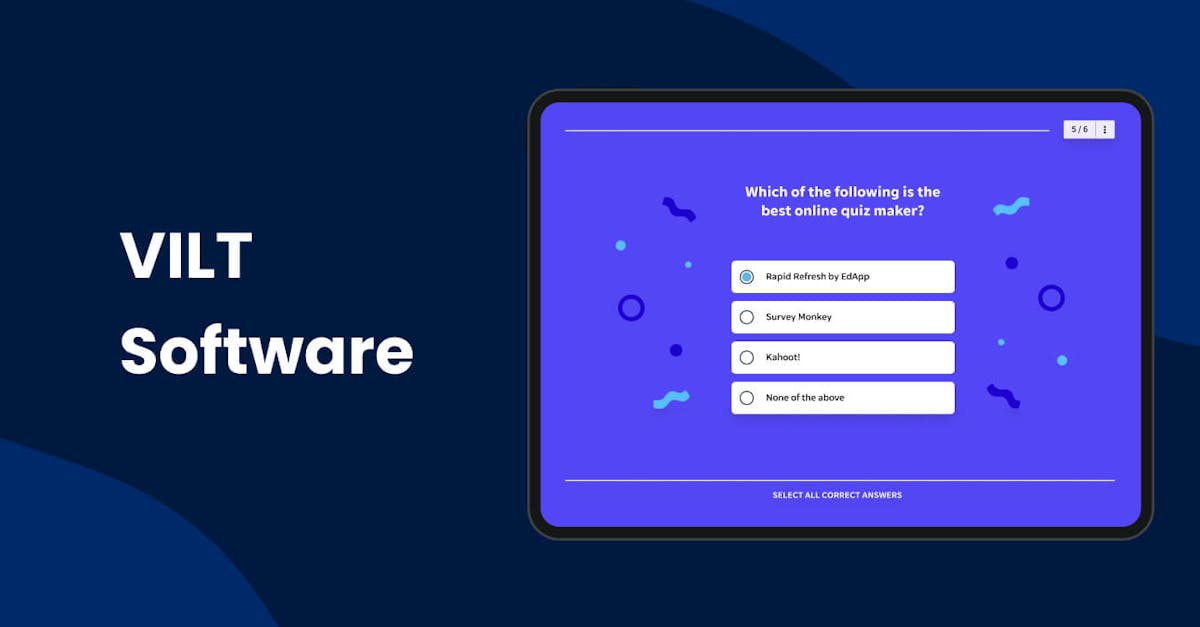 VILT, or Virtual instructor-led training, is when training is done through a virtual learning service or platform for learners in a synchronous learning environment. They allow learners to be able to study and interact together in real-time. In this article, we'll be looking into the best VILT Software to help you facilitate employee training effectively.
VILT Software #1 – EdApp
The best VILT software is one that gives you a feature-packed base to conduct training on. This means being able to easily create courses either from scratch with a flexible authoring tool or with proven e learning templates that can help you put your thoughts together. There's no better VILT software that does exactly this than EdApp.
With EdApp, you'll have the power to create courses on your own and get an expert team to create the courses for you. Regardless of the industry you're in, (Cyber, NGO, hospitality, sales, transport, automotive, and many more), this learning platform has got you covered.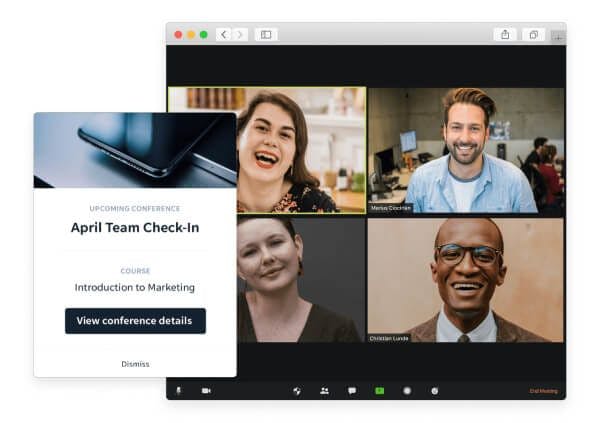 Your elearning courses and presentations are just the tip of your VILT program. You also have to consider how you'll drive continuous learning and test your learners' understanding of the material. With EdApp's Spaced Repetition and Rapid Refresh features, that's how. EdApp will give you all the add-ons that you need to work with around your virtual video presentations.
On the other hand, the virtual classrooms feature allows video meetings to be directly linked to a course. Learners will receive a notification when an event is coming up and will be able to add it to their calendar. They'll also be able to view a recording of the event if the Admin uploads this after it takes place. This feature can even be used with platforms like Zoom or Microsoft Teams, allowing employees to set up their own conference-call.
Price: Free
Features: Authoring tool, template library, course creation service, spaced repetition, Rapid Refresh, virtual classrooms
Sign up for Free and Start Using The Best VILT Software for your Employee Training
VILT Software #2 – Cloudshare
Cloudshare's VILT Software allows users to easily build labs and functional virtual learning environments that work wonders for their learning and development initiatives. You can take advantage of its template library for easier course creation. The LMS platform has the software already set up, so course creators and trainers can just hop on without having to worry about all the technical stuff. With Cloudshare, users have access to advanced features such as analytics, and over-the-shoulder monitoring. Cloudshare members can also use its elearning resources that include case studies, eBooks, White Papers, Blogs, Webinars, and more. The platform may be expensive as you scale, so it's best to be mindful of this.
Price: Request Quote
Features: Virtual labs, Instructor-led Training, Self-paced Training, Software Training on Public Cloud, Technical Certification Programs, Events, Customer Education & Training Resources
VILT Software #3 – WizIQ
WizIQ is a VILT LMS software that has the potential to be a vital part of almost any corporate training program. There are options available for live real-time training or self-paced training that can be accessed at any time by your learners. WizIQ caters to a wide range of clients such as large enterprises, freelancers, administrators, small businesses, and more. There are various ways that it can be deployed such as via the desktop application, mobile applications, SAAS, and self-hosted cloud-based software. WizIQ's Virtual classroom can be integrated with websites, other learning management systems, this will come at an additional 20% cost though. But if you only want to test out their basic features, they do have a free-trial that you can take advantage of.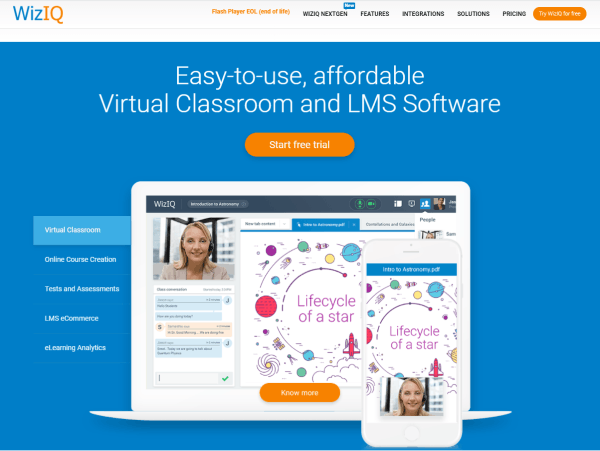 Price: Starts at 3USD/month
Features: Virtual Classroom, Course Builder, Tests and Assessments, Reports and Analytics, Mobile Learning, and more
VILT Software #4 – Zoom
With the onset of the novel Covid-19 pandemic, Zoom has become one of the most popular household names in the world. The video platform user base has grown a hundredfold, to say the least. Just in case you are not that familiar with what Zoom's VILT software can do for your blended-learning and development program, here's a quick rundown of the platform. Zoom facilitates webinars, VILT, online meetings, instant messaging, file sharing, group messaging, and more on its web conferencing and video conferencing platform. The great thing about Zoom is that anyone can create an account and use its services. The video quality will depend on the user's connection, but it does have HD video and high-quality audio. Zoom is great but somewhat limited as you can't build and regulate courseware through it.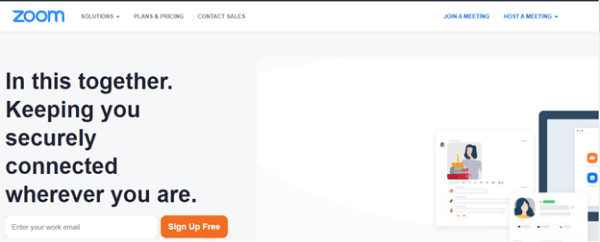 Price: Free-USD 40/year/license
Features: Meetings, Marketplace, Video Webinars, Phone System, Contact Center, Events, Chat, Rooms and Workspaces
VILT Software #5 – Google Meet
Google Meet is another platform that has gotten a lot more popular since the Covid-19 pandemic. This feature was mostly used for high-quality business meetings in the past but is now available to everyone as quality VILT software. This platform has a lot of security measures in place to protect the privacy of its users and safeguard their information. This is a big plus. Google does this by encrypting the video calls in transit. The mobile nature of the service allows users to log on from anywhere, on any device once they have a connection. Users can do training, business meetings, homework, or just simply catch up. No software installation is necessary on computers, just your web browser. One really cool feature from Google Meet is the fact that it adjusts to your network speed to make sure that you get quality video calls almost all the time. It would be amazing if it also had more LCMS features so trainers wouldn't have to get additional software to create and manage their personalized learning courses.

Price: Free- custom pricing for Google Enterprise
Features: Live closed captions (multiple languages), Share your screen and present, Dial-in phone numbers (supported countries), Hand raise, Attendance reports, Encryption in transit and at rest, 2-step verification, Advanced Protection Program Enrollment, Alert center, Vault, Context-aware access, Security dashboards, Security health, Investigation tool, Data Loss Prevention (DLP) for Drive, Endpoint management,
VILT Software #6 – Microsoft Teams
Microsoft Teams is a communication hub that trainers and team members can use to make meetings and training go smoother and more effective. It is not a complete stand-alone VILT software, but it has many learning technologies that can be strategically paired with other platforms to make a powerful learning combination. The video 'together mode' allows for an engaging meeting experience, and the platform can intelligently arrange the elements on the screen for optimal viewing when people join, turn on their video, or start to present. Microsoft Teams also has a PowerPoint live feature that is great for engagement, presenter transitioning, note revision, and more. Not all platforms allow for presenters to do custom registration and send out confirmation messages, Microsoft Teams does this.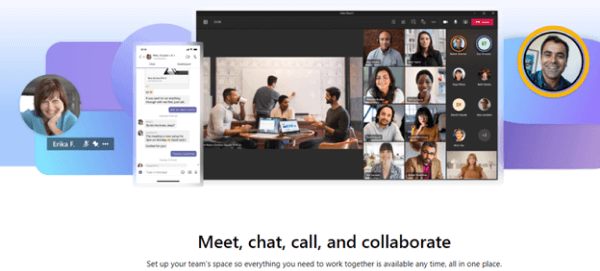 Price: Free-USD12.50/user/month
Features: Custom backgrounds, Webinars, PBX, Chat and collaboration, Teams Rooms, Apps and workflows, Meeting apps, No Code Low Code, Frontline workforce, Frontline solutions, Workforce management, Staffing/scheduling
VILT Software #7 – Webex
As a VILT software, Webex by Cisco provides solutions for calls (cloud calling is available from any device), meetings (meetings/classes/presentations can be great as if you are in front of your students by layering yourself over the content being presented), and messaging (message any member of your workforce to share file or foster engagement) for teams of all sizes. The platform is very versatile and can be deployed to fit almost any workstyle, device, and personnel. Webex has been iterated to provide everyone with the same experience regardless of their language, location, or style of communication. You can create virtual events and then invite and host up to 100, 000 attendees. Unfortunately, Webex does not have the tools to create and manage your content.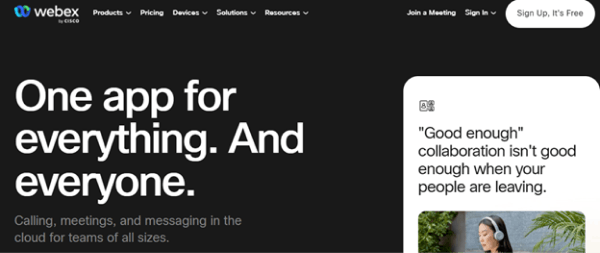 Price: Contact for a quote
Features: Calling, Meetings, Messaging, Slido, Events, Webinars, Socio, Contact Center, AI for Contact Center, Experience Management, Workforce Optimization, CPaaS, Enterprise-grade security, administration and management of Webex.
VILT Software #8 – Vedamo
Vedamo is a LMS VLT software that provides trainers with an interactive virtual classroom and other LMS features, such as course management tools and much more. With this software, you can have live online classes wherever you are. It also allows for easy management of learners, courses, and content. The versatility of Vedamo makes it a good choice for freelancers, coaches, mentors, consultants, enterprises, schools, corporations, and much more.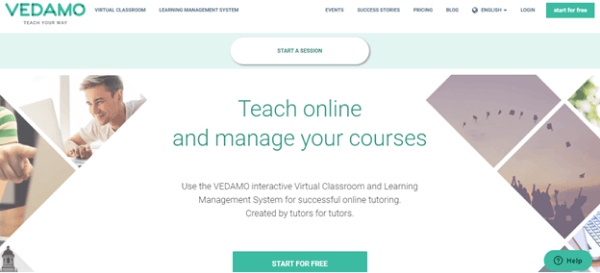 Price: USD5-3/month
Features: Interactive archives, Custom branding, Guest users, Published courses, Quizzes and tests, Messaging system, Notifications, and more
VILT Software #9 – DelphianLogic
As a VILT software, DelphianLogic provides learning solutions that help course moderators and presenters to train learners and customize their presentations to fit the profiles of their target audiences. The content offerings are carefully curated to focus on flow, structure, relevance, and context. Like other elearning authoring tools, this software also comes with a visual design template library that is handy to content creators, plus it is backed by a capable authoring tool that allows for reliable content maintenance. If this elearning software had a quiz maker to keep track of learners' progress, that would make it a great deal.
Price: Contact for quote
Features: Bespoke Solutions, Proven Instructional Design Models, Expertly-Crafted Content, Powerful Visual Design Strategy, Exhaustive Template Library, Fitting Authoring Tools, Sleek Content Deployment, Customisation, Localization and Translation, Reliable Content Maintenance
VILT Software #10 – JAG Learning
JAG Learning provides a service that pairs well with other VILT software. They develop project plans that incorporate milestones and schedules as well as the content element of the course. The team at JAG usually works on developing course prototypes (first module), so kinks can be worked out by all stakeholders before the course is completed. This is a less expensive and efficient way to have a desirable product at the end of production. If you are a course presenter that uses storyboards, then this training platform is a good one to look into. This service is one that takes on the bulk of the course creation responsibilities, which may not necessarily be a good thing for everyone.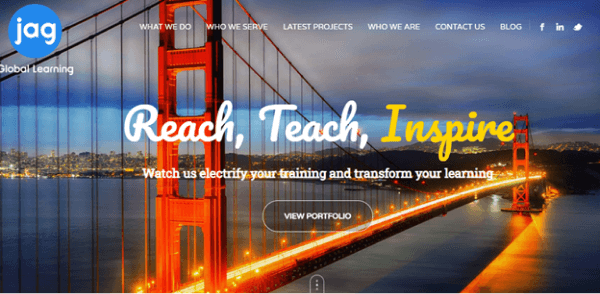 Price: Contact for pricing
Features: Customized training, Project Kick-Off, Create Course Prototype, Develop Storyboards, Develop Alpha Courseware, Develop Beta Courseware, Prepare Final Online Course, Course Evaluation