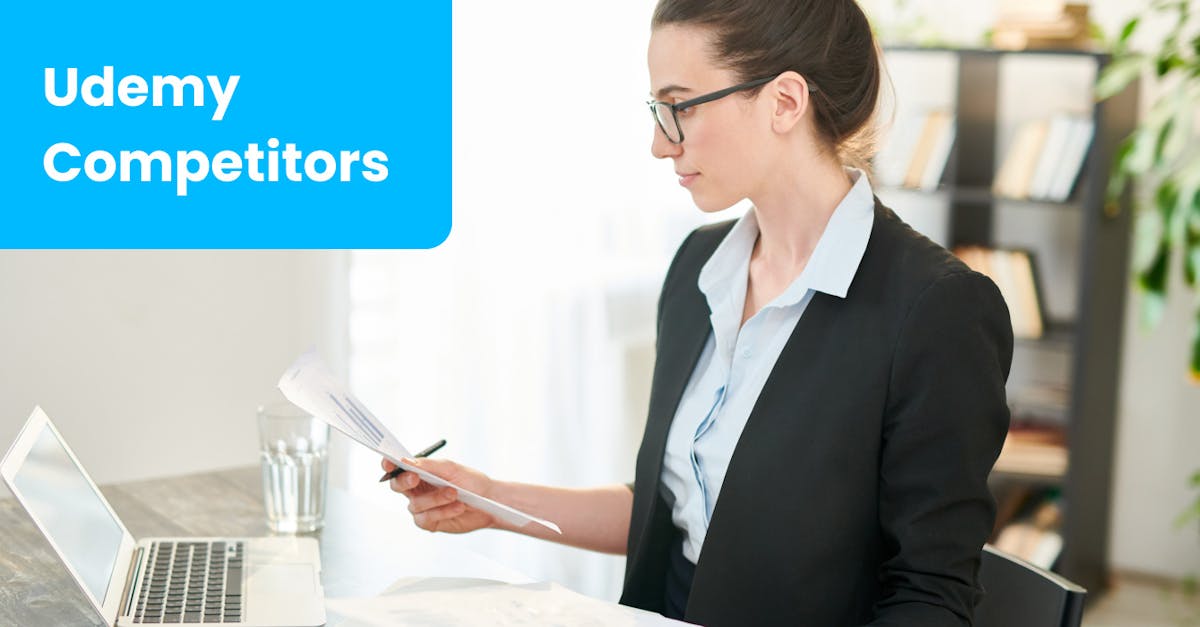 Udemy is a well-known elearning platform that helps you upskill and gain new expertise. But, compared to other elearning platforms out there, it does have some limitations when it comes to implementing employee training processes. Don't worry though, we've got your back with this list of easily adaptable Udemy competitors that you can choose from.
Udemy Competitor #1 – EdApp
As one of the top Udemy competitors, EdApp is designed to help you build, manage, and deploy training courses for your teams all from one platform. With its multiple adaptive features, you can streamline your training programs more easily, and you won't even need a Udemy membership anymore!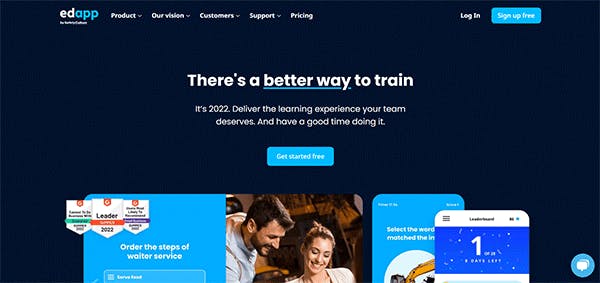 One of the best things about EdApp is that it's user-friendly, so anyone, no matter their level of expertise, can create engaging course content with just a few simple drag-and-drop gestures. It's also SCORM-compliant, which is perfect if you're looking to create courses that are compatible with a wide range of elearning platforms. 
And if you're a global organization, you'll be pleased to know that EdApp also offers a built-in AI translation tool, making it easy to deploy courseware in multiple languages.
With over 50 pre-built elearning templates to choose from, you can easily get started with creating your course. You can even import a course directly from EdApp's Course Library and customize it to suit your team's learning goals and training challenges. The courses available on EdApp cover a wide range of topics, including data analytics, electrician courses, business management, compliance training, and so much more.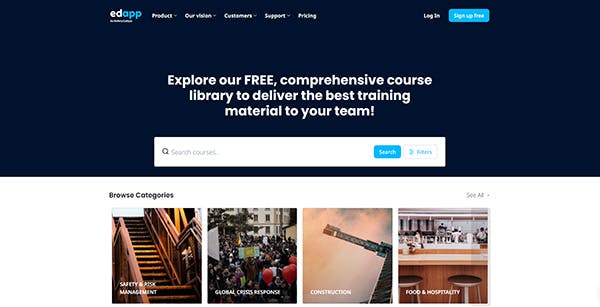 If you want to spice up your lessons and make them more engaging, you can try incorporating EdApp's gamification features like Leaderboards and Real Rewards. You can also encourage more collaboration with social learning features such as Discussions and forums to keep your learners motivated and interested.
And if you already have training materials in PowerPoint, you're in luck! EdApp's PowerPoint Converter feature lets you easily transform your slides into microlearning courses with just a few clicks. It's a fantastic way to make your existing materials more interactive and accessible to your team.
EdApp's Reporting and Analytics dashboard is another great feature that lets you keep track of your employees' progress, including completion rates, assessment results, and overall performance. By analyzing this data, you can identify knowledge and skill gaps among your team members and address them in a timely manner.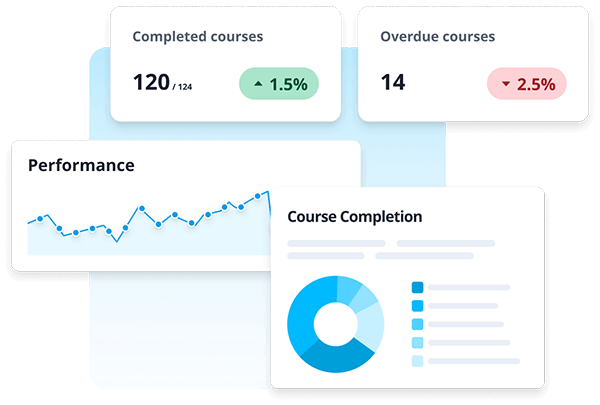 Cost: Free

Highlights: SCORM-compliant creator tool, templates, course library, PowerPoint conversion, AI translation, leaderboards, rewards, and actionable reports
Try EdApp at no cost and take your training programs to the next level with the best Udemy competitor!
Udemy Competitor #2 – Coursera
Coursera is a well-known Udemy competitor that offers a vast library of online courses, mostly hosted by industry experts and the best university professors from around the world. These courses are divided into more than 180 subjects related to social sciences, information technology, business, marketing, personal development, and more. Because of the platform's well-designed user interface, learners can easily navigate through different content categories and search for courses that best suit their needs. Lessons are discussed through online video lectures that learners can take at their own pace. Some of the courses even come with self-paced quizzes and hands-on projects, allowing students to engage with and retain information more effectively. For those who want to earn a completion certificate, you will have to pay a fee, which can range from 9 to 9 USD.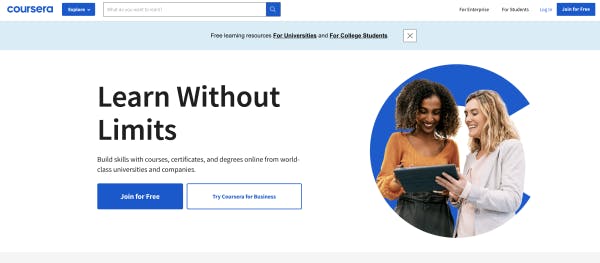 Cost: Free; 9 to 9 USD for courses with certificates

Highlights: Easy to navigate UI, wide selection of content categories, online video lectures, self-paced quizzes, hand-on projects, completion certificates
Udemy Competitor #3 – Skillshare
Skillshare is another Udemy competitor built to make online learning more accessible and engaging for your learners. Here, you'll find hundreds of video courses that talk about a wide assortment of topics, including marketing, entrepreneurship, photography, illustration, web development, and so much more. These self-paced classes are facilitated by experienced professionals from different industries and can be accessed on any device as long as you have an internet connection. But for premium members, there's an option for offline viewing option available for premium members. If you're thinking of using Skillshare to train your team, it's important to note that the platform only allows trainers to upload videos, and it doesn't come with any editing or content management capabilities.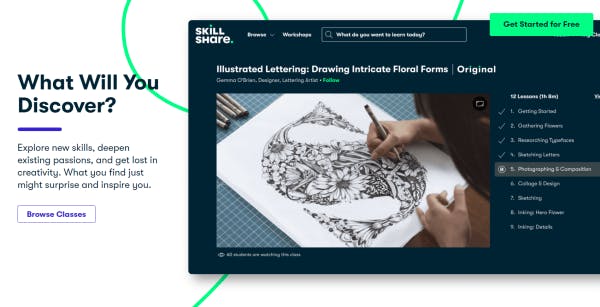 Cost: Starts at 68 USD per user per year

Highlights: Self-paced online video courses, desktop and mobile accessibility, video library, offline downloads
Udemy Competitor #4 – edX
As a Udemy competitor, edX offers over 3000 online courses developed by over 160 member universities and partner companies from all over the globe. Some of these institutions include Harvard, MIT, University of Oxford, Kyoto University, as well as big names like Google, IBM, and Microsoft. All courses are delivered in video format, which learners can take at their own convenience. There's also a download option that allows them to stream their classes anytime and anywhere, whether they're taking a lunch break or commuting to and from work. One of edX's training benefits is that each lesson can support up to 11 languages, making them more accessible for learners from other countries. On the other hand, a notable downside of this online course platform is that it has no authoring or customization capabilities.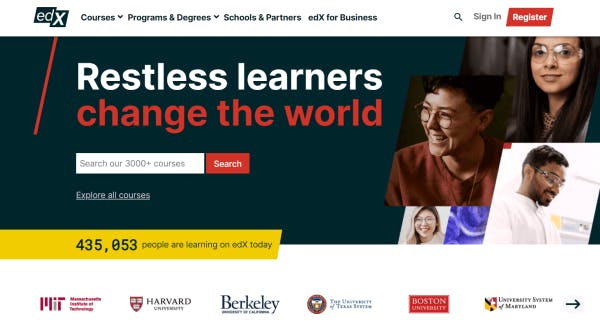 Cost: Free 

Highlights: 3000+ online courses, self-paced learning, offline streaming, supports 11 languages
Udemy Competitor #5 – FutureLearn
Designed as an online course platform, FutureLearn can help learners develop new skills and expertise with ease. This Udemy competitor has more than 2,000 unique programs that deal with a variety of subjects, including healthcare and medicine, business and management, creative arts and media, and so many more. Similar to Coursera and edX, these courses are also prepared by world-class universities and industry experts and delivered through self-paced online videos, articles, discussions, even quizzes, and other activities. But what makes this platform stand out from its competitors' training is that it offers unique microdentials and programs focused on providing in-depth courses in specialized fields. These are backed by independent certificate management software, some even with academic credit that they can use to earn a professional degree.

Cost: Free and paid plans 

Highlights: Self-paced video courses developed by leading experts and educational institutions, microdentials and programs
Udemy Competitor #6 – WizIQ
WizIQ provides you with an all-in-one learning management system that you can use to set up and manage your employees' training courses with ease. This Udemy competitor also supports multimodal learning, giving learners the option to use real-time audio, video, or textual communication. Through its virtual classroom and HD video conferencing features, learners can join webinars, participate in synchronous online classes, and collaborate with their peers on group assignments. To further boost engagement, you can also give learners access to interactive whiteboards, polls, and even quizzes. Accessible on both desktop and mobile devices, WizIQ makes it easy for you to design, customize, and deploy your training materials through their user-friendly course builder. All you have to do is set up your learning portal, upload your learning content, and you're good to go.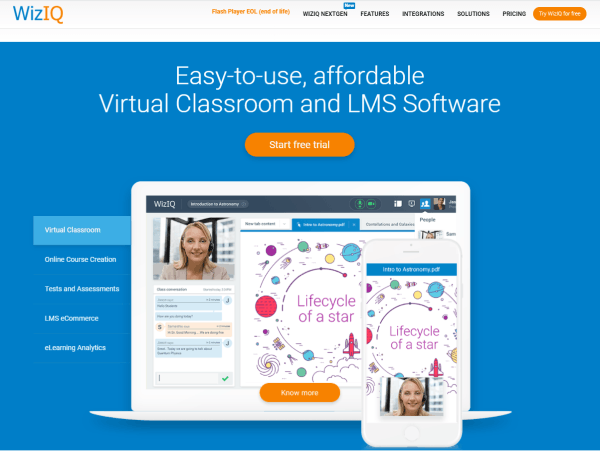 Cost: Starts at 5 USD per month

Highlights: Virtual classroom, customizable learning portal, mobile app
Udemy Competitor #7 – Khan Academy
Khan Academy is another Udemy competitor and interactive elearning tool that houses over 4,000 expert-made courses from all sorts of disciplines, including computer science, math, arts and humanities, reading and language, and economics. This platform offers a diverse range of educational materials, ranging from elementary school subjects to college and professional-level courses. All you have to do is choose one to tailor your training. It's important to highlight that each course already includes assessments, practice activities, and supplementary handouts. Learners also have access to a personalized learning dashboard that allows them to see their overall progress and how close they are to hitting their learning goals.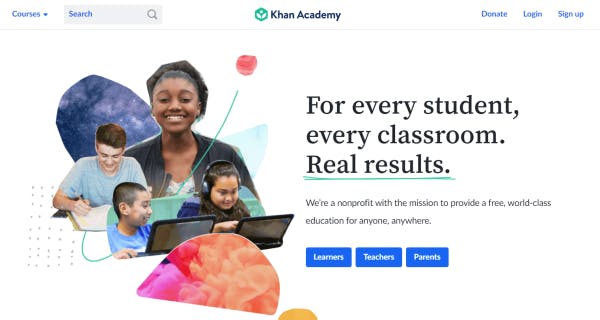 Cost: Free

Highlights: Course library, personalized learning dashboard, course assessments, practice exercises, and supplementary documents 
Udemy Competitor #8 – MasterClass
As a Udemy competitor, MasterClass gives learners easy access to more than 100 online classes hosted by well-known experts and acclaimed celebrities. With their variety of courses, learners can learn how to cook restaurant-grade dishes directly from Gordon Ramsay, build a brand with Diane von Furstenberg, develop their own fashion style with Marc Jacobs, and many more. Each course includes 15 to 20 well-produced and engaging videos that are mostly 10 minutes long. Supporting a self-paced learning experience, your learners can take and complete them anytime their schedule allows. They can also download the app on their phone and view the courses on the go.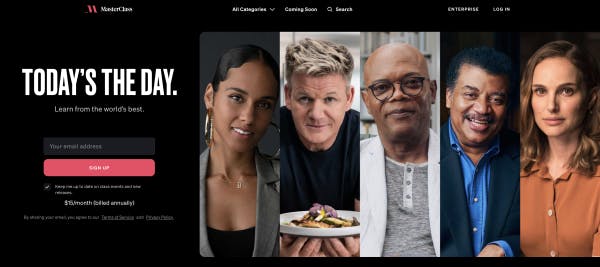 One disadvantage of this platform, however, is that their course catalog is scarce and limited since they only invite the world's best to discuss their topics. Plus, most courses target those at the beginner level, which is not suitable for training experienced employees.
Cost: 5 USD per month

Highlights: 100+ online classes hosted by acclaimed and well-known experts and celebrities, self-paced learning, mobile device accessibility
Udemy Competitor #9 – Degreed
Degreed is the perfect learning development tool and  LMS software that can help you run both small and large-scale employee training programs with ease. Before you begin training your team, you can access the tool's real-time analytics data and determine whether your employees need upskilling or reskilling. After this process, you can then start creating custom content pathways for each employee to help them become more proficient in skills that they used to lack. You can even integrate additional learning materials that your workforce needs to grow, including videos, podcasts, news, and blog articles. To help learners feel more motivated as they try to learn new skills, certificates are available after each course completion.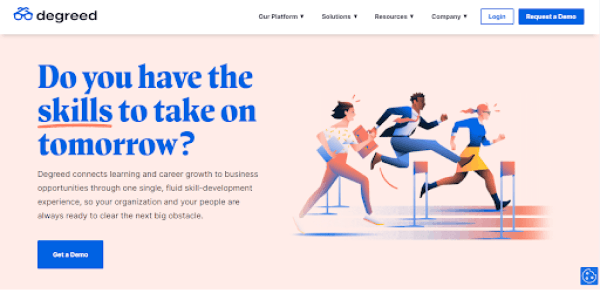 Udemy Competitor #10 – Teachable
Unlike other Udemy competitors, Teachable boasts over 100,000 course creators using their platform for both educational and business purposes. Even without web design knowledge or course management expertise, users can create, manage, and sell online courses all within one platform. Some of its easy-to-use features include a course builder, dashboards, user profiles, blog pages, and course pages. Content creators can also take advantage of Teachable's custom domains to link to their existing websites. To boost learner engagement, you can even add quizzes and course completion certificates at the end of each course. But while the platform offers a free trial, you will need to upgrade to a paid plan to gain full access to all of its features.
Cost: Free; Paid plans start at 9 USD per month

Highlights: Course builder, comprehensive dashboards, custom domain, quizzes, course completion certificates
Udemy Competitor #11 - Kajabi
Kajabi is another Udemy competitor that you can check out to help you develop polished courses or sell to other interested trainers. And if you're looking to offer more exclusive content to your target audience, Kajabi allows you to create membership sites as well. The best part? You don't need to worry about coding or programming because all the tech issues are covered by Kajabi, so you can focus on growing your business instead.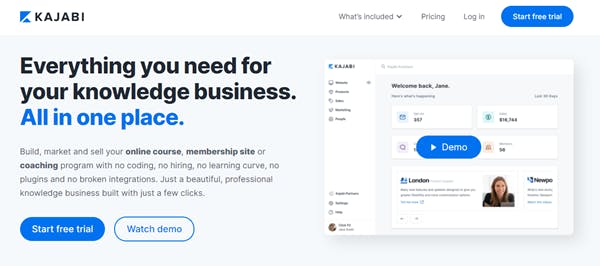 And if you're new to the world of online training and entrepreneurship, Kajabi has got you covered too! It hosts its very own Kajabi University, where you can find a range of training courses to help you get started. Although these courses are primarily intended for digital entrepreneurs, they can be helpful for anyone looking to learn more about creating and selling online courses.
Cost: 109 USD per month

Highlights: Custom registration, self-paced content sharing, online conferencing, detailed reporting