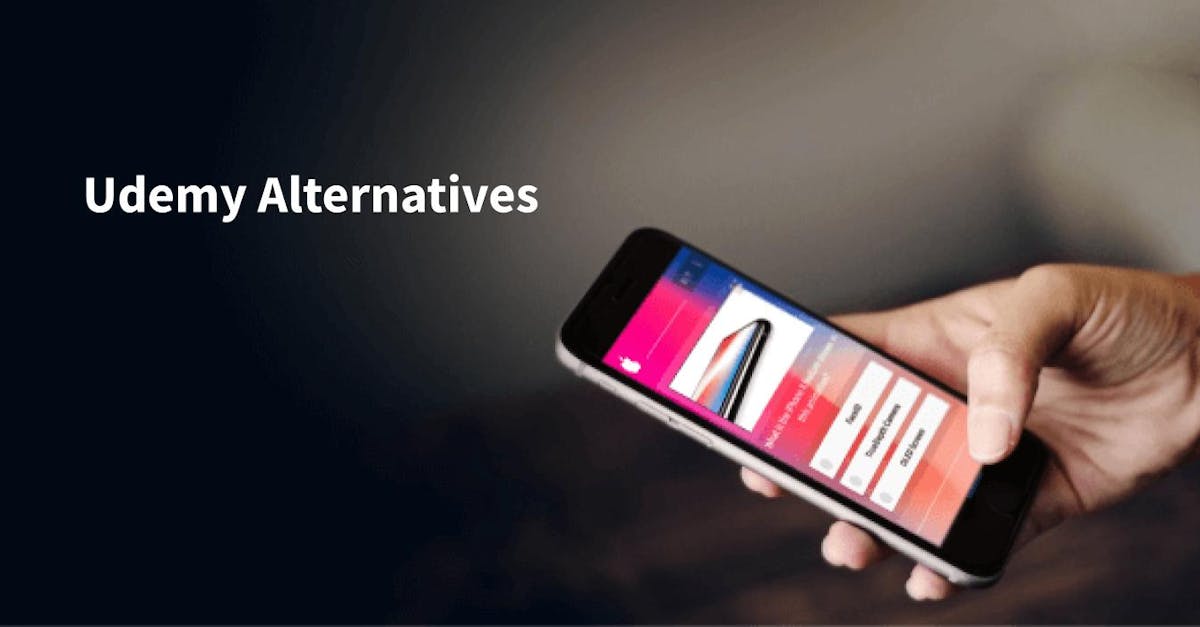 We've listed our recommended Udemy alternatives so you can explore more eLearning approaches or formats other than Udemy's long, video-based courses. Check out these 10 Udemy alternatives and see which platform best meets your learning style and needs. 
Udemy Alternative #1 – EdApp
EdApp is an all-in-one mobile learning solution that also serves as a great Udemy alternative with its vast course offerings and engagement features. To upgrade your skills, you can look into EdApp's growing course library which already consists of over 1000+ free online courses available. Whether you need HR management training courses for your HR team, digital marketing training for your marketing team, or food protection training courses for your restaurant crew, you'll surely find something relevant in this platform. You can also edit courses using their intuitive authoring tool.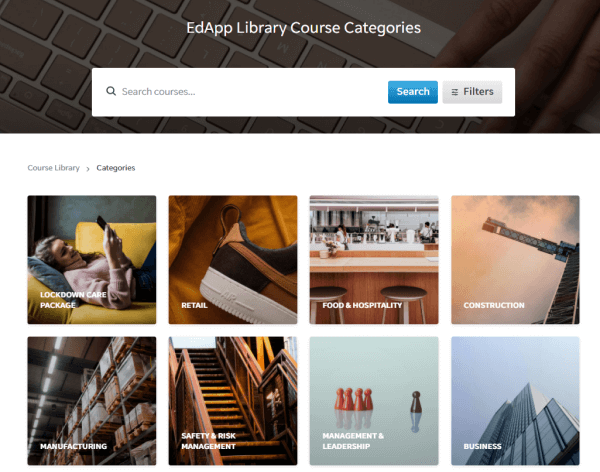 Instead of simply absorbing information by watching videos or reading digital learning materials, EdApp ensures that your corporate learning experience is engaging. Unlike Udemy which offers video-based elearning courses, EdApp develops its learning courses for improved retention and convenience through a gamified microlearning format. With microlearning and gamification combined, information is presented in short-form lessons that incorporate gaming elements so that you are actively engaged in the whole learning process. As lessons are in compact form, they can be completed in just a couple of minutes instead of dreadful extended hours at your desk. Learning doesn't have to feel like a chore or another mundane task. This allows the trainers to deliver fun and interactive online training.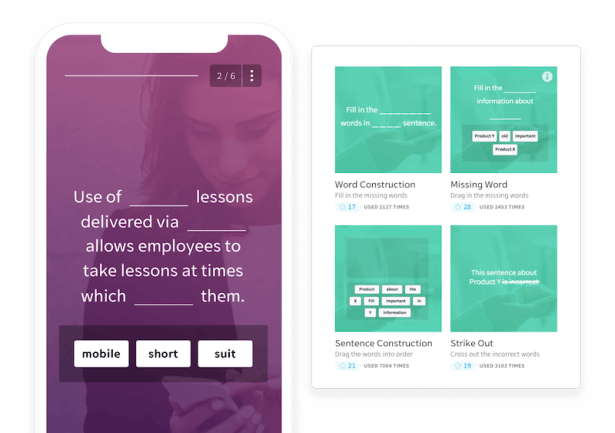 And the more exciting part? EdApp's courses are optimized for a m learning environment. This means that smartphone features, including push notifications, are incorporated into your training, instead of only making lessons accessible on any device such as your mobile phone. This way, learning with EdApp's interactive courses feels like you're only playing smartphone games while also improving your knowledge retention. 
If you are a training manager looking for a specific course to deploy to your team but can't find it in Udemy, you can try EdApp's Content Plus offering. With this service, our expert instructional designers will transform your training materials into engaging, gamified microlearning courses for you!
Key features:
Cost: Free
Sign Up for Free and use EdApp as a Udemy alternative for free–forever!
Udemy Alternative #2 – Khan Academy
Khan Academy is another Udemy alternative learning software that houses over 4,000 expert-made courses from all sorts of disciplines, including computer science, math, arts and humanities, reading and language, and economics. This online learning platform offers a diverse range of educational materials, ranging from elementary school subjects to college and professional-level courses. All you have to do is choose one to tailor your training. Other features include assessments, assignments, practice activities, and supplementary handouts.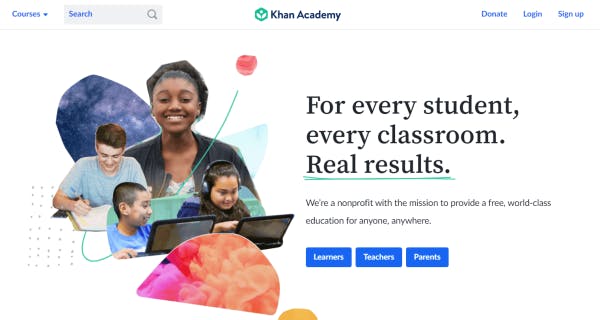 Key features:
Cost: Free
Udemy Alternative #3 – ProProfs
Similar to other Udemy alternatives on this list, Proprofs provides you with a vast library of pre-made courses on important topics like compliance, sales, leadership, and customer service training, all of which you can easily deploy to your teams. For seamless collaboration and knowledge sharing among your colleagues, Proprofs also provides additional features like a learning community, virtual classrooms, discussion forums, and a centralized knowledge base for FAQs, how-to manuals, and other training materials.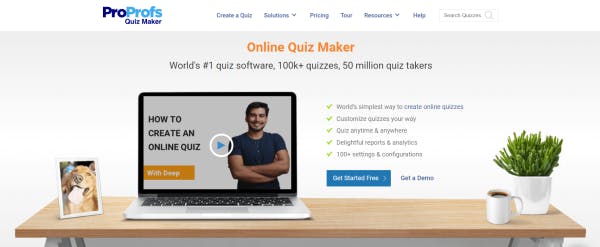 Key features:
Course library

Learning community

Virtual classrooms

Discussion forums

Knowledge base
Cost: Paid
Udemy Alternative #4 – GoSkills
GoSkills is a course management system that specializes in corporate skills training. Here, you can learn in-demand skills such as project management, design, and data analysis from their course library. These courses are delivered through video tutorials and also include quizzes, exercise files, and reference guides. They are also accessible via self-paced mobile learning so you can learn on the go.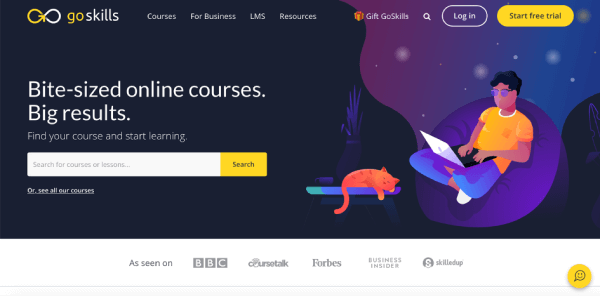 Key features:
Cost: Free trial and paid
Udemy Alternative #5 – FutureLearn
FutureLearn is an online learning platform that can help you develop new skills and expertise with ease. This Udemy alternative has more than 2,000 unique learning programs that deal with a variety of subjects, including healthcare and medicine, business and management, creative arts and media, and so many more. These courses are also prepared by world-class universities and elearning development industry experts and delivered through self-paced online videos, articles, discussions, even quizzes, and other activities. But what makes this learning technology platform stand out from its competitors is that it offers unique programs focused on providing in-depth courses in specialized fields, perfect for blended learning. These are backed by independent certification management software, some even with academic credit that they can use to earn a professional degree.

Key features:
Cost: Free and paid 
Udemy Alternative #6 – Skillshare
Skillshare is another Udemy alternative built to make online learning more accessible and engaging for your learners. In this platform, you'll find hundreds of video courses that talk about a wide assortment of topics, including marketing, entrepreneurship, photography, illustration, web development, and so much more. These self-paced classes are facilitated by experienced professionals from different industries and can be accessed on any device as long as you have an internet connection. There's also an option for offline viewing option available for premium members.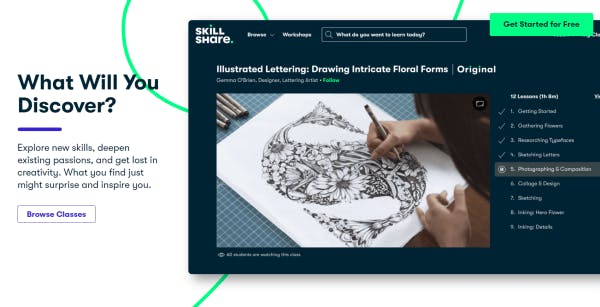 Key features:
Self-paced online video courses

Desktop and mobile accessibility

Video library

Offline downloads
Cost: Starts at 68 USD per user per year
Udemy Alternative #7 – Upside LMS
UpsideLMS is an AI learning management systems designed to help businesses upskill their workers, centralize learning resources, and ensure their employees comply with company standards. It provides a comprehensive online library of over 80,000 ready-to-use microlearning courses and videos, giving your learners quick access to high-quality learning resources. It also includes a multilingual support feature that is perfect for organizations that have multiple offices across the globe. You can also use this platform on the go through UpsideLMS' mobile app.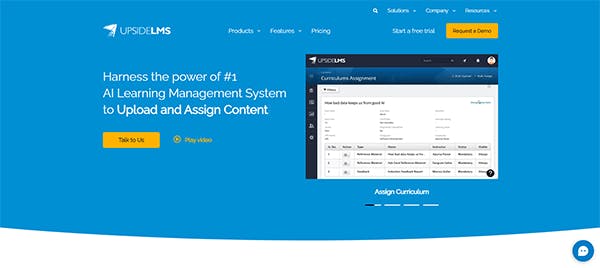 Key features:
Cost: Price upon request
Udemy Alternative #8 – Academy LMS
Academy LMS' unique feature is the course portal, which allows you to browse from a library of courses, save your favorites to a wishlist, and buy courses. You can even give a rating and post reviews for any of the courses you purchase. All you have to do is download the Academy LMS app to access their learning content anytime and anywhere. What's awesome about this tool is that you only have to pay for it one time. No need for monthly or yearly recurring payments. Courses specifically created by a training manager can even be created in various content formats like PDF, DOC, or image files.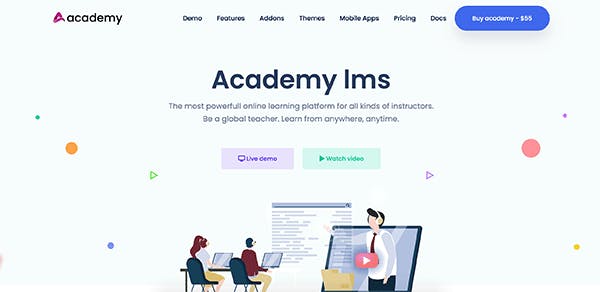 Key features:
Course portal

Various content formats
Cost: 5 USD regular license, 50 USD extended license 
Udemy Alternative #9 – edX
Like Udemy, edX offers a course library covering a wide range of topics in job-relevant subject areas like computer science, engineering, business, and many more. Here, you'll find high-quality, in-demand courses from universities and partner companies like Harvard, MIT, Berkeley, Google, and Microsoft. To check your knowledge and understanding, you can take the competency assessment after completing your course. While the courses are available for free, certifications are only available for purchase.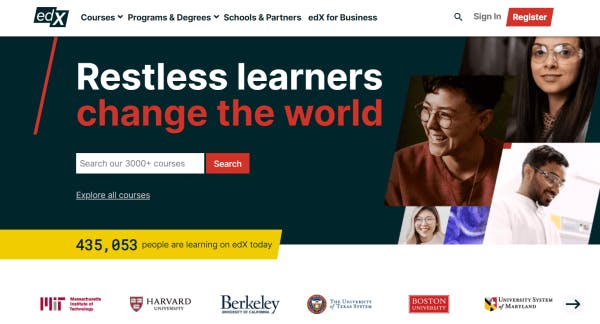 Key features:
Courses library

Assessments

Certification
Cost: Free and paid 
Udemy Alternative #10 – MasterClass
MasterClass is an eLearning platform that delivers courses in video format with around a 10-minute length for each lesson. Their courses are catered to any skill whether you're looking for lessons on leadership, cooking, communication, to name a few. What's even more interesting is that these learning content are hosted by well-known experts and acclaimed celebrities. These video lessons are also made for self-paced learning so you can watch them at your own convenience. The downside, however, is that their course catalog is scarce and limited since they only invite the world's best to discuss various topics. Plus, most of their courses are targeted at beginners which may not be as helpful if you're an experienced professional.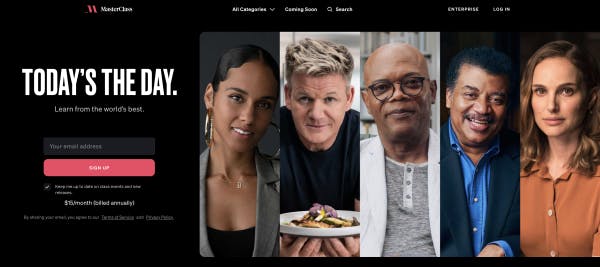 Key features:
100+ online classes hosted by acclaimed and well-known experts and celebrities,

Self-paced learning

Mobile device accessibility
Cost: 5 USD per month