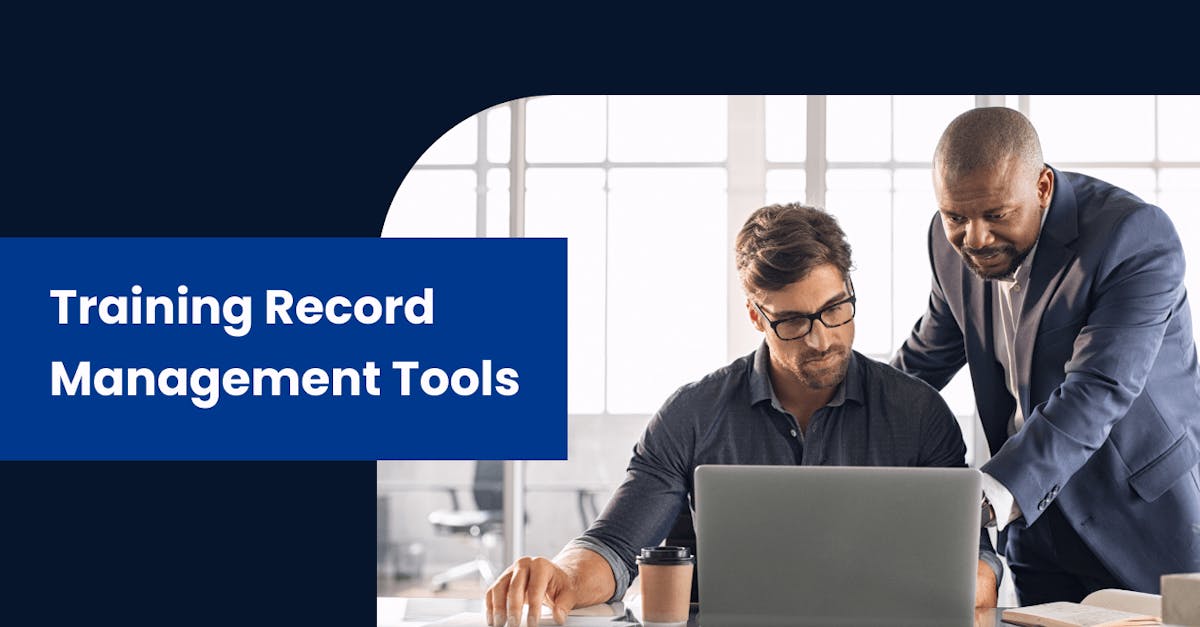 10 Training Record Management Tools
How do you make sure that training is successful when you manage a large workforce with constantly shifting learning requirements? With training record management tools, of course. In this article, we explore the top training record management tools that can help you meet your training management requirements.
Training Record Management Tool # 1 – EdApp
EdApp is a training record management tool worth considering if you're searching for an easy-to-learn and easy-to-use platform. It's a device-friendly microlearning tool with the latest cloud-based features that can help you create training materials for your learners. With its beginner-friendly authoring tool and elearning content templates, this distance learning system allows instructors and managers to quickly develop interactive course material.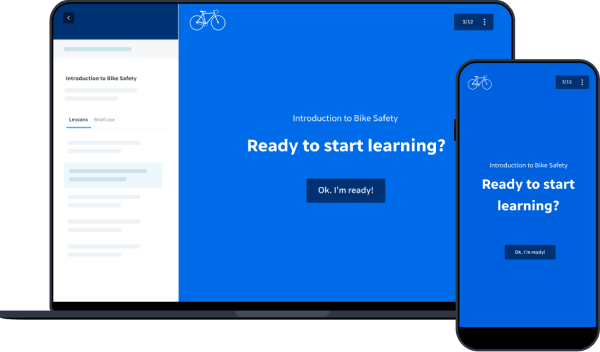 Take advantage of EdApp's massive course library full of high-quality training courses that you can quickly adapt and deliver to your staff through the platform. It's ideal for training managers who don't have the time to create courses from scratch. All courses are meticulously crafted and frequently updated by EdApp's expert instructional designers and organizational partners. These courses include task management training courses
Scrap the bulky spreadsheets and manual record-keeping. EdApp's analytics dashboard will automatically collect all data created by your quizzes, surveys, polls, and courses. These insights help you keep track of who has finished their training, who has successfully acquired the necessary skills, and who has yet to begin their training. You can also use these insights to see where to adjust or improve your training programs to create better learning experiences.
Cost: Free
Features:
Cloud-based features

Authoring tool

Microlearning format

Course templates

Course library

Analytics
Create better training programs by signing up for EdApp today.
Training Record Management Tool # 2 – Proprofs
Proprofs is a training record management tool that can be used to deliver assessments and record the skill levels of your workforce. There are over 100,000 ready-to-use questions and templates for making online exams, so you don't have to start from zero. Aside from that, you can take advantage of its authoring tool to create elearning courses that you can use to train  your workers and enhance their abilities.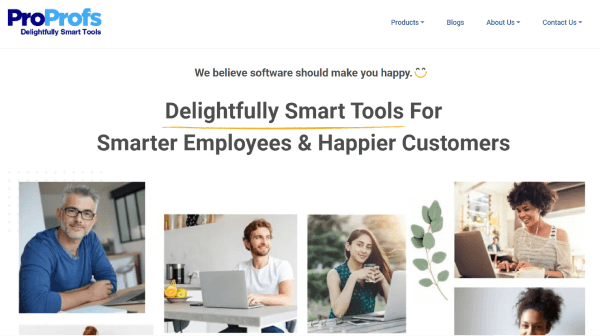 After you've created and distributed your tests and courses around, you can check the statistics and analytics to evaluate your team. This workforce management tool reduces the time needed when conducting performance reviews, which is great for managers with busy schedules.
Cost: USD 0
Features:
Editable skill assessments

Skill improvement courses

Real-time reports

Analytics
Training Record Management Tool # 3 – Zoho Showtime
Zoho Showtime is a training record management tool that helps you better run and manage your workforce training and development programs. You can use this platform to give your employees self-paced courses while facilitating collaborative training through peer engagement. It has an Admin Console for managers to track campaigns, edit forms, and assign courses. You can also add information such as videos and recordings so that workers can learn at any time.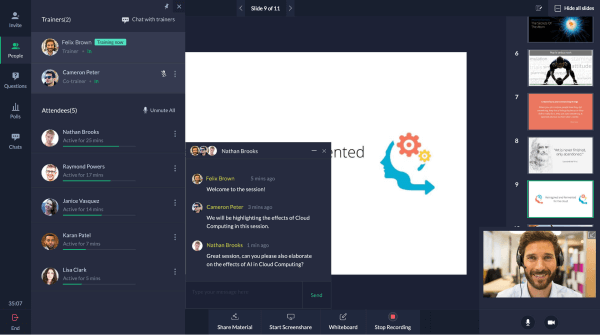 If you want to incorporate synchronous online learning sessions, one fantastic feature of this platform that you should use is its virtual classroom. Using this feature, you can use extra tools like whiteboards, polls, and in-app chat to discuss insights and share knowledge with other learners.
Cost: USD 8/user/month
Features:
Admin console

Whiteboards

Virtual classroom

In-app messaging, polls
Training Record Management Tool # 4 – Training Tracker
Training Tracker will undoubtedly help anyone who wishes to measure their workers' skill development and learning progress as a result of their training programs. This training record management tool keeps every training record, including skill sets, compliance, and credentials, eliminating any gaps and compliance difficulties.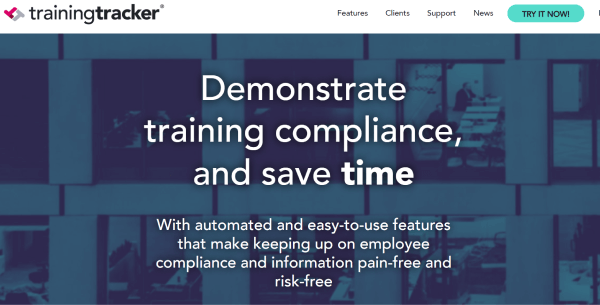 You can also use this program to automatically assign training courses to underperformers and those in need of more training, in general. Real-time reports are also provided, eliminating the need to follow your employees' skill progression using bulky spreadsheets.
Cost: USD 29.00–9.00 per month
Features:
Skill and qualification record storage

Automated training assignments

Automated reports
Training Record Management Tool # 5 – Nuclino
Nuclino is a flexible and user-friendly training record management tool that allows you to interact with teams, manage projects, and exchange internal corporate information in the organization  Using kanban boards and mind maps, you can quickly conceptualize campaigns and assign duties. Several users can also simultaneously work on projects and change material in real time with the drag-and-drop tool. You can also combine tools like Slack, Figma, Miro, Dropbox, and Loom to make your workflow more efficient.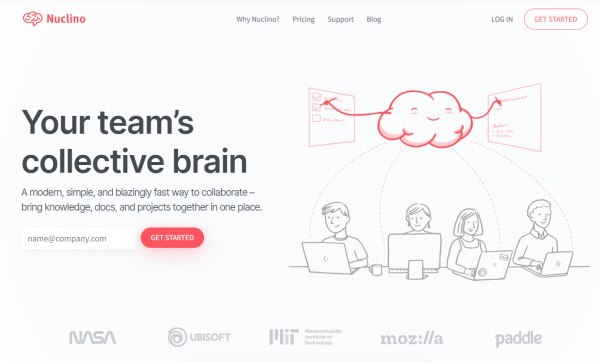 The free edition of Nuclino has a course limit, which is why you'll only be able to create a basic knowledge base. You'll need to switch to their subscription plan if you want more features and limitless material, which runs at 5 USD per month per user.
Cost: USD 5/user/month
Features:
Real-time editing

Kanban board

Mind maps

App integrations

Drag and drop editor
Training Record Management Tool # 6 – Flowlu
Flowlu is a training record management tool that helps you organize activities, discuss projects, exchange information, and manage customer contact procedures all in one place. Organizations can also use this software to create customer support portals where their customers can easily get answers to FAQs. Their user-friendly knowledge hub makes data management simple for both technical and non-technical users. 
It's also ideal for team collaboration and project management since it includes tools for debate and cooperation such as messenger, comments, mentions, rapid alerts, and project chat. Flowlu helps organizations to create a simplified work and training experience for everyone by integrating all of these features.
Cost: USD 29/month
Features:
Knowledge hub

Customer help center

Project chat

Messenger

Kanban boards
Training Record Management Tool # 7 – CoreAchieve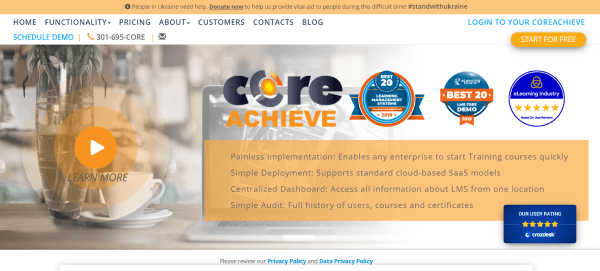 With CoreAchieve's platform, you'll be able to automate content production, compliance monitoring, and audio/video staff training. The main goals of this cloud-based LMS system are to provide professional training materials and to manage online courses. If you're looking for basic courses, such as human resource courses, you can find them quickly through filters, titles, categories, tags, and descriptions. It also makes training more enjoyable by offering points and awards to learners who reach the top of leaderboards.
Cost: USD 99 per month
Features:
Course management

Content creation

Rewards

Leaderboard 
Training Record Management Tool # 8 – Quickbase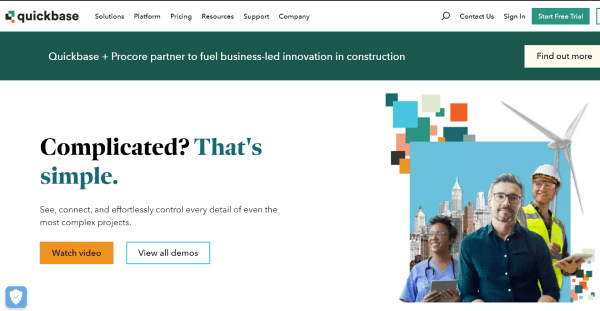 Quickbase provides a secure central platform for simply accessing and managing training records, as well as maintaining employee information. It has a customizable dashboard where you can include new programs, establish course prerequisites, and track their training progress to stay on track with your training plans. Alerts and reminders can be set up to notify your staff of any unfinished training materials or approaching deadlines, and keep them informed about scheduled training courses. Admins can also grant some permissions to workers, team leaders, and designated instructors, and determine which records they can view, access, and update.
Cost: Request upon quote
Features:
Centralized and secure location for training records

Easily customizable dashboards

Permission settings for users
Training Record Management Tool # 9 – Employee Training Manager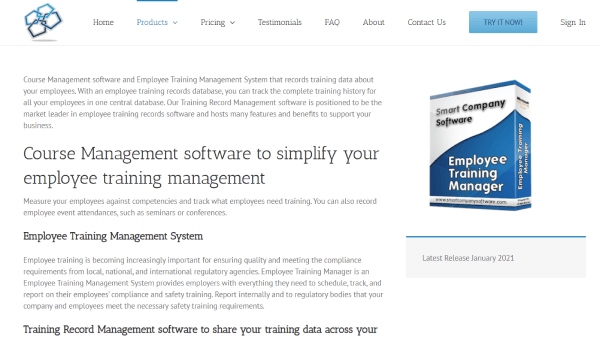 Tracking your team's whole training history is a difficult undertaking, especially for large companies. Your solution? Employee Training Manager. This training record management tool captures and maintains training data in one central database. As the industry leader in training records software, it has a number of sophisticated features that can help employers better analyze workplace proficiency and prioritize training efforts. This platform also helps guarantee that your employees satisfy the compliance training criteria established by local to worldwide regulatory organizations.
Cost: USD 99
Features:
Extensive reporting system

Powerful search engine

User-friendly interface

Centralized employee data
Training Record Management Tool # 10 – Easy Training Tracker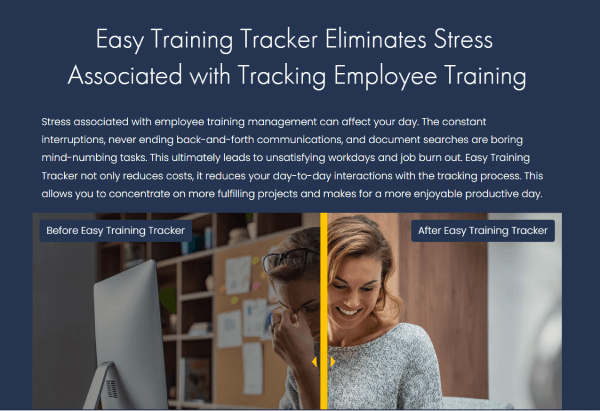 Easy Training Tracker is a simple and efficient solution for automating and simplifying your training tracking and reducing the time you'll spend with training management. There's no need to spend countless hours disrupting your staff's workflow to check on their training progress or to get bogged down in spreadsheet monitoring. You can now digitally manage the attendance of all training sessions, do post-assessments, and tell new workers about lessons that must be completed, have expired, or are about to lapse, thanks to Easy Training Tracker.
Cost: Request a quote
Features:
Cloud-based training tracking

Uniquely designed training format types

Reports

Compliance alert system
EdApp is a mobile learning management system designed for today's digital habits, delivering more engaging and effective micro-learning directly to learners anytime and anywhere.
Sign up for this training record management tool today.