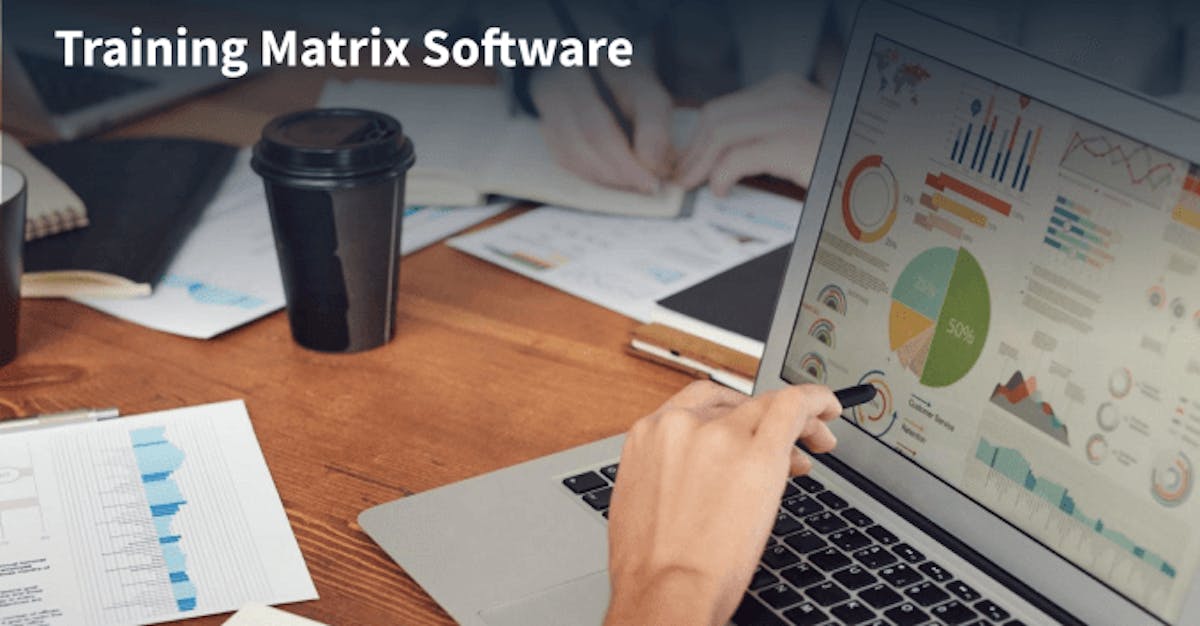 A training matrix software pinpoints what skills an individual or team needs to be effective contributors to your organization. When you create a skills matrix, you are in a position to tell where your team excels and on the flip side, you will also see where they need improvement. Take a look at the top training matrix software available.
Training Matrix Software #1 – EdApp
The EdApp platform is a training manager's dream and miracle in one power-packed LMS. With this training matrix software, you can supplement your training matrix with the courses and quizzes necessary to make your training and development endeavor successful. EdApp is mobile-first so you can do everything on the go. This means that you can prepare and distribute courses from anywhere, and not be tied to your office computer. You can also access reports on various analytics that let you know things like learner's progress, scores, and more. This platform fully supports microlearning which is the breakdown of information into bite-sized chunks, making it easier to digest.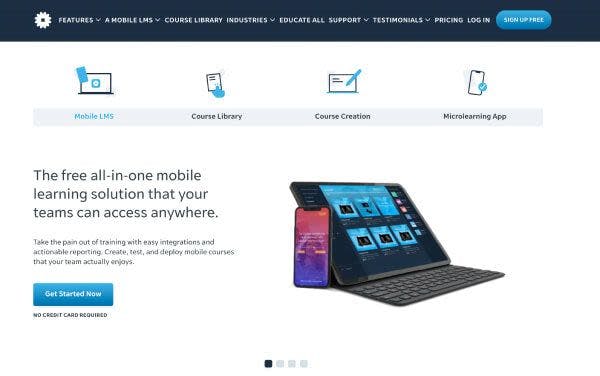 Additionally, no skills training matrix software should be complete without a way to test for understanding. EdApp has an online test maker called Rapid-Refresh that quizzes learners while allowing them to learn.
Price: Free
Features: Mobile-first, microlearning, cloud-based, quiz builder
Sign Up For Free and Start Using The Best Training Matrix Software Today!
Training Matrix Software #2 – Skills Base
Skills Base offers a cloud-based skills training matrix software that allows users such as yourself to make data-driven decisions, gather information, and report on the skills of your individual employees and teams in your company. Skills Base is currently being utilized by over 500 organizations that want to remove the time spent on spreadsheets and disconnected systems. With this software, you can turn the skills data you collect into a competency skills matrix in mere seconds to make better decisions to improve the technical and soft-skills of your team as well as their overall teamwork. With this cloud-based platform, users can create a skills and competency matrix that will enable the building of the most qualified and skilled teams. This is made possible as the software allows you to understand the skills gaps across your entire organization which will enable you to better support your customers. The Skills Base platform is GDPR-compliant and is mobile compatible. Unfortunately, the platform only offers its free services to up to 25 people and you will need to pay to use it for more.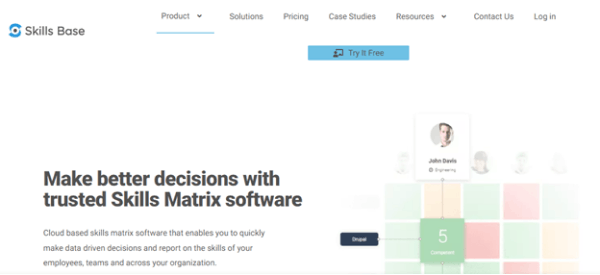 Price: Contact for pricing
Features: GDPR+ compliant, reporting, cloud-based
Training Matrix Software #3 -Think Eleven
Think Eleven offers a skills matrix software that allows trainers and supervisors to create online training and skills matrices of any size. Here, you can choose any combination of job roles or functions, skills, and people to input into your matrix. The platform also boasts of the option to create either customizable or generic skill targets for individuals and teams. Data is regularly accessible from Think Eleven and it will show you training activities and assessment information along with certification and evidence of work. The SkillStation matrix software from Think Eleven also allows access to target levels, expired or retraining dates, certification documents, and training and assessment histories. However, if you prefer to keep all your corporate training materials and skills matrices in one place, Think Eleven may not be the best choice.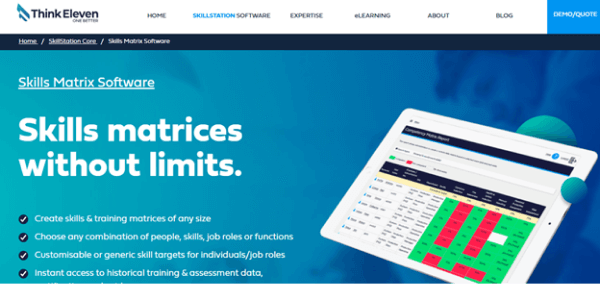 Price: Contact for quotation
Features: Unlimited matrix size, skill targets creation, certification
Training Matrix Software #4 – Kaizen Software
Kaizen Software Solutions provides a matrix software from which you can create training matrices that will help you to organize who needs to be trained on what material and when the training needs to be conducted. It has a training manager feature that you can use to plan and prepare for training without having to scramble and run around when reoccurring training needs to be done. Another great feature is that the requirements that you import are automatically updated whenever employees collaborate on projects, transfer to different groups, or take on additional responsibilities. This training matrix software also has a reporting feature that shows an overview and upcoming training after you input the time of course. With this, you will have adequate time to prepare and schedule these training tasks. One thing to note though is that the user interface of the program is a bit outdated and not that user-friendly.

Price: USD 95/95
Features: Overview, scheduling, reporting
Training Matrix Software #5 – Employee Training Manager
The Smart Company Software provides a program called Employee Training Manager to help you track and edit the training data of your employees. This training matrix software comes in two versions: the Enterprise edition which is a multi-user form and the Professional edition which only supports single users. The Enterprise edition is designed to operate on a network within your company and is accessible to everyone who needs to access your employee training database. On the other hand, the Professional edition, which is a standalone version, is designed to be operated from a single computer and will be used by the person who is responsible for checking talent development. This version is designed for smaller businesses but can be upgraded if you wish.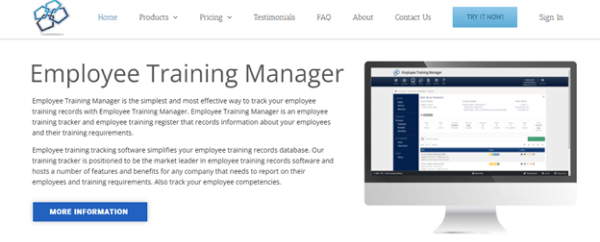 Price: Contact for pricing
Features: Single user, multi-user, training tracking
Training Matrix Software #6 – C&C Training
C&C Training is a training matrix software that will help you transform your employee training records and simplify the process of managing your organization's training routine. With C&C Training, users can quickly see scheduled training that is overdue or needs to be done right now. It also has an "at a glance feature" that allows easy visual access to training information. With this software, there is a financial advantage as you will be given the option to forecast and manage your company's budget against your training targets. For convenience, the developers placed all the training in one place for each team member so you don't have to be moving around unnecessary screens and tabs. One thing we really liked about this training matrix software is that it's color-coded for quick identification of teams members and their data.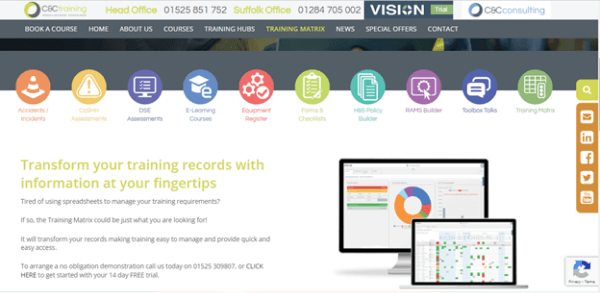 Price: Contact for pricing
Features: At a glance overview, budget forecasting, color-coded data
Training Matrix Software #7 – AG5
The AG5 training matrix software is a plug-and-play platform that has visually appealing skills matrices that are easy for users to create and share. The platform aims to keep everyone in your training management team on the same page so training can be done as effortlessly and seamlessly as possible. With this platform, you can forget the complex and cumbersome matrix spreadsheets and work from a software that does most of the work for you in the background. This software is used by over 200 organizations across the globe including Toyota, Tata, and Royal Dutch Airlines. The platform supports integrations with numerous tools such as Swipe Guide, Cornerstone, ADP, SAP, and more. Unfortunately, even though this training matrix software claims to be plug-and-play the learning curve is a bit large and it may not be best suited for a beginner training team.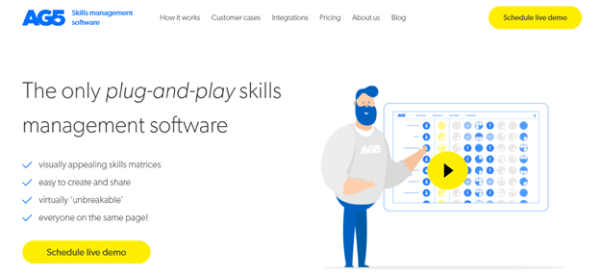 Price: Contact for pricing
Features: One-page convenience, Integrations, no-code matrix creation
Training Matrix Software #8 – BIS Safety
Like many others, BIS Safety offers a training matrix software that allows for the mapping of training requirements for automated assignments. With this platform, you can upload your company roles and training topics, set the training requirements for individuals and teams, and upload the courses they need to take. In addition to that, you can assign courses to your employees in a matter of seconds on this platform. It is not hard to use this software because it can be ready to go in just three steps: entering the company roles and topics, specifying the elearning courses that each employee needs to do, and setting the training to optional or required based on each employee's role and location. With BIS Safety Software, managers can confirm and validate employee development and level of competency in almost any task, skills training, or use of equipment.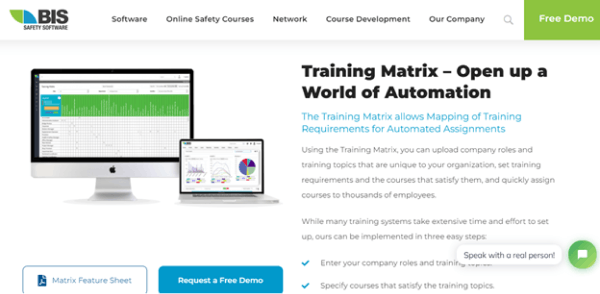 Price: Contact for quotation
Features: Import, Assign courses, Validation
Training Matrix Software #9 – HandsHQ
With HandsHQ, training managers can manage their training to create a safe and compliant workforce. With this training matrix software, you'll be sure not to miss another training expiration date. The software allows you to manage everything including compliance training records, training needs analysis, and evidence of training in one location. You can also set reminders on the platform so you can be proactive in planning your training. Reminders can be set as email notifications so you know that professional courses need to be planned ahead of schedule. Reporting is another feature that you need to have in any skills training matrix platform and with HandsHQ, you can generate reports with training information on a single document to confirm competency and evidence of staff training. When this software is fully utilized, it is a lot easier for your organization to reap training benefits, pass audits, and demonstrate compliance to your auditors and clients. However, the platform needs to be paired with others as it is not a full LMS that can be used for deploying training.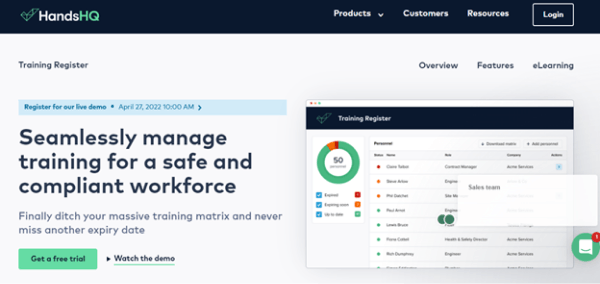 Price: Contact for a quote
Features: Reporting, notifications
Training Matrix Software #10 – Project Matrix
Project Matrix from the Configura Group is a service that provides organizations with trainers who train their employees for a fee. How it works is that the project matrix team designs training classes for all levels of users and will set up meetings with their clients beforehand to ascertain their needs and goals for the training. They generally begin their classes on general computer functions like opening a program, working with files, and understanding various screen layouts. After their trainers cover the basics, they would then move on to more advanced topics. Throughout the courses, hands-on exercises are utilized to help learners to get a better grasp of the material. As you can see, this approach to training is not the same as others on our list. The skills training matrix software is not available to the organizations to directly execute, but instead, it is executed by the team from Project Matrix. Given this, it may not be the most flexible training system and may not be suited for many organizations.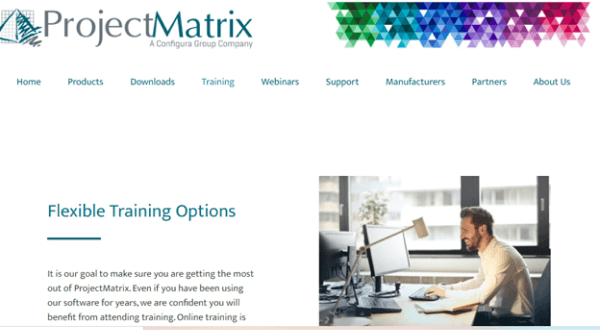 Price: Contact for pricing
Features: in-person classes, online classes, collaboration