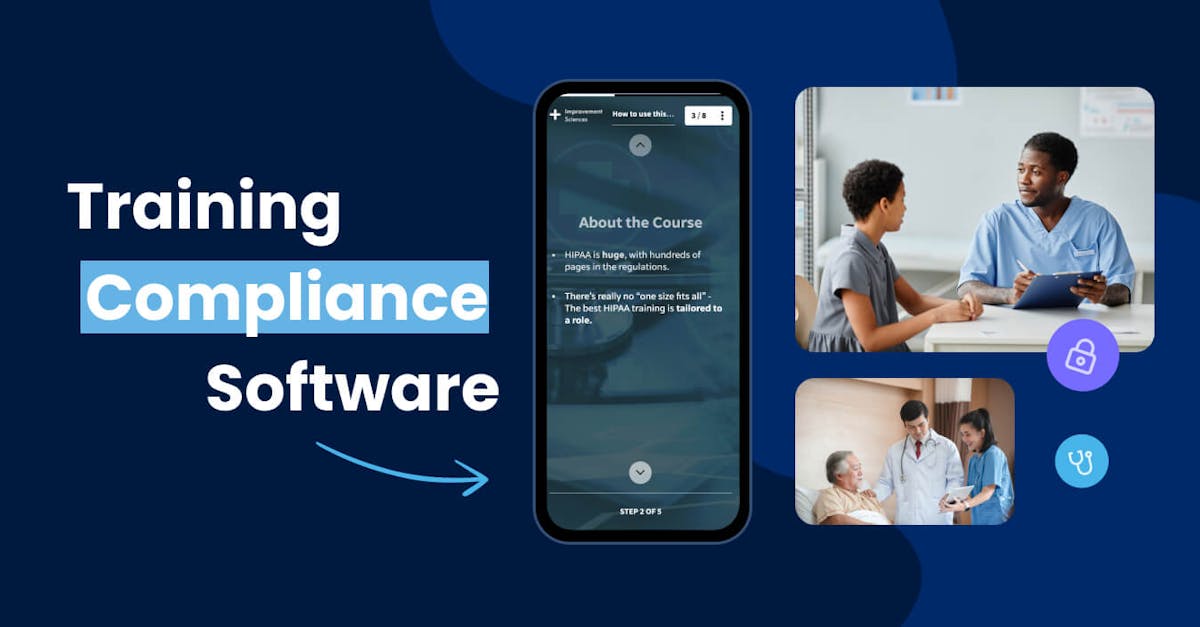 A good compliance strategy is built on having the best training compliance software. With the right tools on hand, you can design effective and engaging compliance training that secures your team's understanding of all the laws, rules, and internal policies that apply to their job. To help you choose the best one, we've listed the most recommended training compliance software on the market today. 
Compliance Training Software #1 – EdApp
EdApp is an award-winning learning management system (LMS) that has pretty much all the tools you need. Their features list includes a learning experience platform, an LMS, a course builder, a course library, third-party integrations, and a lot more. These features make it seamless for you to create and deliver engaging compliance training courses and track your team's training progress.
But what sets this training compliance software apart from its competitors is its smart and straightforward mobile learning solutions. These solutions help create training that your employees will genuinely enjoy and find particularly useful in their busy schedules.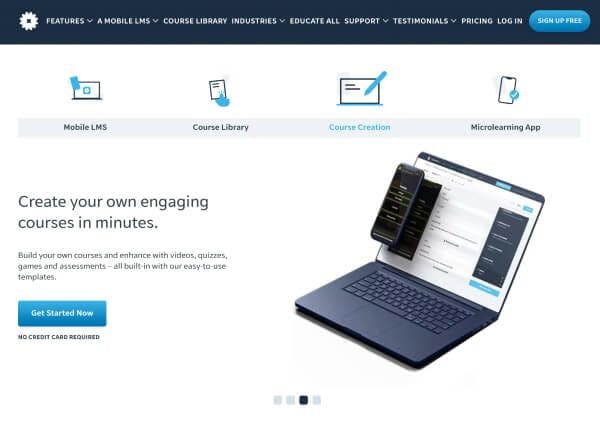 EdApp's cloud-based authoring tool is incredibly feature-rich. Its drag-and-drop templates let you build and design interactive compliance course content without any design or technical expertise. It also has a variety of interactive gamification features that can help transform your compliance training into something more fun and engaging and a little less complicated.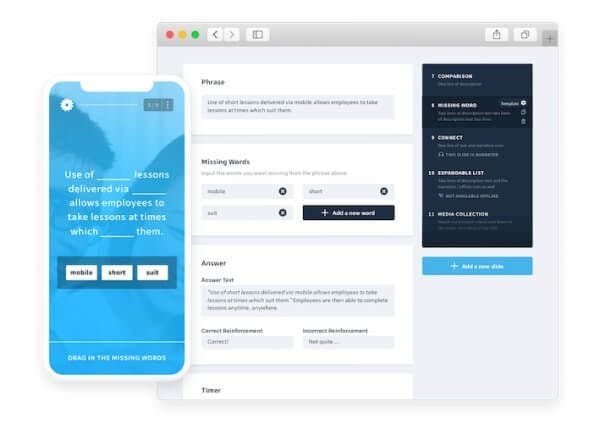 If you're short on time or don't have a lot of resources on hand, you can also browse their content library for some ready-made courses and deliver them to your learners for free. You'll find a variety of courses, like corporate compliance training courses, agile training courses, antiracism training courses, and digital marketing courses.
All EdApp-published compliance training resources are downloaded directly to your employees' smartphones, allowing them to learn at a time that suits them best and do so at their own pace. Or, you can also opt to include a custom-made course suited to your training needs at a minimal cost. With their team of expert instructional designers, you can give your teams engaging and interactive mobile courses.

This compliance training software is also built with an advanced analytics suite, which can help you track who has and hasn't completed their mandatory compliance training. Expert tip – take advantage of their push notification feature to remind those who have yet to unlock or complete their compliance courses. If needed, you can also activate it to alert them of any compliance updates and changes without the need for third-party media (such as email).
Cost: Free

Key Features: Mobile learning solutions, cloud-based authoring tool, drag-and-drop templates, interactive and gamification features, ready-made compliance training courses, advanced analytics suite, push notification
Comply with regulations by signing up for EdApp's compliance training software today.
Compliance Training Management Software #2 – Fuse
Fuse is equipped with a suite of tools that can help you curate, analyze, enrich your compliance training content, and get it running in no time. Among its expertise are digital-first capture, mobile-first content strategy, short clip and podcast development, and high-quality motion graphics design. These unique and creative learning methods are designed to augment traditional compliance training, making sure that your people will not only take and complete their training but also enjoy and actually learn from it.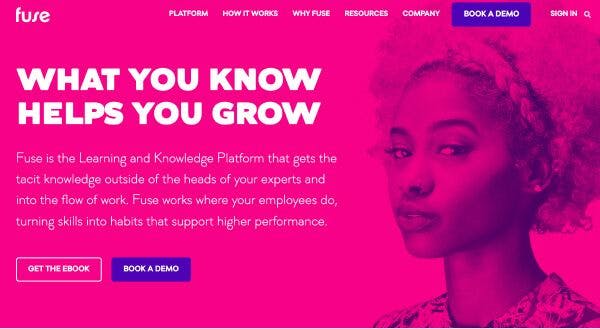 Fuse also offers a safe space where you can build and store all your compliance training resources, driving a cycle of continuous learning. This also helps ensure that your employees have easy access to their compliance needs, whenever needed. 
Cost: Pricing plans available upon request

Key Features: Digital-first capture, mobile-first content strategy, short clip or podcast development, high-quality motion graphics design, central database
Training Compliance Software #3 – iHASCO elearning
As far as the health & safety and HR compliance training is concerned, iHASCO will always be among the best training compliance software providers out there. This platform houses more than 140 video-based compliance training courses, which are accredited by regulating bodies like the Institution of Occupational Safety and Health (IOSH) and the Construction Industry Training Board (CITB). Some of their courses are warehouse safety training courses. These courses are compatible with any device, so access will never be an issue with your learners. Plus, they can be machine-translated over 25 international languages, which is perfect if you're handling a multilingual or globally dispersed workforce.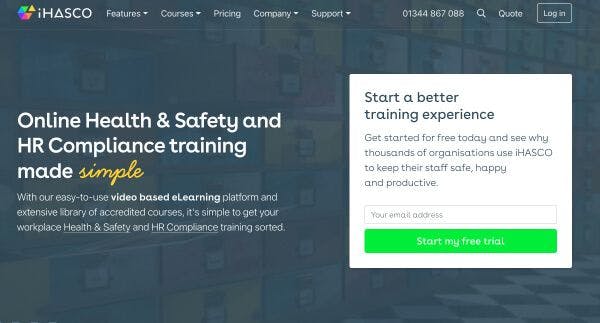 iHASCO can also give you a holistic monitoring report to check whether or not your workforce is up to their compliance requirements. This training compliance software also includes reporting tools that you can use to dive down and examine the finer aspects of your team's learning progress.
Cost: Pricing starts at £120

Key Features: 140+ video-based compliance training courses, course compatibility on any device, machine translation, monitoring report, reporting tools
Training Compliance Software #4 – MobieTrain 
MobieTrain is jam-packed with tools and features designed to boost the skills and knowledge of frontline workers. At the heart of its content authoring strategy is mobile microlearning, which they thought of as the most effective way to get frontliner workers to follow a company's compliance policies. This is primarily because this learning solution gives them the ultimate flexibility to learn at their most convenient schedule and use the device that they prefer the most. When creating your microlearning content, you can combine some of its gamification elements and retention techniques for increased learning retention. MobieTrain is also a great resource for digital marketing courses. Its mobile microlearning format makes it easy for frontliner workers to learn at their own convenience and helps improve retention rates.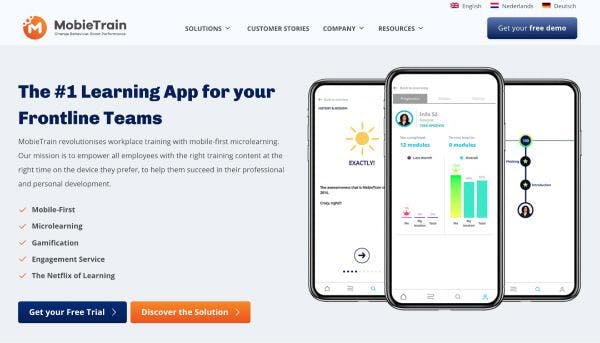 Monitoring and tracking your learners' progress is also easy with MobieTrain. Through their analytics dashboard, you'll be able to get a glance at their KPI and identify knowledge gaps quickly. Certificates can be provided for frontline workers who have completed their compliance training. 
Cost: Pricing starts at ,000 USD

Key Features: Content authoring tool, mobile microlearning solution, gamification elements, employee monitoring and tracking
Training Compliance Software #5 – Conductor
Conductor is also a worth-exploring training compliance software that is built for compliance training success. Once you're on board, you'll have all the tools needed to create, assign, and manage your compliance training. Your team's test scores, attendance, and course completion dates will be recorded, so you'll know whether or not they received the training necessary for their work function.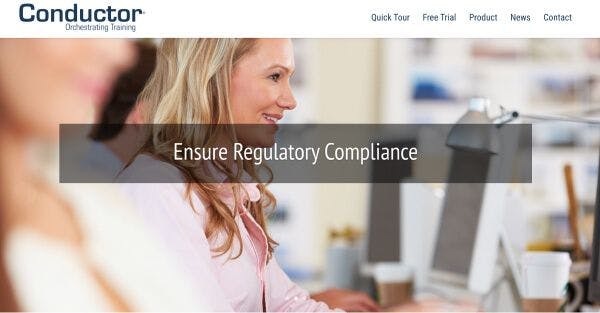 Conductor also stores your employees' licenses, certifications, and qualifications to ensure that their expertise and knowledge align with standards set by OSHA, ISO, HCFA, and many others. But fret not, only administrators have access to this centralized database of training information, meaning, your employees' records are kept safe.
Cost:,995 USD – ,995 USD 

Key Features: Course management tools, centralized database of training records, licenses, certification, and qualification
Training Compliance Software #6 – Tovuti 
Tovuti is engineered with several useful tools that can help you streamline and enhance your compliance training process. Among the must-haves is its course management tool, which can help you build your compliance courses from scratch and deploy them as quickly as possible. If you already have content from another corporate compliance training software, you can easily import it into this platform as well. Feel free to include gamification elements or enable certificates to further motivate your employees to complete their mandatory compliance training.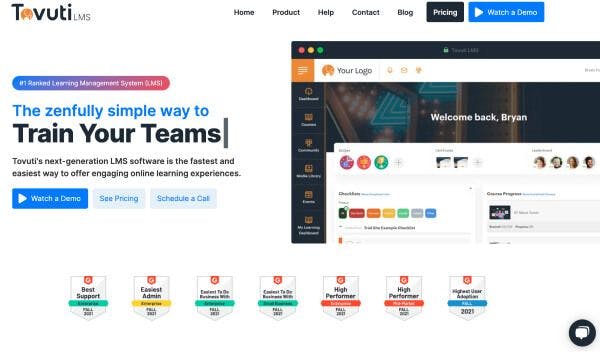 Another bonus feature is its seamless integration with third-party online video conference platforms like Zoom and GoToMeeting. If you need to meet with your team members virtually or host a webinar, you can set up your meeting and invite your learners with ease using Tovuti's menu interface. 
Cost: Pricing plans available upon request

Key Features: Course authoring tool, gamification elements, course completion certificates, integration with video conference platforms 
Training Compliance Software #7 – Elearning Brothers
If you want to take your compliance training to the next level, Elearning Brothers is your premium choice. This compliance training management software particularly gained popularity due to its VR solution, which is deemed as one of the most effective ways to get employees excited about their compliance training.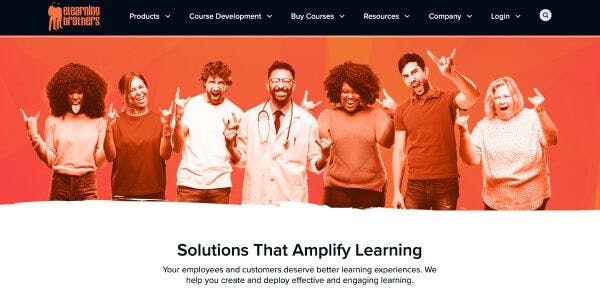 Elearning Brothers also offers an advanced authoring tool, which you can use to create courses with templates, frameworks, and interactive elements like videos and images, all without any web and technical experience. If you're short on resources, you can also import some of their compliance training courses, which are authored by subject-matter experts and instructional designers. They come in short but highly concentrated slides that are perfectly responsive to mobile devices. Some of the compliance topics they cover include HR regulations, HIPAA laws, cybersecurity, HAZWOPER training, workplace safety, and more. 
Cost: Pricing plans available upon request

Key Features: VR training solution, authoring tool, off-the-shelf compliance training courses
Training Compliance Software #8 – WorkWize
WorkWize is the go-to online teaching platform for those who need to regularly train their employees and ensure compliance with industry policies and standards. While intuitive and easy to use, this platform is designed to be powerful and feature-rich. It features a user-friendly rapid authoring tool that you can use to build and deploy compliance courses. Feel free to have the content branded and edited based on your corporate style. For higher engagement, you can also run an offline instructor-led or classroom training in this platform, which the learners can access anytime needed.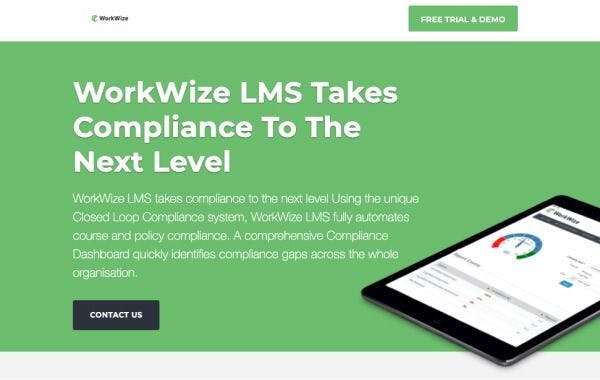 Compared to other compliance training tools, WorkWize also takes the hassle of constantly reminding your employees by automatically sending them notices or re-enrolling them to the mandatory courses. This way, they will never fall out of the compliance loop. Just a heads up that only a free trial is offered by WorkWize. Using the platform to its full capacity will come at a cost. 
Cost: Pricing starts at ,900 USD/ year

Key features: Rapid authoring tool, offline instructor-led or classroom training, automated reminders and enrollment
Training Compliance Software #9 – Training Tracker
Slowly gaining popularity among businesses and L&D leaders, Training Tracker can keep all training records in one place, preventing possible lapses and compliance headaches. Forget about clunky spreadsheets. In just a few clicks, you can assign training tasks to one or more employees, and check their progress. Automated email can be activated to alert trainees of any upcoming training, or even just to nudge them off their unfinished tasks.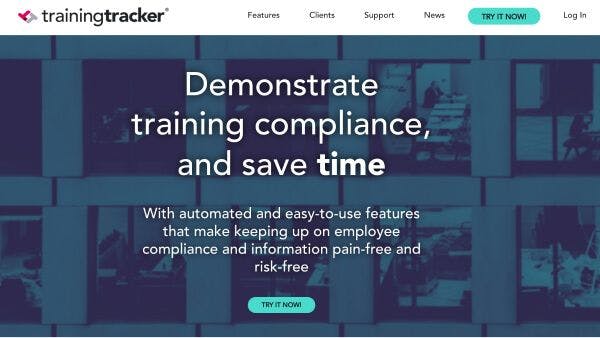 Cost: 9.00 – 9.00 per month

Key features: Task grouping and automated training reports, centralized data management, email reminders.
Training Compliance Software #10 – Accountable
Accountable is a trusted training compliance software designed to keep teams up to date on HIPAA compliance requirements. Among its greatest features is its total compliance dashboard, which can provide a real-time compliance check, ensuring that your organization never loses sight of violations. This software also offers employee training and onboarding courses that you can use to refresh your team about the fundamentals of HIPAA. Their course collection includes The lessons are delivered in video format to increase the engagement rate of the learners. Questions and quizzes are also available at the end of their course to check their knowledge retention.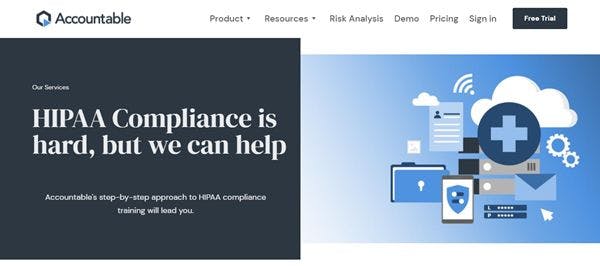 But that's not all. Monitoring your team is also not a problem with this training compliance software. Through its progress monitoring tool, it's easy to check whether everyone is on track and in compliance with HIPAA's requirements. 
Cost: Pricing starts at 99 USD per month

Key features: Total compliance dashboard, online training courses, compliance progress monitoring