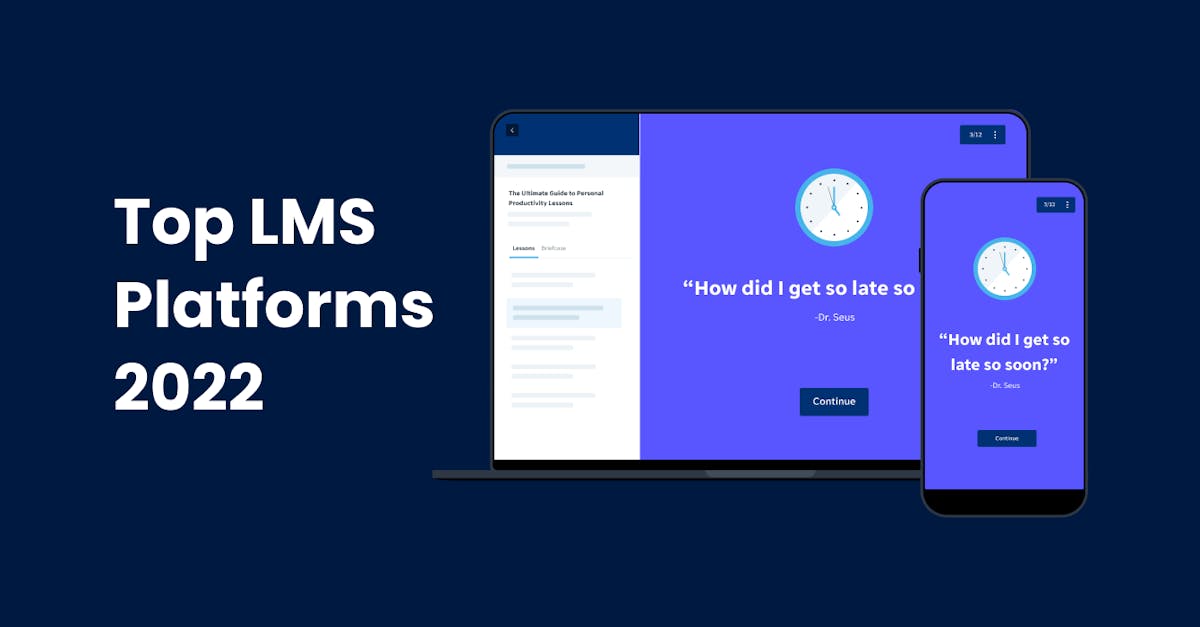 Most organizations today have already shifted toward blended learning and online training, which led to the rise of learning management system (LMS) platforms on the market. If you're looking to invest in one, plowing through dozens of these training tools can take up a lot of your valuable time. To lend you a hand, we've done the research for you and made a list of the top LMS platforms 2022 to check out today!
Top LMS Platforms 2022 #1 – EdApp
EdApp has seen a steady rise in demand from the L&D community this year, and for good reason! From creating and sharing courses to monitoring teams, this top LMS platform 2022 has the best features that can help fuel your training program.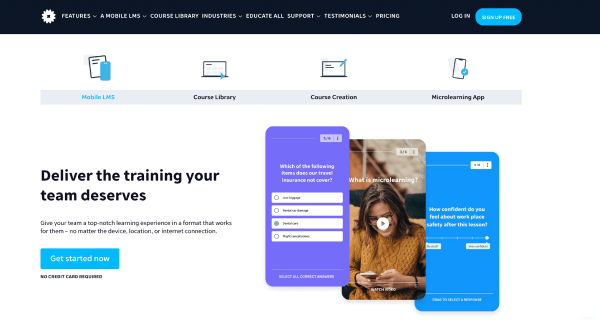 With its intuitive course creator tool, you can design your online learning programs without much fuss. This tool is jam-packed with a range of templates that fit different learning methods. You can use them to explain concepts, compare products, and create games and quizzes to check your team's understanding of the training. No designer? No problem! Just select a template, add your content and graphics, and you're all good to go.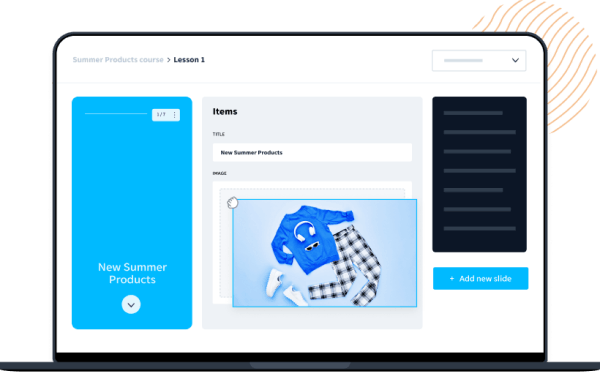 EdApp also takes pride in its course library that's filled with beautifully designed courses you can deploy as early as today. They have courses for retail and marketing, construction, healthcare, cash register training, and even lessons for self-improvement. Following a micro learning model, they're presented in bite-sized pieces to make sure that they're easily understood and followed. Plus, they're also made easily accessible on both desktops and mobile devices, giving learners flexibility to decide how they'd like to consume their learning.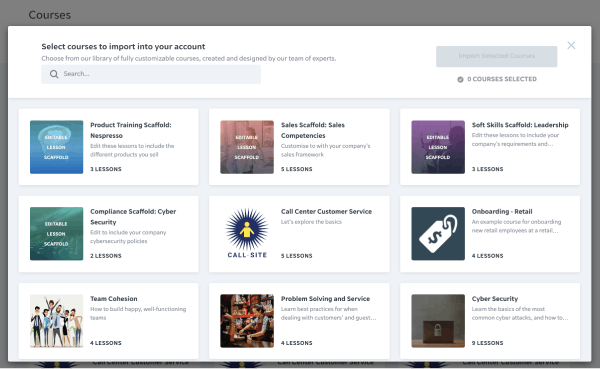 You'll know that an LMS platform is good if it has a powerful analytics suite, and that's specifically true with EdApp. Their analytics can give you a visual representation of the performance of your courses and how your learners are progressing through them. EdApp also offers a custom reporting feature, so you can get the data that matters the most. You can build reports to check completion rates, engagement duration, frequency of sessions, and more, all up to you.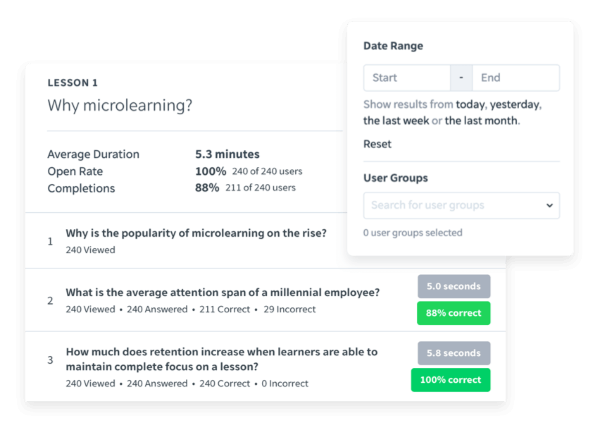 Cost: Free
Key features:
Intuitive course creator tool

Content and game templates

Mobile microlearning courses

Analytics suite

Custom reporting
Top LMS Platforms 2022 #2 – ProProfs LMS
ProProf is a great LMS platform that's used by over 4 million users across the world. This basically confirms that you'll get a good deal by investing in this tool. Among the key features that you'll surely love is its course builder tool. Using it is pretty straightforward – it's as if you're only editing a document in Microsoft Word. You can even add quizzes and surveys between your lessons to assess the progress of your learners.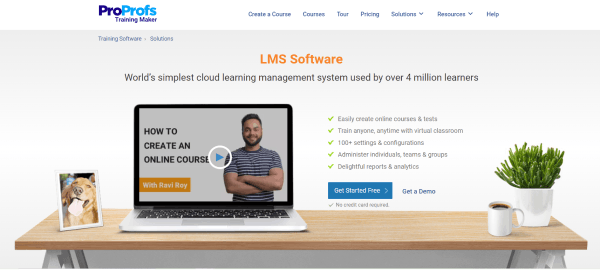 This top LMS platform 2022 also supports a visual classroom where you can meet virtually with your teams, discuss lessons in real-time, and initiate collaboration activities. It can also host a Q&A forum, which is the perfect opportunity to answer any questions that your learners may have.
Cost: Starts at USD per learner per month
Key features: 
Course builder tool

Quizzes and surveys

Virtual classroom

Q&A forum
Top LMS Platforms 2022 #3 – Violet LMS
Violet LMS has a strong focus on helping enterprises simplify their transition to digital learning. Among its most useful features include the content authoring tool, where you can curate content in different formats like videos, modules, and even games and quizzes. And there's no limit as to how many materials you can publish, thanks to its unlimited storage space.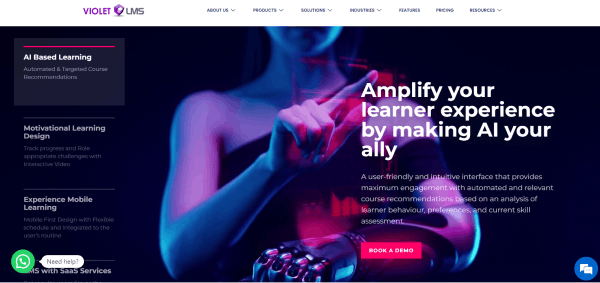 This top LMS platform 2022 is also recognized for its variety of automation features. For one, it can automatically assign important training courses to your learners and roll out reminders via their phone or email, so they'll never miss it. 
Violet LMS also offers automated content reporting that will give you information on important metrics such as the completion rate of your courses, the time spent learning them, scores generated from quizzes and assessments, and more. You can use this data to understand the behavioral habits of your team and apply them to further improve your elearning content. 
Cost: Available upon request
Key features: 
Top LMS Platforms 2022 #4 – WorkRamp
WorkRamp is an all-in-one LMS that can help you build dynamic training content. You can use it to create and scale onboarding materials for your new hires, product adoption training for your clients, skill development courses for your existing employees, and so much more. On top of that, you can create a custom learning pathway for your learners depending on their role, skills, and seniority. This functionality helps make sure that they're getting a seamless learning experience without missing important training along the way. 

Another highlight feature of this top LMS platform 2022 is its automated reporting capabilities that can help you monitor the performance of your team and track the effectiveness of your training. They can send reports on important metrics such as learner engagement, app usage, top training courses, and more. 
Cost: Available upon request
Key features: 
Top LMS Platforms 2022 #5 – Bridge
Bridge is another top LMS platform this 2022 that's been pretty impressive, especially in terms of content creation. Their native authoring tool harnesses the power of simplicity — you don't even need a training manual to use it. Given its simple functioning, you'll probably understand how to use it as soon as you land on the authoring page.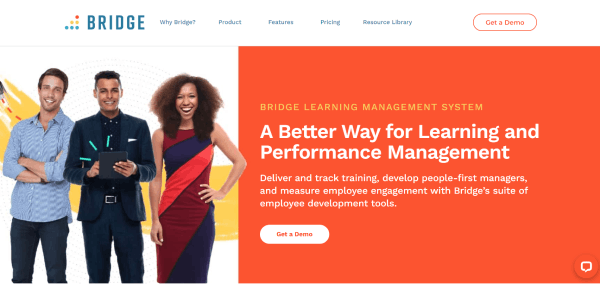 There's also this wonderful feature called the Bridge Journey, where you can chunk your courses into easily digestible lessons. This way, learners won't feel overwhelmed when going through their training materials. 
Bridge also embraces the power of self-paced mobile learning. Through its mobile app, your team can take their training anytime and anywhere they prefer. They can even learn on the go, while they're waiting at the bus stop or riding the subway. 
Cost: USD per user per month
Key features: 
Native authoring tool

Bridge Journey

Mobile learning
Top LMS Platforms 2022 #6 – Tovuti LMS 
What's noteworthy about Tovuti LMS is that it has a lot of features in store for you. For one, it has a competitive course management system, where you can design, deliver, and organize elearning courses without any complicated coding process. It also offers gamification options for higher learner engagement, like leaderboards, badges, certifications, and checklists.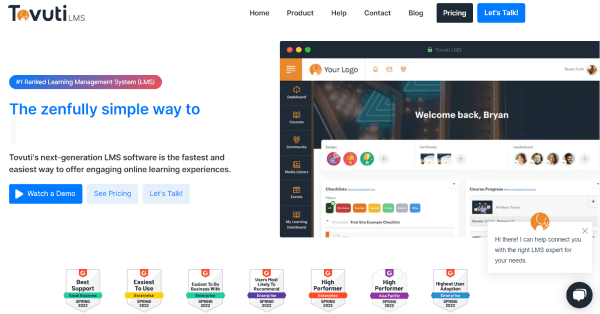 For a blended learning style, this corporate LMS has a built-in virtual classroom where you can meet with your remote teams in real-time. But it's not your regular video conferencing tool. It has breakout rooms that can be used for group activities and one-on-one interactions. What's more, this virtual classroom automatically tracks your team's attendance, so you no longer have to monitor it manually. 
Cost: Available upon request
Key features:
Course management system

Gamification features

Virtual classroom
Top LMS Platforms 2022 #7 – GoToTraining
Also deemed as a top LMS platform in 2022, GoToTraining has the best features for hosting virtual sessions. Among these on-demand features is its registration management system, where you can customize your registration forms and create pre-training polls to understand the needs and learning preferences of your learners.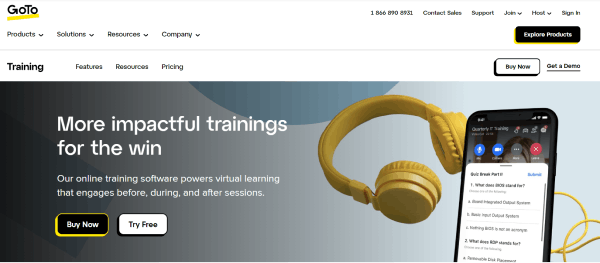 GoToTraining also excels in its in-session training tools that are designed to secure active participation from your team, like the breakout room, drawing tools, and certification system. You can even record your training sessions, which can be shared even after your training has ended. You can store it in the content library, along with your online course catalogs and resources that your team can easily access whenever needed. 
Cost: 09 USD per organizer per month
Key features: 
Top LMS Platforms 2022 #8 – Gyrus
Gyrus is known for its AI-driven intuitive features that are meant to save trainers from all the mess of managing online training programs.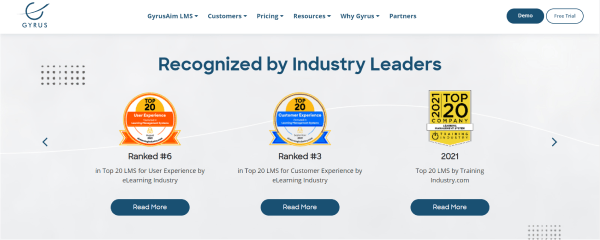 You can run training in different formats—elearning courses, webinars, and assessments and evaluations. This gives you the flexibility to plan training that best suits the learning preferences of your learners. There's a document repository feature too. Here, you can store all your training documents in one place, so you no longer have to jump from one tool to another. 
To measure the competency of your team and spot any knowledge gaps that may exist, Gyrus offers a number of analysis tools such as gap analysis, need analysis, competency rating, and more. And there's no need to manually compile all your training data—this corporate training platform comes with an LMS reporting feature that will create the reports for you. Use this report to explore how you can better improve your online training strategy. 
Cost: Available upon request
Key features: 
Top LMS Platforms 2022 #9 – 360learning 
This list of LMS platforms 2022 will never be complete without 360learning. This LMS platform comes with a very intuitive course creation tool that can help you design elearning courses in just minutes rather than months. Within your courses, you can add interactivities like images, videos, and quizzes to boost the learning experience of your teams. You can even embed web files from Google Docs or Prezi to make sure that your team has all the resources they'll need.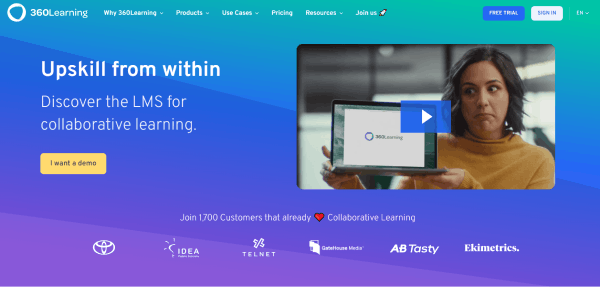 360learning is also known for its collaboration tools, perfect for peer learning. There are discussion forums where learners can post questions and communicate directly with their peers. Within the discussion forum, users can even upvote the most helpful comments. There's also this fun reaction feature, where learners can tap different emojis representing positive and negative reactions. This feature can be used to check and calculate the impact of your course. 
Cost: Available upon request
Key features: 
Course creation

Interactive elements

Discussion forum

Reaction feature
Top LMS Platforms 2022 #10 – Coconut LMS 
You can also trust Coconut LMS to supercharge your online training initiatives. Here, you can create your courses from scratch, although you can also buy courses from their Coconut Learning Store, or hire subject matter experts to build one for you. Should you wish to meet with your team virtually and connect with them in real-time, you can also run webinars, live virtual classes, and feedback sessions with this LMS.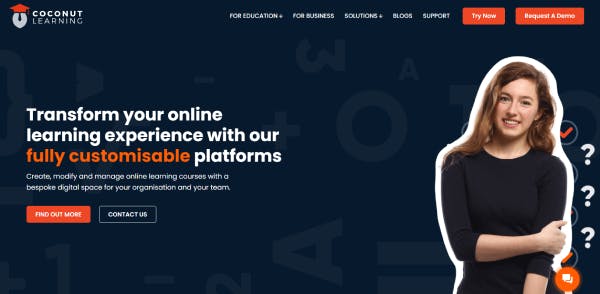 Coconut LMS also offers a white-label training solution that can help you build training programs that you can call your own. You can apply your brand identity, and make sure that your training will never be referenced back to Coconut LMS.
Cost: Available upon request
Key features: