If you're looking for a list of the top LMS for peer learning, then you've come to the right place. In this article, we'll walk you through the best LMS tools that are equipped with a range of collaboration and socialization tools, such as video conferencing and discussion boards, that will allow your learners to learn from each other and embrace the value of teamwork. 
Top LMS for Peer Learning #1 – EdApp
Whether you're a team of two or a thousand, you can rely on EdApp to implement collaborative learning in your organization and grow stronger and healthier teams that work together harmoniously.
This award-winning Learning Management System (LMS) platform puts a new spin on peer learning through its micro learning, cloud-based peer authoring feature, allowing learners to share their knowledge and insights through video submissions. It's a great way to encourage them to learn from the champions and educators of your team and promote the value of collaboration while engaging in learning activities. It's no rocket science; to enable it, admins and instructional designers only need to add a 'Peer Authoring template' when creating their courseware with EdApp.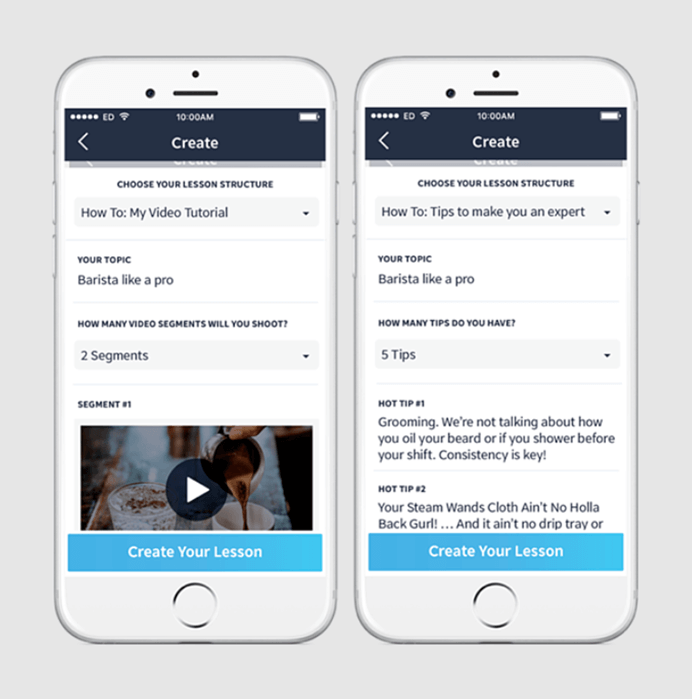 Peer learning can also be achieved by activating EdApp's Social Learning feature in your course content. Use it to drive real-time discussions around the coursework and challenge learners to give their insights on the lessons. The best part? They can even like and comment to show appreciation to those who have contributed meaningfully to the lessons. Leveraging this peer learning feature will organically generate an extra level of detail around your course content and provide a rich learning experience for your employees.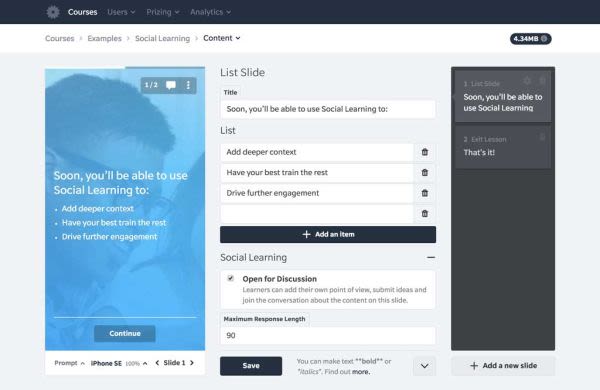 But that's not all – EdApp supports a Discussion feature too, a forum-like space where admins can bring up questions or topics to their learners and initiate a peer-to-peer conversation. There's also a feature called Virtual Classroom should you wish to carry out video conferences and virtually connect teams that are separated by time and distance.
Cost

: Free

Key features:

Peer authoring, social learning, like and comment, discussion, virtual classroom, blended learning
Top LMS for Peer Learning #2 – Sibme
Take advantage of Sibme's peer learning and corporate learning solutions to bring out the best in your team and sustain their long-term growth. Among its noteworthy features is the Sibme Huddles, where your team can meet, chat, and discuss synchronously and share videos and learning resources. It allows them to collaborate on tasks, connect privately, and discuss among themselves what they've learned at work. This top LMS for peer learning also turns your learning method from passive to active through its private learning space, empowering learners to practice relevant job skills with their peers and discuss areas of improvement. Thanks to its fully-integrated web and mobile platform, your team can learn any time and anywhere through any device. 
Cost

: Pricing plans start at $10 USD per month per user

Key features:

Huddles, private learning space, web and mobile learning
Top LMS for Peer Learning #3 – GoToTraining
Another top LMS for peer learning on this list is GoToTraining, which primarily supports peer learning through its live training sessions. You can initiate small group activities and encourage your employees to work together as a team to achieve shared goals. A discussion session can also be implemented, permitting learners to share their opinions with their peers and gain a deeper understanding of certain topics presented to them. You can also provide them with tests and assessments that they can answer individually or as a team. 
No content will go to waste – GoToTraining can record and store your live training session in their content library. This way, learners can still access their learning materials anytime needed on this virtual training platform. 
Cost

: $119 USD per month

Key features:

Live training, group activities, discussion sessions, tests and assessments, content library
Top LMS for Peer Learning #4 – ProProfs 
ProProfs LMS is widely known for its extensive learning and development solutions that make the entire process of creating training content a breeze. But apart from its course builder tools, this LMS software is also jam-packed with features that can help you establish a collaborative learning environment within your organization. Among the best ones is its adaptive learning-focused community feature that goes far beyond just regular chatting and discussion. Learners can set up Q&A discussions and organize them via threads and topics, and from there, start discussing and sharing information with their peers. They can also keep the best and most relevant answers on top so they can easily pick up the information they need the most. 
With ProProfs, you can rest at ease knowing you will never lose your team's peer-to-peer discussions and Q&A sessions. This LMS for peer learning securely maintains all organizational discussions and makes them easily accessible to everyone. 
Cost

: Free (within a 15-day trial), paid subscription starts at $74.96 (per feature monthly)

Key features:

Course builder tools, learning-focused community, organized Q&A discussions, secured organizational discussion
Top LMS for Peer Learning #5 – Arlo
If you're planning to implement peer learning or employee training through live, interactive, and engaging training sessions, Arlo is also great learning software to consider. This LMS is equipped with a range of automation tools and features that simplify the process of hosting and managing live webinars and self-paced online activities. From registration to course distribution, Arlo takes all the hassles out of the administrative tasks so you can just focus on your peer learning program. This platform also supports discussion forums, where your learners can come together to discuss what they've just learned from the corporate training, ask questions, and close any possible knowledge gaps. Team assignments and quizzes can be activated as well to increase engagement and collaboration from your learners. 
Cost

: Pricing starts at $ 79 USD per month

Key Features:

Automation tools, live webinars, self-paced online activities, discussion forums, assignments, and quizzes
Top LMS for Peer Learning #6 – Learn Amp
Learn Amp is also a highly recommended LMS for peer learning on this list. While popularly known for its course builder and management tools, this LMS also gives you an array of powerful social and community features to drive collaboration and peer learning across your organization. First and foremost, learners can take the initiative to upload content on this platform and share it with their peers. Their peers, in turn, can reward them with kudos and ratings, especially if their resources are deemed to be extremely valuable and helpful. 
Peer learning can also be realized in their social space, which showcases the profiles, expertise, and interests of each learner. The quick-search functionality allows everyone to find the person who best matches their needs and interests. And with Learn Amp's in-app messaging, learners can easily send messages to one another, whether it's about the same content they love or questions they may have about their work roles and responsibilities. 
Cost:

Available upon request

Key features:

 Social and community features, content sharing, kudos and ratings, social space, in-app messaging
Top LMS for Peer Learning #7 – Violet LMS
Violet LMS is a full-service digital learning platform that is scalable, adaptive, and agile, engineered with easy-to-use features and tools that can help streamline your digital training. Peer learning with this LMS can be achieved through its digital classroom training feature, where you create and host online training, seminars, and workshops. You can take advantage of this feature to encourage your learners to share their knowledge and opinion, ask questions, and interact with one another while learning. This digital classroom also integrates seamlessly with Zoom, WebX, BigBlueButton, and MS team, which makes it easier and more convenient to run your live online classes. 
The gamification tool of Violet LMS can also be used to bring your employees closer together and have fun while learning. By turning your content into games, learners will be more excited to discuss the content with their team and help each other to perform better. 
Cost

: Available upon request

Key features:

Digital classroom, smooth integrations with video conferencing platforms, gamification tool
Top LMS for Peer Learning #8 – Inquisiq
Inquisiq offers a safe learning ecosystem that fosters collaboration and communication. Peer learning is integrated through its social features, like user communities, walls, and feeds, allowing learners to join forums, ask and respond to questions, and gain insights directly from their peers. Inquisiq also takes pride in its built-in messaging system in support of informal and casual peer learning. 
Although this LMS for peer learning does offer a free demo, 100 users will set you back $350 USD per month, making it a pricey option if you're on a tight budget.
Cost

: Starts at $350 USD per month with a free trial available 

Key features:

User communities, walls and feeds, built-in messaging system
Top LMS for Peer Learning #9 – 360Learning
360Learning is another top LMS for peer learning to consider should you wish to establish a healthy collaboration culture in your workplace. One of its key peer learning features includes discussion boards, where learners can directly interact and share knowledge amongst each other. It comes with upvotes and reactions, where everyone can vote and react to the most valuable learning contribution. The comments with the most positive reviews stay at the top of the feed, ensuring that pertinent information remains at front and center. 
It also supports a unique collaborative editing feature, which, unlike other learning management system vendors, enables learners to contribute to the learning content and provide feedback directly in the course. The internal comments are centralized across all courses, putting an end to lost pings and overwhelming email chains. 
Cost

: Available upon request

Key features:

Discussion boards, upvotes and reactions, collaborative editing, centralized internal comments
Top LMS for Peer Learning #10 – Blackboard LMS
Blackboard LMS comes with a range of collaborative tools and solutions that revolutionize peer learning. Here, you can initiate virtual training and connect with your learners in real-time using its virtual classroom solution. Blackboard, however, goes beyond just hosting live training sessions—it also offers interactive whiteboarding, hand-raise notifications, breakout groups, and chat features, which makes peer learning more fun and exciting. Attendance is already automated, so that's fewer IT headaches for you. 
Blackboard's collaborative features are best used in remote learning and online conferencing. But what makes it even better, learners can join and stay connected anywhere at any time since it's easily accessible on all mobile devices.
Cost

: Available upon request

Key features:

Virtual classroom, interactive whiteboarding, hand-raise notifications, breakout groups, and chat features, automated attendance