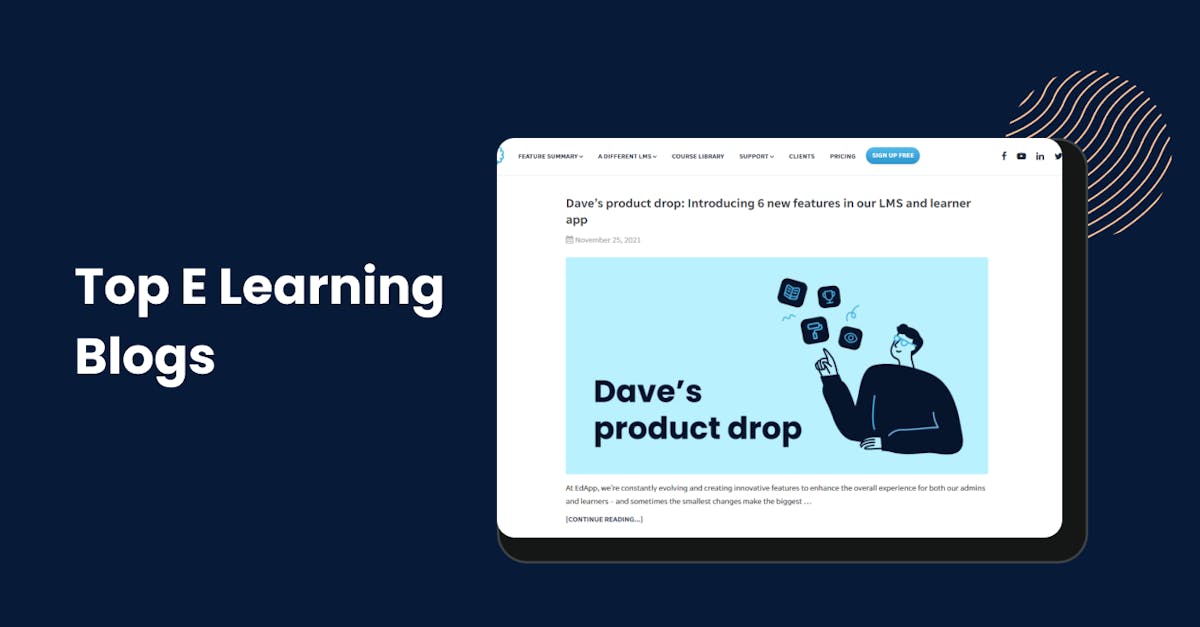 From looking for the best e learning tool to discovering the most effective digital learning strategy, you can always count on elearning blogs to get a good stream of great ideas. Perhaps you're on the prowl for the best blogs to stay on top of the latest trends in the world of elearning? Then your search ends here! Below, you'll find the top e learning blogs you should check out right now.  
Top E Learning Blog #1 – EdApp Microlearning Blog
EdApp's microlearning blog has pretty much everything you need to know about elearning, which is why it has earned the top spot on this list. They write about the best elearning tools and learning software to improve your elearning portfolio, the top suggestions to engage your learners, and the finest elearning courses you can share with your team. They even publish articles about the most worthy alternatives to the priciest elearning tools out there, saving you from the hassle of having to sift through a dozen blogs and articles in search of one.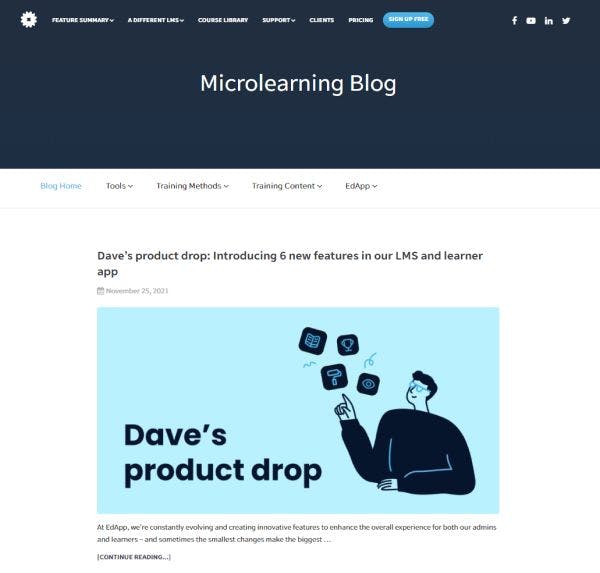 This top e-learning blog also delves deeply into the most popular elearning topics of today. It discusses elearning course development through SCORM cloud-based authoring and learning strategies like gamification, rapid learning, micro learning, and mobile learning, all of which are also a part of the core services of this training software. Use it as a guide to know more about how you can improve the performance of your elearning and secure optimal engagement from your learners. 

But what makes this blog ultimately unique is that it uses a fun, fresh, and consistent tone of voice. Reading about elearning doesn't have to be too deep and boring. This is why they sprinkle fun and playful words and phrases throughout their articles to make sure that you can easily follow along. Basically, reading their blog posts will feel more like talking to a friend than reading a research paper.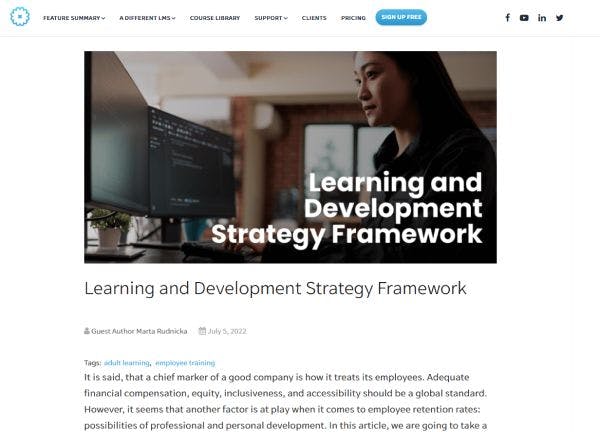 EdApp's blog is constantly updated, so you can rest assured that their articles are always up to date with the latest trends in the world of elearning. 
Topics covered:
Elearning tools

Strategies to improve your elearning

Elearning courses

Tool alternatives

Popular topics related to elearning
Visit the EdApp Microlearning blog today to stay updated in the world of e-learning!
Top E Learning Blog #2 – eLearning Industry
If you've been searching Google for some of the hottest elearning topics of today, then chances are you've already come across the eLearning Industry blog.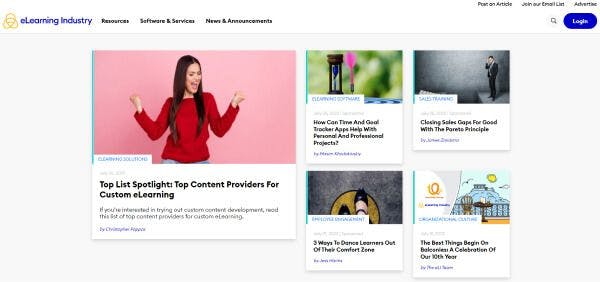 From the blog name itself, you can tell that the eLearning Industry will be able to give you clear guidance on elearning. It was established in 2012, and since then, this platform has been publishing great content targeting elearning professionals.
Here, you'll discover a list of the best elearning software and authoring tools, insightful tips to increase your learners' engagement, elearning trends, and so much more. It's also a good place to find eBooks and ongoing webinars should you wish to go beyond reading blog articles to expand your knowledge of elearning.
Topics covered:
Elearning software

Elearning trends

eBooks and Webinars
Check out the eLearning Industry blog. 
Top E Learning Blog #3 – The eLearning Coach
The eLearning Coach is a learning platform run by a learning experience design consultant, Connie Malamed. Using her degree in Instructional Design and Technology, she shares professional strategies and resources that you can use to improve your elearning initiatives. Those who are only starting to learn about this modern type of learning will find articles discussing the basics of elearning and ways to design online learning content.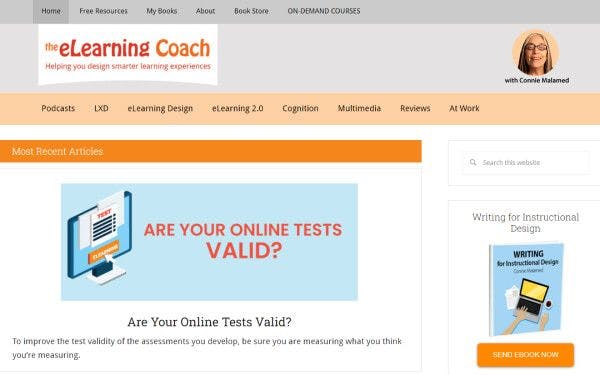 You can subscribe to this blog and receive a monthly newsletter to stay up to date on this blog's most recent articles and resources, as well as updates on the interactive presentations and workshops that are offered from time to time. She also writes about elearning tools and software reviews, though the content of these articles comes purely from her point of view. 
Topics covered:
Basics of elearning

Ways to design elearning

Elearning strategies and resources

Tool and software reviews
Check out The eLearning Coach blog. 
Top E Learning Blog #4 – Twist by Learning Guild
Twist is the official blog of Learning Guild, an elearning community that's dedicated to learning professionals. The published articles that you'll find in this top e learning blog are written by the members of Guild teams, as well as guest bloggers from their elearning community. They write about the most relevant elearning topics, such as comprehensive insights and ideas to improve the content, as well as the current trends in the elearning industry.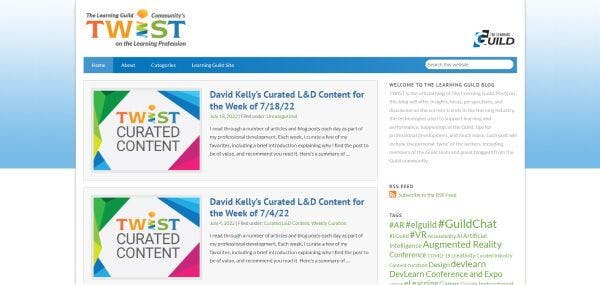 Some articles cover different technologies that you can consider to improve your elearning content and support the learning and performance of your team. They also use this blog to post some updates and happenings at the Learning Guild, such as their webinars, conferences, and more of their events. It's the perfect blog if you're interested in being more active in the elearning world and joining in activities to improve your elearning skill set. 
Topics covered:
Elearning insights and ideas

Current trends in the elearning industry

Elearning tools and technologies

Updates and happenings at the Learning Guild
Check out the Twist blog. 
Top E Learning Blog #5 – Learning in the Modern Workplace
Learning in the Modern Workplace is formed by learning and collaboration advisor, Jane Hart. This top e learning blog compiles the best courseware, elearning tools, strategies for improving your online training, and other topics related to modernizing workplace learning and employee training. Jane Hart also uses this blog to update her readers about ongoing online workshops and conferences that are mostly geared towards strengthening online learning in the social workplace.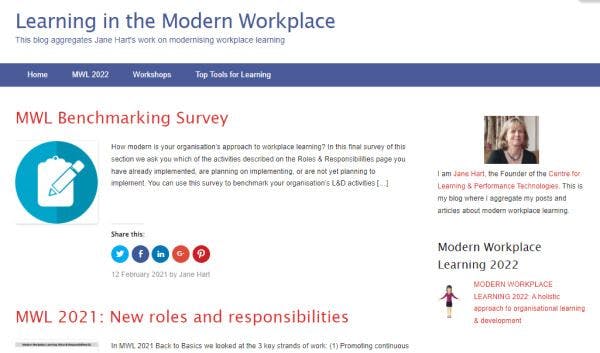 Just a heads up that the majority of the content on this blog is only accessible to "super-users" of Modern Workplace Learning, or those who have paid a subscription fee of at least £39.
Topics covered:
Elearning tools

Strategies for virtual L&D

Topics related to modernizing workplace learning
Check out the Learning in the Modern Workplace blog. 
Top E Learning Blog #6 – Coursera Blog
Coursera is known for its collection of online courses that any team, regardless of industry, can take to develop and hone their skills. But apart from hosting online courses and acting as a course management system, this platform also runs a great blog that touches on a wide range of topics, including elearning. The Coursera blog mostly talks to businesses and educators, offering great insights like how to deliver effective and engaging elearning, build cutting-edge online courses for teams, upskill remote workers, and so much more.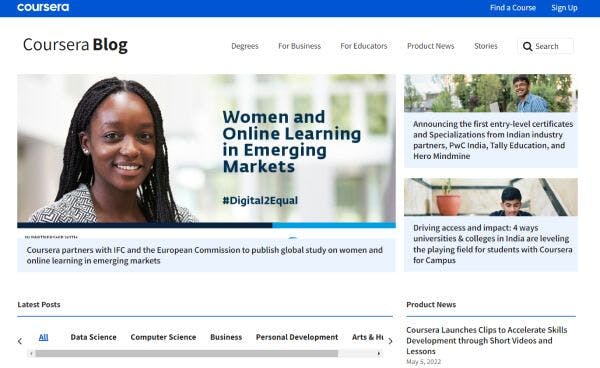 It also includes stories from learners all over the world, highlighting how Coursera's elearning courses managed to help them gain the skills they needed to advance in their careers. Similar to the main Coursera page, their top e learning blog is also easy to navigate. A search bar is also present to help you quickly find the blogs and topics that interest you. 
Topics covered:
Elearning tools and strategies

Building cutting-edge online courses

Tips to upskill remote workers

Stories from learners all over the world
Check out the Coursera blog. 
Top E Learning Blog #7 – Elearn Info 247 Blog by Craig Weiss
Formed by the elearning and social learning expert Craig Weiss, this top e learning blog is a great place to start learning about online learning and understanding the new trends and emerging technologies in this field. He has published several editorial articles that will help improve and boost the success of your learning programs. There are also elearning management systems reviews to help speed up your purchasing decision and the latest news and trends in the learning system space.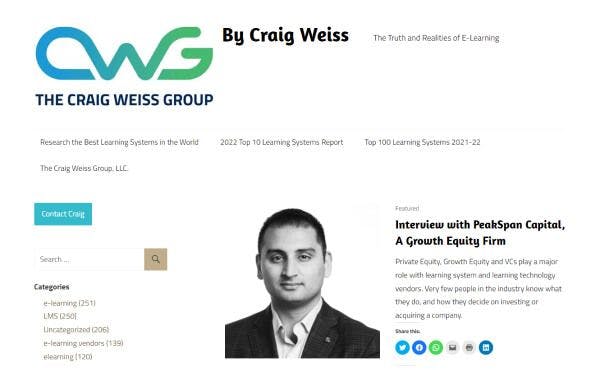 You can also rely on his blog articles to gain a deeper understanding of the learning management system (LMS) and learning experience platform (LXP), which are both deemed the best tools to use to plan and implement elearning. This top e learning blog seems a bit outdated in terms of the design and layout, but you can rest assured that the content here is recent and up-to-date, making it a good resource to learn more about elearning. 
Topics covered:
Elearning trends

Strategies to boost the success of learning programs

Elearning product reviews

LMS and LXP
Check out the Elearn Info 247 Blog by Craig Weiss.
Top E Learning Blog #8 – Speexx Blog
Corporate language training expert Speexx also has an active blog that shares unique and creative topics relevant to elearning and custom elearning. Some of the articles that you'll surely find interesting include their insight on whether or not the game solitaire can help solve the remote work debate, an editorial take on Elon Musk's view on remote work, and an in-depth view on the challenges that elearning represents.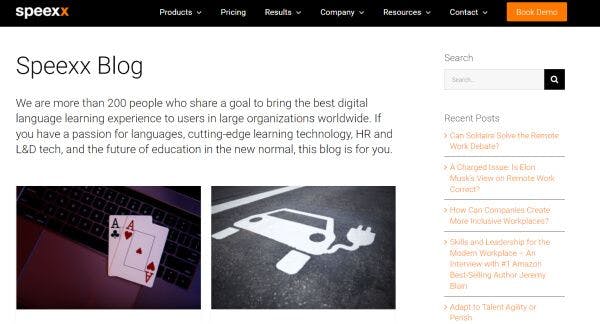 It also houses a couple of articles discussing the trends in the learning and development sphere, such as the use of video tools and chats to improve learner engagement. Additionally,  tips and strategies to boost the digital adoption process and overcome resistance to digitization are also covered. 
The Speexx Blog also makes use of a translator tool, making sure that their blog articles will also be able to reach non-English speakers. Their articles can be translated into Deutsch, Francais, Italiano, Espanol, and Portuguese. 
Topics covered:
Editorial content on elearning and remote working

Learning and development trends

Strategies for boosting corporate digitization process
Check out the Speexx Blog.
Top E Learning Blog #9 – CommLab India
CommLab India is like a collection of insightful blogs about the most talked about topics in elearning, compliance training, and corporate training. Upon entering their blog site, you'll be greeted by their recently published articles that range from the elearning trends to best practices to improve and transform your corporate training. On the side, you'll find a subject-matter editor's pick section listing down the most relevant, most recommended elearning blog articles that you should definitely check.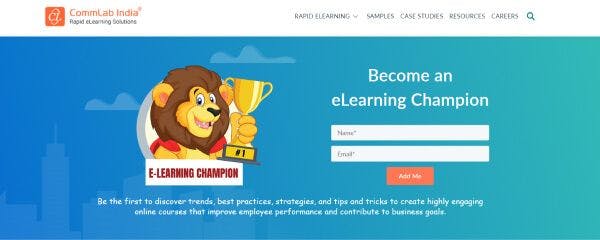 This top e learning blog has also created a treasure trove of ready-to-use resources to improve your elearning content and implementation. Their collection includes free and paid e-books, webinars, whitepapers, catalog courses, tools, and so on. 
Topics covered:
Elearning trends

Elearning best practices and strategies 

Elearning free and paid resources
Check out the CommLab India blog. 
Top E Learning Blog #10 – Elearning Inside
Elearning Inside is dedicated to writing and publishing timely articles that are mostly aimed at helping companies and elearning communities drive the success of their online learning initiatives. They cover topics such as the steps to building an online learning portal, tips and tricks to get people interested in elearning, a list of online apps perfect for modern learners, and more.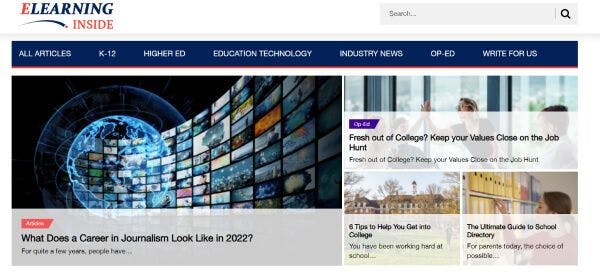 This e learning blog also publishes vetted and well-sourced news stories and editorial content related to elearning to educate about the current happenings and trends in the field.
Topics covered:
News stories related to elearning

Elearning trends and happenings

Strategies to improve elearning

Tools and apps for elearning
Check out the Elearning Inside news blog.