In this article, we covered some of the best tools to improve your elearning portfolio. As an online course developer or instructional designer seeking to snag the best opportunities out there, your elearning portfolio needs to go beyond traditional. It should be creative, unique, and versatile to stand out from the crowd. You can take advantage of the tools we've listed below to spruce up your elearning portfolio and showcase to your potential clients or employers what you are capable of.
Tool to Improve your Online Learning Portfolio #1 – EdApp
When it comes to building your online learning portfolio, you can always count on EdApp's wide array of features and interactive elearning tools to improve your learning portfolio and ensure that your project has a strong edge over your competitors. 
The authoring tool is part of EdApp's core elearning software solutions, which allows you to build microlearning course content even without design expertise. What's great about this learning management system is that it's template-driven, meaning, you will never start from a blank page. Just drag and drop your content, and even upload a SCORM package, and from there, you can add your personal flair or aesthetics so that it showcases your creative skills and talent. Everything is organized in a simple click-and-edit style, which means you can create your elearning developer portfolio in minutes rather than weeks or months. Custom CSS is also available if you'd like to add more customization and functionality to your elearning slides.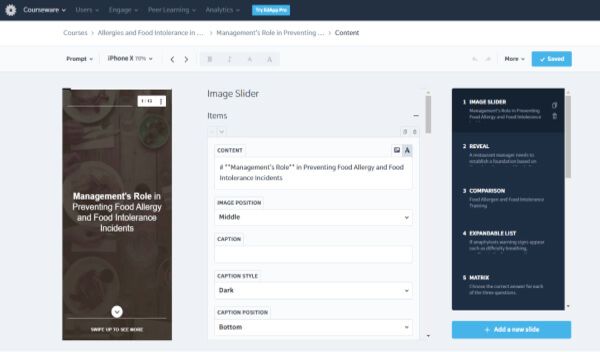 EdApp's interactive features can also help to brighten up an otherwise boring elearning portfolio. Its game-based content templates, for example, can transform your content into forms of smartphone games like drag-and-drop, sequencing and matching, find-a-word, true or false, jeopardy, and many others. These gamification templates can be applied to your lessons, although you can also publish them as a standalone course. 
In case you also want to take advantage of the popularity of mobile learning, EdApp also has you covered. All courses created on this LMS platform are mobile-responsive, supporting all kinds of devices like laptops, desktops, and tablets. It's the best way to showcase your ability to build mobile-friendly elearning courses on whatever topics, whether that be business management, marketing lessons, workplace compliance, and so on. 
Cost: Free
Key features: 
Template-driven authoring tool

Microlearning course content

Custom CSS

Game-based content templates

Mobile accessibility
Tool to Improve Your Elearning Portfolio #2 – FineCreator
Another worth-checking tool to improve your elearning portfolio is FineCreator. Through its simple and user-friendly interface, you can easily put together your elearning materials in just a few steps. You can even add PDFs, Word, PowerPoint, and other files to your course content, so it's more reliable and credible. If you want to make it more interesting, there's an option to include images and videos, even with accompanying background audio and music. 
Fine Creator also uses Twitter Bootstrap web technology, ensuring that all learning courses are properly displayed on desktop computers, tablets, and smartphones. Any learner can leverage this feature to make sure that their e learning portfolio is advanced and current with the latest technology trends. 
Cost: Starts at € 4.90 EUR/month
Key features: 
User-friendly course authoring

Interactive elements like images, videos, and background music

Twitter Bootstrap web technology
Tool to Improve Your Elearning Portfolio #3 – Animaker 
Animaker can help put a new spin on your business management training courses through eye-popping elearning videos. Forget about complex video building practices. Thanks to its user-friendly video builder, you can easily upload and edit high-quality videos that will surely captivate and capture the attention of your clients and potential employers. It already houses a variety of templates and assets, so you will no longer have to scour the internet browsing for resources. But what makes it beyond just a regular video editing tool is its unique animation builder – another big plus in your elearning portfolio. You can create your own character as a narrator of your course and further enhance it using voice-over and auto lip-sync.
You can enjoy this tool to improve your elearning portfolio for free, but expect that your assets will be published with watermarks.
Cost: Free; paid plans start at € 4.90 EUR/month
Key features: 
User-friendly video builder

In-house templates and assets

Animation builder
Tool to Improve Your Elearning Portfolio #4 – SmartBuilder 
SmartBuilder is an easy-to-use elearning authoring tool engineered to help designers like you build simple content that you can add to your elearning portfolio. One unique thing about this online course platform is that it offers unique action block authoring. Your content will fit together like a puzzle — you'll choose an object on the page, grab an action block for it, snap the block into your action statement, and you're all set. As for your course interface, you have the flexibility to adjust its color and layout, and even apply your own branding and aesthetics. You can also add multiple triggers, conditions, and responses to make digital learning more interactive.
One major drawback, however, is that this tool lacks ready-made assets like images and video clips, so you'll have to bring your own resources when using it. Their templates are also lacking, so you will have to carry out the designing and customization on your own for most parts. 
Cost: Starts at $1,399 USD per year
Key features:
Unique action block authoring

Customizable course interface

Interactive options
Tool to Improve Your Elearning Portfolio #5 – eLearning Brothers
With eLearning Brothers, you have a myriad of options on how you can make your elearning portfolio unique from the competition. If you want to create an interactive course with a responsive design, you can try its authoring tool for your course development needs. It comes with an array of interactive templates and frameworks, as well as built-in assets like images, audios, and videos. You can also apply some eLearning games like Jeopardy, Recall, Scramble, or even the popular Wheel of Fortune into your elearning development materials. Or if you want to go all-in, you can also use its VR authoring tool to develop custom elearning content in a VR format. Apply some real-life scenarios for more fun, engaging, and satisfying content that you can proudly showcase in your elearning portfolio. 
Cost: Starts at $899 USD per year
Key features:
Responsive authoring tool

Interactive templates

Built-in assets

Elearning game templates

VR authoring tool
Tool to Improve Your Elearning Portfolio #6 – Moovly
Moovly is also a highly recommended tool to improve your elearning portfolio because of its flexible video editing solutions. Whether you want to create animated clips or formal explainer videos, this tool can help put together video-based elearning content in almost any format you desire. You're in full control of your online training courses – you can either build it from scratch or select their templates for inspiration. If needed, you can also import some of their stock photos, audios, and videos, or even import your own files to increase the quality of your elearning portfolio. 
You don't need to download anything to get started. Moovly works in any browser, so that's less of a headache for you. It's also free, but rendering can take a long time at times, especially if you're producing longer and higher-quality video content. 
Cost: Free; paid plans start at $24.92 USD
Key features: 
Video editing tools

Template library

Stock photos, audios, and videos
Tool to Improve Your Elearning Portfolio #7 – AdaptiveU
AdaptiveU is an LMS software that comes with a range of powerful elearning authoring tools to improve your elearning portfolio. To create courses, just use their simple, easy-to-use editing tool equipped with a variety of media capabilities. You may also add photos, videos, and even pop -quizzes to your elearning content to make it more engaging. The best thing about this tool is that you can try its features for free, although you're only limited to 1GB of storage space. You can, however, subscribe to their plans to upgrade your storage capacity and have access to more of their premium features. 
Cost: Free; paid plans start at $50 USD per month
Key features: 
Easy-to-use editing tool

Multimedia capabilities
Tool to Improve Your Elearning Portfolio #8 – CourseLab
CourseLab is also a great place to build high-quality interactive online learning courses that you can include in your elearning portfolio. Thanks to its e-training module creation tool, making slide-based courses is just as easy as dragging and dropping. You can even make it more interactive by adding images, videos, and action-based animations. Another feature that makes it a good tool to improve your elearning portfolio is its built-in test creation capability, which allows users to create custom quizzes and exercises of virtually any type and format – single choice or multiple select, fill-in-blank, and even matching pairs.
Cost: Pricing starts at $249 USD per year
Key features:  
e-Learning content authoring tool

Built-in test creation capability
Tool to Improve Your Elearning Portfolio #9 – isEazy
Another tool to consider is isEazy, which is used by many instructional designers due to its free cloud-based authoring software. Here, you don't need extensive HTML5 knowledge or technical design skills to create professional-looking online course materials. Just choose from their interactive slide templates and layout system to get started, and simply click, drag, and type to edit your courses. You can also make your training content more dynamic by adding personalized images, audio, and videos, even quizzes and flashcards. Backed by cloud technology, enjoy peace of mind that your work will never get lost in the process, ensuring maximum productivity. 
However, do take note that isEazy's free plan publishes its courses with a watermark. If you want to build an elearning material that you can call your own, you may want to explore its paid plans. 
Cost: Free; paid plans start at 63€ per month
Key features:  
Authoring tool

Interactive slide templates 

Layout system

Cloud technology
Tool to Improve Your Elearning Portfolio #10 – Camtasia
Camtasia is your premium choice if you're looking for a tool that can help you produce elearning videos and recordings in SCORM format. While it lacks most of the key features of most traditional course authoring tools, you can rely on this software for course creation using multimedia elearning materials. You can record anything on your computer screen, add crisp video or audio straight from your webcam, include animations and captions, and so much more. They also offer a range of pre-built video templates and royalty-free assets like music and sound effects, so you don't have to spend too much time editing your video lessons. 
Cost: Starts at $299.99 USD per user
Key features:
SCORM-compliant video editing tool

Screen recording tool

Animations

Pre-built video templates

Royalty-free assets