Tool to Build Your Pharmacy Courses #2 - Chameleon Creator
If you want to create beautiful, fully responsive e-learning content, Chameleon Creator is the tool for you. Fully responsive means that the content you create will be viewed and accessed consistently across all devices. This is great if you're working with a lot of pharmaceutical information. The creator tool is also user-friendly, and the customizable elements interact dynamically with your content.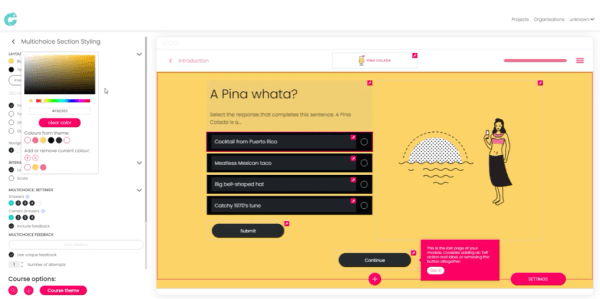 If you're switching from a different learning platform, Chameleon Creator is SCORM-compliant, so you don't have to worry about the hassle of moving your lessons around. 
Cost: Starts at 75 USD
Key features:
Simple UI

Fully responsive design

SCORM-compatible
Tool to Build Your Pharmacy Courses #3 - EduMe
EduMe is an online creator tool that focuses more on visual media than text-based lessons. It's a good tool to build your pharmacy courses because visual representation is the best way to deliver different pharmacy lessons. Topics on dosages and types of medicine need images to reinforce learning.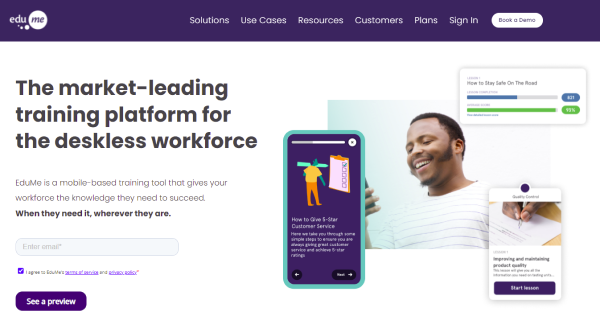 Aside from more image-based lessons, the tool can be integrated into apps and software your staff are already using like MS Teams, email, or even SMS. So, your team doesn't have to worry about another app or tool to download.
Cost: Paid plans
Key features:
Tool to Build Your Pharmacy Courses #4 - Kitaboo Insight
Kitaboo Insight is a mobile-friendly learning management system that's used to deliver cloud-based training to all kinds of mobile devices. It's compatible with all operating systems, so whatever your team is using–iOS or Android–it's going to work. Existing content from PDFs, PPTs, and text files can be uploaded to the course creator. Then, you can customize them with quizzes, interactive templates, and all kinds of knowledge checks. It's simple and easy to use, and the content can even be accessed offline.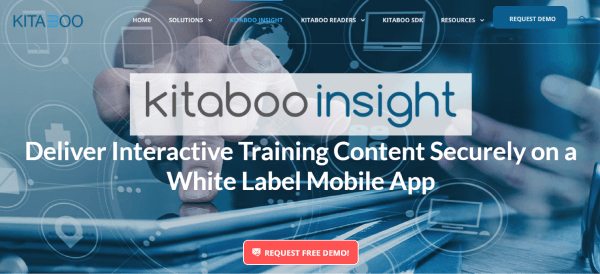 Cost: Request a quote
Key features:
Tool to Build Your Pharmacy Courses #5 - AdaptiveU
For those that are just getting started with elearning course creation, AdaptiveU is the tool to build your pharmacy course. It's got a simple course builder where you can copy and paste content like images, videos, and articles. Slide design for branding is also pretty simple as there are a bunch of colors you can pick from to match your company's brand. And aside from content creation, AdaptiveU also has reporting and analytics, which is important for any kind of learning management.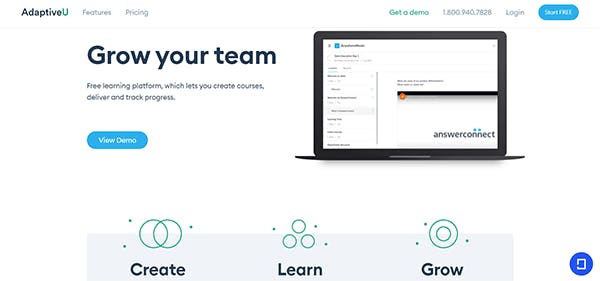 The big cons of this tool, though, are that there's only 1 GB worth of storage and there are not a lot of templates to work with.
Cost: Free with paid plans
Key features:
Tool to Build Your Pharmacy Courses #6 - GLOmakers
GLOmakers is an open-source online pharmacy course builder that allows you to build rich and interactive learning content. Although, this is a more technical course-building software. The creation process is divided into planning and designing with a tool for each step. The planner tool helps users with instructional design tips and tutorials on storyline designing to help you create effective elearning lessons.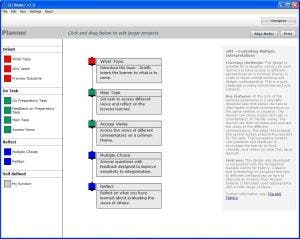 The design tool houses a lot of responsive learning templates that you can populate with your content. Then, you can add images, games, quizzes, and other types of content. Although this tool can be powerful, it feels very dated to use because it doesn't have the sleek minimalist design that most modern elearning tools have. 
Cost: Free
Key features:
Tool to Build Your Pharmacy Courses #7 - Forma LMS
If you're looking to build pharmacy tech courses online, Forma LMS may be the tool for you. Forma LMS has a responsive interface that's optimized for easy user navigation and experience. This is great for users and course creators that are just starting out. The tool supports all kinds of elearning formats like HTML, SCORM, and even video. User management, course assignment, reporting, tracking, and all of those administrative work can all be automated too.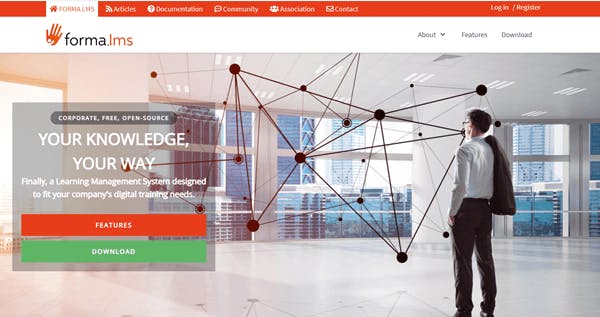 Cost: Request a quote
Key features:
Tool to Build Your Pharmacy Courses #8 - Abara LMS
Abara LMS is a tool to build your pharmacy courses and also a type of software that simplifies all training processes. The course creation and all assessment types are mobile-based, making everything much more accessible. It's also SCORM-compliant, so if you've got SCORM materials on hand, integration is already going to be easier. And beyond course creation, Abara LMS can also generate reports, gamify content with leaderboards, and create surveys for learners.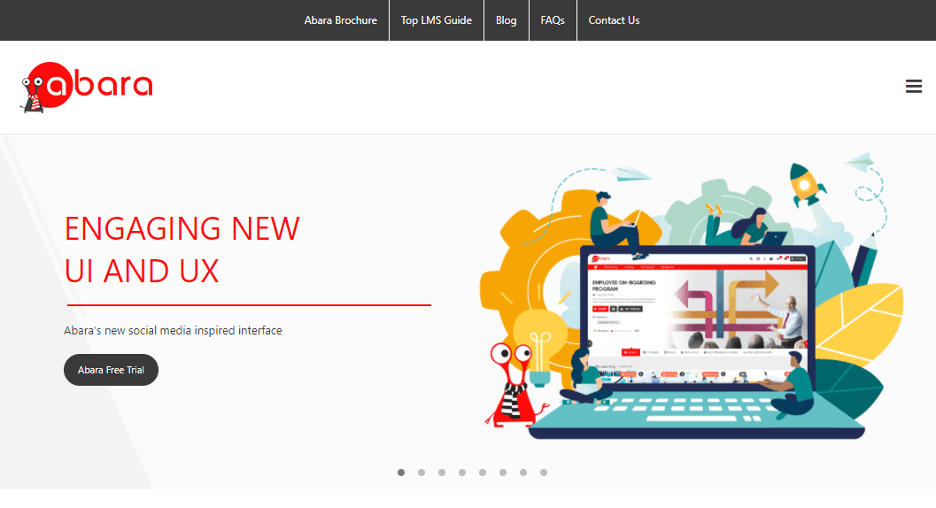 Cost: Starts at 420 USD
Key features:
Course creation

Training assessment

SCORM-compatible

Reports

Gamification
Tool to Build Your Pharmacy Courses #9 - Coassemble
Coassemble is a helpful tool to build your pharmacy courses because you can create dynamic and interactive content on this platform. The course authoring tool adjusts dynamically to all the content placed on the builder, so it's like having training wheels for people without design experience. This doesn't mean the tool has limited customization options. There are over 35 content templates available and branding elements that can be customized in one click.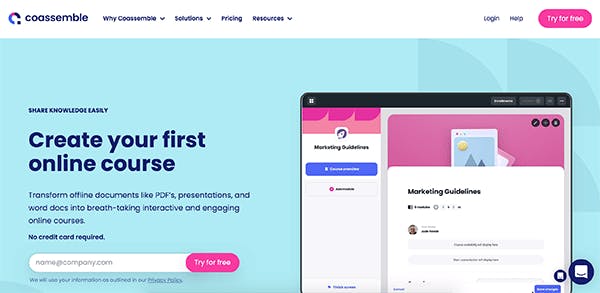 Coassemble has 24/7 customer support too if you're running into issues. And they also offer content design services if you're looking for more professionally-designed elearning content.
Cost: Starts at 49 USD
Key features:
Course templates

Dynamic authoring tool

Content design services
Tool to Build Your Pharmacy Courses #10 - Tovuti
Pharmacy courses require a lot of technical knowledge, but creating it doesn't have to be difficult with Tovuti. Tovuti makes microlearning course creation quick and easy. The creator tool is all drag-and-drop, and it even allows you to add existing learning materials. Plus, you can add interactive elements to make your lessons even more interesting.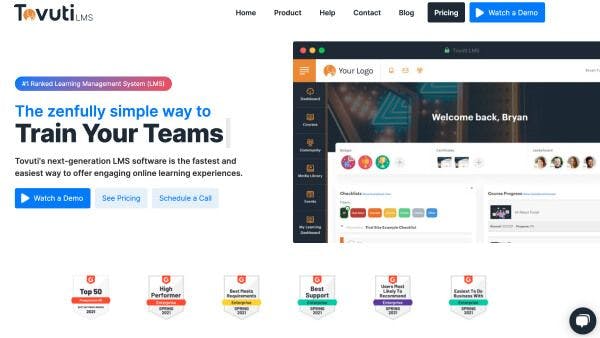 Creating bite-sized courses with fun elements is the best way to get your team to take boring pharmacy compliance courses. Check out this case study on Blooms The Chemist, one of Australia's trusted pharmacies, and how EdApp and microlearning have changed the way they train their team on everything including compliance.
Cost: Request a quote
Key features: