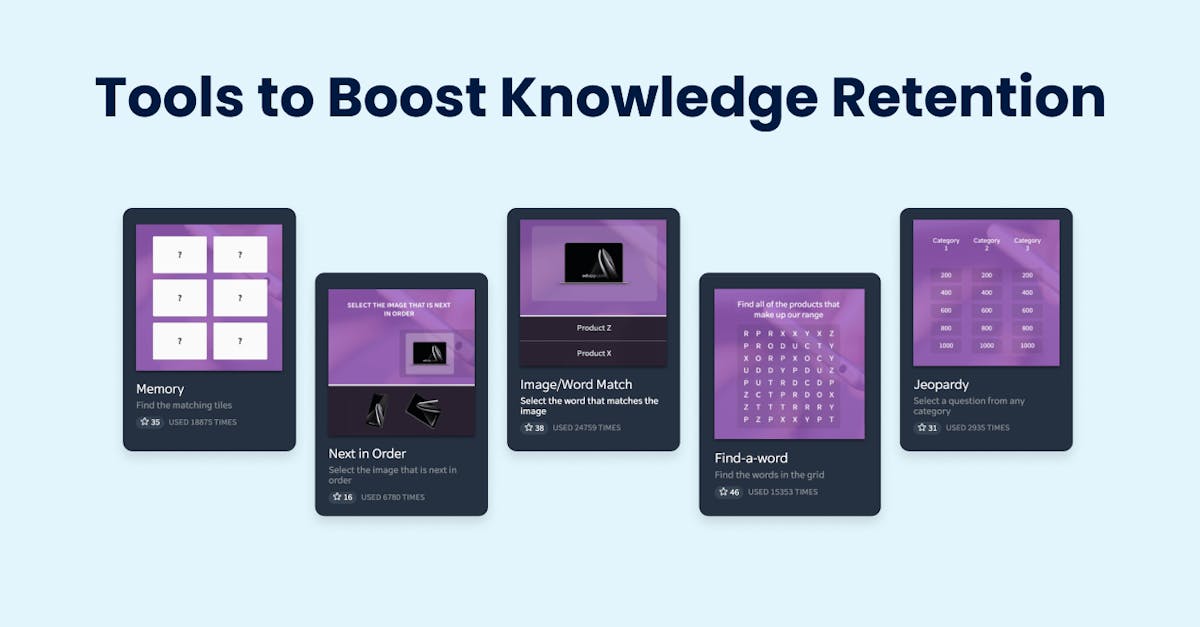 Increase engagement, reinforce information through quizzes, allow self-paced learning, and more with tools to boost knowledge retention among your employees. These tools provide features for helping you embed key information into the long-term memory of learners, which will help them improve their performance at work.
1. EdApp
EdApp is a free, all-in-one platform that offers various features and tools to boost knowledge retention. To prevent cognitive overload among learners – where the brain is forced to digest bulks of information – this platform applies microlearning to its lessons and learning management. This means that your workplace learning is transformed into short-form lessons that focus only on the key messages of your training topics. With the compact nature of microlessons, information becomes easier to understand for your learners, which results in improved retention.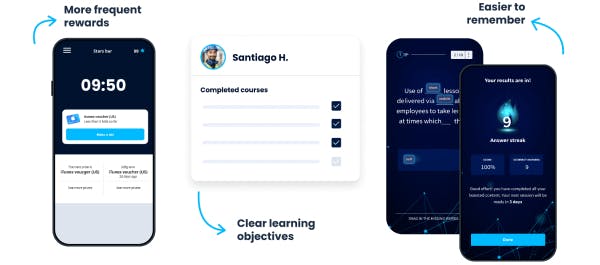 But it doesn't end there – EdApp combines microlearning with a gamification strategy to make learning more fun and engaging. So, you'll have the options to apply interactive templates to your lessons, create friendly competition with leaderboards, foster collaborative learning through a virtual classroom, and reward outstanding learners with real prizing and rewards. All of these strategies combined can help your learners combat the lack of motivation and boredom associated with training.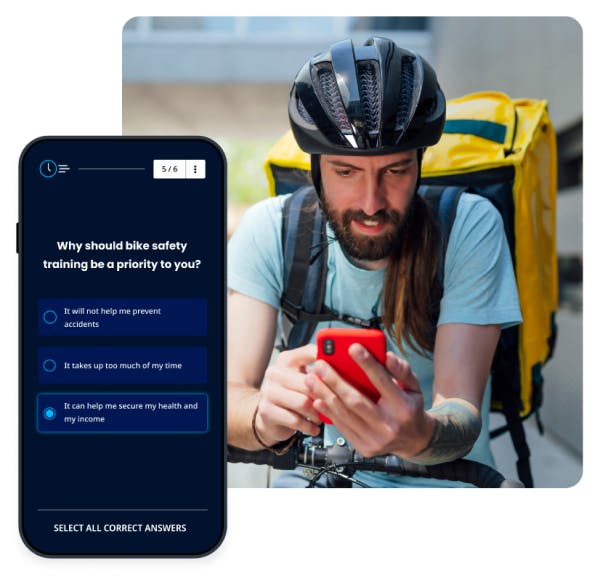 Aside from presenting your training materials in an engaging way, EdApp also adopts the spaced repetition strategy with its Brain Boost feature. Using this instructional technique, key learning concepts are repeated at regular intervals until knowledge is fully embedded in the long-term memory of your employees. Brain Boost applies this concept by automatically pulling questions from your lessons and creating personalized quizzes for each learner to test which information they've retained. The more answers they get right, the less frequently they are tested on a particular lesson. This is a crucial strategy in combatting the forgetting curve where a majority of information tends to get lost within 24 hours of training completion, according to a study by Hermann Ebbinghaus.  
To make training more convenient, EdApp delivers training through a mobile learning approach. This gives learners the opportunity to take their training at their own convenience, anytime and anywhere. When learners have control over their learning experience, they can decide when is the best time that they're able to best absorb information. 
Key features:
Microlearning

Gamification

Leaderboards

Real prizing & rewards

Spaced repetition

Brain Boost

Mobile learning
Cost: Free
Sign Up for Free and use EdApp as your tool to boost knowledge retention for free – forever!
2. Gametize
Gametize is an enterprise-grade, game-based LMS platform that enables organizations to enhance their employees' training experiences and online learning, whether they are going through onboarding or upskilling programs. With its tools to boost knowledge retention, you can easily design your own gamified content by choosing from a vast library of game templates, which are divided into project categories like employee engagement, elearning development, talent acquisition, and many more. You can also increase engagement and completion rates using flashcards, quizzes, and interactive challenges. Similar to other gamification platforms and learning solutions, Gametize uses leaderboards, badges, and rewards to drive motivation and foster healthy competition within teams.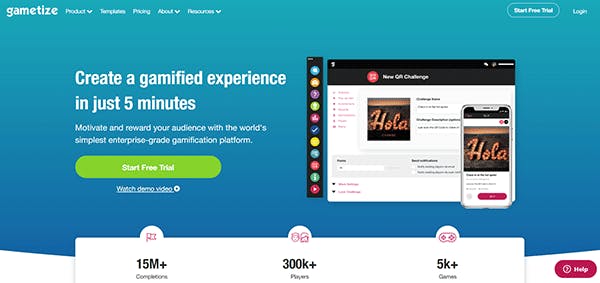 Key features:
Game template library

Leaderboards

Badges

Rewards
Cost: Paid subscription starts at 00 USD (monthly)
3. Hoopla
Another tool that boosts knowledge retention is Hoopla, a sales gamification software designed to motivate sales teams to increase performance through contests, leaderboards, and real-time recognition. With this eLearning mobile app, you can identify sales goals and create tournament-style or race-style contests to promote friendly competition between employees and accelerate overall team productivity. Team members can even track their individual performance through the tool's built-in leaderboards system. By fostering a competitive and encouraging atmosphere, your teams can improve retention and have fun while hitting their targets.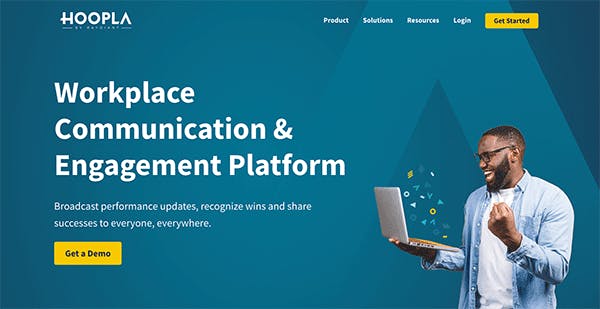 Key features:
Gamified sales content 

Contests 

Leaderboards

Real-time recognition
Cost: Free (within a 14-day trial), Custom price available upon quote request
4. Nearpod
Nearpod is a quiz software that can help you create and customize personalized learning content according to your team's training needs. To reinforce information and boost retention, it offers a variety of assessment templates like multiple choice quizzes, polls, fill-in-the-blank quizzes, open-ended questions, and matching pairs. These quizzes are designed to help you evaluate your employees' current skill levels and keep track of their knowledge retention from previous training sessions. To spice up your quizzes and make them more interactive, you can also add various media such as images, videos, or even voiceovers. As soon as learners complete their tests, feedback and reports are instantly provided, helping you and trainers easily identify those who still need additional support.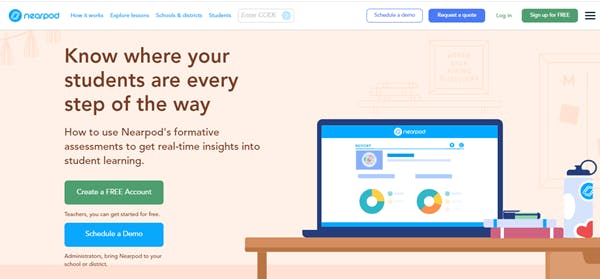 Key features:
Quiz customization

Creative themes

Multiple templates

Real-time reports
Cost: Free plan, Paid plans start at 0 USD per month
5. Funifer
Funifier is a gamified learning platform that incorporates game techniques in its features to increase engagement and retention in your corporate training. It includes features like Quest lists, Leaderboards, Progress bar, and many more to boost your employees' learning performance. To further encourage learners to stay on top of their game, Funifier gives you the opportunity to create incentivized elearning programs so you can reward learners through its Rewards Catalogue. Aside from these, you'll also have access to a dashboard, which you can customize with KPIs that are relevant to your objectives. You can then use your data to enhance your gamification learning strategies.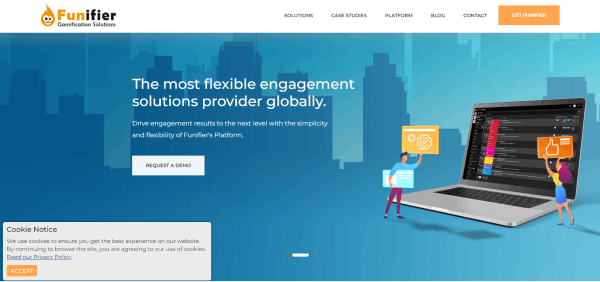 Key features:
Game techniques

Rewards Catalogue

Custom incentive program
Cost: Price available upon request
6. Centrical
Centrical is another powerful gamification training software that allows you to design personalized micro learning courseware. This platform delivers relevant and timely microlearning by assessing the knowledge level, engagement, and performance of your employees. It also makes learning a habit by integrating gamification into their learning experience. With its intuitive user interface, you'll be able to create polished game-based learning materials, even without any technical or instructional design skills. It also provides learners with a real-time performance management feature, which they can use to access their performance data and training feedback.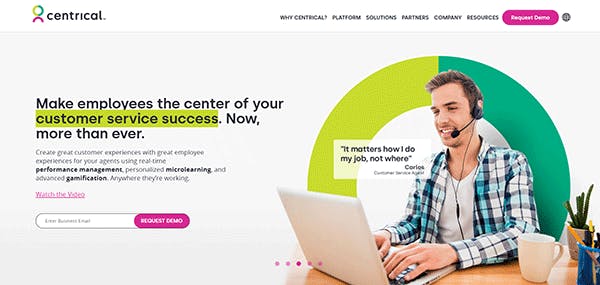 Key features: 
Personalized microlearning

Gamification

Real-time performance management
Cost: Price upon quote request
7. Qstream
Qstream is a microlearning app dedicated to delivering learning programs that help combat the forgetting curve and improve knowledge retention among remote employees. This training software reinforces knowledge, develops skills, and enhances productivity with microlearning content delivered on mobile devices. It even allows off-cycle microlearning where learners who missed a program can self-enroll and catch up on their compliance training. Its Content Hub feature enables training managers to create a social learning environment as well as blended and adaptive learning content and tutorials with its template library and set of guide questions found on its online training website. This course management system can also help you track learning progress through an analytics dashboard and proficiency heatmaps.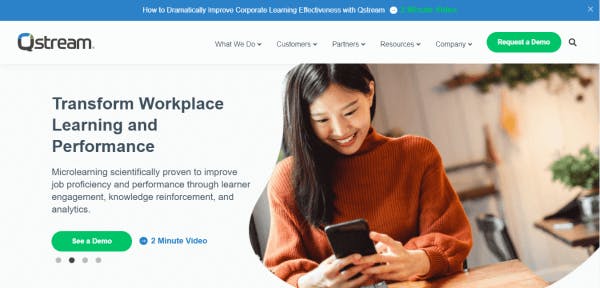 Key features:
Microlearning

Content hub

Analytics dashboard
Cost: Price available through a quote request
8. QuizGame
QuizGame is a training tool that uses gamification for improving post-training knowledge retention. It offers tools to boost knowledge retention including pre-made templates and quiz modes, such as games, stock-market-like structures, duels, and group trivia. It also provides access to data analytics for efficient tracking of learning progress and interaction. This quiz software effectively supports your employee training by helping you measure employee knowledge, create a competitive environment, and improve knowledge retention seamlessly. It also makes learning and development more appealing and motivating for your employees.
Key features:
Cost: Free demo
9. Kahoot!
Kahoot! is a game-based online quiz software that uses colorful visuals and gamification elements to boost engagement. It offers quizzes with multiple-choice questions, as well as "type answer" questions wherein participants will have to type in their answers to show a deeper understanding of a certain topic. Quizzes can be answered by a group of "players" all at the same time or can also be set as a self-paced challenge to be answered asynchronously. The quizzes called "Kahoots" are accessible via a web browser or through their app. Overall, this quiz software enables you to reinforce key concepts and engage your learners as groups or as individuals. 
Key features:
Interactive game-based format

Multiple game templates

Real-time group participation or self-paced 
Cost: Free, Paid
10. Learnie 
Learnie is a community microlearning app that enables you to deliver training materials in a fast-paced but still engaging approach, just like TikTok. This is done by allowing you to create a sequence of microlearning bursts where learners can also discuss lessons. Training managers and even the learners themselves can create user-generated videos to facilitate a collaborative learning experience. This way, anyone in the organization, especially the experienced ones, can easily share unique and relevant knowledge or skills in a seamless and quick process. Learnie is essentially a free app for everyone, but if you're an enterprise, you can have access to private spaces, analytics, and more upon subscription to a paid version.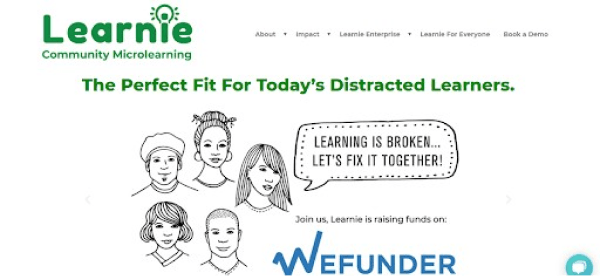 Key features:
Mobile-based

User-generated

Microlearning-focused
Cost: Free
11. Archy Learning
Archy Learning is the perfect elearning tool to boost knowledge retention among your teams across the globe. It allows you to set up a virtual global classroom where you can add learning resources like Youtube links, lecture notes, PDFS, and other digital learning materials. You can also create learning paths that include custom games, homework, quizzes, and interactive video modules. If you want to get data on your team's learning progress and test scores, you can use the tools' school tracking and head office functions. This information will give you better insights into how you can improve your learning content and how you can make lessons more engaging. Course certificate can also be enabled to encourage learners to finish their classes.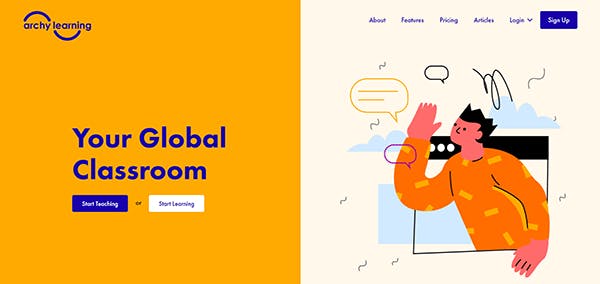 Key features:
Global classroom

Interactive video modules

Custom course, quizzes, and games

School tracking
Cost: Starts at 25 USD per month
12. Raptivity
Create fun and engaging online learning experiences with Raptivity. It offers a growing collection of ready-to-use responsive interactions, such as panning slides, parallax displays, and 360 interactions. With its user-friendly interface, anyone can use the tool to boost knowledge retention among learners. Simply choose what type of interactions you'd like to add to your learning material. These interactions can include interactive tests, games, simulations, flashcards, and brainteasers, all perfect for keeping learners interested and motivated throughout their lessons. To develop a comprehensive elearning course, you might need to use other tools, as the application has a few feature limitations.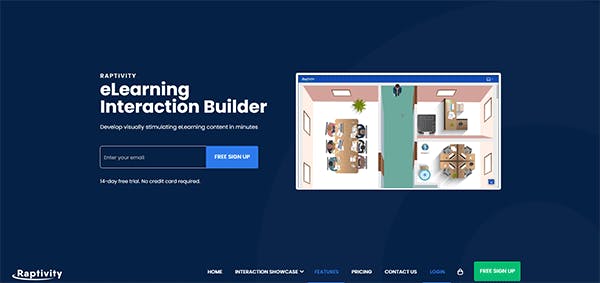 Key features:
Interactions library

Content customization

Quizzes

Games
Cost: Free trial, Paid plans start at 30 USD per year