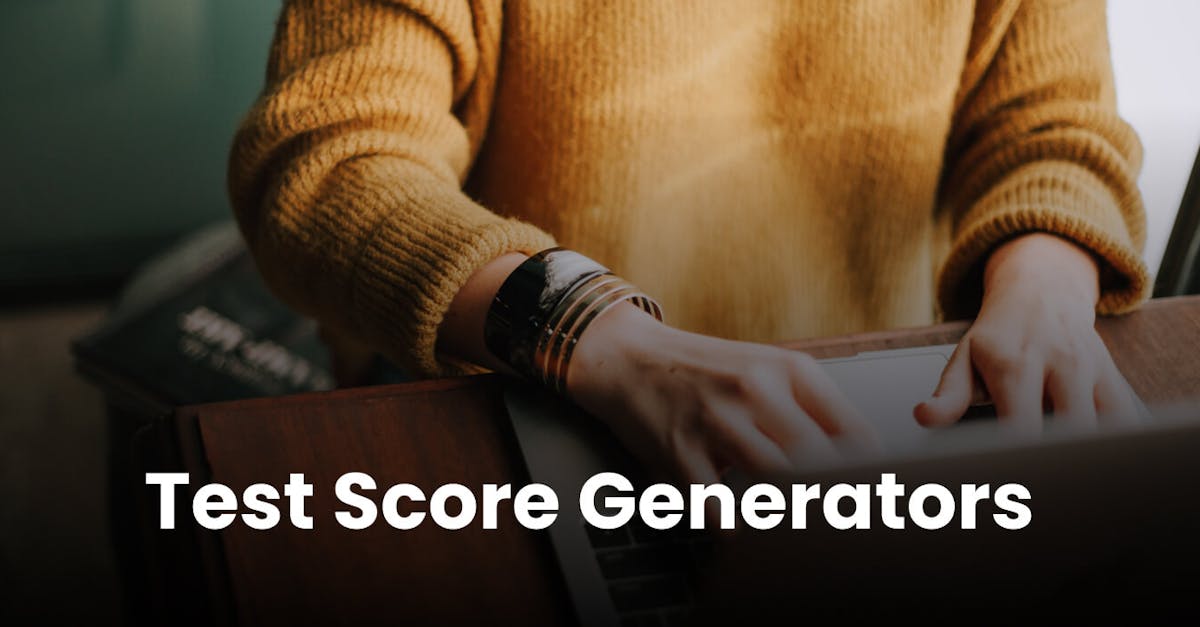 Using test score generators is a quick and easy way to collect learner information, check for knowledge gaps, and analyze individual or overall performance. Learn about the different test score generators that are available and discover how they can allow you to teach others effectively based on the reports and data you can gather. 
Test Score Generator #1 – Rapid Refresh by EdApp
Rapid Refresh is a test score generator and is included as a feature in EdApp, a mobile-friendly corporate learning management system (LMS). Rapid Refresh is an easy-to-use quiz creator that allows you to test your learners and reinforce the content you're giving them. Questions are entered into a spreadsheet that you simply fill out – no technical knowledge is required. It will transform your questions into a fun, game-like format and send out the quizzes instantly. Automate the delivery by scheduling quizzes in advance, and have your learners take them daily, weekly, or all at once in a single session. You can also opt to add quick quizzes in between your course lessons and if you don't want to start making lessons from scratch, simply choose a course from their comprehensive course library. This includes a variety of courses including construction courses, HIPAA training courses, management training courses, and even HAZCOM training courses.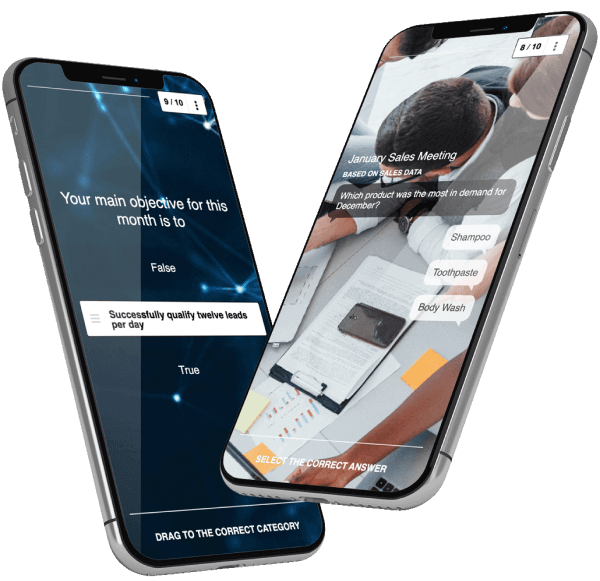 EdApp's analytics dashboard makes it easier to keep track of individual and overall test scores. All learner data created by your tests, surveys, and courses will appear as tables and graphs. These insights can be used to identify knowledge gaps on a question-by-question basis. By also including survey slides, you can receive feedback and questions from your learners that you can use to provide further support to them.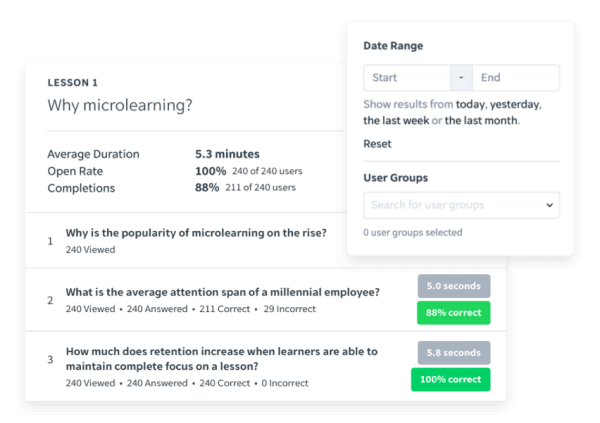 Other EdApp features can be used alongside Rapid Refresh as well. With its leaderboards feature, you can let your learners see who are the best and worst performers. This can create friendly competition, motivating those who are falling behind to improve and those who are performing well to keep up their good work. Activate push notifications to remind your learners to retake any quizzes they may have missed or notify them of any mandatory courses like cyber security, safety training, or HAZMAT training that they need to complete. 
Cost: Free

Features: Mobile accessibility, rapid refresh, gamification, automated deployment, leaderboards, push notifications, analytics dashboards, surveys
Check out Rapid Refresh for free and begin creating and scoring tests today!
Test Score Generator #2 – ProProfs
ProProfs is a learning platform that includes quizzes, assessments, surveys, and other learning tools. You can create tests and quizzes using its online quiz creator, either using a template or from scratch. It also provides a variety of quiz types, including scored quizzes and personality tests, so you'll be able to pick one that suits your needs. You can also change the test's appearance and settings, as well as add images, videos, and other integrations.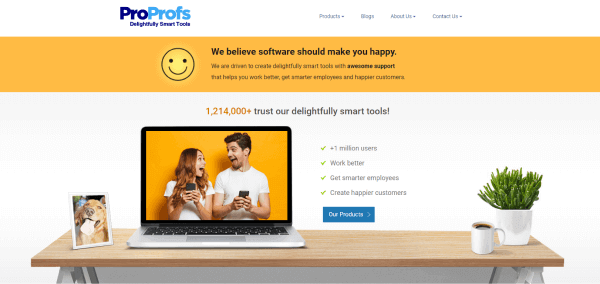 ProProfs is free, but it comes with advertisements that may break your learners' focus. You'll need to upgrade to one of their paid plans if you want to remove ads and gain access to important features like reports and tracking. 
Cost: Free, paid plans start at US5 per month

Features: Online quiz maker, templates, quiz types, customization options, images, videos, integrations, reporting, grouping
Test Score Generator #3 – FlexiQuiz
FlexiQuiz makes it simple to create, distribute, and analyze online quizzes and test scores. This test score generator is ideal for teachers or trainers who wish to make learning entertaining and engaging for their learners. Creating quizzes is easy with an intuitive user interface that requires no coding or software downloads. You can choose from nine different sorts of questions, upload supporting documents, and display question feedback at specific times. They also include customizable features like branding and quiz sharing.  

One thing to bear in mind, especially if you want to try out this digital learning platform, is that the smallest subscription plan option does not include integrations or live assistance. They do offer a free plan, but it limits your access to reports and analytics, as well as your quiz creation options. 
Cost: Free, paid plans start at US5 per month

Features: Intuitive user interface, question types, customizable options, branding, grading, sharing, integrations, live support
Test Score Generator #4 – Testmoz
Testmoz boasts of its simplicity while delivering comprehensive results. From question and quiz management to reporting, you'll have everything you need to conduct your next online test. With its drag-and-drop capability, you can personalize the look and feel of your tests. It also lets you choose whether to display one question per page or all of them at once. You can add use these tests how your learners performed during their training programs, whether those are leadership training classes, construction training courses, or HAZCOM training courses. For scores, you'll have access to summary statistics and can adjust scores manually with no problem. Testmoz is also mobile-friendly and can be used on any device, even if you have a slow internet connection.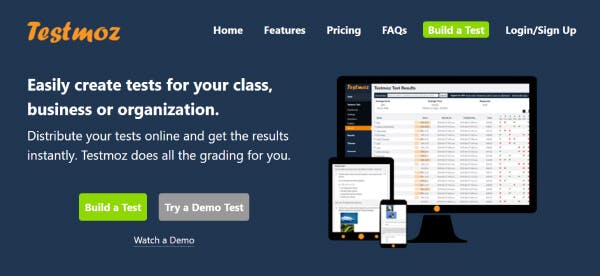 If you want to have Testmoz's image upload and email notification features, you'd have to sign up for their paid plan of US0 a year. The free version also has a limit of 50 questions and 100 results per test. 
Cost: Free, paid plan is US0 per year

Features: Question management, student interface, reporting, quiz management
Test Score Generator #5 – Typeform
Typeform is another online test score generator. Typeform's drag-and-drop tool makes it simple to build excellent online quizzes without any coding or design knowledge. To send out different types of quizzes, you can use their quiz builder with ready-to-use quiz templates. You can develop multiple question paths and create more relevant questions and learning experiences with their Logic Jumps function. Also, with their Hidden Fields feature, you can further personalize your quizzes by creating unique interactions and individually addressing your learners.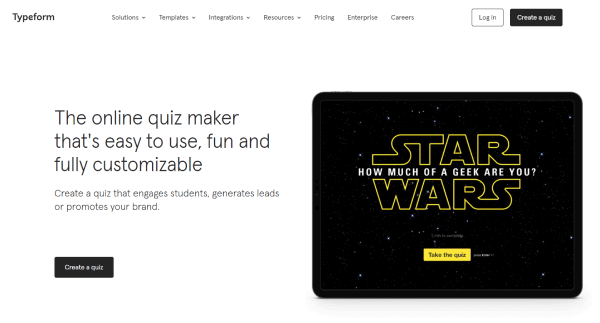 However, Typeform does not have a pre-existing library of quizzes or tests to choose from. Without a document converter or importer, you'll have to generate all of your quizzes from scratch, which will take time and effort.
Cost: Free, paid plans start at US0 per month

Features: Drag-and-drop quiz creator, different quiz templates, question paths, personalization
Test Score Generator #6 – Fyrebox
Another test score generator and tool to create an interactive quiz is Fyrebox. You can present your quiz in two formats — as a classic presentation or as an interactive chat conversation. Modifying the color theme of your tests, importing background photos, and choosing a font style are easy with Fyrebox. If you're unsure how to begin using the software, Fyrebox offers visually appealing themes and editable templates to help you get started.   

All plans allow you to create an infinite number of quizzes, but keep in mind that the free version of the platform will include the Fyrebox logo on all published tests and quizzes. This makes it hard to match the test to your branding. 
Cost: Free, paid plans start at US0 per month 

Features: Unlimited quizzes, two quiz formats, imports, themes, templates, interactivity
Test Score Generator #7 – Interact
Interact LMS is another online test score generator that aims to help businesses in generating leads and driving visitors to their websites. Individuals or educational institutions who want to develop scored quizzes, personality quizzes, or assessment quizzes can use this platform. Choose from any of their pre-built quizzes to save hours or even days of work. More than 800 ready-to-use quiz templates are available in over 40 categories, including marketing, entertainment, education, history, health, and lifestyle. The drag and drop tool is another Interact feature that can help you create branching logic quizzes as well.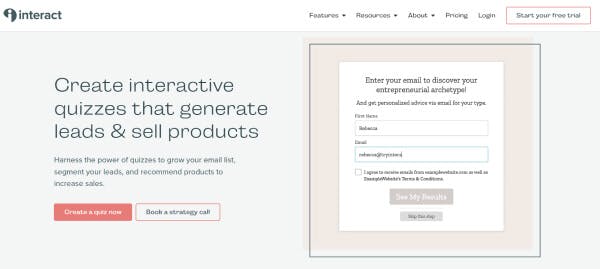 With Interact's paid plan, you can even personalize the quiz theme and branding to your company's standards with the premium subscription, giving you control over colors, fonts, photos, and logos.
Cost: Starts at US7 per month

Features: Unlimited quizzes, email leads, custom design, branding, branching logic, integrations
Test Score Generator #8 – Jotform
Jotform's test maker is easy to use and it will only take a few minutes before you're generating test scores. Build tests, add conditional logic, and grade answers automatically without any coding experience needed. Jotform also offers free online test templates for you to customize. You can create tests with a classic form-like template or go for the more fun conversational card forms. Also, editing these templates with new fonts and uploaded images is easy with its drag-and-drop tool. After you've collected your tests, you can view the scores and analyze them through generated reports.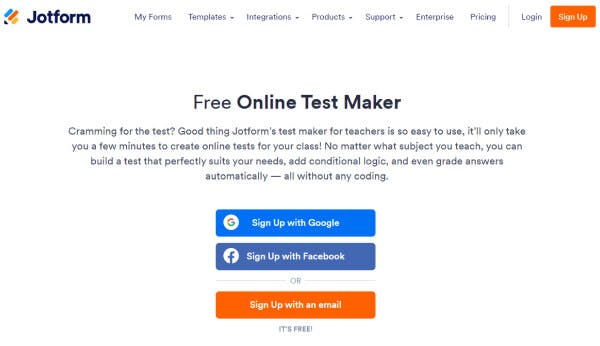 While Jotform does have a free option, you'll have a limit of five forms and only 100 MB of space. You also won't be able to remove Jotform's branding on any of your tests or forms.  
Cost: Free, paid plans start at US4 per month

Features: Templates, conditional logic, grading, customization, drag-and-drop tool, generated reports
Test Score Generator #9 – EasyTestMaker
EasyTestMaker is a free exam creator and test course generator that lives up to its name with its simplicity. You can make quizzes using multiple-choice, fill-in-the-blank, matching type, true or false, and other types of questions. Quizzes are graded automatically, but you can always override the grading if necessary. Tests can be made from an existing question pool, and other quizzes with different question ordering can be made with no additional effort. EasyTestMaker also generates reports rapidly, allowing you to observe how well your learners answered each question.

The basic features for creating quizzes and tests are free, but you'll need to invest in a paid plan if you want more intuitive features like spell checking, text formatting, and advanced test alternatives.
Cost: Free, paid plans start at US9.95 per year

Features: Different question types, automatic grading, question pools, alternative quizzes, reports
Test Score Generator #10 – Edbase
The last test score generator is Edbase, a simple platform that lets you write and score tests in only a few minutes. You can drag and drop things from your list of questions into your quizzes, rearranging them in whatever order you choose. You can even add images and videos to more complicated topics thanks to the question editor. Additionally, you can establish a time limit, randomize questions, and even lock learners' screens to ensure no cheating.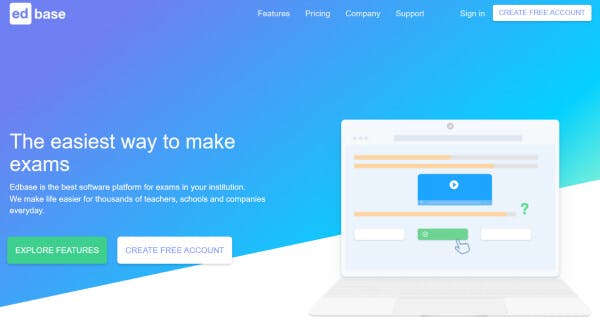 Edbase offers a free plan with a monthly limit of 10 learners and 20 exam attempts. But with their paid plans, you'd have access to unlimited test attempts, question pools, grading and reporting. 
Cost: Free, paid plans start at US0 

Features: Learner accounts, list of questions, question editor, images and videos, lock screens
Use Rapid Refresh and EdApp to score tests and improve learning experiences for free!