We've put together a list of TalentCards alternatives that will help you build and deploy courses to your employees in no time. Using online training tools will fast-track the creation of training materials, even with no coding background. You can easily streamline your training processes without breaking the bank.
TalentCards Alternative #1 – EdApp
If you're looking for a TalentCards alternative, then EdApp Microlearning LMS is your best bet. With its intuitive authoring tool, managers can build their training with no technical expertise needed. It also houses a vast array of courses on different topics in its editable course library, which is perfect if you don't have time to start from scratch. There are over 80 microlearning templates that you can use to spice up your courses and make them engaging for the learners.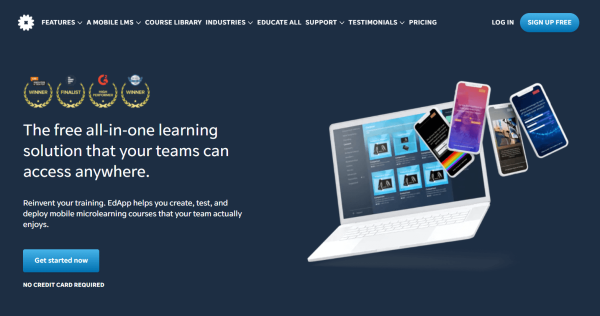 EdApp's microlearning approach makes it easier for learners to absorb information by breaking down the content into digestible chunks. Couple it with gamification, not only will the completion rate increase, but also the recall rate. This can be assessed using the Rapid Refresh quiz maker tool of this TalentCards alternative. 
This mobile learning platform is accessible on your desktop, smartphones, and tablets – making learning very mobile for busy people. 
Features: 
Authoring tool

Editable course library

Microlearning

Gamification

Quiz maker

M Learning
Cost: Free 
Sign up for Free
and Start Using The Best TalentCards Alternative!
TalentCards Alternative #2 – domiKnow
dominKnow is a cloud-based TalentCards alternative that has been used to address the training and collaboration needs of both small and large enterprises for over a decade. You may use this platform to collaborate with learners,  build interactive content using a variety of templates and digital assets, manage content, and deploy completed learning materials on any device, all with just one tool.  It also has translation and localization features, allowing you to translate instructional content into over 50 languages for employees in a given region. This is a big benefit for firms that manage employees from all around the world.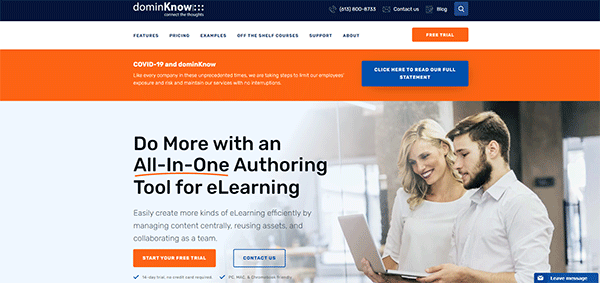 Features: 
Authoring tool

Content management system

Real-time collaboration

Translation

Localization
Cost: Starts at $997 USD/year
TalentCards Alternative #3 – Tovuti
Tovuti LMS is a TalentCards alternative that will help managers streamline training sessions. You may easily build, schedule, and deliver interactive courses using its built-in course authoring suite. Their gamification and leaderboard elements can also be used to motivate them to accomplish their allocated learning activities. If you want to incorporate synchronous learning into your programs, Tovuti LMS's live virtual classroom includes meeting virtually with your team members. You can use third-party video conference technologies like Zoom and GoToMeeting while you discuss the content of the learning materials.  Learners also have access to their dashboard, which displays their badges, certificates, leaderboard rank, checklists, assigned courses, and forthcoming training sessions.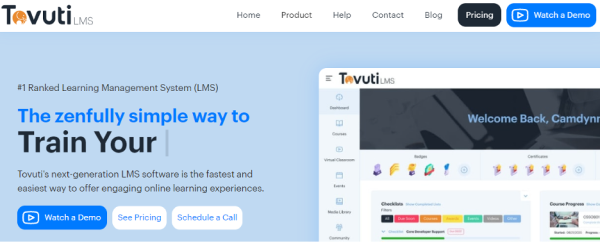 Features: 
Course authoring

Notifications

Leaderboards

Virtual classroom

Personalized learner portal
Cost: Paid plans
TalentCards Alternative #4 – Brainshark
Brainshark is a TalentCards alternative that can quickly identify performance concerns so you can address them as soon as possible. It also provides options for integrating audio and video clips, quizzes, links, surveys, and other features for a full training experience. The course materials in Brainshark are created as a series of slides or clips format, which can be imported along with the existing assets such as PDF papers and photographs. The platform also provides courseware from their library, which is useful in upskilling your employees, without having to build from scratch.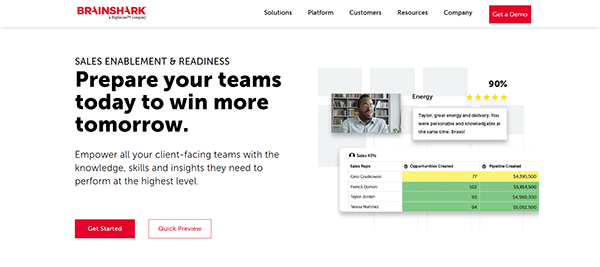 Features:
Readiness scorecards

Content authoring

eLearning library

Coaching & practice tool
Cost: Request a demo, paid plans
TalentCards Alternative #5 – Auzmor Learn
Auzmor Learn is a SCORM LMS noted for its innovative open enrollment programs and course builder. Even without advanced technological coding abilities, you can design interactive eLearning content, launch courses, and track employee performance using its simple user interface. This TalentCards alternative has a course authoring tool that you can use to create your learning materials or customize course content from their extensive lesson library. Another unique feature is the real-time analytics dashboard, which lets you analyze your team's training progress, discover learning gaps, and graph knowledge patterns.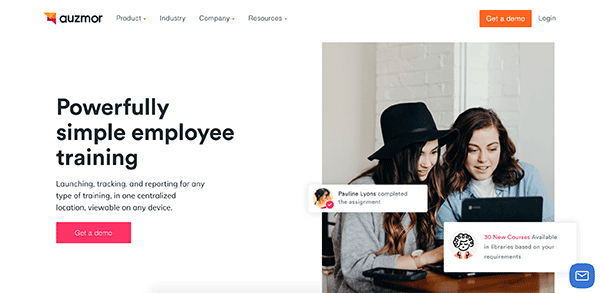 Features: 
Course builder

Lesson library

Real-time analytics dashboard
Cost: Paid plans
TalentCards Alternative #6 – Crowd Wisdom
Crowd Wisdom is a TalentCards alternative that offers rich learning experiences for your teams. There are numerous tasks that you can complete with this tool, from course building to deployment. You can create customized learning resources based on the objectives, proficiency targets, and certification pathways of your employees. You can also present them in several formats, such as microlearning, live online, and webinars.  As there are certifications provided for your micro-credentials, it will encourage your employees to finish their courseware. This TalentCards alternative doesn't offer a free version, but it does include a free trial and personal demo.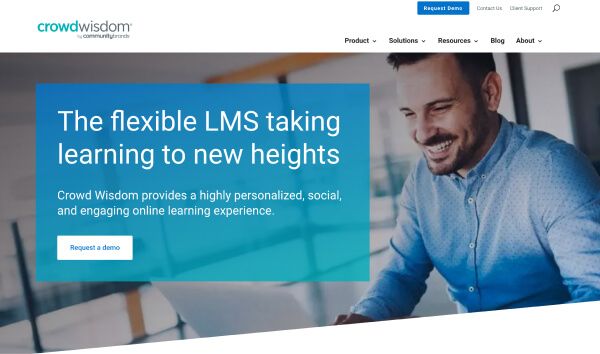 Features: 
Personalized courses

Microlearning

Live online and webinars

Certifications 
Cost: Paid plans
TalentCards Alternative #7 – WorkRamp
Designed as an all-in-one TalentCards alternative, WorkRamp can be used however you like to tailor it to your employee training. It can be used to train your clients on product uptake, boost customer engagement, and increase sales for your business. You may also create unique learning pathways for your employees depending on their function, teams, competencies, or tenure with this TalentCards option. It offers a customized onboarding process, enhanced training content production, dashboards, and analytics for measuring learning progress. There are also virtual instructor-led sessions for a blended learning experience.  You may revolutionize the learning experience in your organization by utilizing its cutting-edge technical capabilities. As a result, your employees are better able to work effectively, strengthen customer connections, and achieve desired business goals.
Features: 
Virtual instructor-led training

Onboarding

Customized learning pathways

Dashboard analytics
Cost: Paid plans
TalentCards Alternative #8 – Proprofs
Another TalentCards alternative that easily comes to mind is ProProfs. This LMS comes with expertly-designed and ready-to-use courseware that you can customize. It also has free editable templates that you can tweak to match your organization's colors and themes. Reusing existing content in ProProfs also allows you to upload different document types, such as PowerPoint slides, PDF files, videos, and even SCORM content that you can include in your courses. Its knowledge base feature also helps you house all the information that your learners need which they can access right at their fingertips.
Features: 
Course templates

Learning community

Analytics dashboard
Cost: Starts at $25 USD/month
TalentCards Alternative #9 – Arlo
Arlo is a TalentCards alternative that will take your training to another level as it has everything you'll possibly need. It makes for a great TalentCards alternative thanks to its many options to deliver training, such as webinars, self-paced online learning, blended learning, and live, interactive courses. You can build courses and modules where you can include quizzes, videos, online activities, discussion forums, assignments, and more. With Arlo, you'll also get the benefit of having your processes streamlined and automated after course completion, which is a great timesaver for simple, everyday tasks. This includes automatic attendance recording, feedback surveys rollout, and completion certificate creation and distribution.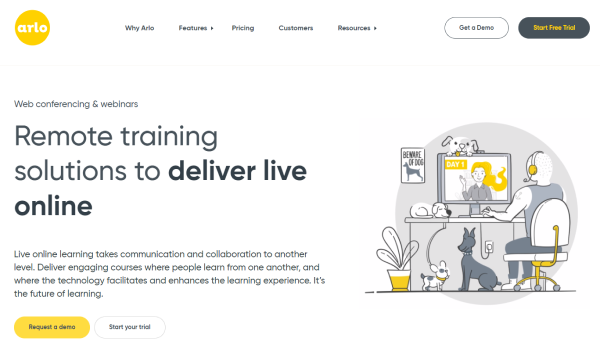 Features: 
Course builder

Course management

Webinars

Quiz maker

Attendance & feedback monitoring
Cost: Paid plans
TalentCards Alternative #10 – Lectora
If you're looking for another training platform as a TalentCards alternative, Lectora might be right up your alley. Lectora promises both speed and power when it comes to authoring. Creating learning content is as easy as choosing from their templates, course frameworks, themes, and style packs to suit your needs. This tool also has a built-in asset repository chock full of icons, characters, stock images, audio clips, and videos. With its collaborative authoring feature, teams working on a single project can monitor any changes as it automatically alerts each member. If you're still on the fence about using Lectora, they offer a free trial so you can decide if the cost fits your budget.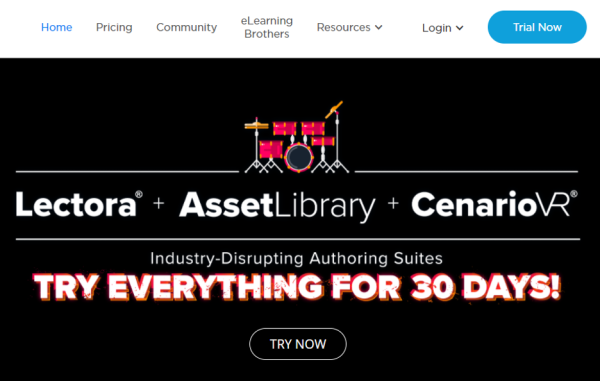 Features: 
Course builder

Customizable templates

Collaborative authoring
Cost: Free trial, paid plans