Before you decide on Talent LMS as your organization's training and development platform, keep in mind that there are other Talent LMS alternatives that can give you more powerful and intuitive features at a fraction of the cost. To help you make an informed decision, we've listed down 10 different tools to consider. 
1. EdApp
One of the best Talent LMS alternatives in the market, EdApp is an award-winning microlearning platform and learning management system recognized by industry-leading brands like Deloitte, Unitar, Mizuno, and Pandora. As a free mobile learning solution, it enables you to develop online training courses through a wide range of customizable, intuitive, and highly versatile features.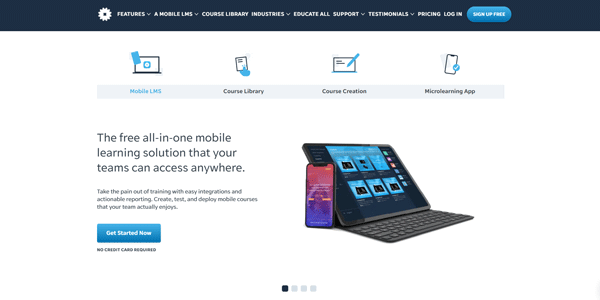 EdApp's drag and drop course authoring tool is one key feature that sets it apart from other Talent LMS alternatives. It allows users to add content, rebrand their lessons, and incorporate pictures, exercises, games, and quizzes, all with the help of over 80 elearning and quiz templates. If you need to save time, you can simply choose from 100+ fully editable courses and import the one that best suits your learning goals. Some of the ready-made courses you'll find in their course library include hospitality training courses, retail training programs, construction safety training programs, technical training courses, and many more. A huge perk is that these courses are compatible with both iOS and Android mobile devices, making them perfect employees who want to learn on the go.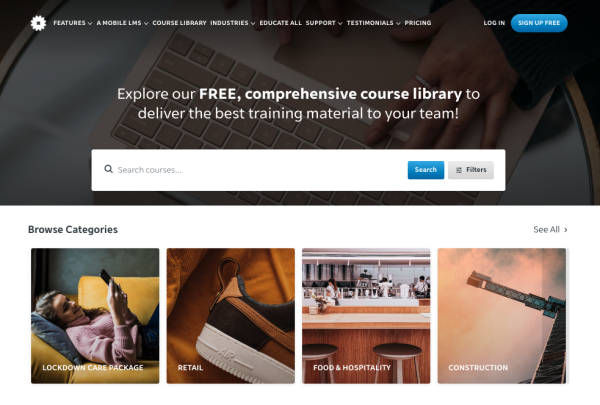 Through EdApp, you can integrate gamification techniques like leaderboards and real rewards to keep learners engaged with their lessons. You can also ensure that learners are reminded of course any deadlines or course updates by enabling the custom push notification feature.
Other administrative tools like EdApp's automated analytics and reporting dashboards make it more convenient for trainers to track their teams' training progress, identify skill and knowledge gaps, and assess learning trends. Based on their results, you can adjust lessons to match your learners' current training needs. 
Cost:

Free

Highlights:

Drag and drop authoring tool, elearning and quiz templates, course library, gamification, leaderboards, rewards, custom push notifications, 
2. Trainual
Through Trainual's elearning platform, you can onboard new employees or train current team members with ease. It works perfectly as a Talent LMS alternative, allowing you to customize learning materials by choosing from the platform's over 150 free templates. When creating courses, you'll have the option of embedding images, videos, and multiple-choice questions. However, it doesn't support SCORM files or other eLearning formats, which can be a deal-breaker for those with existing content on other top training portals.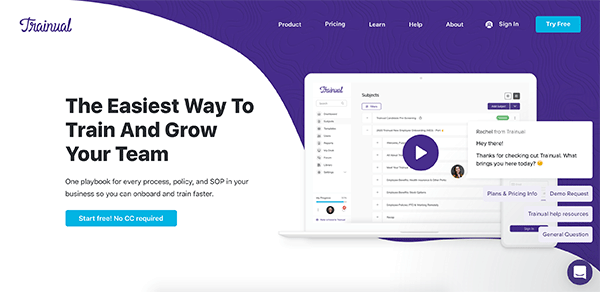 Once your training courses have been deployed, your employees can access them through multiple online platforms that include iOS, Android, Chrome extension, and web browser. Trainual also highlights the importance of process and procedure documentation so they provide playbook templates for training to become infinitely repeatable and scalable. One big disadvantage of this tool is that you'll have to spend at least $99 USD per month to get access to all of its notable features.
Cost:

Starts at $99 USD per month

Highlights:

150+ free course templates, multi-platform access, playbook templates
3. Tovuti LMS
Tovuti LMS is a highly flexible Talent LMS alternative that you can use to streamline your employee training and onboarding processes. With its built-in course authoring suite, you can design, schedule, and distribute interactive courses in just a few easy steps. The platform also makes it easy to include gamification elements like badges, certificates, checklists, and leaderboards, all of which can help encourage learners to complete their assigned training tasks. If you want to integrate synchronous learning sessions into your training, Tovuti LMS's live virtual classroom allows you to virtually meet with your team members in real-time through third-party online video conference platforms like Zoom and GoToMeeting.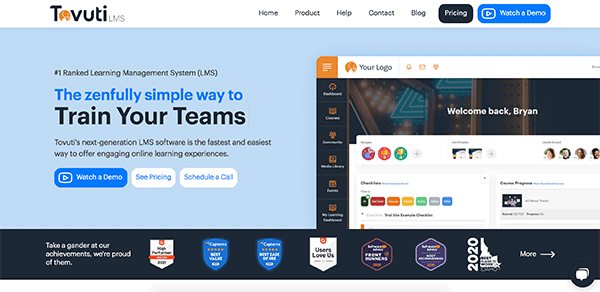 Learners also have access to a personalized portal that shows their badges, certificates, leaderboard ranks, checklists, assigned courses, and upcoming training sessions. This learning management system even has an all-in-one custom reports feature that allows you to track your employees' learning progress,  KPI stats, and other micro-interactions with your course content. 
Cost:

Get a

quote

Highlights:

Built-in course authoring suite, personalized learner portal, gamification elements, virtual classroom, custom reports
4. Blackboard Learn
As a Talent LMS alternative, Blackboard Learn helps learning and development professionals create their training programs through a highly responsive, barrier-free LMS software. This software also takes pride in its all-in-one training solutions, including web conferencing and collaboration, reporting, custom web design, and content management. Combined, these features all help you deliver eLearning courses in more convenient and meaningful ways. The online learning platform also provides a built-in virtual classroom to help instructors and learners collaborate more effectively and communicate on any internet-accessible device. If learners need additional resources or further assistance, they'll also have access to personalized support through the Blackboard assist feature.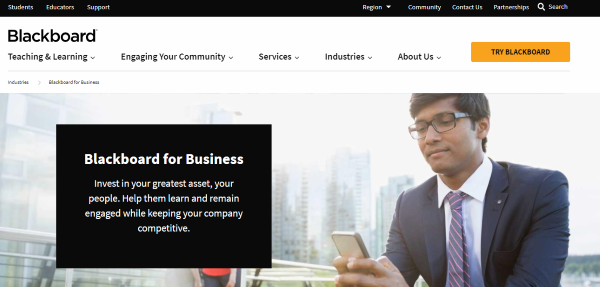 Cost:

Request a

demo

Highlights:

Responsive LMS, built-in course authoring tool, custom web design, barrier-free formats, content management, mass notification systems, registration, reporting, virtual classroom, Blackboard assist
5. Coassemble
With Coassemble, you can easily build and deploy interactive courses that address your teams' training needs. This elearning platform also works well as a Talent LMS alternative, providing multiple features that foster a collaborative learning environment. Through its built-in authoring tool, you can choose from 40+ e learning templates, customize lessons, and publish your course materials, all within a few clicks. You can also incorporate learning assessments at the end of each course by choosing from a variety of pre-loaded quiz templates. Coassemble also gives trainers the option to create a shareable training hub where they can store their course material and playbooks, giving your teams access to everything they might need. And if they're handling a large mobile workforce, they'll also be able to appreciate its mobile-responsive feature, enabling field employees to access their learning materials on the go.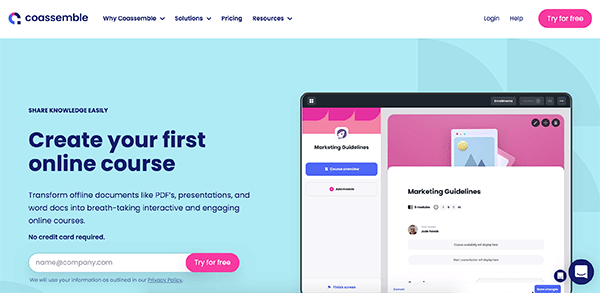 Another huge benefit is that Coassemble's support team is available around the clock so your users won't have to worry about customer service availability.
Cost:

Starts at $49 USD per month

Highlights:

Authoring tool, customizable templates, shareable training hub, mobile-responsive, 24/7 customer support
6. 360Learning
360Learning is a collaborative learning platform and Talent LMS alternative that allows you to develop online training programs and manage your workforce. It has multiple user-friendly features, including a SCORM-compliant authoring suite, a content integration system, and an analytics dashboard, all of which require no technical expertise. If you want to keep your training content up to date and engaging, you can also include videos, images, blog articles, and additional research. With 360Learning, workers also have access to collaborative learning features like discussion boards and group pages, allowing them to participate in meetings with their managers and fellow employees.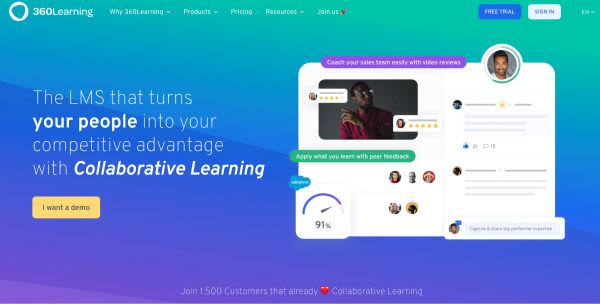 Cost:

Free trial, Paid plans start at $8 USD per month

Highlights:

Collaborative learning, SCORM-compliant authoring suite, content integration, analytics dashboard, discussion boards
7. BrainCert
BrainCert is a mobile-friendly LMS and social learning platform that incorporates adaptive SCORM functionality with a modern user interface. It also works wonderfully as a Talent LMS alternative, boasting powerful features including a virtual classroom, course creation wizard, custom theme design, testing platform, shareable tests, and many other tools. These comprehensive features are designed to help you deliver courses, perform assessments, and conduct live online classes more efficiently. It has even integrated social learning with e-commerce by allowing instructors to sell their online courses, tests, and live classes in the platform's global marketplace. Instructors can also use features like video streaming and chat to better communicate with their learners.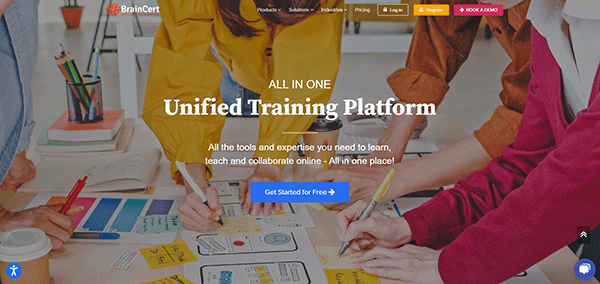 Braincert has many paid plans you can choose from but with their free tier option, you can experiment with their features before buying the tool.
Cost:

Free plan, Paid plans that start at $39 USD per month

Highlights:

Social learning e-commerce, virtual classroom, course creation wizard, testing platform, custom theme design, shareable tests
8. ProProfs
With Proprofs, you can craft well-designed online courses in just a few simple clicks. To build a course, all you need to do is choose a template from over a hundred ready-made options, add your own videos, images, or text, and customize learning materials according to your company's brand guidelines. This Talent LMS alternative also provides you with a vast library of pre-made courses on important topics like compliance, sales, leadership, and customer service training, all of which you can easily deploy to your teams. It can also import content from other LMS as it's SCORM & Tin Can API compliant. This allows courses to be integrated with your preferred platform or any third-party system. Their simple online quiz maker software can also test your learners' knowledge levels. Once you get the results, ProProf's AI-powered reporting feature will quickly deliver insightful data on each team members' learning progress.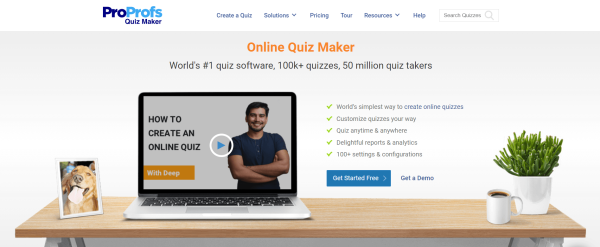 For seamless collaboration and knowledge sharing among your learners, Proprofs also provides additional features like a learning community, virtual classrooms, discussion forums, and a centralized knowledge base for FAQs, how-to manuals, and other training materials. 
Cost:

15-day free trial, get a quote

Highlights:

Editable course templates, course library, quiz maker, AI-powered reporting, learning community, virtual classrooms, discussion forums, knowledge base
9. Thinkific
Thinkific is a versatile online course platform and Talent LMS alternative that empowers anyone to quickly create and deliver stunning courses on their own branded website. With their drag and drop software and template library, you can easily customize your content, add quizzes and certifications, and upload training videos. Customizable domains and brandable sites also make it possible for users to create multimedia courses that are enhanced with PDF and voice-over slide presentations. You can schedule lessons ahead of time, automate content releases, and even set pricing for the courses. To foster even greater collaboration between learners, the platform also provides easy access to discussion boards and a Zoom integration. In addition, compared to other digital learning platforms, Thinkific supports over 20 languages.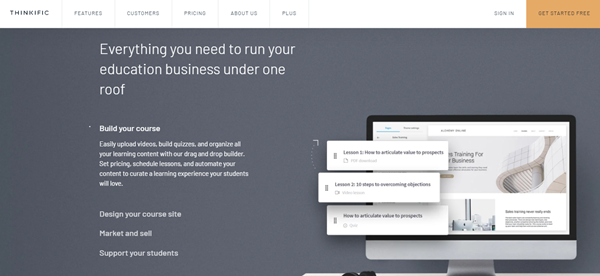 Cost:

Free trial, Paid plans start at $39 USD per month

Highlights:

Template library, content customization and automation, domain customization, supports over 20 languages, certifications, quizzes, discussion boards, and Zoom integration
10. Schoology
Schoology is another Talent LMS alternative that can help you create engaging learning materials and unlock your learners' collaborative potentials. It allows you to track progress as you monitor attendance, share instructional materials, and record grades with ease. To organize your content, Schoology has course folders, personal, and group resources, which are built-in. There are also file repositories where you can upload SCORM packages before integrating them into a course. Through this platform, educators can also post daily reminders and assignments for students. The assignments can include time quizzes and discussion sessions. Rubrics can also be attached to assignments and assessments so learners know what they are scored upon.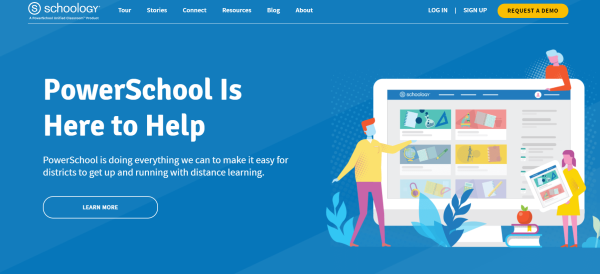 Cost:

Request a

demo

Highlights:

Progress and attendance monitoring, record grades, file repositories, course folders, SCORM compatibility, reminders, time quizzes and discussions, rubrics