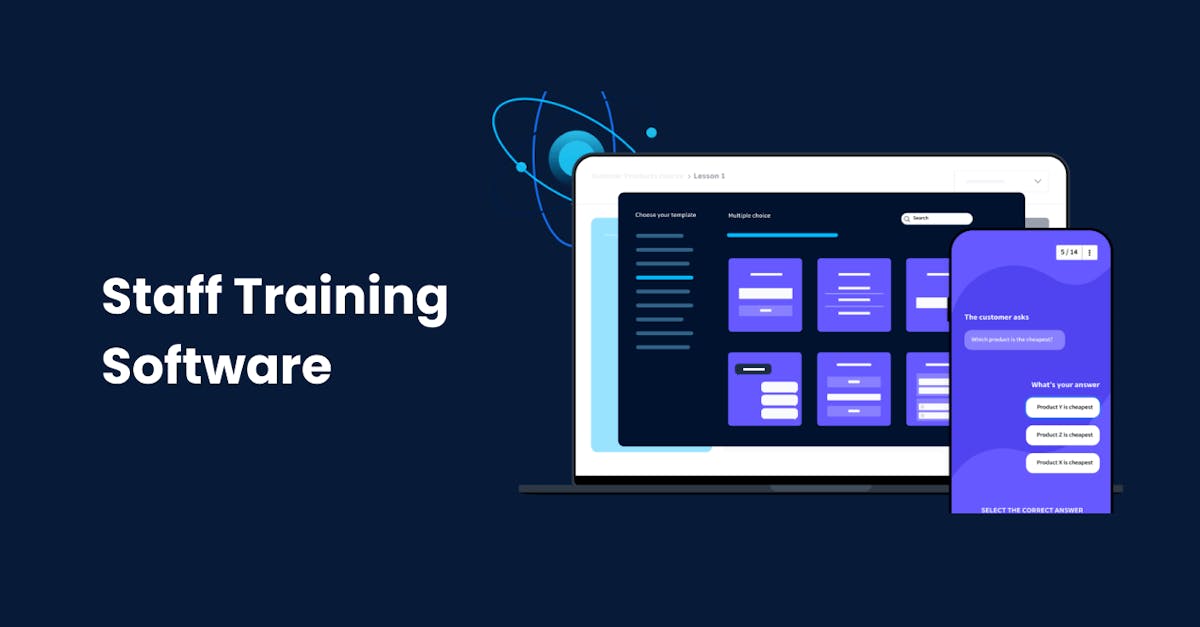 Employee training can be challenging and costly if you don't have the right staff training software implemented. But with so many to choose from, it can be hard to pick the right software for training employees. That's why we've come up with a shortened list for you to choose from.
Staff Training Software # 1 – EdApp
If you're seeking an all-in-one training platform with features for easy training administration, learner engagement, and performance tracking, EdApp is the best staff training software for you. All while guaranteeing their relevance and effectiveness.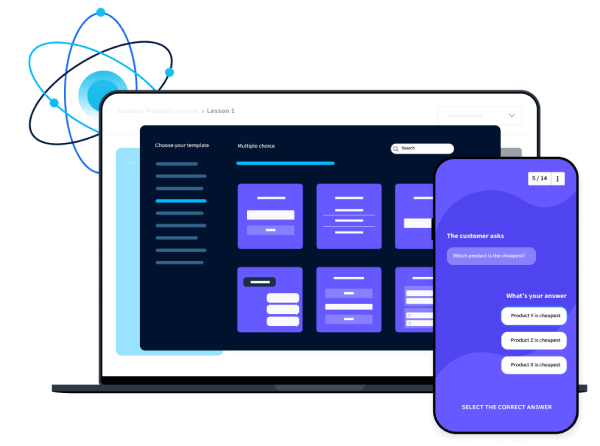 You can swiftly build training programs using EdApp's authoring tool to remain on top of your organization's learning demands. You don't need to create courses fresh here. You can dedicate more time to your course information with the help of 80+ ready-made interactive lesson templates.
What's more, EdApp allows you to manage not just online courses but also in-person training sessions via Practical Assessments. Get rid of your paper checklists. With this HR training software, you can use your mobile device to analyze your learners' performance on the job and effortlessly track their progress in the training analytics.
Develop better training with EdApp today.
Cost: Free
Features:
Authoring tool

Lesson templates

Practical assessments
Staff Training Software # 2 – Learn Amp
Learn Amp is a training software for employees that helps you develop your learners' professional abilities on a single platform. You can develop an engaging learning experience even in a virtual learning environment by using peer-to-peer learning and social learning techniques.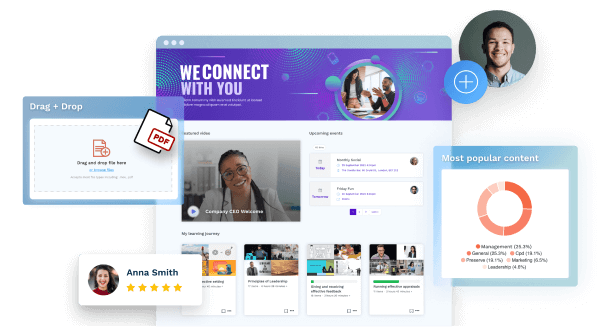 In-app chat, user-generated content, discussion threads, event management, and group assignments are among the options available. Performance reports are accessible via their own visual dashboard. You can also plan learning tracks for more effective learner growth based on your data insights.
Cost: Request a quote
Features:
Social learning

Learning pathways

Visual dashboards
Staff Training Software # 3 – Create LMS
Create LMS offers a wide range of learning options, such as augmented reality (AR), video 360, immersive learning, and many more, to support you in developing the greatest training programs at an accessible price.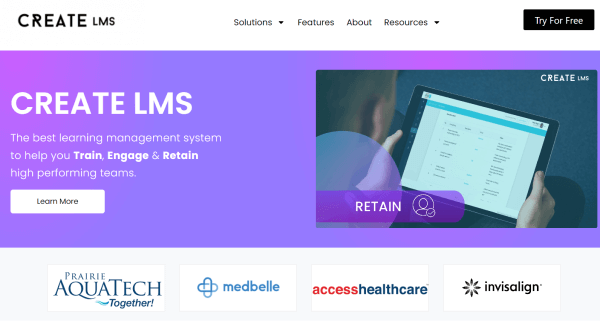 You can use this staff training software's powerful course builder to develop and manage self-paced courses, exams, webinars, polls, and even instructor-led training. Alternatively, you can already deliver ready-made courses from the course catalog that are appropriate for your team's learning needs. You also have complete access to training data, allowing you to track learning progress, check compliance, and handle certification.
Cost: 12 USD/user (annually)
Features:
Course builder

Course catalog

Training records
Staff Training Software # 4 – ExpertusONE LMS
ExpertusONE LMS delivers a user-friendly interface to make digital training fast and easy. You can design courses and include audio, visual, and video formats all in one location with its integrated digital content player.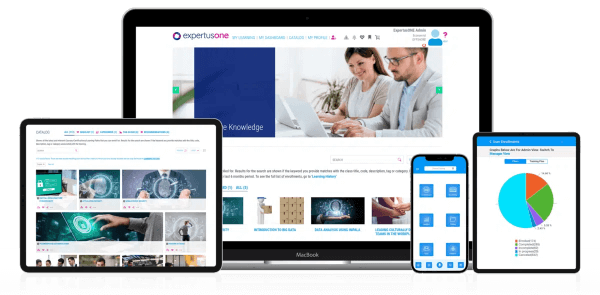 You can also include polls, quizzes, and games to help reinforce information and engage learners. With a single click, you can also launch virtual classes and meetings on the app. Access crucial metrics on demand to get insights on your learners' course progress and social learning quality, and export to Excel for data reporting.
Cost: Request a quote
Features:
Staff Training Software # 5 – Gyrus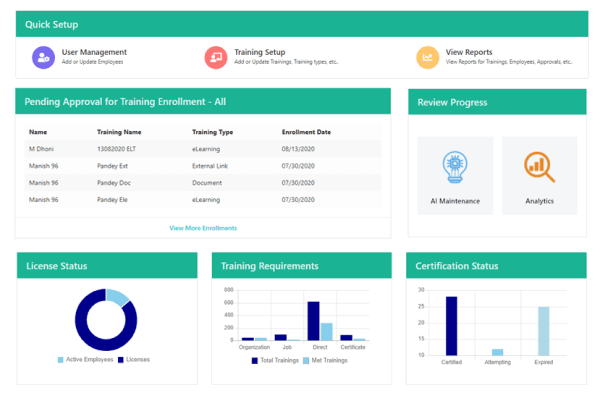 Gyrus is well-known for its intuitive, AI-powered features, which are designed to spare trainers from the hassles of organizing online training programs. Training can be delivered in a variety of ways, including elearning courses, webinars, tests, and evaluations. This offers you the freedom to design training that's tailored to your trainees' learning styles. There's also a document repository. You can save all of your training materials in one location here, eliminating the need to switch from one tool to another.
Cost: Request a quote
Features:
Staff Training Software # 6 – Coconut LMS
You can also rely on Coconut LMS to boost your online training operations. You can develop your own courses here, but you can also get courses from their Coconut Learning Store. You can even engage subject matter experts to design one for you. You can use this staff training software to host webinars, live virtual lectures, and feedback sessions if you want to meet with your staff digitally and communicate with them in real time.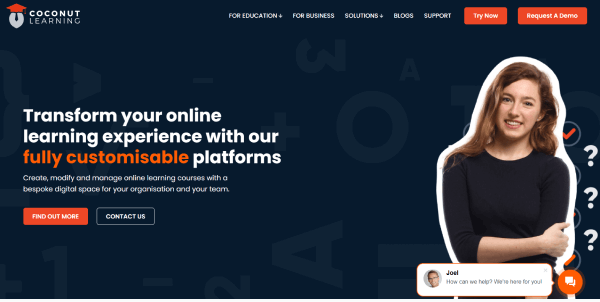 Coconut LMS also delivers a white-label learning solution to develop training programs that you can name. You can use your brand identity to make sure your training is never linked back to Coconut LMS.
Cost: Request a quote
Features:
Staff Training Software # 7 – Gomo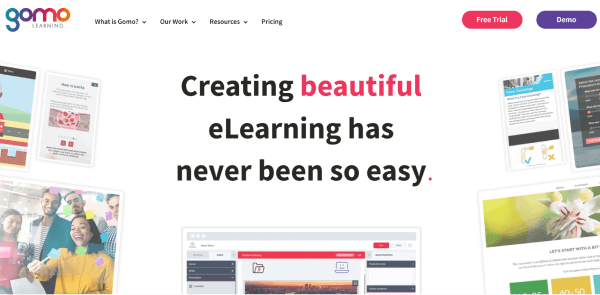 Gomo is a basic and easy-to-use staff training software. Gomo's cloud-based authoring tool helps get collaborative work done while making sure that information is easily updated and delivered. With responsive design as a baseline, you won't have to worry about your device's screen being precisely formatted every time. You can establish and maintain a centralized resource library to conveniently access your instructional materials and reuse content without duplication problems.
Cost: Request a quote
Features:
Cloud-based no download needed

Collaborative authoring tool

Resource library
Staff Training Software # 8 – Bit.ai 
Bit.ai is another popular elearning staff training software that can support you in organizing and managing learning materials effectively. It has an intuitive smart document editor that allows you to create, publish, and distribute documents.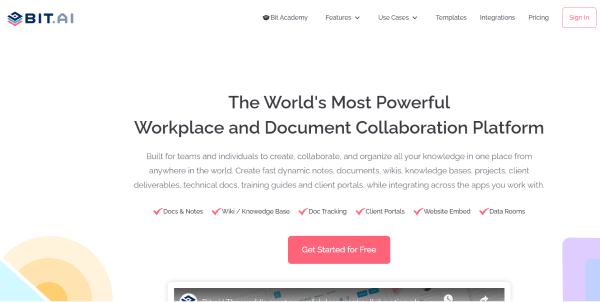 Once you've completed your digital assets, save them in your content library for future use. You can also import documents from other platforms like Google Docs, Confluence, Dropbox, and others. Another valuable tool is document link monitoring, which provides real-time information about how learners engage with learning resources.
Cost: Paid plans start at 8 USD
Features:
Smart document editor

Content library

Document link tracking

Course selling
Staff Training Software # 9 – Envato Elements
Envato Elements offers a wide range of choices for generating engaging learning content. With its subscription plan, you can access an infinite number of slideshows, explainer videos, decks, and podcasts to use as training material. Various digital materials, as well as a library of offsite tools and templates, are also accessible for you to use. Envato Elements gives you all of the tools you need to create a single slide or a whole course. Every month, they also give out free files to individuals who merely register for an account.
Cost: Starts at 11.50 USD
Features:
Staff Training Software # 10 – GoToTraining
Last but not least, GoToTraining is a staff training software that delivers all of the resources required for training. You can share online course libraries, videos, and presentations with learners ahead of time to prepare them for virtual training sessions.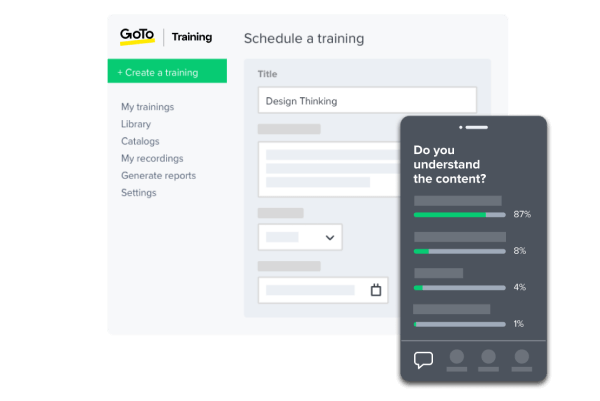 Aside from PCs, learners can access their training from any device and participate in training via smartphones or tablets. Session recordings can then be stored in the cloud for later viewing and documentation. GoToTraining also has a content library where you can save, organize, and reuse files as required.
Cost: 109 USD per organizer/month
Features:
Course catalogs

Mobile accessibility

Content library
EdApp is a mobile learning management system designed for today's digital habits, delivering more engaging and effective micro-learning directly to learners anytime and anywhere.
Sign up for this staff training software today.