An SOP software is a platform that you can use to efficiently store, organize, create, and share documentation processes and policies within your organization. These tools are designed to help you and your teams achieve operational excellence in the workplace. Learn how these SOP software can benefit your organization below.
SOP Software #1 – EdApp 
EdApp is a training software that also functions as an SOP software to help operations run like a well-oiled machine. With its state-of-the-art authoring tool, you can create courses to house your processes and procedures, filled with interactive and engaging elements. With its intuitively designed microlearning and gamification templates, you have a plethora of options to choose from on how you want to present your content. EdApp's Briefcase feature also enables you to attach additional resources to your courses so that users can download them on their own devices. By being mobile-first, you can ensure that employees have access to the information they need right at their fingertips, so they can reap the benefits of online learning anywhere.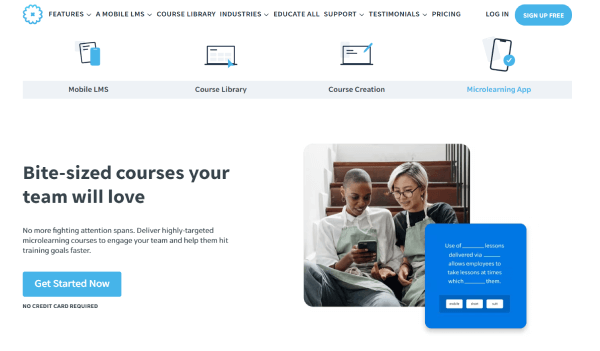 For better organization, you can create different user groups and create different access rules depending on what content they need. Doing this will help you see the progress of users in the user group they have been assigned to in a visually schematic way, which makes communication with users with low completion rates simple and easy. To ensure that your teams take their courses, you can even set up automated push notifications, which are also customizable. If you don't have a lot of time to create sop training programs from scratch, simply provide your old training materials to EdApp's team of instructional designers, and they will turn them into dynamic and captivating courses for you.
Cost: Free
Key features:
Authoring tool

Template library

Briefcase

Analytics

Automated push notifications
Sign up for Free and Start Using the Best SOP Software Today!
SOP Software #2 – iAuditor
iAuditor is an inspection, issue capture, and corrective action platform that you can use to achieve systematic and procedural excellence at work. To get started, you can choose from over a hundred thousand ready-made templates built by industry experts. If you'd like to create your own, iAuditor's Smart Builder makes it really easy with its intuitive drag-and-drop template builder with multiple response types. You can even convert paper checklists or spreadsheets into digital smart inspection forms in minutes. iAuditor also features Heads Up, which allows you to send messages and videos to your teams in seconds and ensure that your teams get updates whenever needed. This platform also comes with an analytics suite and dashboard to view results, so you're always aware of your performance, productivity, compliance, and more.
Cost: Free
Key features:
Template builder

Inspection form converter

Heads Up

Analytics
SOP Software #3 – Acadia
Acadia is an SOP software that's built to help your teams help themselves when learning about your organization's policies and procedures. This platform has a single source of truth repository, so your teams can access information in one place, which even translates documents automatically to other languages. Procedures you have can easily be converted into a checklist with just one click and also include end-to-end tracking. To enable process improvement, you'll get actionable insights to track procedure compliance and employee activities.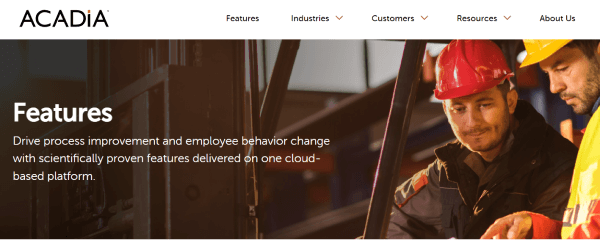 Cost: Available upon request
Key features:
Document repository

Checklist conversion

Actionable insights
SOP Software #4 – Trainual
With Trainual, you can turn standard operating procedures into engaging training manuals. Like other SOP software on this list, it has hundreds of templates to get you started faster. If you want to document processes in video form, it also has a screen recording function where you can explain how things are done. You'll also have the option to embed GIFs, PDFs, and videos with their Quick Embed feature. Its organization system, called Collections, allows you to organize your content into different categories, such as department, team, and location, so employees can easily find information that's relevant to them.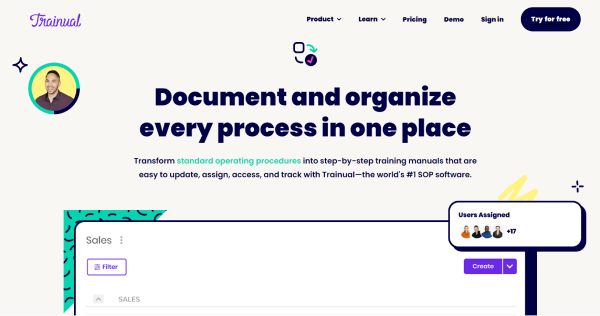 Cost: Starts at $49 US/month
Key features:
Templates

Screen recording

Quick Embed

Collections
SOP Software #5 – Keeni
Streamlining business processes has never been more efficient with SOP software like Keeni. Got existing PDFs, Word, or Google docs? Just import them to create a template and edit them with different interactivity elements, such as checkboxes, dropdown menus, and text responses. You can then share this template with your teams and collaborate with them in real-time. Keeni also has a task management functionality to assign tasks and monitor progress for accountability. It also has a centralized audit log so you can track every change, transaction, and login in the system, which you can export for review.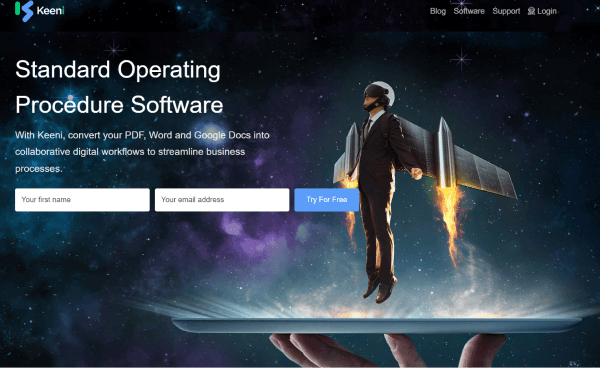 Cost: Starts at US $150/month
Key features:
Document import

Task management

Audit logs
SOP Software #6 – Way We Do
Way We Do is another SOP software to help you increase workflow efficiency. With its Procedures Lifecycle, creating, editing, and testing processes are made easy in just a few steps. To make sure that employees are reading updates on your procedures and policies, this platform has a Procedure Acceptance feature that requires users to sign off after. Way We Do's Activated Checklist also enables you to manage the time-consuming details of several important daily tasks, like processing invoices, implementing systems, and reviewing expense reports.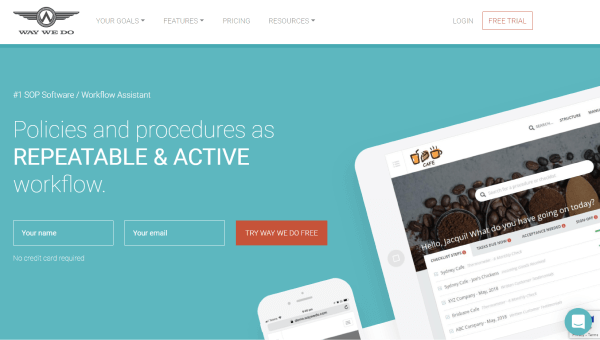 Cost: Starts at US $99/month
Key features:
Procedures Lifecycle

Procedure Acceptance

Activated Checklist
SOP Software #7 – Dozuki
Looking for a smarter way to document processes and procedures? Look no further, as Dozuki can help your team achieve this. It includes a wide array of industry-proven templates, which ensure a standard format across your organization to maintain consistency. Their authoring interface was created especially for designing procedures and for information to be shared without duplication. You can also include procedural videos for complex processes and include them in your work instruction.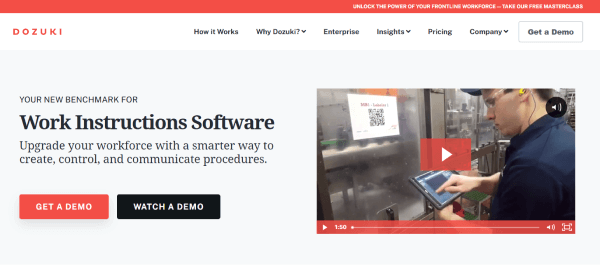 Cost: Starts at US $17/month
Key features:
Templates

Authoring interface

Video instructions
SOP Software #8 – SweetProcess
SweetProcess is another SOP software to help you organize and systematize your procedures to grow your business. If you already have SOPs documented elsewhere, they provide an optional service to have them migrated for you, but do note that it comes with a cost. However, they have a Microsoft Word import tool that you can use yourself as an alternative. SweetProcess enables you to document step-by-step procedures as well as policies and processes, and combine them to create a better workflow. You'll also have the option to assign actionable tasks to your teams and track them until completion. Its knowledge base also ensures that all your documents are safely stored and accessible in one place.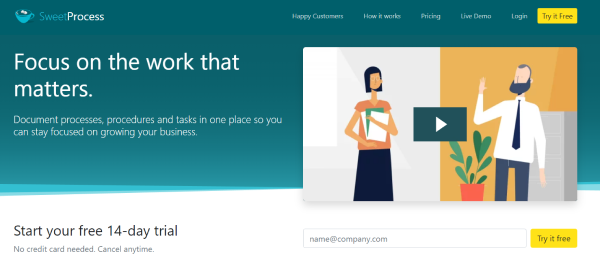 Cost: Starts at US $99/month
Key features:
SOP migration

MS Word import tool

Actionable tasks

Knowledge base
SOP Software #9 – Scribe
Scribe is a simple SOP software that allows you to capture any process through recordings in seconds. Just activate the Scribe recorder and a step-by-step guide will be automatically generated, complete with screenshots and instructions. You can then edit them to add other information and incorporate your organization's branding. This can then be easily shared with your teams and even exported as a PDF file. Scribe also has unlimited guides created by experts that you can use or get inspiration from.
Cost: Free and paid plans
Key features:
Scribe recorder

Automatic document creation

Unlimited guides
SOP Software #10 – SOP Express
Last but not least, SOP Express is another SOP software you should consider. It transforms content in a standards-based way and makes it reusable to improve efficiency. With its prebuilt outline and SOP templates, you can write and revise procedures and policies with ease. Its Sharepoint Connector feature also allows you to track your SOPs, which shows versioning and document history. Collaborating with others for review is also available on SOP Express. If you need to test your team's procedural knowledge, you can create materials for workshops and training to deploy to your employees.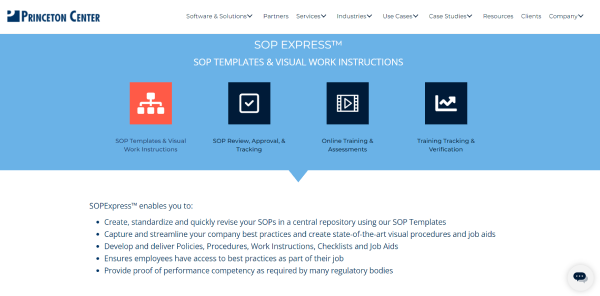 Cost: Available upon request
Key features:
SOP templates

Sharepoint Connector

Collaborative authoring