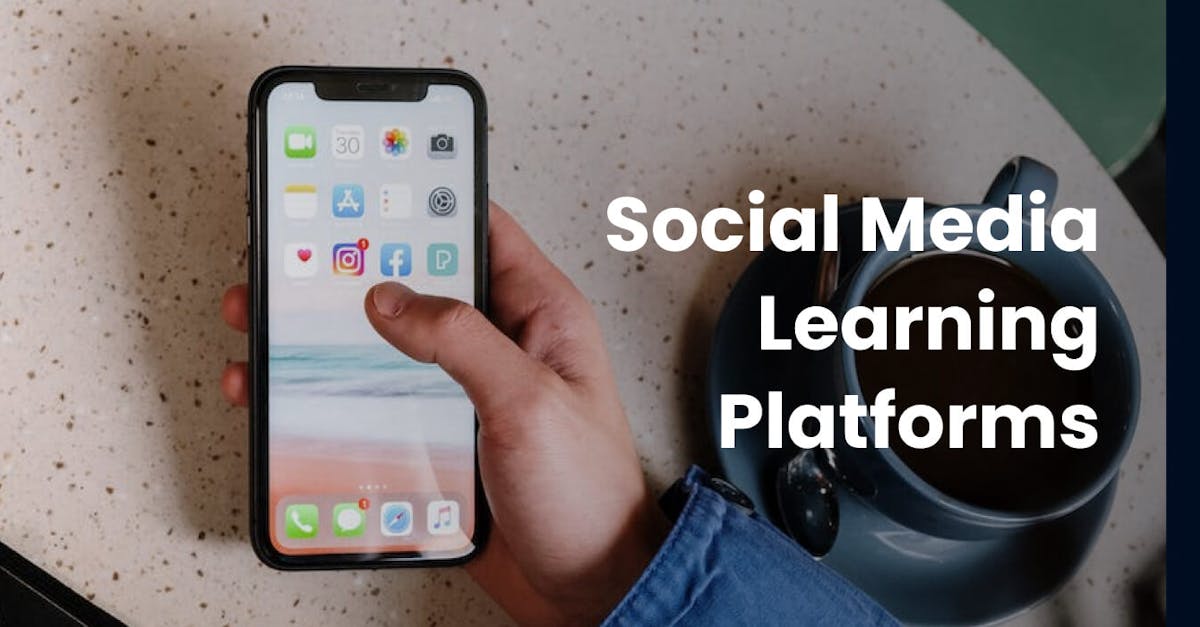 Social media learning platforms are currently rising in popularity, especially in the world of marketing training. And it's no surprise, as they offer an alternative to organizing a week-long workshop, or spending months creating your own course. This article will give you a selection of social media learning platforms that you can use to level up the skills and knowledge of your digital marketers, and increase your business presence online. 
1. EdApp
EdApp is a big name in the world of corporate training, being regarded as one of the most recommended social media learning platforms in the market today.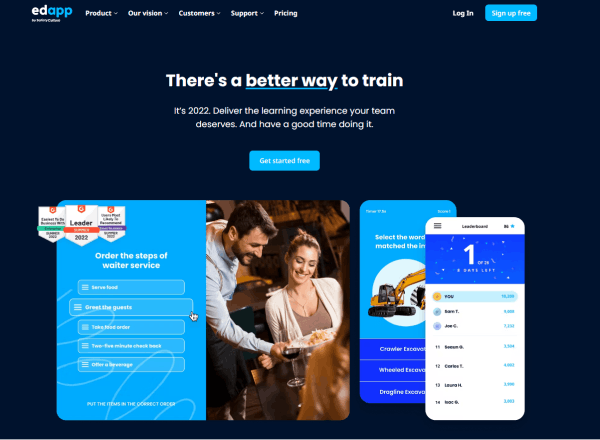 It takes great pride in its intuitive course creator tool, which makes it easy to develop social media quizlet and e-learning courses without any coding or graphic design experience. It's backed by over 80 templates, so you don't have to worry about starting from scratch or getting overwhelmed by the tool. 
This platform also offers a bespoke course creation service, which is perfect if you no longer have to go through the nitty-gritty of the course development process. All you need to do is submit your content and let their group of instructional designers transform them into expertly-designed courses.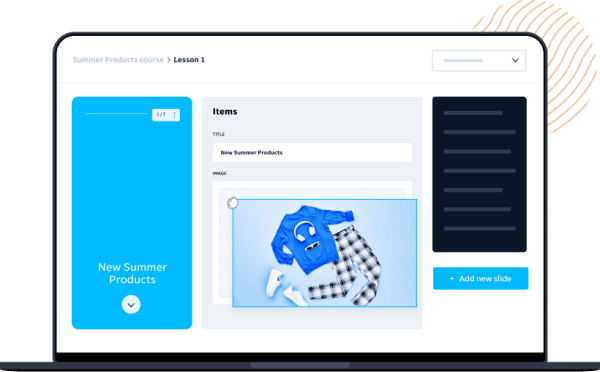 Alternatively, you can also grab some of their ready-made social media courses and jumpstart your training as soon as today. Check out their course on Social Media Policy, which contains a rundown of social media policies and some tips on how to follow them. EdApp also created a course about Social Media and Electronic Communication, which unpacks the role of social media in the world of marketing today alongside some strategies for optimum social media engagement.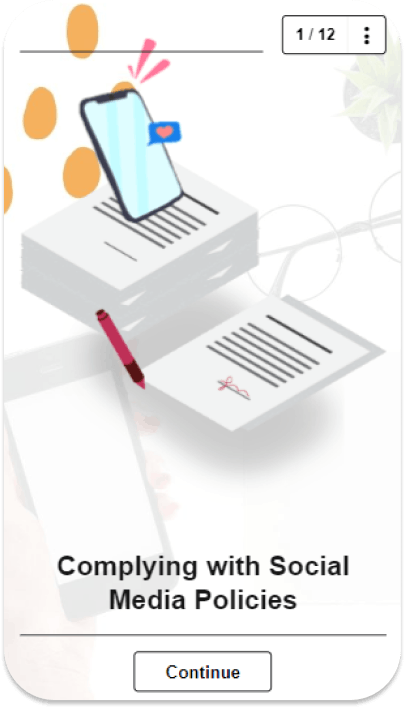 Apply the socializing concept of social media to your courses to further immerse your team in the learning experience! With EdApp's Discussions feature, your learners can pose questions or discuss the topics among their peers through a forum-like discussion. If they're watching a post, they'll receive pop-up notifications whenever there's a new activity.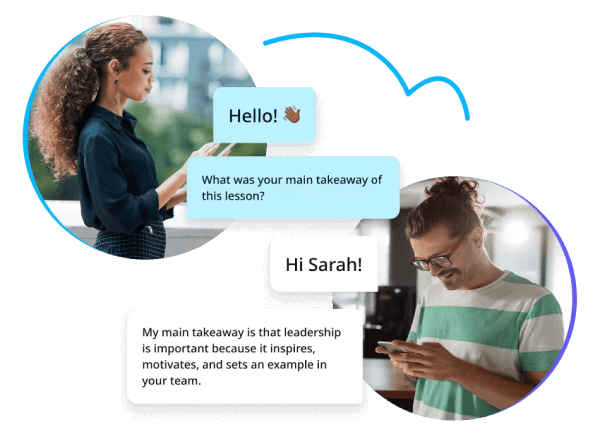 Cost: Free
Key features: 
Template-based course creator tool

Course creation service

Ready-made social media courses

Discussions feature
Join EdApp for free and deliver training with the top social media learning platform today!
2. Hootsuite Academy
Social media management tool Hootsuite built its learning platform, Hootsuite Academy, to help digital marketers and social media professionals hone and develop their skills and boost their social media efforts. This platform houses a variety of beginner to advanced social media certificate courses and programs taught by industry pros. These courses come in a series of video tutorials with online exams, which your team has to pass to receive an industry-recognized certificate.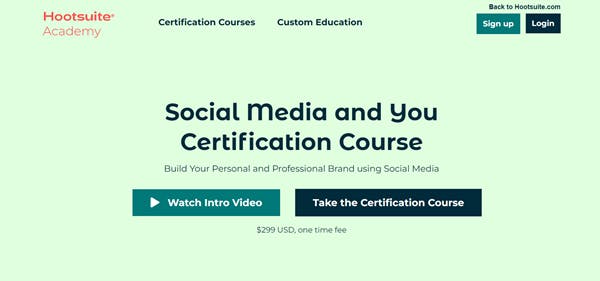 Some programs also offer supplemental course materials that can be accessed easily anytime your team needs a refresher on the topics. Although a quick heads up that access to these materials only last for a year after purchase. 
Cost: Pricing varies by course
Key features: 
Social media courses and programs

Industry-recognized certificate

Supplemental course materials 
3. MasterClass
MasterClass earns its popularity from its lists of video training taught and hosted by some of the world's most recognized professionals and even celebrities. As a social media learning platform, you'll find a course on The Power of Personal Branding by none other than Kris Jenner. Your team will gain some tips on how to harness the power of social media to create and boost your brand's presence online. A course by former Teen Vogue editor-in-chief Elaine Welteroth also shares her insights on how to build a vibrant presence on social media and beyond.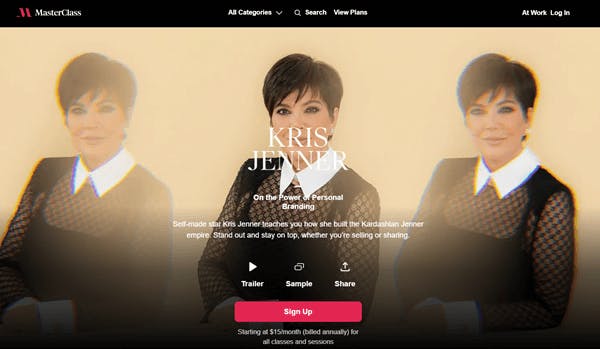 These video lessons are accessible across different devices, from smartphones to personal computers, and even on selected smart TVs. Offline viewing is available, allowing your team to learn on the go. The only con about this platform is that it doesn't give an official certificate, but they do send an email confirmation acknowledging a course completion. 
Cost: 180 USD per year
Key features: 
Video lessons by renowned professionals and celebrities

Mobile and TV accessibility

Offline viewing
4. OpenLearning
Nothing compares to the idea of having your team explore the most crucial social media trends and best practices in a social learning environment – with that in mind, OpenLearning is great to consider. Here, you can either build rich multimedia courses or deploy their ready-made social media lessons. Learners enrolled in your course can share and discuss a topic, or even collaborate on projects.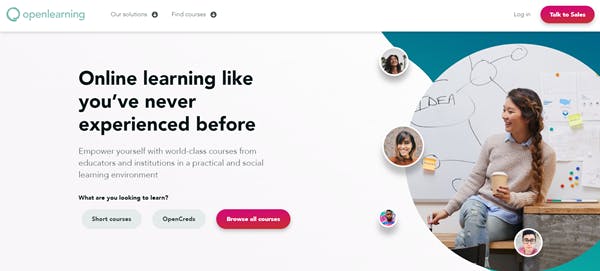 Similar to a social media platform, it also features a Course Feed, which shows a real-time activity stream, like comments and social interactions on your social media training programs. Even better, there's a Gallery feature that displays all the files and images shared by the learners. 
Cost: Starts at 90 USD per month
Key features: 
Course builder

Ready-made social media lessons

Course feed and gallery section
5. FutureLearn
FutureLearn is a popular learning platform that's jam-packed with bite-sized courses and microdentials, which professionals in every industry can use to boost their skills and qualifications. Your social media team will definitely find their social media courses helpful, especially Digital Skills: Social Media, which digs deep into the use of social media for business. They will also get some valuable tips on how to improve their social media strategy through the courses Understanding Social Media Strategy and How to Create a Social Media Strategy. 
This social media learning platform harnesses the power of social learning, allowing its users to share and learn from one another in a global classroom. Enrolling your team in any of their programs will allow them to connect with an international network of other social media professionals and gain insights from them. 
Cost: Free and paid courses (unlimited course access is available at 189.99 USD per year)
Key features: 
6. Coursera
Coursera offers 1000+ courses that can transform your team into a group of social media experts. For one, there's a course on Introduction to Social Media Marketing, which can be used to build the foundational learning of your team about social media marketing. There's also a course on Social Media Management that can teach your team how to establish a strong presence on social media.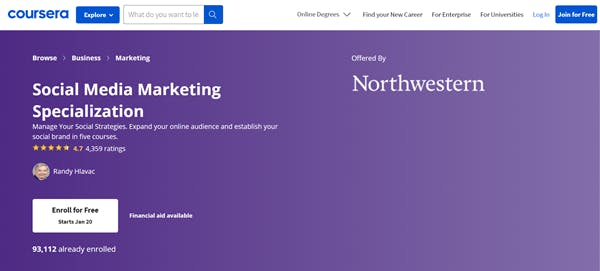 What's great about this social learning platform is that it has also initiated a discussion forum for all of its users. Here, your team can ask questions about the course, or learn from the insights of other social media professionals. 
Cost: Free and paid courses
Key features: 
Social media courses

Discussion forum
7. SkillShare
Your team can also choose from more than 2,000 social media courses at SkillShare to build and hone their social media expertise. Here, they'll find a course about social media marketing, content creation, copywriting, and storytelling, all of which are vital for building a strong online brand presence. These courses are offered in video format, with each lesson divided into shorter segments to make the learning process more engaging and convenient.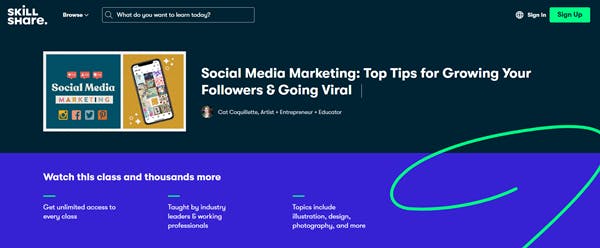 Each class comes with hands-on projects, a great opportunity for your team to practice what they have learned. All learners will have the chance to present their projects upon completion, gather some ideas from their peers, and even receive advice from their instructors.
Cost: 32 USD per month
Key features: 
Social media courses

Hands-on project

Feedback session
8. Sakai LMS
If you prefer creating your team's social media course from scratch, then Sakai LMS can lend you a hand. Here, you can build social media lessons or units that can be configured as stand-alone courses or as a group collaboration project. For higher engagement, you can add images, videos, and links, and even add some tests and quizzes to your lessons.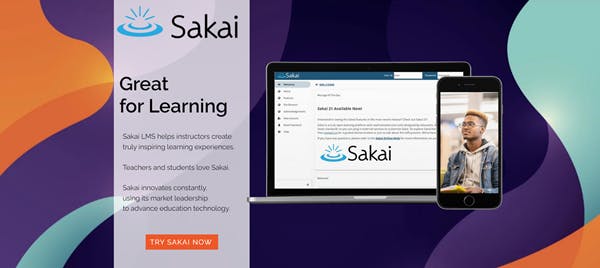 This elearning development software also features a couple of communication and collaboration features so your team can apply the idea of social learning to their learning journey. There's a chat feature that they can use to engage with their peers in real-time. You can also create and moderate forums within a course, allowing learners to engage in informal discussions. 
Cost: Free
Key features: 
Course builder

Chat feature

Course forums
9. Fiverr
Fiverr is a marketplace for online courses where you and your team can buy a course and watch it on this platform. Some of their social media courses cover topics that your team might find highly valuable in the field, like the most popular social media platforms, analytics, content strategies, and more. The inclusions vary in every course, but often a purchase gives the learners unlimited access to the materials, exercises, and tests. After completion, a Fiverr badge will be shown on the profile page.
Cost: Pricing varies by course
Key features: 
Social media courses

Exercises and tests

Fiver badge
10. Google Digital Garage
Google Digital Garage is a social media learning platform that's joined by thousands of users around the world. It's geared towards helping professionals gain the most vital digital and social media skills today, completely for free. Their courses are designed for self-paced learning, allowing your team to take their training anytime and anywhere they prefer. 

But what's more is that a Google-recognized certificate will be available upon successful completion of this course, also free of charge. 
Cost: Free
Key features: 
Self-paced social media courses

Google-recognized certificate