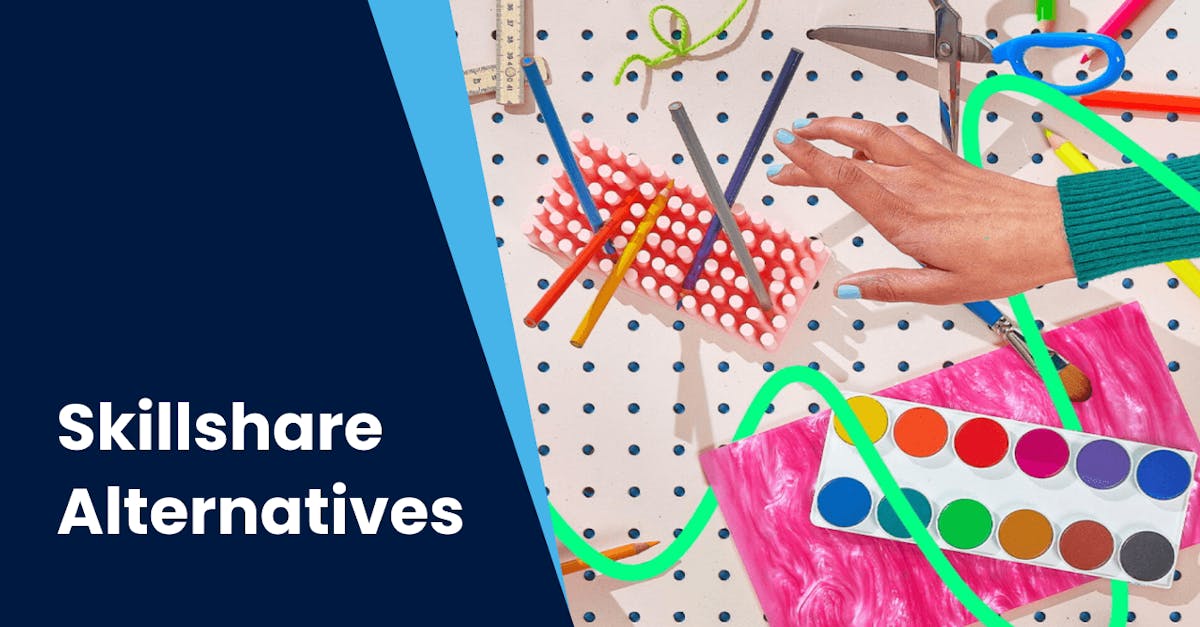 While you may be familiar with the online learning platform Skillshare, there are Skillshare alternatives that can give you more features and a better learning experience. We've gathered a list of Skillshare alternatives that give you more learning options, both as an instructor and as a learner so that you can provide and take training that's engaging and relevant. 
Skillshare Alternative #1 – EdApp
Our first Skillshare alternative is EdApp, a mobile LMS that adopts strategies like microlearning and gamification. Similar to Skillshare, EdApp supports social learning through the use of forum-like discussion boards where learners can share knowledge and write comments. Other types of learning like active learning, asynchronous learning, and blended learning are also supported through game-inspired lesson slides and virtual classrooms.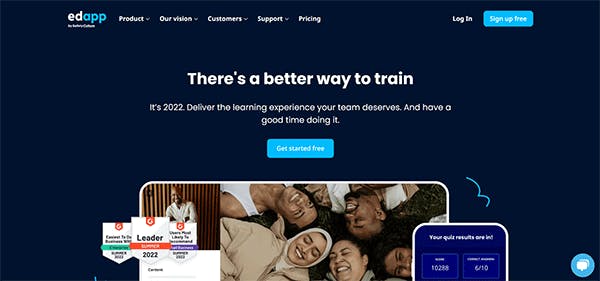 Instructors can create and edit an unlimited amount of courses with EdApp's built-in authoring tool and template library. This tool can definitely help, whether you need to build diversity and inclusion, crisis management, leadership, or COVID 19 training courses. Course management and analytics are also available, enabling instructors and managers alike to observe the progress and performance of their learners. Custom branding, certificates, and achievements allow you to align your learning content to your organization or personal brand. And unlike Skillshare, EdApp supports invite links, single sign-on, and SCORM, so you can have your learners access your content easily.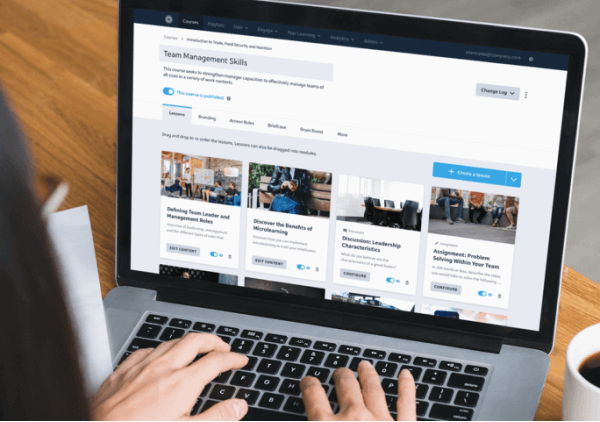 Meanwhile, learners also have access to a pre-existing course library with over 800 mobile-friendly courses. With courses covering topics like business, retail, construction, self-improvement, sustainability training, and more, you're sure to find a course that's aligned with your needs. Some courses contain survey slides, allowing you to give feedback and opinions on the course and its lessons. You also don't need to worry about finding courses in your language because EdApp supports AI translation to over a hundred languages.
How much does Skillshare cost these days? It's still an expense! So, if the Skillshare cost is weighing your budget down, EdApp is a great alternative because it's completely free. 
Cost: Free

Features: Mobile app, gamification, discussion boards, different types of learning, virtual classrooms, course creation, library, management, branding, and analytics, certificates, achievements, invite links and single sign-on, SCORM, surveys, AI translation 
Join EdApp for Free and Start Using the Best Skillshare Alternative!
Skillshare Alternative #2 – Thinkific
Thinkific offers an e-learning platform for coaches, experts, and managers alike to create and distribute their lessons. This top training portal has everything you need to get started and have people enroll in your training courses. With their easy-to-use drag-and-drop editor, you can easily set up your own training material. You can also include different types of images, videos, supplementary documents, imports, and embeds to enrich the learning experience and courseware. Similar to Skillshare, Thinkific also lets you test your learners' level of understanding with quizzes and surveys.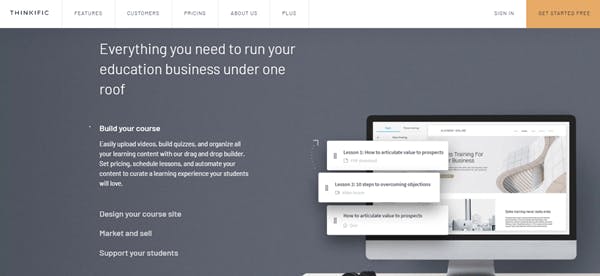 Although Thinkific is initially free and available on any mobile device and computer, more features like live, online lessons and unlimited courses are only available through their paid plans. While there are reporting and analysis features, there are some limitations with them.
Cost: Free, paid plans starts at US9

Features: Course creation and enrollment, drag and drop editor, media hosting, imports, embeds, quizzes, surveys, mobile app, data and analytics
Skillshare Alternative #3 – edX
If you want access to higher education courses, edX offers access to courses from accredited and leading educational institutions. You can find high-quality, in-demand courses from universities and partner companies like Harvard, MIT, Berkeley, Google, Microsoft, and more. Their course library offers a wide range of topics and learning solutions in job-relevant subject areas like computer science, engineering, crowd management training courses, and business to list a few, and can be viewed in up to 11 different languages. Assessments are also available to test your learners' current competency level in the subjects.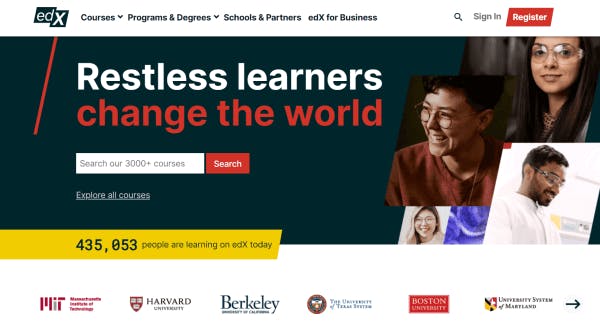 Unlike Skill Share, where any self-created content creator can provide a course, the instructors of courses from edX are credible and trusted. While this platform is free, they also offer paid plans for business use. Certificates, however, need to be paid for if you plan on using this platform for free.
Course: Free, paid plans start at 49 per year

Features: Courses from leading educational institutions, assessments, supports 11 different languages, certificate
Skillshare Alternative #4 – Coursera
Coursera offers a selection of online learning courses taught by subject matter experts from leading universities and organizations. They offer courses in many areas such as data science, personal development, business, social sciences, healthcare, and more so you'll find something suited to your needs. Some examples you'll find on the platform include language lessons, leadership training, marketing training, and health and safety instructor courses. While Skillshare courses are abundant, Coursera offers additional, instructional assessments and activities like quizzes and homework, paid certificates, and more. Coursera's mobile app supports course browsing, video downloading and streaming, syllabus access, and quiz taking. Course length varies, and you could be certified in a few weeks or months.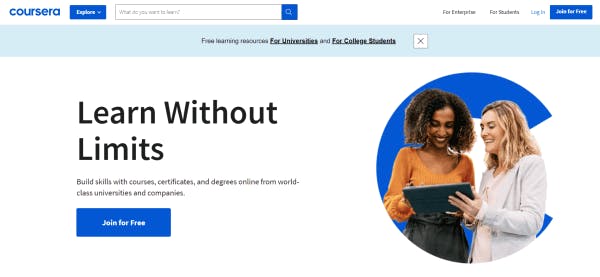 If you're an instructor looking to use Coursera to manage your teams, you might want to look into the more expensive option, Coursera for Business. While this Skillshare Alternative might be better suited for individuals looking to get certificates, Coursera can still be used to empower teams of employees.
Cost: Free, paid certificate, paid plans start at US99 per year

Features: Expertly designed online courses, wide array of subject expertise, additional assessments, paid certificate, mobile compatibility
Skillshare Alternative #5 – Podia
If you need a Skillshare alternative that lets you host and sell courses, webinars, downloads, and other digital products, then Podia is the one for you. Podia allows you to distribute content, offer payment plans, host discussions, and provide one-on-one coaching, allowing you to do a lot of things on just a single platform. There are also no limits on how much you can sell and what you can sell, as long as it's digital content. You can even grow a community on the platform by inviting people to post and interact with others. This is easily done with the help of integrations, email marketing, messaging, embeds, and even a custom website.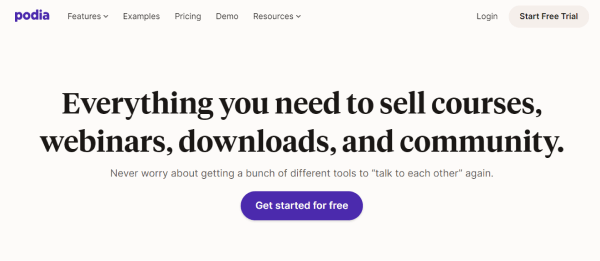 Podia, however, does lack gamification features and a pre-existing course library. This means that creating an interactive online course and engaging learning content will take more time and effort.
Cost: 14-day free trial, paid plans start at US3 per month

Features: Unlimited selling and hosting of different types of digital content, community, integrations, email marketing, messaging, embeds, custom website
Skillshare Alternative #6 – Kajabi
Kajabi is an all-in-one platform that can help you create courses, settle payments, analyze data, automate marketing, and more. Its smart yet easy-to-use product generator lets you build polishes, profitable digital courses and content, and launch them out into the market quickly. With landing pages and membership sites, you can provide more exclusive content for your target market. There's also no need for any technical expertise like coding and programming, so learning content is created with ease.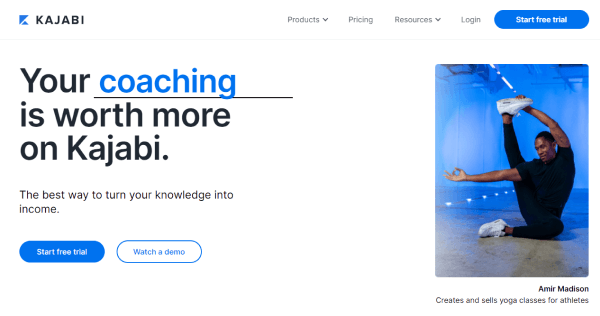 Unfortunately, there's no pre-existing course library for learners to take advantage of. Unlike other learning platforms on this list, Kajabi is more suited for instructors looking to start their own courses and business. Learners will have to access their courses on another digital learning platform. 
Cost: 14-day free trial, paid plans start at US19 per month

Features: Create courses, settle payments, analyze data, automated marketing, landing pages, memberships
Skillshare Alternative #7 – MasterClass
Because of the popularity of both platforms, Skillshare vs MasterClass is often a searched topic. But, Masterclass isn't your typical Skillshare alternative. Here, you will have access to over 100 online classes taught by acclaimed and well-known experts and celebrities.
Learners can take diverse courses like learning how to cook restaurant-grade dishes from Gordon Ramsay, build a brand from Diane von Furstenberg, and develop their own fashion line from Marc Jacobs. Other topics include cultural intelligence training courses, DEI courses, and more. Each course includes 15-20 well-produced and engaging videos that are mostly 10 minutes long and can be accessed offline. Supporting a self-paced learning experience, your learners can take these classes at any time and anywhere with their mobile app.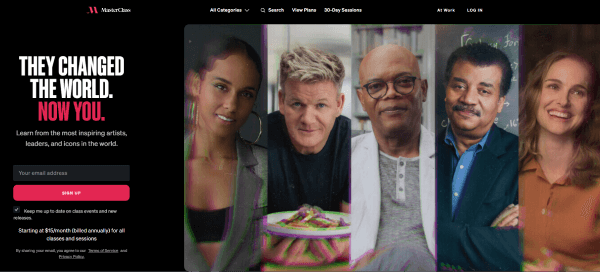 MasterClass has scarce and niche course options though because they only invite the world's best to discuss their topics. And although it can match the Skillshare price, most of these courses are also targeted towards beginners, so if you're a veteran on the subject, these video courses might not be worth your money or time. 
Cost: Starts at US3 per month, request for a quote

Features: Courses taught by world-leading experts and celebrities, offline access, self-paced learning, mobile app
Skillshare Alternative #8 – Khan Academy
First seen on YouTube, Khan Academy is a free, video-based online learning platform. They offer thousands of expertly made videos meant to mimic a classroom setup by having an instructor with visual aids. You can personalize your learning with various assessments, exercises, and supplementary documents. The videos also have offline playback, allowing you to learn even without internet access.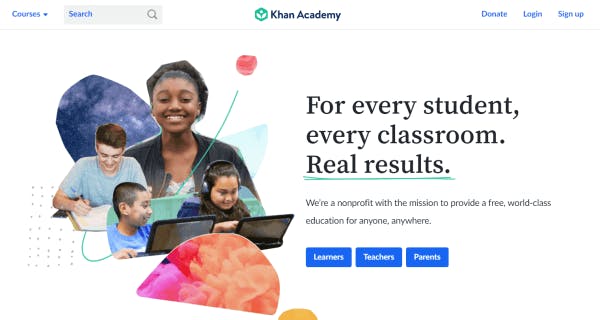 However, the videos themselves are mostly words on a white background with little interactivity. This can have a hand in your learners' information retention and engagement rates. The videos are also long, making it difficult to do learning in small bursts. 
Cost: Free

Features: Video-based lessons, personalized learning, assessments, exercises, and supplementary documents, offline playback
Skillshare Alternative #9 – Pluralsight
Pluralsight is a corporate LMS focused on developing technical skills like software development, machine learning, and manufacturing and design. They offer a course library covering these topics, and it's filled with interactive projects, labs, and practice to put what employees learned into practice. On this learning management system, they offer instructor-led training, different types of assessments, learning paths, certificates, and analytics. You can also encourage knowledge sharing and collaboration, promoting all kinds of learning. 

However, there are some cons to this training software. Pluralsight doesn't support course creation, their paid plans for individuals are pricey, and all their courses are only available in English, with no AI translation feature on hand. 
Cost: Free trials, individual plans start at US05 per year, team plans start at US99 per year

Features: Technical skill course library, interactive activities, instructor-led training, assessments, learning paths, certificates, analytics
Skillshare Alternative #10 – Udacity
The last Skillshare alternative on this list is Udacity, a digital platform focusing on digital technologies and business fields like artificial intelligence, data science, cybersecurity, executive leadership, and programming and development. Their talent transformation suite targets skill and talent gaps with workshops and projects. With sites like Udacity, learners have access to mentor support and an online student community. You will also receive personalized feedback, practical tips, and additional resources to help you improve in your chosen field.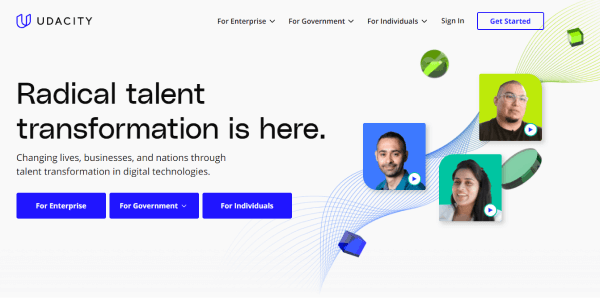 Udacity, however, has a limited course library. If you want to take a course that's not related to digital technologies or careers, then it might be better to look elsewhere. They also don't support mobile learning so all learning and coursework would need to be done on a computer. 
Cost: Paid programs, subscription plans

Features: Digital technologies courses, talent transformation suite, mentor support, online community, personalized feedback
Skillshare Alternative #11 – Teachable
With Teachable, users can create, manage, and sell online courses in just a few simple clicks. It offers a user-friendly course builder, a course-selling feature, blog creation capabilities, and the ability to incorporate mixed media into lessons. This skillshare alternative is highly suitable for individual learners who want to upskill or start a new hobby. Some of the lessons you'll find on the platform include botany, pottery, beekeeping, painting, and hand lettering.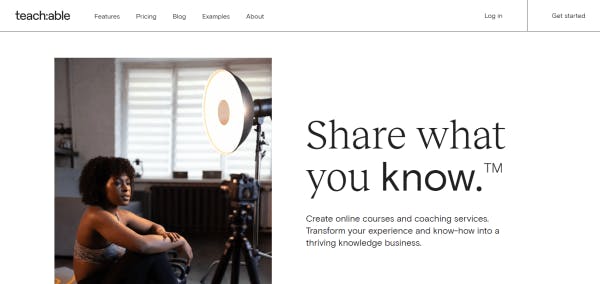 Teachable offers a free trial, but to have full access to all of its features, you must upgrade to a subscription plan. And even though this platform is easy to use, it has minimal integrations that might make it difficult to use as a workplace training tool. 
Cost: Free trial, Paid plans start at 29 USD

Features: Course builder, course selling feature, blog creation
Skillshare Alternative #12 – FutureLearn
As a Skillshare cost alternative, FutureLearn can also be used to gain new knowledge and expertise. It offers more than 2,000 distinct courses covering a wide range of topics like creative arts and media, business and management, healthcare and medicine, and much more. These courses, like the ones on Coursera and edX, are designed by top academic institutions and business experts and distributed through videos, articles, quizzes, and discussions.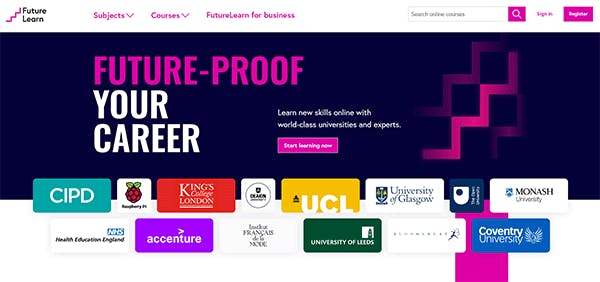 However, what distinguishes this platform from others is that it offers distinctive microdentials and programs for different specialized sectors. Some of these even come with academic credit that may be applied toward a professional degree.
Cost: Free

Features: Online courses in video format, articles, discussions, quizzes, microdentials, and programs