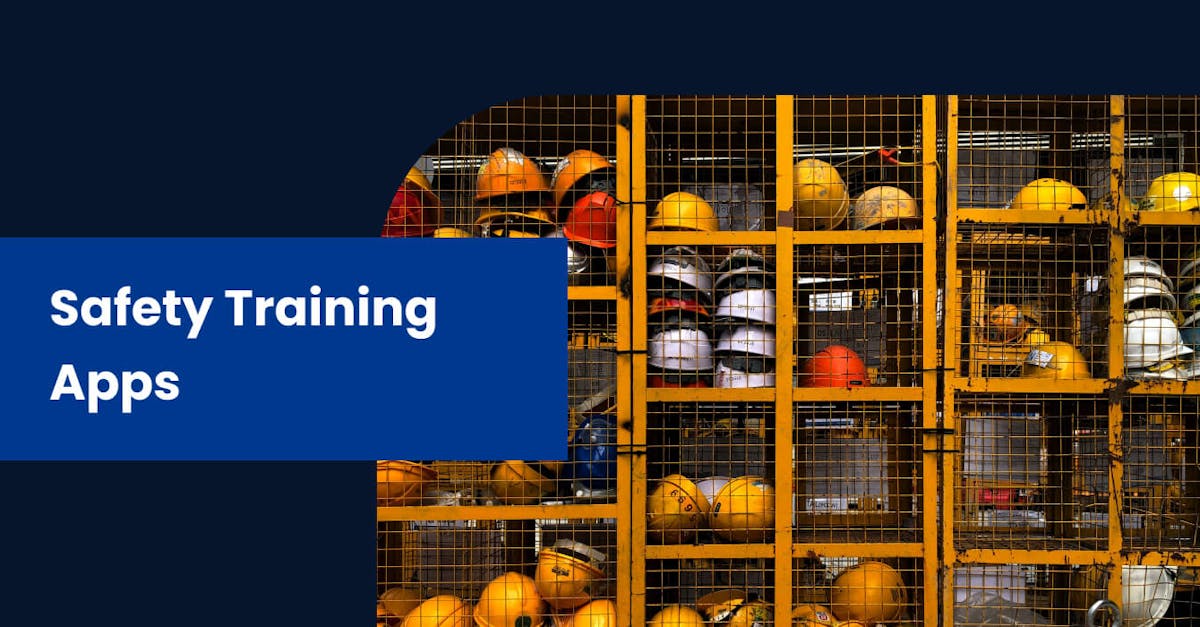 As a manager or leader, your team members' health and safety should be prioritized. With safety training apps, you can prepare your teams for their roles even before they've set foot onsite. Here, you'll find a list of some of the best safety training apps in the industry to help you deliver effective and efficient training. 
Safety Training App #1 – EdApp
If you need access to free OSHA-hour training, heavy equipment safety training programs, health and safety instructor courses, NY fire training courses, or general safety courses, then EdApp's course library has everything you need. It includes  EdApp is a globally-acclaimed learning management system (LMS) that is also used as a safety training app. Besides providing its user with free content developed by industry experts, it also includes virtual classrooms, user management, analytics, and other management and training features.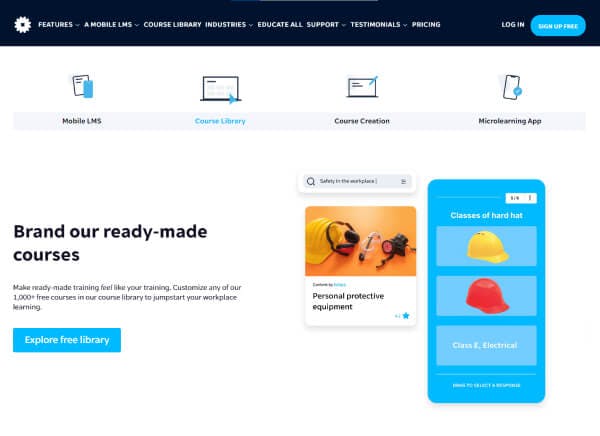 Editing or designing courses using EdApp's user-friendly content creator and template library just takes minutes. But your time is important and valuable, so if you need assistance with creating courses that fit your brand and follow your company guidelines, EdApp can help you. With a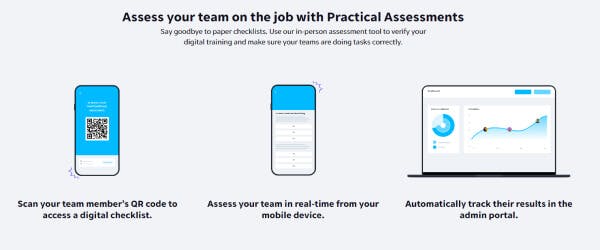 Courses on EdApp are for online and mobile training, but you can also perform in-person training with the help of its Practical Assessments feature. You won't need paperwork anymore when your checklists and spreadsheets are in the same app as your training courses, reports, and analytics. Inviting your teams to start their training is also simple and easy. You can give them access to their courses through email, SMS text, link, or QR code. 
Cost: Free
Features:
Course library

User management and analytics

Content creator and template library

Practical assessments and virtual classrooms

Invite links
Join EdApp for free and begin using an award-winning safety training app today. 
Safety Training App #2 – EHS Insight
Another top-notch safety training app is EHS Insight. With its cutting-edge tools and features, you're guaranteed to have a successful safety training program. You don't need to spend days or weeks building courses when you have access to its vast online training content library. Grab training content like COVID safety, construction safety, hospital safety training programs, or event safety training courses you need and give new and existing workers high-level training. Their courses are also mobile-friendly, so users can learn anytime and anywhere.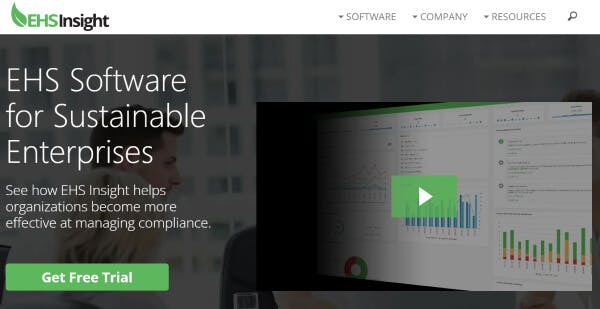 You can also track safety meeting minutes, run reports, and send out assessments on this platform. This way, you can easily keep track of important details from your employee safety training like knowledge gaps or training requirements. However, EHS Insight isn't offered for free, so you might want to consider your budget for training before considering this training option. 
Cost: Request a quote
Features: 
Course library

Mobile-learning 

Analytics and reports

Assessments 
Safety Training App #3 – Cority
Cority is ideal for small to medium-sized enterprise workforces, such as those in the manufacturing, healthcare, and pharmaceutical industries. With Cority, your teams can experience virtual safety training of any topics, including COVID training for employees, workplace safety, fire prevention, and more, all thanks to its virtual classrooms with virtual trainers. If needed, they can also join webinar series with consultants. Additionally, they would have access to articles, safety training videos, and discussion forums to help further their knowledge of workplace safety.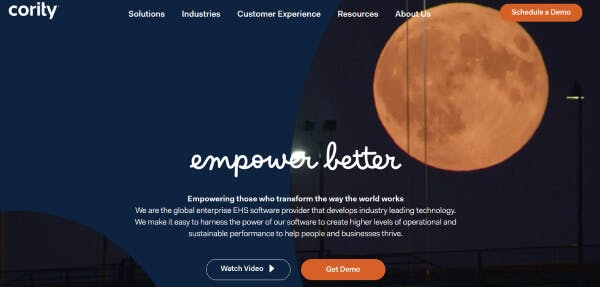 One advantage of using this frontline training solution is its offline functionality. If anyone can access their safety training on their devices, even without an internet connection, then overall training can be more convenient and flexible for everyone involved.  
Cost: Request a quote
Features: 
Virtual classrooms and webinars

Safety articles and videos

Discussion forums

Offline functionality
Safety Training App #4 – Vector LMS
For companies of all sizes looking for a top-notch safety training app, Vector LMS is a good fit. Pre-made courses based on industry best practices and global standards like workpalce safety, construction safety, and event safety training courses, among many others, are available on the software. In one platform, you can assign courses, monitor training progress, manage credentials and licenses, and compile reports.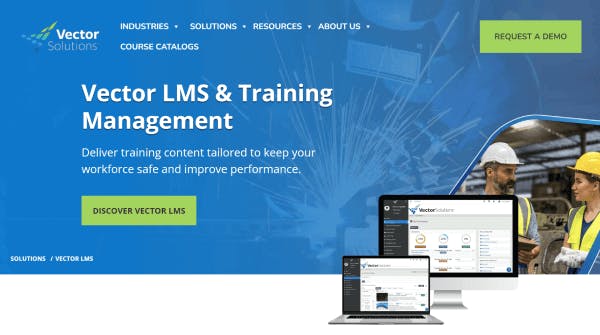 The way that Vector LMS presents its courses with 3D animation makes it stand out from the other options on this list. Scenario training all of a sudden becomes more immersive and more comprehensive. Overall, this could be a benefit for your teams, especially if they specialize in hands-on tasks. However, scenario training can take up a lot of time, and sometimes schedules can't be adjusted to better accommodate training.
Cost: Request a quote
Features: 
Safety Training App #5 – Conductor
Conductor is a safety training app equipped with user-friendly features that makes training program creation, management, and tracking easier. Give your teams instant access to training information, making sure that their skills, knowledge, and certifications are up to date with the safety requirements set by different organizations. Also, you can create various reports that provide the exact information requested by surveyors and auditors.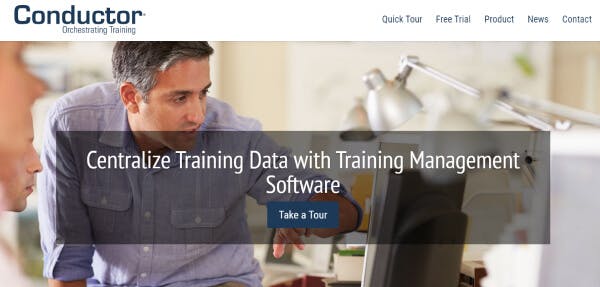 There are two versions of this safety training software: a standalone PC version for smaller businesses and a Network version for businesses with multiple admin users. Add-ons can also be purchased for a more simplified training process. 
Cost: 1,955 – 5,995 USD
Features: 
Safety Training App #6 – CenarioVR
Powered by ELB Learning, CenarioVR is useful for immersive learning or scenario training with a virtual reality (VR) headset. You can upload 360º videos or equirectangular photos, as well as animations, 3D objects, audio, and quizzes to build interactive training experiences. The courses can be shared and published on websites, other course creation tools, and learning management systems because they're SCORM, xAPI, cmi5, and HTML5-compliant.  

These courses can be taken on computers, mobile and tablet devices, or VR headsets. An analytics dashboard helps keep track of course data and scores. However, you won't be able to maximize this tool's features if you don't regularly deliver scenario-based VR training. 
Cost: 1,599 USD per year
Features: 
Video and equirectangular uploads

Animations, 3D objects, audio, and quiz uploads

Compatible with most existing elearning management software

Cross-platform 

VR training
Safety Training App #7 – BIStrainer LMS
BIStrainer is another enterprise-level safety LMS. A training matrix is provided by the compliance software to help you in setting up roles, training topics, requirements, and certifications. The system can automatically group all necessary training courses to your teams depending on selected criteria after everything has been set up. Reports and progress tracking are also available from the training matrix.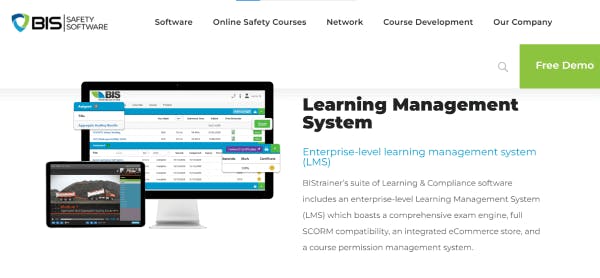 Also, this software can be used for both staff onboarding and in-person training. There are additional features, such as a course designer, an exam engine, form integration, and multi-language support. However, because of its complex user interface and abundance of features, your managers and team members could find it difficult to use the safety training app. 
Cost: Request a quote
Features: 
Training matrix

User management

Reporting and tracking 

Classroom-based training 

Employee onboarding
Safety Training App #8 – eSafety
With eSafety, you can conduct organization-wide training programs. Thanks to its customized support, user-specific logins, custom uploads, and courses, you can have unique and specialized training content. Access eSafety's course library and course developer and select and edit training materials to fit the requirements of your business. Additionally, the scheduling feature makes it easy to distribute your training courses to your workers.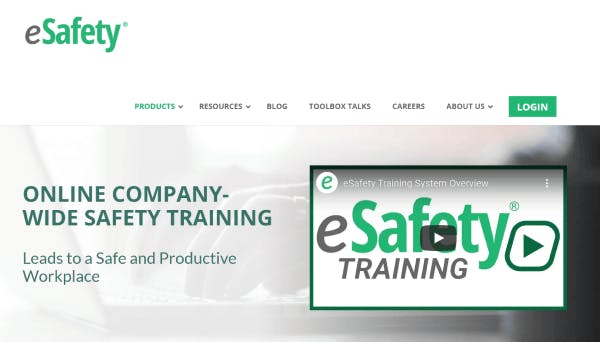 But eSafety is not a safety training app that works well on mobile devices. Your team members may need to take time away from their assignments to finish their training as this software is limited to desktop use.

Cost: Request a quote
Features: 
Safety Training App #9 – HRdirect Safety Training
HRdirect's Safety Training app focuses on accident-prevention training and helps to create a culture of safety in the workplace. In this one app, you can easily assign, track, and document training. All you need to do is add your employees to the app, choose and assign training modules, decide between self-guided or group training, and track completion dates. HRdirect offers a variety of training topics from bloodborne pathogens to forklift safety.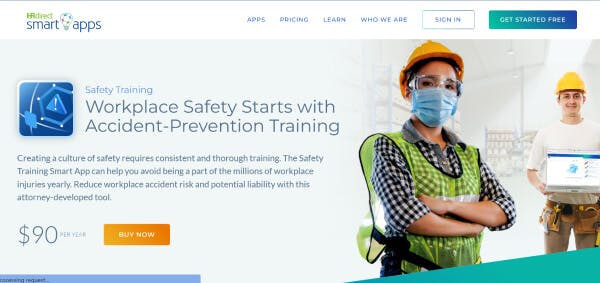 To complete training, workers must answer a series of true or false questions. Correct answers are acknowledged, while incorrect answers include explanations to help workers understand their mistakes better. 
Cost: 90 USD
Features: 
Safety Training App #10 – Safety Meeting App
The last safety training app on this list is the Safety Meeting App. This app includes over 1,100 safety topics, as well as checklists, incident reports, and cloud storage. You can access all of these features on any mobile device or computer. Additionally, you can store employee data, take pictures of incidents, manage users, and print and download reports on the safety tool.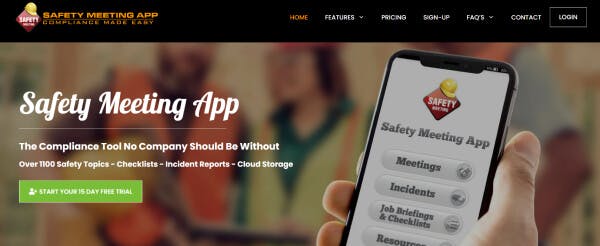 You can also customize the app to match your company branding. However, doing this requires a one-time flat fee of 200 USD. If you're unsure about subscribing to Safety Meeting App's paid plans, then you can try out their app for 15 days on a free trial. 
Cost: Request a quote
Features: 
Over 1,100 safety topics

Checklists, incident reports

Cloud storage

Cross-platform functionality

User management