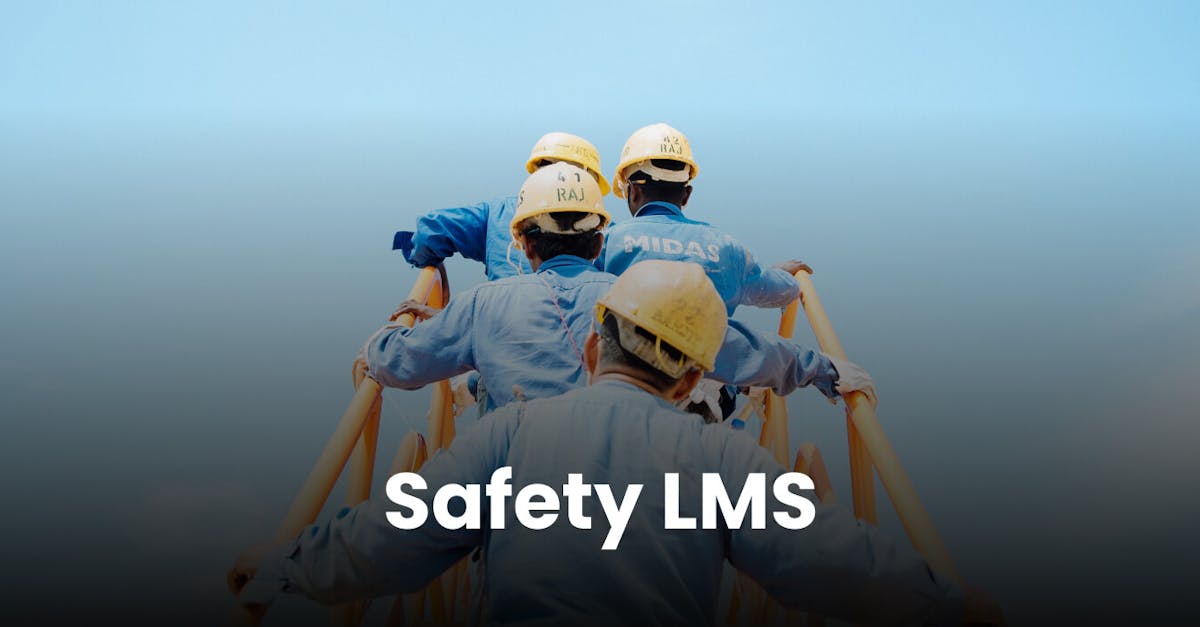 Safety training is important for any team in any industry. With a learning management system (LMS), you can train your teams and keep important information all in one place. Here, you'll discover some of the best safety LMS to help you make your training programs more effective and easier to deliver.  
1. EdApp
EdApp is a free, award-winning safety LMS with a course library that covers topics such as chemical spill training courses, free OSHA hour training, and many more. These courses can be taken on any mobile device or even on a computer, making them highly scalable and accessible to you and your teams. Say goodbye to boring PDF files and PowerPoint presentations as EdApp courses encourage unique interactions like scratching to reveal more information or sliding a bar to compare concepts.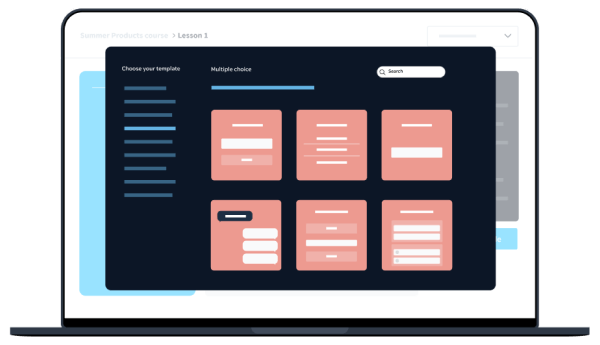 You can also edit the courses with EdApp's user-friendly content creator tool — no design experience is needed. Adding gamification elements, inserting pictures and videos, and embedding links to external documents is easy with the Template Library. You can also group your teams up according to their role or project through the User Management dashboard. Once you're ready to deliver your elearning courses and your teams are organized, simply invite them to complete their microlearning course by email or invite link.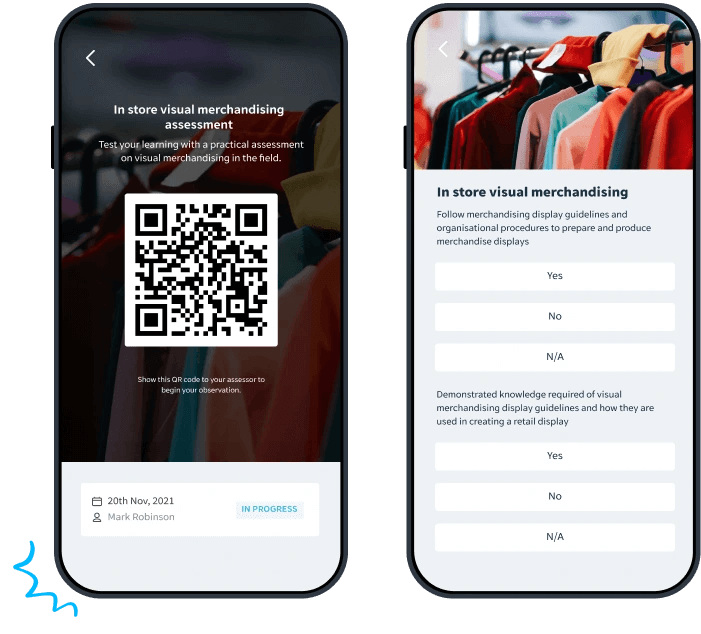 If you want to perform on-site employee training alongside your online program, then that's also doable with EdApp. The Practical Assessments feature is used to perform in-person training. Physical paperwork isn't needed anymore when your checklists or spreadsheets are in the same place as your training programs, reports, and analytics. You can even give out custom certificates to your teams and meet compliance needs all through this hybrid training tool. 
Cost: Free
Features: 
Course library

Content creator tool

User Management

Practical Assessments

Custom certificates
Use EdApp for free and start training and upskilling your workers with this safety LMS! 
2. SET Safety LMS
SET Safety LMS is an enterprise-level solution that's mobile-friendly and custom-branded. With this all-in-one training software, you can host and create online courseware, build tests and surveys, and deliver certificates. Additionally, you can upload documents, observe virtual exams, and send notifications to your teams to further support your elearning development and training needs.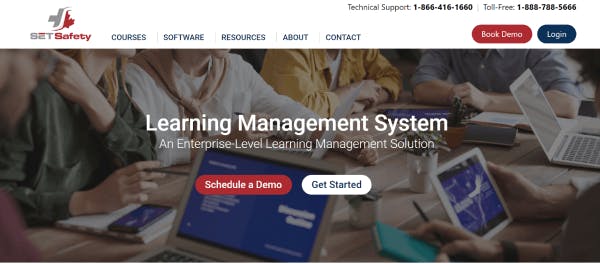 While they also support a course library and course creator, SET Safety LMS doesn't have game-like lesson slides to encourage interactive learning. If your teams don't engage with their corporate training often, then it's less likely that they'll remember key information. 
Cost: Request for a quote
Features: 
Mobile-friendly

Course and exam creator

Course library

Certificates

Document uploader
3. SafetySkills LMS
Expert training content is within your reach thanks to SafetySkills LMS. This learning and compliance software lets you assign, manage, and track your training and reports all in one place. Their course library is also regularly reviewed and updated to meet changing requirements and regulations. Training here is flexible as it lets users train at any time and anywhere while leaving the option for group training available for anyone who prefers to learn with others.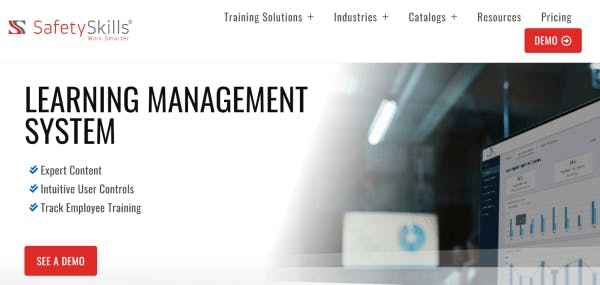 While their course library is extensive and covers most safety topics, you can't edit these courses to add company-specific information. You'd most likely have to keep your company policies and guidelines on other software or on printed paperwork. 
Cost: Request for a quote
Features:
User management

Course library

Custom reports 

Flexible learning

Group training
4. EcoOnline 
If you want to streamline your company's training experience, then EcoOnline is the safety LMS for you. Its course management supports both mobile learning and instructor-led training (ILT). The courses also encourage employee engagement with the help of badges, rewards, and leaderboards. And you can manage training and learning paths easily with its Learning Manager feature.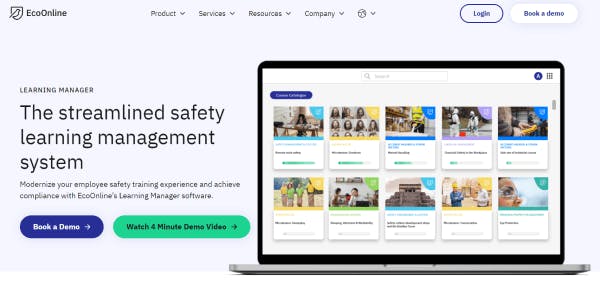 However, their courses don't include or offer the ability to create assessments. Without exams or quizzes, it will be difficult to know the level of understanding among your teams. Your workers might also have to undergo training programs multiple times before they fully understand the content. 
Cost: Request a quote
Features:
5. SafetyInfo
SafetyInfo has been providing safety training since 1996. With their safety LMS, you can assign courses, videos, and PowerPoint presentations to your workers from the platform's course library. You can also organize workers into specific departments or teams, import employee information, track training data, and send notifications.
You can't create your own training content on the elearning software, but you can edit and customize any of their 9,000+ training material. Fortunately, SafetyInfo still does its job as a safety LMS well even with its simple design and lack of modern LMS features. 
Cost: Request for a quote
Features:
6. HSI LMS
HSI LMS is a flexible solution that features classroom management, content creation, training reinforcement, and reporting and analytics. It also has a unique built-in tool called HSI Advisor that gives recommended training based on assessment results. However, you still have the option to give your workers personalized learning paths manually if you choose to do so.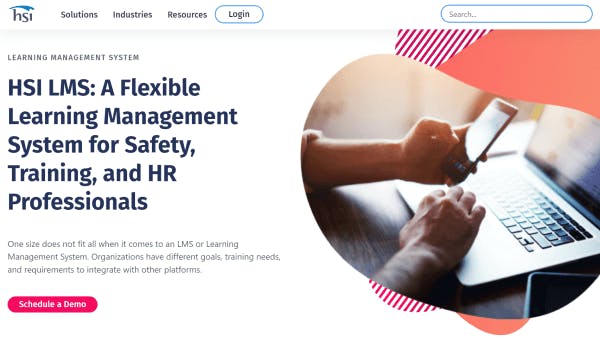 HSI also offers custom content and personalized support, perfect if you're an enterprise-level company. However, if you're a much smaller company, it's better to check out free or cheaper alternatives to this software. 
Cost: Request for a quote
Features:
Classroom management

Course creator

Training reinforcement

Reporting and analytics

Recommendation engine
7. BIStrainer LMS
Another enterprise-level safety LMS is BIStrainer. The compliance software features a training matrix to help you set up roles, training topics, requirements, and certificates. After everything is set up, the system can automatically assign all required training courses to your teams based on chosen criteria. The training matrix also provides reports and progress tracking. You can use this LMS platform both for classroom-based training or employee onboarding.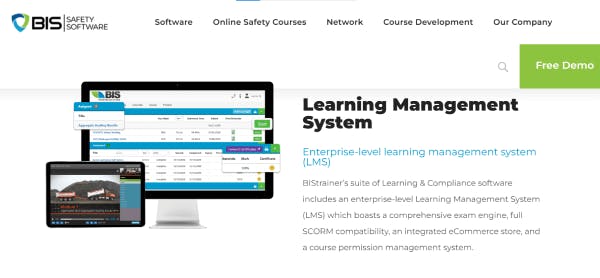 BIStrainer includes more features like a course creator, an exam engine, form integration, and multi-language support. With so many features, though, you and your teams might find it difficult to navigate through the compliance training app because of the complicated user interface. 
Cost: Request for a quote
Features:
Training matrix

User management

Reporting and tracking

Classroom-based training

Employee onboarding
8. eSafety
You can have an organization-wide training system with eSafety. You can have unique training content thanks to eSafety's specialized support, user-specific logins, custom uploads, and courses. Here, you have access to a course library and a course creator, so you can choose and edit training content that suits your company's needs. And delivering your training content to your teams is easy thanks to eSafety's scheduling feature.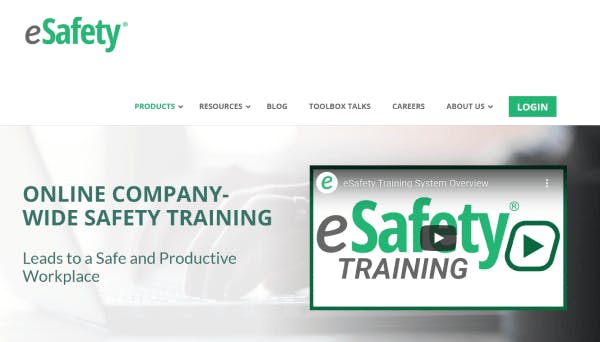 However, eSafety is not a mobile-friendly training solution. Training with this course management system is limited to computer desks, so your workers might need to take time out of their tasks to complete their training.
Cost: Request for a quote
Features: 
9. Vector LMS
Vector LMS is a good fit for businesses of all sizes looking for high-quality safety training. You can find pre-made courses that are based on industry best practices and international standards. You can assign courses and track results, manage credentials and licenses, and report on learning and development goals all on one platform.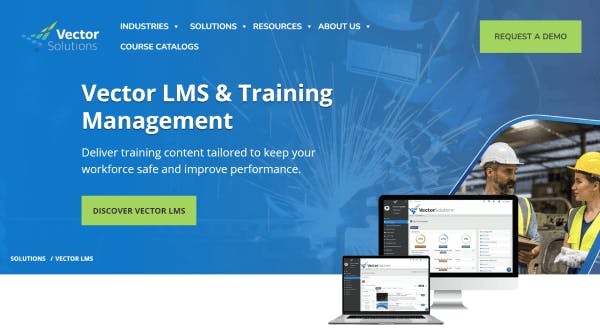 What's unique about Vector LMS is that they present their courses in 3D animation format. While this is useful in visualizing scenarios and explaining technical tasks, watching videos can take up a lot of time in the training process. 
Cost: Request for a quote
Features: 
10. Lucidity
The last safety LMS on this list is Lucidity. On this simple training platform, you can manage training records, analyze employee needs, monitor training costs, and deliver customizable elearning. You can also identify gaps in your teams with the help of built-in training matrixes so that you're never left in a situation where workers are missing important information and skills.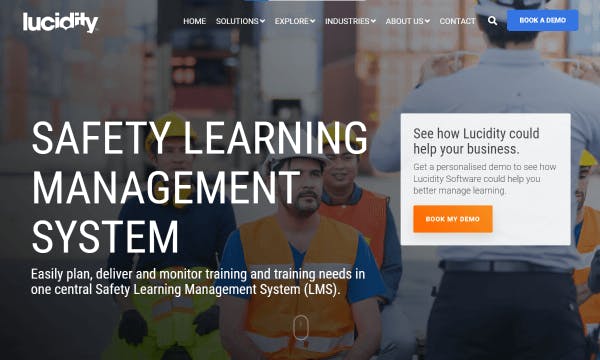 While Lucidity can deliver elearning, it doesn't have any features to train workers onsite. Even if on-site training isn't a requirement in your organization, your teams could still benefit from monitored training before they're left alone to do their responsibilities or tasks. 
Cost: Request for a quote
Features: